NOTICE BOARD
Latest upload: Friday, 21st February 2020.
• • ◊ • •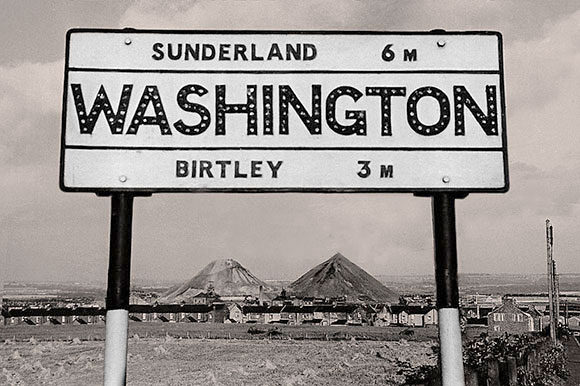 A Nostalgic Journey 'in & around' the original Village of Washington
[ Click above picture for more views of the 'F' Pit Heaps. ]
• • ◊ • •
ARTICLES, COLLECTIONS, MAPS, PHOTO GALLERY etc.
1. This local lad was also in Newcastle United's 1924 FA Cup Winning Team and was later Captain of Man. Utd.
2. A few years ago, I knew of only two pubs near Coxgreen. The above Map shows two more. Name them all.
3. A collection of photographs showing different views of Usworth Miners' Welfare Hall, which stood on Manor Rd.
---
4. The Statue's Sculptor. The Unveiling Ceremony & Blessing. Photos taken by Usworth & Glebe Banner Groups.
5. I couldn't resist editing out the main subjects in the above Escalator Thumbnail. You'll love the original picture!
6. Letter from King George VI to all Schoolchildren, June 1946. It includes the dates of many important WW2 events.
7. Washington Old Hall Article. Lots more new pictures added this week - all tidied-up / quality improved.
* NB Don't miss the two new 'Derelict' pictures added to Page (1/5). *
Article compiled especially for our American visitors.
---
OTHER STUFF
'What's Where' & 'How To Get There'
( Click one of these great pictures. )
• • ◊ • •
The Content of this Website was provided by the People of Washington.
You are welcome to download any non-copyright images that you would like to keep or print.
If you wish to upload images to another website, please mention raggyspelk.co.uk.
---
"Nothing is ever really lost to us as long as we remember it."
Lucy Maud Montgomery
(1874-1942)
---