NOTICE BOARD
Latest upload: Friday, 30th July 2021.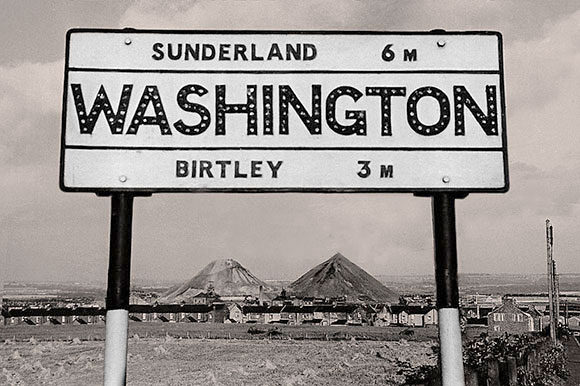 A Nostalgic Journey 'in & around' the original Village of Washington
[ Click above picture for views of the 'F' Pit Heaps. ]
• • ◊ • •

Appeal from Washington History Society
[ Poster Image from John Suggett Article ]
The Link on the above Poster will take you to a WHS Website Page where you'll
find a brief introduction to an excellent article, written by John Suggett,
telling how Washington New Town Juniors FC was formed.
The History Society are hoping to enhance John's Article with
Photos, Information and other Memorabilia.
The Article is in a PDF File.
• • ◊ • •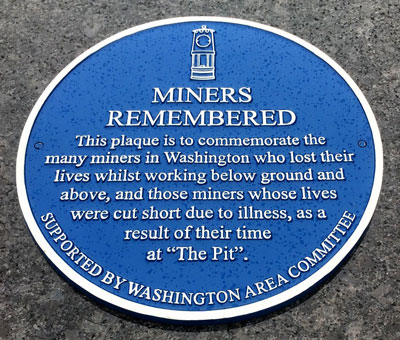 Washington Miners' Statue and Blue Plaque
[ Picture from Washington History Society ]
• • ◊ • •
Some Recent Additions
1. This former Industrial Building was situated alongside a Burn leading to the River Wear. Where, and what, was it?
2. 'My County Durham', a Poem written in France by Fatfield Man, Alfred L. Hind, soon after WW2 Normandy Landings.
( I found the rhythm of Albert's Poem difficult to grasp but it's well worth its place on our Website. Jim )
3. Super Coxgreen Ferry photo added to our Barmston Riverside Article, Page 4/4. Environmentally friendly propulsion!
4. Kit Peacock's Haulage Company started with Horses, Carts and Hearses! Decades later his Distinctive Wagons
were a common sight in Washington New Town. Notably at Local Farms, Building Sites and Major Road Projects.
Kit Peacock's last horse, Silver, plus a 1943 Contract to buy Coal. Sorry, no William Tell Overture!
5. This Ring was presented to Mrs Esther Richardson when her husband W.P. Richardson was honoured with a
Gold Watch by the men of Usworth Colliery Miners' Lodge. Information and Picture on Tab3.
6. Bill Towers was an 'F' Pit Man and one of Washington's First Volunteers. Thanks to Bill's Granddaughter, Hilary Sly.
7. 'Park Lane' Tab added to 'On The Buses'. A copied original photograph clearly identified a No.64 Bus to Washington.
• • ◊ • •
What's Where?
Site Map / Location Index
[ Click one of the above Images. ]
"Nothing is ever really lost to us as long as we remember it."
Lucy Maud Montgomery
(1874-1942)
• • ◊ • •
The Content of this Website was provided by the People of Washington.
You are welcome to download any non-copyright images that you would like to keep or print.
[ If you wish to upload images to another website, please mention raggyspelk.co.uk ]
---