A Nostalgic Journey in & around the Original Village of ...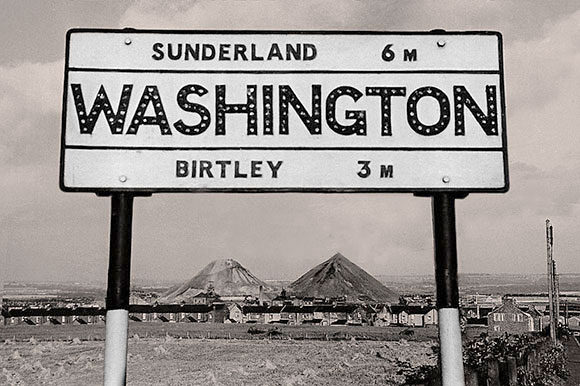 NOTICE BOARD
Last Upload: Friday, 21st July 2017
• • ◊ • •
1. PHOTO GALLERY
1.1 The picture quality is a bit disappointing but the interest level is sky high: Castle Street & Saint George's Church.
1.2 Smashing old picture of the former Village Post Office - looking up Village Lane towards Saint Joseph's School.
1.3 Sunderland AFC won the FA Youth Cup in 1967. The team contained two Washington lads. Can you name them?
1.4 Lenny Middleton with the 'F' Pit Lodge Banner - currently on display at The Gardeners' Club. Colour photograph.
1.5 Cycling Proficiency. I didn't take mine; somebody nicked my fixed-wheel, drop-handlebar bike out of the school shed!
[ LISHY: Remember when you rode my bike down Well Bank and stopped pedalling? Sorry Ray, I couldn't resist. ]
JACK COBB
Family Butcher
We had a photo of his shop, now
we have the man himself!
( Cheers, Ron. )
---
2. ARTICLES, SELECTIONS, MAPS ETC.
2.1 Thanks to Stan Dodsworth and his Marras (Gardeners' Club, Mon 17th). Click Pic and go to Washington 'F' Tab.
2.2 A 1790 proposal for a Wagonway from Washington Colliery to the River Wear straight through the Village Green!
2.3 Photographed 2002, this brick was made in Washington and laid in The Village. Where? Thanks to Keith Cockerill.
* NEW *
NEW ROWS NORTH & SOUTH
Jimmy Rutter's sent us the South List!
Find out if you had relatives
in these streets c.1939.
Jimmy's next contribution to this section
will be my old paper-round:
THE DRIVE
---
3. OTHER STUFF
'What's Where' & 'How To Get There'
( Click one of these great pictures. )
• • ◊ • •
The Content of this Website was provided by the People of Washington.
You are welcome to download any non-copyright images that you would like to keep or print.
If you wish to upload images to another website, please mention raggyspelk.co.uk.
---
"Nothing is ever really lost to us as long as we remember it."
Lucy Maud Montgomery
(1874-1942)
---