A Nostalgic Journey in & around the Original Village of ...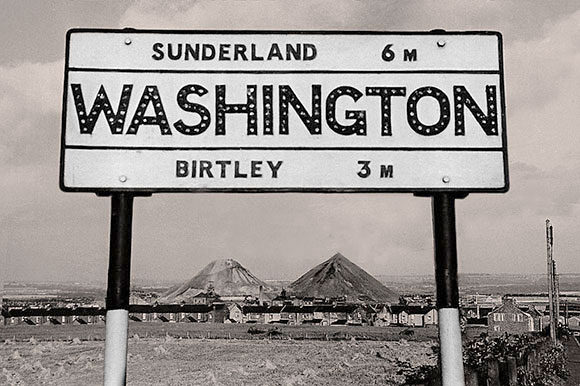 NOTICE BOARD
Latest upload: Friday, 19th October 2018.
• • ◊ • •
1. PHOTO GALLERY
1.1 Fatfield Amateur Operatic Society. I thought there were only 3 Rhinemaidens in 'Wagner's Ring Cycle'. Only joking!
1.2 Thanks to owner Stafford Linsley for contributing this excellent Picture Postcard of Washington Staithes.
1.3 Architect's Model for Emerson Child Benefit Centre. Look closely, a lot of the planned buildings didn't materialize!
1.4 Adrian Lupton's excellent picture of the defunct Child Benefit Centre. Thanks to Adrian for this contribution.
1.5 Jenny Rutter with 'Baby Jimmy' in a garden at Chapel Street. Edith Avenue & Methodist Chapel in the background.
For a change:
These Photographs are
Less than 30 years old!
NO, I haven't run out
of Auld Stuff.
( Our contributors see to that! )
Looking over the River Wear towards
Low Barmston Farm
from Long Lonnen
[ Photo: 15th October ]
Added to Jean Potts' Riverside Article
---
2. ARTICLES, SELECTIONS, MAPS ETC.
2.1 Sad to see: The slapdash job of 'clagging' the Blue Plaque to the Stone (with white resin) still hasn't been tidied up!
2.2 'Pirates of Penzance', March 1929. Picture of the cast added to our 'Washington Secondary School Shows' article.
2.3 Can you tell your Gassy Gutter from your Water Effluent Outlet? No? Take a look at the 1st 'Then & Now' Tab.
The Last Days of Fatfield's
CASTLE STREET
Includes three Colour Pictures,
a Map, and Aerial Images.
[ Pictures contributed by photographer, Adrian Lupton. ]
Photographed in July 1972
Glebe Colliery
Closed in August!
Three Images added to the end of our
Durham Colliery Closures Article.
[ Pictures contributed by photographer Stafford Linsley. ]
---
3. OTHER STUFF
'What's Where' & 'How To Get There'
( Click one of these great pictures. )
• • ◊ • •
The Content of this Website was provided by the People of Washington.
You are welcome to download any non-copyright images that you would like to keep or print.
If you wish to upload images to another website, please mention raggyspelk.co.uk.
---
"Nothing is ever really lost to us as long as we remember it."
Lucy Maud Montgomery
(1874-1942)
---