NOTICE BOARD
Latest upload: Friday, 16th October 2020.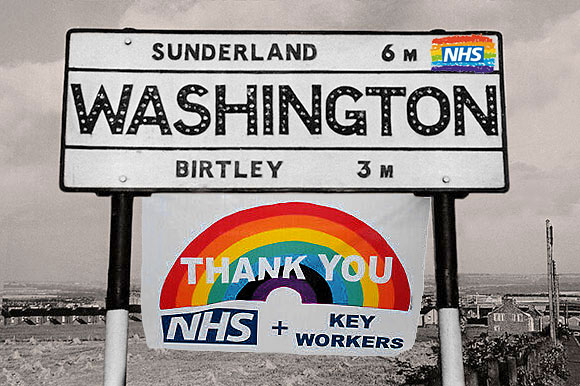 A Nostalgic Journey 'in & around' the original Village of Washington
[ Click above picture for views of the 'F' Pit Heaps. ]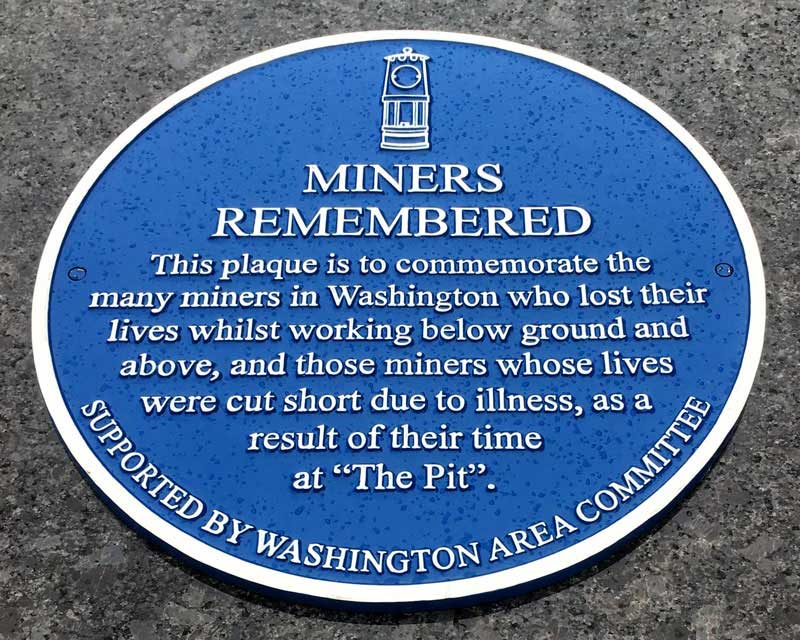 Washington Miners' Statue and Blue Plaque
[ Picture from Washington History Society ]
• • ◊ • •
Some Recent Additions
1. Old Postcard showing the interior of Our Blessèd Lady Immaculate Church. Also Link to Centenary Booklet.
2. Thanks to Jim Adams for contributing an image of his Cycling Proficiency Certificate to our Glebe School Pages.
3. Information about Washington Holy Trinity Church's 'War Memorial' East Window. Can anyone help with a picture?
4. Smashing old 'Near The Wear' picture showing Chartershaugh Colliery Headgear and Penshaw Monument.
5. Diesel Multiple Unit Train - en route from Sunderland to Durham City - pulling into Coxgreen Station.
6. Thousands of Washington people passed this building over the years. My Dad took me several times. I loved it!
7. Tragic Fight between two Usworth Miners held in the fields near Usworth Station and witnessed by large crowd.
This is an almost 'forgotten piece' of Local History. Thanks to Joe Chipchase for a super contribution.
You'll never guess where the Inquest was held. No, it wasn't in a Miners' Hall.
• • ◊ • •
What's Where?
Site Map / Location Index
[ Click one of the above Images. ]
"Nothing is ever really lost to us as long as we remember it."
Lucy Maud Montgomery
(1874-1942)
• • ◊ • •
The Content of this Website was provided by the People of Washington.
You are welcome to download any non-copyright images that you would like to keep or print.
[ If you wish to upload images to another website, please mention raggyspelk.co.uk ]
---