A Nostalgic Journey in & around the Original Village of ...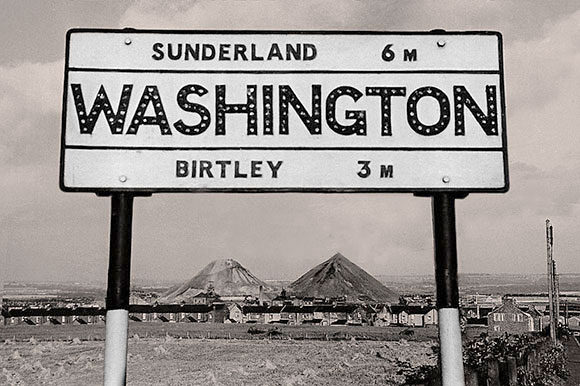 NOTICE BOARD
Latest upload: Friday, 21st September 2018.
• • ◊ • •
1. PHOTO GALLERY
1.1 I came up with several locations for this road sign. There was always something to prove me wrong. I'm baffled!
1.2 James Rutter Snr's Panther motorcycle at 49, North Ave - just behind Drive Shops. Thanks to Jimmy in the sidecar!
1.3 A Glebe Colliery Disaster 'Commemorative Card' has been added to our article about this 1908 local catastrophe.
1.4 Usworth Colliery Welfare Park, showing one of the seats near the Band Stand and the big gates from Manor Road.
1.5 Which highly educated 'Pillar of the Community' signed a Christmas photograph of himself with this Smiley Face?
500 People Attend
WINE TASTING AT TOP CLUB!
Also:
Prize Winners at Cook's Chapel
George Melly in Washington
How many gallons of beer do you think
were sold each week in the 'New' Top Club?
[ Press cutting - probably early 1970s. ]
Before The 'New' School
WASHINGTON GRAMMAR
Form 1b, 1952
Names added to duplicate image.
[ Thanks to Stafford Linsley. ]
---
2. ARTICLES, SELECTIONS, MAPS ETC.
2.1 The catastrophic Fatfield Colliery Disaster of 1708 has been given a memorial Blue Plaque. Pictures & details.
2.2 An Usworth brick found in the River Wear near Cretehawser! What's that? Find out, thanks to Keith Cockerill.
2.3 'Then & Now' maps, plus a 'Now' picture, added to the Stafford Linsley's Wilden Terrace / Arthur's Place pictures.
This 1974, B&W image of
USWORTH COLLIERY
has been around for ages. However, its
photographer has sent us the
original colour version.
* Scheduled for next weekend, especially for 'F' Pit men. *
Stafford has sent us two more
excellent Pit Pictures.
A letter written by
Sir Isaac Lowthian Bell F.R.S.
Imagine how working class people
counted their pennies in 1862,
then read this letter.
[ Courtesy of Keith Cockerill ]
---
3. OTHER STUFF
'What's Where' & 'How To Get There'
( Click one of these great pictures. )
• • ◊ • •
The Content of this Website was provided by the People of Washington.
You are welcome to download any non-copyright images that you would like to keep or print.
If you wish to upload images to another website, please mention raggyspelk.co.uk.
---
"Nothing is ever really lost to us as long as we remember it."
Lucy Maud Montgomery
(1874-1942)
---