A Nostalgic Journey in & around the Original Village of ...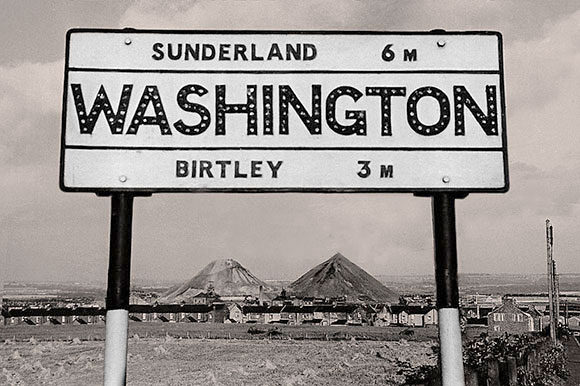 NOTICE BOARD
Last Upload: Monday, 29th May 2017
• • ◊ • •
So long, Marra.


Thomas Charles Thirlaway (1946 - 2017)
We had some great times, Tom.
R.I.P.
• • ◊ • •
Washington Heritage Fair & Miners' Fête
3rd June, Bowes Railway Museum
( See poster in sidebar. )
• • ◊ • •
1. PHOTO GALLERY
1.1 This may be a poor quality press cutting but its fabulous composition shows Fatfield's 'shortened' War Memorial.
1.2 Aerial picture of Holy Trinity & Old Hall - taken a few seconds after a previously posted picture of the same scene.
1.3 This Washington, County Durham addressed postcard was delivered to me twice, first in 1960, again in 2017!
1.4 Unidentified press cutting of the partially demolished Usworth Upcast Shaft, its pulley wheels are dumped nearby.
1.5 Group picture taken outside Springwell's Guide Post Inn. Thanks to Alma Madden for posting these Old Gentlemen.
Chester-le-Street and District
Junior League Champions
( Usworth Juniors )
Top quality, c/w names, taken from an original
picture belonging to Jim Furnevel.
"Cheers, Jim. Have a pound!"
---
2. ARTICLES, SELECTIONS, MAPS ETC.
2.1 New addition to the 5-page, 24-tab, Then & Now collection. Bowes Railway level crossing, from Sheddon's Hill.
2.2 A personal collection of six top quality Springwell postcards. Posted by kind permission of owner, Keith Cockerill.
2.3 Thanks to Doris Jones for allowing us to see her splendid old map. A car park covers this once tranquil scene!
Hostel Estate Residence Registers
'The Squatters' took residence in Aug. 1946.
Who lived on the Hostel Estate in
Oct. 1947 & Oct. 1959?
( Oct. 1947: I was 1 month old and living in 55b. )
Were any members of your family squatters?
Thanks to David Simpson for supplying both lists.
( David is the author of 'No Homes For Heroes'. )
---
3. OTHER STUFF
Tribute to Washington Miner/Soldier, Richard Drummond
by local musician and ex-Glebe pupil, Ed Pickford.
Inspired by the 'Wad Thou Gan?' DVD.
( YouTube link )
You'll find Ed Pickford in the 1957, Glebe School, 3rd Year GCE photo on page PG10, where he isn't named!
However, Peter Wardle has just identified all 36 people in the group. Upload: next weekend.
'What's Where' & 'How To Get There'
( Click one of these great pictures. )
• • ◊ • •
The Content of this Website was provided by the People of Washington.
You are welcome to download any non-copyright images that you would like to keep or print.
If you wish to upload images to another website, please mention raggyspelk.co.uk.
---
"Nothing is ever really lost to us as long as we remember it."
Lucy Maud Montgomery
(1874-1942)
---