NOTICE BOARD
Latest upload: Friday, 17th January 2020.
• • ◊ • •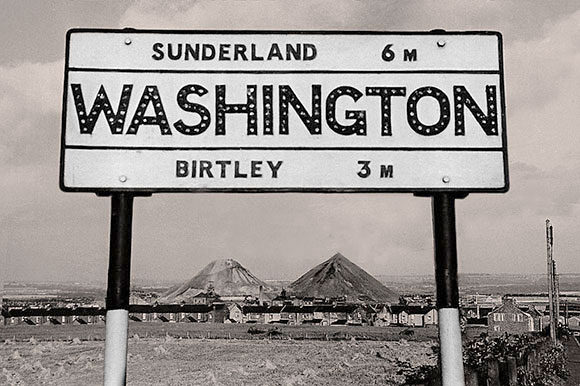 A Nostalgic Journey 'in & around' the original Village of Washington
[ Click above picture for more views of the 'F' Pit Heaps. ]
• • ◊ • •
ARTICLES, COLLECTIONS, MAPS, PHOTO GALLERY etc.
1. Welcome Home Medals for WW1 Soldiers, plus related Press Transcripts. Thanks to Barry Sly & Peter Welsh.
2. Seen on the River Tyne in the early 1900s. Picture taken from South Shields. No prizes for guessing its name.
3. Added to our 'spruced-up', Colour Postcards collection - the original Post Office on Washington Station Road.
---
4. The Statue's Sculptor. The Unveiling Ceremony & Blessing. Photos taken by Usworth & Glebe Banner Groups.
5. Clue: We arhl knarr Little Bobby liked a Drink 'n' a Drag. Here-ry is, arhl dolled-up w' sum geezer off the telly.
6. Transcript of WW1 & WW2 Plaques in High Usworth Holy Trinity Church. Thanks to Washington History Society.
7. Usworth Miners' Welfare Hall Collection. Created from 3 New Pictures and several existing pictures - spruced up!
---
OTHER STUFF
* NEWS *
1. Record Broken for Number of 'Unique Visitors' in 'One Month' Period.
( See bottom, right-hand-corner of This Page. )
2. Microsoft stopped supporting Windows 7 last week.
Time to upgrade to Windows 10. Big Snag! Your old computer probably won't be up to the job.
Keep Safe on-line ... Treat Yourself to a New PC.
• • ◊ • •
'What's Where' & 'How To Get There'
( Click one of these great pictures. )
• • ◊ • •
The Content of this Website was provided by the People of Washington.
You are welcome to download any non-copyright images that you would like to keep or print.
If you wish to upload images to another website, please mention raggyspelk.co.uk.
---
"Nothing is ever really lost to us as long as we remember it."
Lucy Maud Montgomery
(1874-1942)
---