NOTICE BOARD
Last Upload: Friday, 20th May 2022.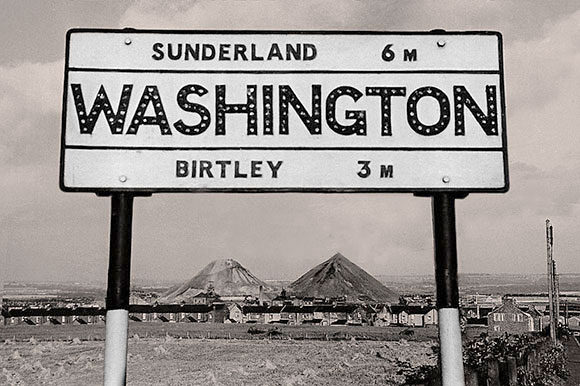 A Nostalgic Journey 'in & around' the original Village of Washington
[ Click above picture for views of the 'F' Pit Heaps. ]
• • ◊ • •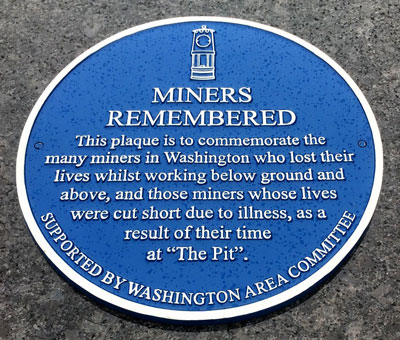 Washington Miners' Statue and Blue Plaque
[ Thanks to Washington History Society ]
• • ◊ • •
Some Recent Additions
1. Added to our Halls & Castles Article. Washington Crest (right) and what it looks like now - years after being vandalised!
Hopefully, the Stars will soon be fitted back in position by English Heritage. Which Hall or Castle is it attached to?
2. Thanks to Carol for passing on this superb image. I walked along / crossed these tracks numerous times in my youth.
It's inspired me to make a 'Photo Gallery' display of it and many other associated pictures.
3. Added: 3 Farms plus the above Aerial Shot to an Existing Farm. Name The Farm & Other Buildings.
4. Added to Bridge Collection: Good Quality 1958 photograph taken during the construction of Coxgreen Footbridge.
5. Familiar with Usworth in the 50s / 60s? You might enjoy comparing this Aerial Photo with an earlier version and Map.
The Link takes you to Page 1/4. After you've seen that, and The Poem, use the Top Menu to go to Page 3/4.
That's where you'll find the above Aerial Photograph. Several New Town items have appeared.
You can access the above Pages from What's Where; Maps; Usworth etc.
6. Wander along The Avenue from The Village Smithy to the Junction with Washington Station Road & Fatfield Road.
7. There's something much more interesting on new Barmston Riverside Page 5/7 than the delightful Rose Cottage!
Another major reorganisation / addition to this article to discuss an Old Walkway and The Vedra.
What's that? You might well ask! I only found out what it was 2 or 3 weeks ago.
• • ◊ • •
What's Where?
Site Map / Location Index
[ Click one of the above Images. ]
"Nothing is ever really lost to us as long as we remember it."
Lucy Maud Montgomery
(1874-1942)
• • ◊ • •
The Content of this Website was provided by the People of Washington.
You are welcome to download any non-copyright images that you would like to keep or print.
[ If you wish to upload images to another website, please mention raggyspelk.co.uk ]
---