A Nostalgic Journey in & around the Original Village of ...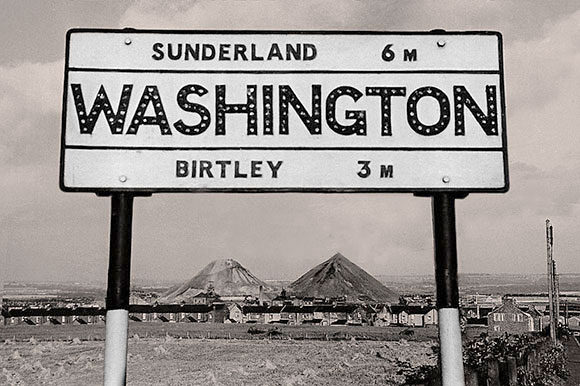 NOTICE BOARD
Friday, 20th July 2018.
• • ◊ • •
1. PHOTO GALLERY
1.1 A Washington Wesleyan Church was known to the locals as the Kid Gloves and Lavender Chapel. Where & Why?
1.2 Barmston Forge House plus 1892-1914 Map. [ I'm not sure where Stephenson's (Corn) Watermill was located! ]
1.3 Floor layout plan of the Galleries Shops. See how many shops, banks, solicitors, chemists etc. you remember.
1.4 1st left - Regal Cinema; 1st right - Fire Station & Alfie's Bingo; Ahead: New Inn Corner; Back: Main road to Penshaw.
1.5 Unidentified press cutting naming a Washington F.C. team. They beat Roker 4 - 0 in a Wearside League game.
David Simpson's brilliant Watercolour of
Washington Miners' Welfare Hall
( in the style of L.S. Lowry. )
On behalf of fellow former Members:
Thanks, David, this has evoked
Many Happy Memories!
---
2. ARTICLES, SELECTIONS, MAPS ETC.
2.1 New addition to article: a picture showing the site of the former North Biddick Colliery - Green and Pleasant Land!
2.2 I think Richardson Terrace was named after this man. Update: Find out when Richardson Terrace was being built.
2.3 Diesel Train passing Barmston Village on its way to Washington Station, Victoria Bridge etc. Go to bottom of Tab 1.
'Pensher' Monument Loft
( A second article written by Paul Lanagan )
Following the incredible coincidence of
meeting Paul at Beamish Museum
on Tuesday 17, he's given me
permission to post his
super Loft article.
[ Cheers Paul ]
---
3. OTHER STUFF
'What's Where' & 'How To Get There'
( Click one of these great pictures. )
• • ◊ • •
The Content of this Website was provided by the People of Washington.
You are welcome to download any non-copyright images that you would like to keep or print.
If you wish to upload images to another website, please mention raggyspelk.co.uk.
---
"Nothing is ever really lost to us as long as we remember it."
Lucy Maud Montgomery
(1874-1942)
---