A Nostalgic Journey in & around the Original Village of ...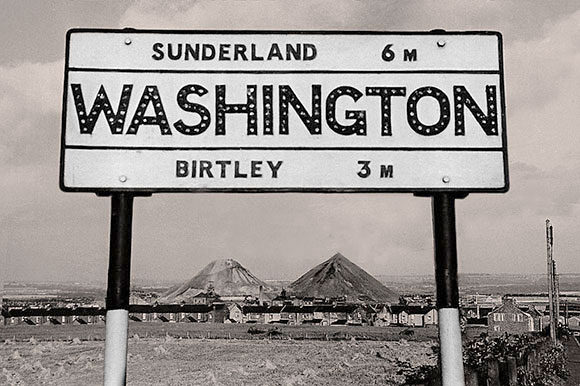 NOTICE BOARD
Friday, 20th April 2018.
• • ◊ • •
This Website disappeared from the Internet
09:00 Thursday 19th, to 11:25 Friday 20th.
( Thanks for your help, Chris. Who cancelled my BT contract? Investigation in progress! )
1. PHOTO GALLERY
1.1 Washington Grammar U13s on The Comrades with a Cup. Featuring the smiling 'Doc' Telford and Howard Kendall.
1.2 Usworth Secondary School on Heworth Road. Shows the 'Flat Tops' and the route of the 'Old Coach Road'.
1.3 Diesel hauled passanger train approaching Victoria Viaduct, having just passed through Washington Station.
1.4 No, this isn't the P.O. near St Cuthbert's Mission Hall; it's an earlier one, near Washington Station railway bridges.
1.5 A vastly superior replacement image showing this well-known Terrace as demolition time approached. Name it!
Well Known Bus Route
Think Double-Deckers!
[ Difficulty: 4/10 ]
---
2. ARTICLES, SELECTIONS, MAPS ETC.
2.1 Bradshaw 1887: Sunderland to Bishop Auckland railway timetable, including fares to Coxgreen and Penshaw.
2.2 If you haven't heard about Jimmy Hagan, you'll be amazed at what he achieved at Benfica FC. Ask Eusébio!
2.3 This picture in a small collection showing one of the New Town's earliest factories - Radio Corporation of America.
Glebe Colliery / The Avenue
2 Old Photos, paired with 'April 2018' versions,
added to 'Then & Now' Collection.
Regulars please note:
Several Pages / Tabs in the 'Then & Now' Collection
have been rearranged to accommodate
this addition at Page 3 / Tab 5.
---
3. OTHER STUFF
'What's Where' & 'How To Get There'
( Click one of these great pictures. )
• • ◊ • •
The Content of this Website was provided by the People of Washington.
You are welcome to download any non-copyright images that you would like to keep or print.
If you wish to upload images to another website, please mention raggyspelk.co.uk.
---
"Nothing is ever really lost to us as long as we remember it."
Lucy Maud Montgomery
(1874-1942)
---