NOTICE BOARD
Latest upload: Friday, 28th January 2022.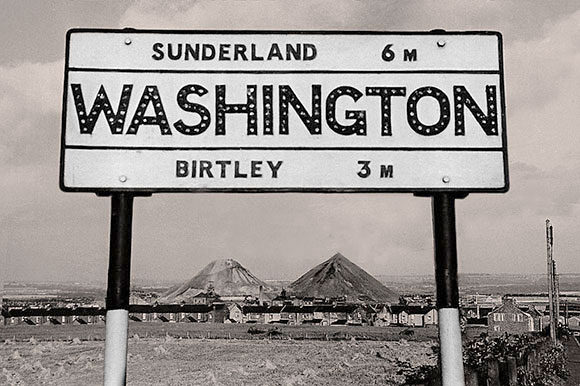 A Nostalgic Journey 'in & around' the original Village of Washington
[ Click above picture for views of the 'F' Pit Heaps. ]
* 2 NEW *
Excellent picture of Woodland Terrace added to the 'Usworth Station Rd' Tab.
Also a wide-angle view of the 'F' Pit on the 'Blue House Lane' Tab
[ Click the above 'Washington Road Sign'. ]
• • ◊ • •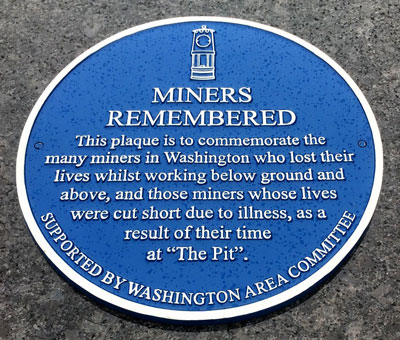 Washington Miners' Statue and Blue Plaque
[ Picture from Washington History Society ]
• • ◊ • •
Some Recent Additions
1. One of our local Colliery Lodge Banners is the only Durham Banner to be accompanied by a Folk Band. Which Pit?
2. No, not a member of the local Gentry, this is John Rodgerson, the last Fore-Shift Overman at North Biddick Colliery.
3. In our early teens, Me 'n' me Marras were very keen Subbuteo players, so this picture came as a bit of a surprise.
4. Fatfield Albion FC - Cup Winning Team, 1910-11. A rearranged press cutting from a Sunderland Echo story in 1967.
Years later, Jack Weddle became Fatfield Albion's most famous player. Who did he play for?
Jack's name has been added to our 'Local Players in League Teams' List.
Go to What's Where; People; Football; etc. or CLICK ME 1/2
For more info on Jack Weddle: CLICK ME 2/2
5. Painting by William Beilby, mid-1770s. What's that Contruction, bottom-right? Name the Farm around the River bend.
6. Two new images, plus the Woodland Terrace picture mentioned above, added to our 'Stroll Down' Collection.
7. Our Barmston Riverside Article contained 3 vintage pictures of the South Landing but none of the North Landing.
I was sent this super picture a couple of weeks ago, and it's a Beaut!
• • ◊ • •
What's Where?
Site Map / Location Index
[ Click one of the above Images. ]
"Nothing is ever really lost to us as long as we remember it."
Lucy Maud Montgomery
(1874-1942)
• • ◊ • •
The Content of this Website was provided by the People of Washington.
You are welcome to download any non-copyright images that you would like to keep or print.
[ If you wish to upload images to another website, please mention raggyspelk.co.uk ]
---