A Nostalgic Journey in & around the Original Village of ...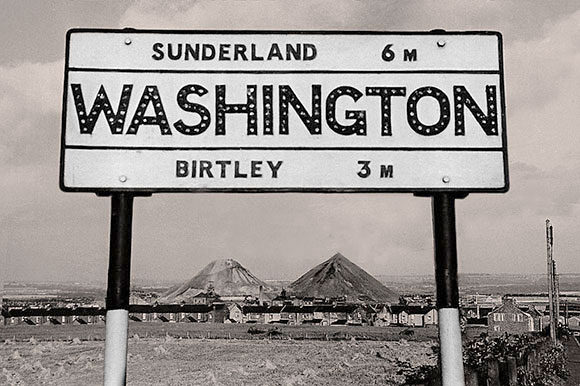 NOTICE BOARD
Latest upload: Friday, 18th January 2019.
1. PHOTO GALLERY
1.1 Cast Iron Plaque from Joseph Cook's Washington Iron Works. This plaque was sold on-line in November 2018.
1.2 Sorry everybody, I had this 1952 Washington Grammar School class incorrectly labelled as Form 1B. It's Form 1A.
1.3 HM Queen Mother, opening Bowes Railway in July 1976, accompanied by Dr Stafford Linsley & Sir James Steel.
1.4 Awful aerial picture showing the site of the proposed Fatfield Village. It's here for visitors who know the area.
1.5 Star of the Sea: a Roman Catholic social club which stood on Village Lane opposite the former Brandy Row School.
Added to 'Pub Crawl' Selection.
THE GLEBE PUB
Go to 'Others' Tab.
[ Thanks to Adrian Lupton ]
---
2. ARTICLES, SELECTIONS, MAPS ETC.
2.1 Nine Associated Images of the A194(M) Bridge construction at High Usworth. Thanks to Adrian Lupton.
2.2 Old Pamphlet laying out a circular walk along the R. Wear. Some things have changed but it's still worth the effort.
2.3 Washington Development Corporation Information Pamphlet: A Brief History of Early Washington and The Old Hall.
Colour Pictures
of well known Washington scenes
Postcard Images
Spruced Up
There are now 5 images in this collection.
[ I've got two more to prepare for next week. ]
Colour Pictures at the
Low Lambton Coal Depot
between Penshaw Station
and Victoria Bridge.
---
3. OTHER STUFF
'What's Where' & 'How To Get There'
( Click one of these great pictures. )
• • ◊ • •
The Content of this Website was provided by the People of Washington.
You are welcome to download any non-copyright images that you would like to keep or print.
If you wish to upload images to another website, please mention raggyspelk.co.uk.
---
"Nothing is ever really lost to us as long as we remember it."
Lucy Maud Montgomery
(1874-1942)
---