A Nostalgic Journey: in & around the Original Village of ...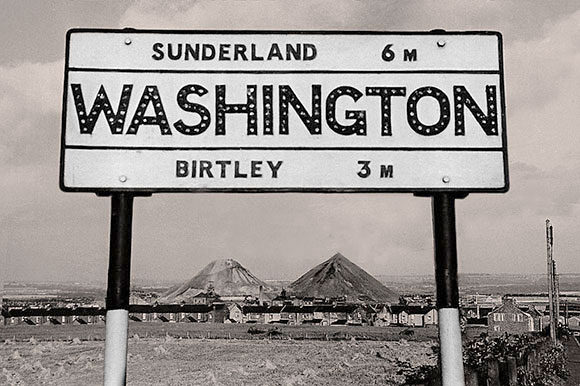 NOTICE BOARD
Last Upload: Friday, 24th March 2017
• • ◊ • •
'WASHINGTON COMMUNITIES BUILT ON COAL'
( ... is a locally produced Booklet and it's FREE! Details in the Sidebar → → → )
1. PHOTO GALLERY
1.1 Upper Standard School Group c/w names. One of the girls was seriously hurt in an accident at New Rows Chapel.
1.2 Usworth Banner crossing Elvet Bridge in 1968 - with one of the Pit's 'larger-than-life' characters leading the way.
1.3 I passed the Police Station notice board every day, on my way to school. This notice was displayed until it rotted!
1.4 Especially for Paul: an old Springwell Village picture showing Bowes Crescent. Plus a question for Older Residents.
1.5 Fairly low quality but very interesting picture showing the construction of Washington Galleries & Blackfell Village.
Coming Soon: Peter Wardle's sent us another Glebe School Staff picture, c/w names - 17 Teachers, 1959/60.
'F' PIT LODGE BANNER
making its way along Spout Lane / Shafto Terrace,
en route to Washington Miners' Wefare Hall.
---
2. ARTICLES, SELECTIONS, MAPS ETC.
2.1 From Penshaw Hill: look over Cox Green Station to Chemical Works & 'F' Pit Heap. Click Picture; go to TAB 4.
2.2 The M&Q Book (top) contains Workmen's Representatives' reports into 3 fatal accidents at Usworth Colliery.
2.3 Thanks to Jimmy McAdams for supplying this photo c/w names & info. Who remembers Jimmy's nickname?
Admiral Sir John Jellicoe
fronts a postcard sent to a Current Usworth Street.
(Images from one of this website's regular supporters.)
Jack's message to Sarah is about a practical matter.
No doubt his thoughts were confined to letters.
---
3. OTHER STUFF
You'll find Links to Articles and PG Numbers for all Major Locations in What's Where
( Please Note: The above pictures aren't necessarily on the target page. )
• • ◊ • •
The Content of this Website was provided by the People of Washington.
You are welcome to download any non-copyright images that you would like to keep or print.
If you wish to upload images to another website, please mention raggyspelk.co.uk.
---
"Nothing is ever really lost to us as long as we remember it."
Lucy Maud Montgomery
(1874-1942)
---