NOTICE BOARD
Latest upload: Friday, 18th September 2020.
• • ◊ • •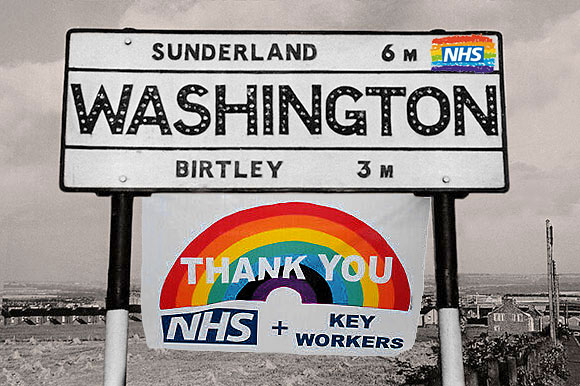 A Nostalgic Journey 'in & around' the original Village of Washington
[ Click above picture for views of the 'F' Pit Heaps. ]
• • ◊ • •
1. No Prizes for identifying his Team Mate in the No.5 Shirt.
This England International has also been added to 'Local Players / Football League Teams'.
[ The above Two Links can also be found in What's Where; People; Football. ]
• • ◊ • •
ARTICLES, COLLECTIONS, MAPS, PHOTO GALLERY etc.
2. A super view across a Smallholding. Can you name the Two Central Buildings and Big Building? Thanks Adrian.
3. Thanks to Jim Adams for contributing an image of his Cycling Proficiency Certificate to our Glebe School Pages.
4. Information about Washington Holy Trinity Church's 'War Memorial' East Window. Can anyone help with a picture?
5. Find out how Usworth Colliery Welfare Park came to be built in the 1920s. A Contribution from Joe Chipchase.
6. How did The Hostel Estate become 'The Squatters'? An Introduction to David Simpson's 'No Homes For Heroes'.
7. On Friday, 24th July, a Ceremony was held in Concord to commemorate Miners who died in our Local Collieries.
8. Tragic Fight between two Usworth Miners held in the fields near Usworth Station and witnessed by large crowd.
This is an almost 'forgotten piece' of Local History. Thanks to Joe Chipchase for a super contribution.
You'll never guess where the Inquest was held. No, it wasn't in a Miners' Hall.
---
OTHER STUFF
'What's Where' & 'How To Get There'
( Click one of these great pictures. )
• • ◊ • •
The Content of this Website was provided by the People of Washington.
You are welcome to download any non-copyright images that you would like to keep or print.
If you wish to upload images to another website, please mention raggyspelk.co.uk
---
"Nothing is ever really lost to us as long as we remember it."
Lucy Maud Montgomery
(1874-1942)
---