NOTICE BOARD
Latest upload: Friday, 22nd November 2019.
• • ◊ • •
↓ Link Added to 'Pit Heaps' Picture ↓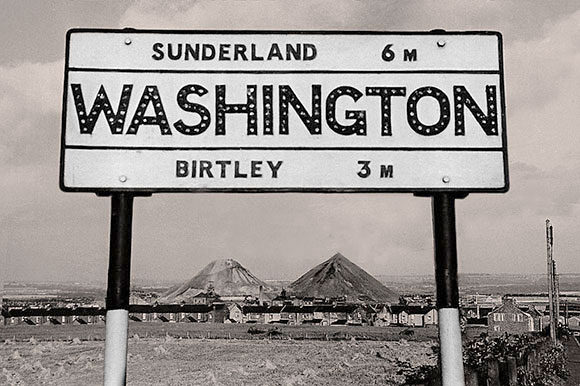 A Nostalgic Journey 'in & around' the original Village of Washington
• • ◊ • •
ARTICLES, COLLECTIONS, MAPS, PHOTO GALLERY etc.
Four Excellent School Groups Added. Thanks to Barry & Margaret Bell.
1. A 2004 School Reunion Notice designed to bring together Usworth Junior School Pupils from Class 5A, c.1948.
2. Washington Council School: Where was that? The W.C.S Football Team, 1919-20. [ Also on TEAMS 2, Board 6. ]
3. Washington Grammar School: A 1952 Class photograph shown in its accompanying presentation frame.
Plus: 2 New Pages (Sport & More Pupils) added to our Wash. Grammar Collection. See Tab 3, then click WGS Page 1.
---
4. Springwell Primary School Pupils: Smashing picture, taken in 1925, added to our 'fairly small' Springwell Collection.
5. Latest addition to 'Take A Stroll' Collection. The others are: Usworth Station Rd, Wash Station Rd & Front Street.
6. If yev just fund-oot Bobby's gorra Blue Plaque, click ees cartoon fer arhl the details - where it is, 'n' when ee gorrit!
7. Peareth Hall Rd runs from Springwell to High Usworth. Where was The Hall? Where was Susan Peareth's School?
Little Bobby's Cartoon & Mrs Peareth's Blue Plaque
link to the same NEW Intermediate Page.
---
OTHER STUFF
* Please Note: *
If you like this Website and your computer runs Windows 10,
it's dead easy to add a Shortcut to your Desktop.
( Details below Spelk's Spider. → )
'What's Where' & 'How To Get There'
( Click one of these great pictures. )
• • ◊ • •
The Content of this Website was provided by the People of Washington.
You are welcome to download any non-copyright images that you would like to keep or print.
If you wish to upload images to another website, please mention raggyspelk.co.uk.
---
"Nothing is ever really lost to us as long as we remember it."
Lucy Maud Montgomery
(1874-1942)
---