NOTICE BOARD
Latest upload: Friday, 7th May 2021.
Sorry Everybody, this weekend's upload is Cancelled!
Due to lack of support, I've decided to dump an informative Fatfield Bridge Article.
I'm sorry you missed it. C'est la vie.
However,
I've been sent 2 photos from a regular contributor that I'll prepare for next week.
They link one of Sunderland's most ancient Pubs to a narrow Lane and ... Usworth Brickyard!
A Nostalgic Journey 'in & around' the original Village of Washington
[ Click above picture for views of the 'F' Pit Heaps. ]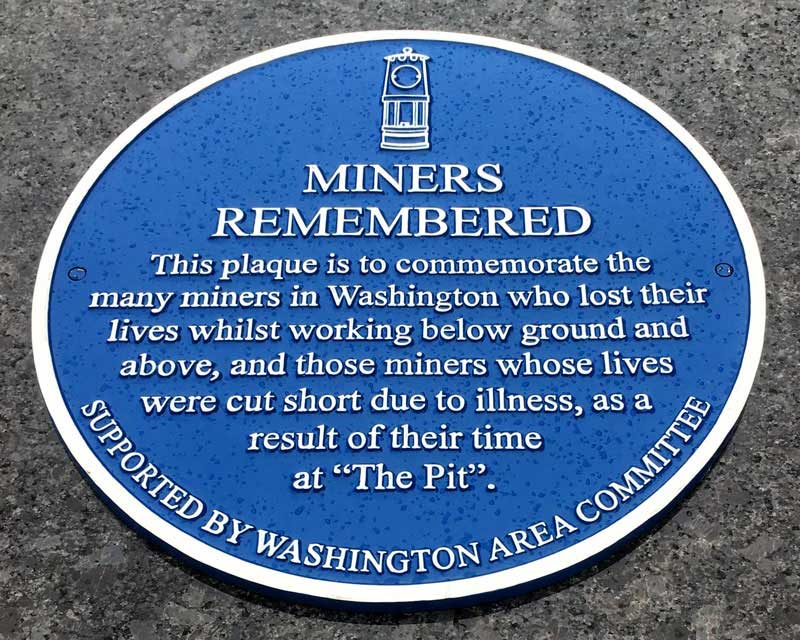 Washington Miners' Statue and Blue Plaque
[ Picture from Washington History Society ]
• • ◊ • •
Some Recent Additions
1. Letter written by Fred Hill. It describes a horrendous event that could have resulted in great loss of life at this School!
2. Not The Ship at Eighton Banks. A Pub that changed its name from The Ship to something associated with its location.
We took a Bus to a Railway Station and walked past the Pub en route to its 'Future Name'. Thanks to Frank Hunter.
3. Early 1950s Chemical Works Cricket Team Photo supplied by Frank Hunter. Five players identified. See Board 4.
4. Three more additions to our Local Bricks Article - Cook's, one showing a Castle, and one marked 'Londonderry'. Why?
5. New information and images combined with existing items to produced a single article - A Brief History of Springwell.
Added to this Article: a 'Top Menu Link' for easy access to John Robson's excellent Springwell Journal.
6. Bill Towers was an 'F' Pit Man and one of Washington's First Volunteers. Thanks to Bill's Granddaughter, Hilary Sly.
7. Two 'Dubious' Press Cuttings. Ned Kelly's dad worked at Usworth Pit. Washington had a Highwayman / Robin Hood.
Fact or Fiction? I know what I think. You decide for yourself!
• • ◊ • •
What's Where?
Site Map / Location Index
[ Click one of the above Images. ]
"Nothing is ever really lost to us as long as we remember it."
Lucy Maud Montgomery
(1874-1942)
• • ◊ • •
The Content of this Website was provided by the People of Washington.
You are welcome to download any non-copyright images that you would like to keep or print.
[ If you wish to upload images to another website, please mention raggyspelk.co.uk ]
---