NOTICE BOARD
Latest upload: Friday, 12th July 2019.
Washington Miners' Picnic →
[ Click the Poster image for details. ]
• • ◊ • •
* Lots of Laughs & W.G.S. Memories - Washington Arms, Wed, 10 July *
Thanks to: Jane, Lynne & Tom, Susan & Mel, Albert, Brian, Derek, Joe and Peter.
I enjoyed it immensely. Jim
• • ◊ • •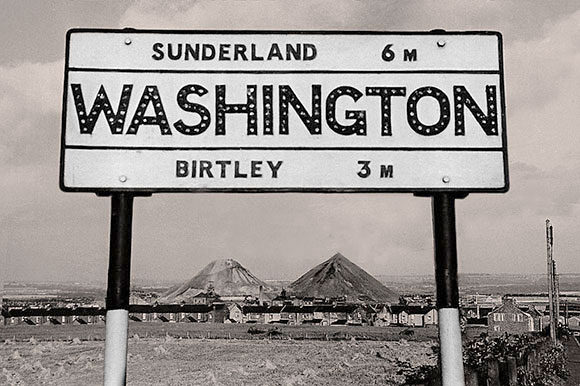 A Nostalgic Journey 'in & around' the original Village of Washington
• • ◊ • •
1. PHOTO GALLERY
1.1 Any idea when the last Steam Engine hauled Iron Ore to Consett via Washington Station and Biddick Crossing?
1.2 1st Washington Scouts and Cubs, c.1950 - at their headquarters, The Geoffrey Newall Hut, Glebe Crescent.
1.3 The original, open to all weathers Bus Station at The Galleries - shows the original steps leading to Woolco etc.
1.4 Demolition of the Usworth Pit Heap that ran alongside The Burn. Who remembers climbing on the WW2 Pillbox?
Remember this photograph? It's labelled
Old Washington
We now have a definitive I.D. from
a former Fatfield man.
[ Confirmation from Barrie Sly ]
---
2. ARTICLES, SELECTIONS, MAPS ETC.
2.1 and 2.2 A great picture of Springwell Primary School H/M Mr Potts prompted a new entry in our Schools Section.
This week you'll find another new entry - St. Bede's. The idea is to encourage more photos of these two Schools.
2.3 Old group picture added to 'Regal 1' Tab. The Staff of The Regal or, perhaps, The Alexandra Theatre? You decide.
A Much Superior Replacement
of a 1937 Photograph of
Cox Green Chapel
Used to make a 'Cox Green Tab'
for our 'Churches & Chapels' Collection.
[ Picture supplied by Keith Cockerill ]
* NEW * Duplicate of St. Bede's Church photos added to 'New Washington Tab' of Church Collection.
Added to our 'Then & Now' Collection
'Well Known' Washington Road
The road curves to the left before passing
the 'Big House'. No, it isn't Blue House!
[ Click picture and go to Last Tab. ]
More Information regarding the Blue Plaque
awarded to the Gallant Airmen of
RAF Usworth
for their part in repelling the Luftwaffe
during the Battle of Britain.
[ Thanks to Ernie Guy ]
• • ◊ • •
* NEW * A section of the 1868 Harraton Registrar's Document, recording Thomas Richardson's birth,
added to Page 2/3 of The Richardson Family Article. See Tab 4: Thomas Richardson.
There's a very interesting aspect to his mother's affirmation!
---
3. OTHER STUFF
'What's Where' & 'How To Get There'
( Click one of these great pictures. )
• • ◊ • •
The Content of this Website was provided by the People of Washington.
You are welcome to download any non-copyright images that you would like to keep or print.
If you wish to upload images to another website, please mention raggyspelk.co.uk.
---
"Nothing is ever really lost to us as long as we remember it."
Lucy Maud Montgomery
(1874-1942)
---