A nostalgic journey, in & around The Original Village of ...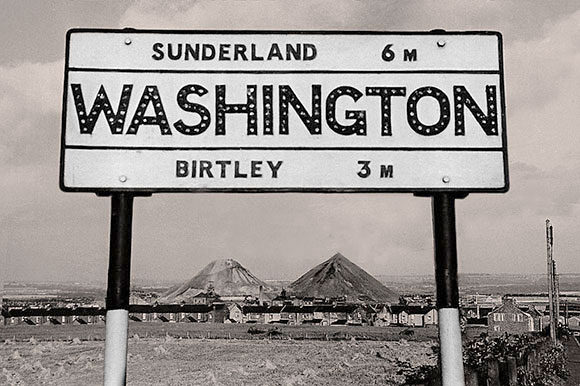 NOTICE BOARD
Last upload: Friday, 2nd December 2016
1. PHOTO GALLERY
1.1 Families celebrating Queen Elizabeth's Coronation inside High Usworth's Tithe Barn. Also a close-up of the outside.
1.2 The 88 kids who left High Usworth School in the summer of 1967. [Link goes to Schools: High Usworth.]
1.3 Map showing the location of Chartershaugh Wesleyan Methodist Chapel - NOT the Primitive Methodist Chapel.
1.4 Press cutting: Washington Development Corporation's Ladies' Swimming Team of 1976. All names included.
1.5 Map and picture of Chartershaugh Primitive Methodist Chapel. Yes, Chartershaugh had two Methodist Chapels!
Joseph Cook's Ironworks
Map locating this famous Washington Company
It was close to Calder's Timber Yard which
I visited on a Grammar School day trip.
Entry to Calder's was along a road,
parallel to the railway line,
from Biddick Lane.
---
2. ARTICLES, SELECTIONS, MAPS ETC.
2.1 There were six 'Picture Houses' (that I know of) within reasonable walking distance of Washington Village Green.
2.2 Press cutting: A list of Landlords / Ladies at the Cross Keys Inn, from 1827 to 1995. Researched by Ron Lawson.
2.3 I've replaced three rather blurry original images with better quality versions and compared them to updated photos.
You'll find these image-pairs in a new 'Then & Now' collection, with previously posted images of Wash Station Rd.
There'll be another addition next weekend - Susan Peareth's School. Where was that?
A Brief History of ...
1. Springwell Village
2. Washington Station.
Regulars will have already seen the Springwell press cutting.
The Washington Station cutting is a new addition.
They are together in a combined page
ready for similar additions.
---
3. OTHER STUFF
You'll find Links to Articles and PG Numbers for all Major Locations in What's Where
( Please Note: The above pictures aren't necessarily on the target page. )
• • ◊ • •
The Content of this Website was provided by the People of Washington.
You are welcome to download any non-copyright images that you would like to keep or print.
If you wish to upload images to another website, please mention raggyspelk.co.uk.
---
"Nothing is ever really lost to us as long as we remember it."
Lucy Maud Montgomery
(1874-1942)
---