A Nostalgic Journey in & around the Original Village of ...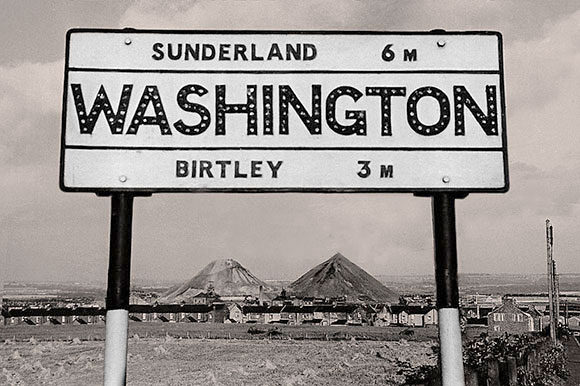 NOTICE BOARD
Sunday, 20th May 2018.
• • ◊ • •
Big News on the Local History Front:
See WOW! below.
1. PHOTO GALLERY
1.1 Super quality B&W picture of a Ladies' Lunch / Meeting held inside Usworth Colliery Miners' Welfare Hall.
1.2 Very interesting, in spite of the low quality and speckles. Worm Hill and the headgear of Chartershaugh Colliery.
1.3 The view along Springwell Road, from the north side of the Guide Post Inn, looking towards Springwell Coop Store.
1.4 Upgraded picture: Lloyd's Bank (Dentist's above) & New Inn Corner. Much better quality than its predecessor.
1.5 Edna Felton, née Shevills, has passed the T. H. Cann Aged Miners' Homes and is heading for the 'Pit Road Ends'.
Added to our
Pit Baths Article
Large image of an 'F' Pit Miner's Brass Token.
Other pictures in this article can be clicked for a
closer view ... including the bathing miners!
---
2. ARTICLES, SELECTIONS, MAPS ETC.
2.1 The T. H. Cann, Aged Miners' Memorial Homes. Who was Mr Cann and who laid the other commemorative stones?
2.2 PANT found in the Donwell area. Uncovered due to a garden project. What's a Pant and why is it significant?
2.3 How did a Brook running from Springwell via 'F' Pit yard to Cox Green cause New Road to have its name changed?
The Richardson Family
Includes the story of Esther Howey,
later Mrs W. P. Richardson.
• • ◊ • •
W.P. was the Usworth Lodge Branch Secretary
and later, General Secretary of the D.M.A.
Read how Usworth Miners showed their appreciation
for the efforts of Mr & Mrs Richardson.
---
3. OTHER STUFF
"Two Papers 'n' Two Bags 'a' Chips, Please."
Who remembers their Mam sending them out to ask for an order like that?
Well, Tuesday was a lovely sunny day so my wife and I jumped on the
No.8 Bus for a 'Fish & Chip lunch' at Beamish Museum. Delicious!
It's still only £14 for an over-60s, 12 Month, Unlimited Ticket.
More details: click the Beamish Museum Gate. ↗
'What's Where' & 'How To Get There'
( Click one of these great pictures. )
• • ◊ • •
The Content of this Website was provided by the People of Washington.
You are welcome to download any non-copyright images that you would like to keep or print.
If you wish to upload images to another website, please mention raggyspelk.co.uk.
---
"Nothing is ever really lost to us as long as we remember it."
Lucy Maud Montgomery
(1874-1942)
---