NOTICE BOARD
Latest Upload: Friday, 1st December 2023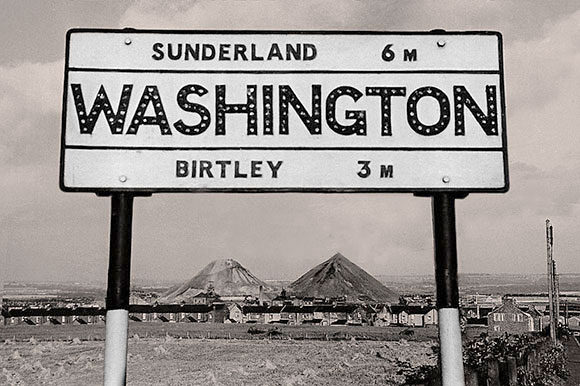 A Nostalgic Journey 'in & around' the original Village of Washington
[ Click above picture for views of the 'F' Pit Heaps. ]
• • ◊ • •
Some Recent Additions
1. New Addition to our 'Richardson Family' article: a press cutting from 'The Miner' newspaper naming
the newly elected Lady Members of the Usworth & Washington Branch committee ... plus 1 Miner!
Is your Grandmother, Great Grandmother or Great-Great Grandmother on the List of Officials?
It looks like my paternal Grandmother is! Check the List on Page 1, Tab 4 / WP 'The Miner'.
2. Coxgreen School, now a Café. The Bell Tower didn't have a Bell, but it did have a small Time Capsule!
3. Usworth Quarry Pond took the lives of an incredible number of people. Researched by local historian
Leo Bottoms, edited and published by his daughter Monica, this story is almost unbelievable!
Leo's research is backed up by a press cutting from the Sunderland Echo, July 1914.
4 & 5. October 2023: Two Blue Plaques have appeared in 'Old Washington', appartently unannounced!
A Duplicate of Gertrude Bell's Blue Plaque - at the Entrance to Dame Margaret's Hall, and
an Official Blue Plaque dedicated to Fred Hill - at his former Biddick School.
Access each Plaque image from the Thumbnails above, or
go to: What's Where / Collections / Blue Plaques.
6. Albert Walmsley was an Usworth Lad, born in 1908. These are Albert's Memoirs, written in 1998.
7. This 'NEW' Image and several existing images gathered together to form a small Collection..
( Click the Small Thumbnail Images on the target page. )
Colour Photos: Thanks to Keith Cockerill.
• • ◊ • •
What's Where?
Website Map / Location Index
[ Click one of the above Images. ]
"Nothing is ever really lost to us as long as we remember it."
Lucy Maud Montgomery
( 1874 - 1942 )
The Content of this Website was provided by the People of Washington.
You are welcome to download any non-copyright images that you would like to keep or print.
[ If you wish to upload images to another website, please mention raggyspelk.co.uk ]
---