NOTICE BOARD
Latest upload: Friday, 26th November 2021.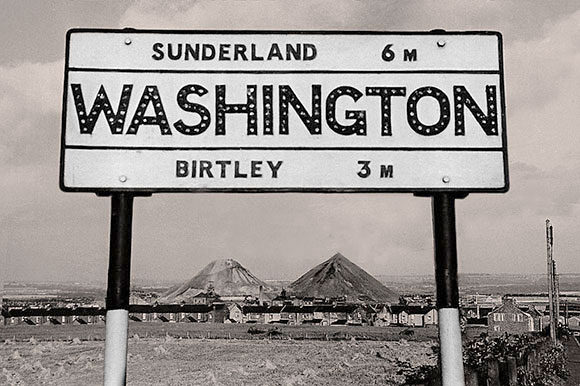 A Nostalgic Journey 'in & around' the original Village of Washington
[ Click above picture for views of the 'F' Pit Heaps. ]
• • ◊ • •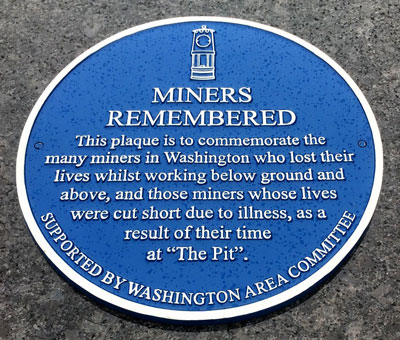 Washington Miners' Statue and Blue Plaque
[ Picture from Washington History Society ]
• • ◊ • •
Some Recent Additions
1. This Factory - long gone - incorporated buildings belonging to a Primitive Methodist Church and a local Board School.
Back in the 1930s, the School Building was used as an Unemployed Centre, to provide local men with meaningful work.
It was run by members of the Local Community who organised finance, training and materials to generate income
in support of families of the unemployed. Martin Guy was one such man. Find out how the system worked.
2. Trev Jones, writer of this Amusing Match Report, helped colleagues form Washington Rugby Club. Where was it?
3. Aerial image showing The Railway Bridges, The Willows and Pattinson Town. Compare it with a later 1970s image.
This picture also appears in the Washington Station section of our Bridges Collection. To Visit, Click Me.
4. Washington Grammar Athletes who represented County Durham at All England Inter-Schools' Championships, 1957.
If you didn't know that The Grammar once had Two Superstars in the same Team, see Tab 2, Football '57/58.
5. Painting by William Beilby, mid-1770s. What's that Contruction, bottom-right? Name the Farm around the River bend.
6. What was this Penny Token used for? I've been unable to find any information on-line, or from Website Contacts.
7. Excellent image of Worswick Street's steep Waiting Areas and Bus Stands added to 'On The Buses'. Thanks Ernie.
• • ◊ • •
What's Where?
Site Map / Location Index
[ Click one of the above Images. ]
"Nothing is ever really lost to us as long as we remember it."
Lucy Maud Montgomery
(1874-1942)
• • ◊ • •
The Content of this Website was provided by the People of Washington.
You are welcome to download any non-copyright images that you would like to keep or print.
[ If you wish to upload images to another website, please mention raggyspelk.co.uk ]
---