A Nostalgic Journey in & around the Original Village of ...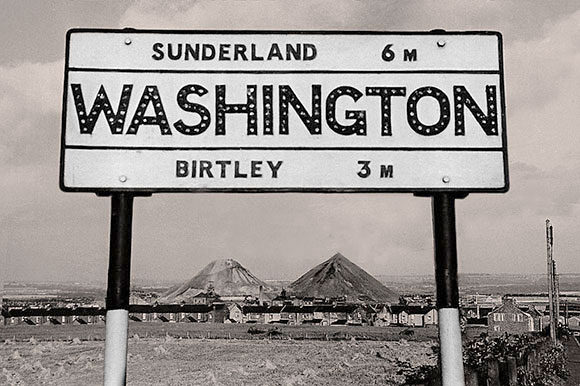 NOTICE BOARD
Latest upload: Friday, 15th March 2019.
• • ◊ • •
1. PHOTO GALLERY
1.1 Super picture, thanks to Harry M. Same added to our 'Then & Now' Collection. Go to Tab 4, 'New Inn Corner 2/2'
1.2 A view up Village Lane, from site of the currrent GPO premises, past the Pit Road and the former Stella Maris Club.
1.3 Spout Lane blocked by Sunderland Highway / Pedestrian Tunnel. Go to 'Then & Now', last Tab - Municipal Terrace.
1.4 A major walking route. Houses on the banks of the R. Wear. The building on the high ground was a Chapel.
1.5 The road to Woolco from Washington Highway. Also a great aerial view of the Superstore and nearby car parks.
Added to Sulgrave Aerial Selection
Tube Investments
[ Thanks again, Harry. ]
---
2. ARTICLES, SELECTIONS, MAPS ETC.
2.1 Thanks to Ken Reay for sending us pictures of the last resting places of Charles Chivers and Thomas Errington.
2.2 Two more Coloured Postcards of well known Washington scenes. Holy Trinity & The Old Hall - both tidied up.
2.3 My Great-Aunt Esther's husband, Jimmy Shevills, who died at Washington 'F' Pit, one week before Christmas.
Remember this
Mystery Guidepost
pointing towards Washington?
• • ◊ • •
In another effort to find out where it was:
Two locations for you to consider.
A Challenge For You!
• • ◊ • •
What's the Phonetic Alphabet doing here?
Click it to find out!
---
3. OTHER STUFF
'What's Where' & 'How To Get There'
( Click one of these great pictures. )
• • ◊ • •
The Content of this Website was provided by the People of Washington.
You are welcome to download any non-copyright images that you would like to keep or print.
If you wish to upload images to another website, please mention raggyspelk.co.uk.
---
"Nothing is ever really lost to us as long as we remember it."
Lucy Maud Montgomery
(1874-1942)
---