NOTICE BOARD
Latest upload: Friday, 27th November 2020.
Apologies to Visitors who tried to access this Website on Monday 23rd November.
The 'Raggyspelk' Domain had expired. No Domain; No Website!
I'm now signed up for another two years.
( Jim )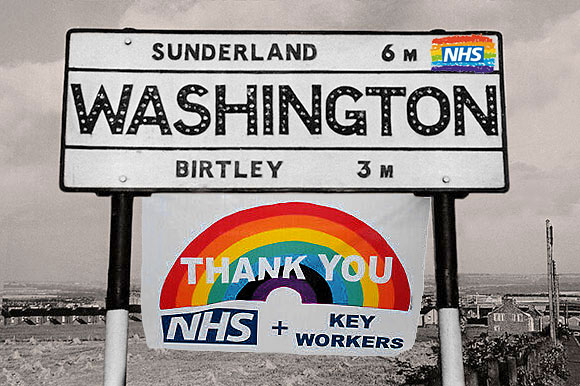 A Nostalgic Journey 'in & around' the original Village of Washington
[ Click above picture for views of the 'F' Pit Heaps. ]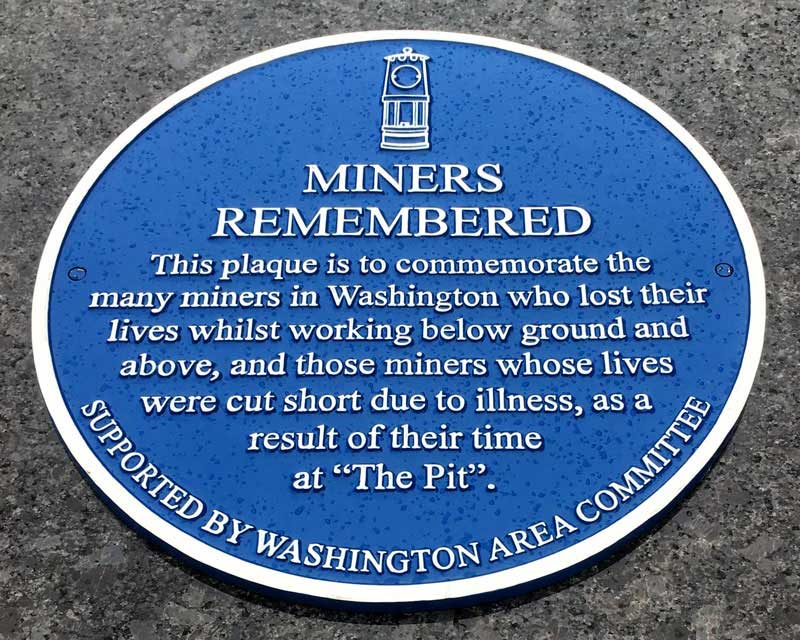 Washington Miners' Statue and Blue Plaque
[ Picture from Washington History Society ]
• • ◊ • •
Some Recent Additions
1. My Great-Aunt Hannah lived in this street, just off-picture-left, but I don't remember seeing any Buses. Go to Tab 4.
2. Wedding Day at Washington Holy Trinity. Local Farmer's Daughter and Man Utd Star. What could possibly go wrong?
Don't worry, "All's Well That Ends Well". [ There's a permanent link in What's Where; People; Football. ]
3. Added to our WW1 Postcard Collection, a Washington Army Camp. I'm sure I know this location. See if you agree.
4. After a shufti through What's Where, I spotted that our Schools Section didn't feature Biddick School. It does now!
5. Latest River Wear video from Keith Cockerill. Photos start at Low Barmston Farm and end at Northern Spire Bridge.
Keith's also sent us a picture of The Northern Spire, taken from the top of Victoria Viaduct.
6. Washington Man, Sammy Lowden, was one of the heroes aboard HMS Ark Royal when it was torpedoed.
7. Tragic Fight between two Usworth Miners held in the fields near Usworth Station and witnessed by large crowd.
This is an almost 'forgotten piece' of Local History. Thanks to Joe Chipchase for a super contribution.
You'll never guess where the Inquest was held. No, it wasn't in a Miners' Hall.
• • ◊ • •
What's Where?
Site Map / Location Index
[ Click one of the above Images. ]
"Nothing is ever really lost to us as long as we remember it."
Lucy Maud Montgomery
(1874-1942)
• • ◊ • •
The Content of this Website was provided by the People of Washington.
You are welcome to download any non-copyright images that you would like to keep or print.
[ If you wish to upload images to another website, please mention raggyspelk.co.uk ]
---