NOTICE BOARD
Latest upload: Friday, 22nd October 2021.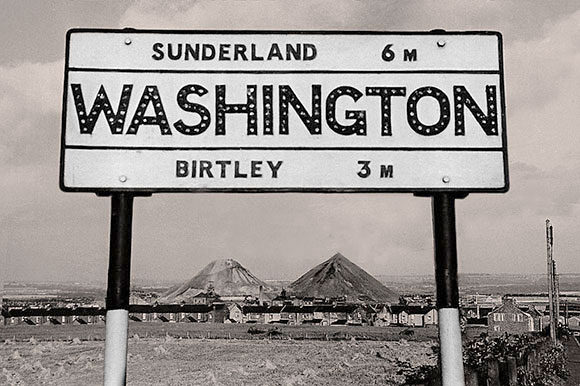 A Nostalgic Journey 'in & around' the original Village of Washington
[ Click above picture for views of the 'F' Pit Heaps. ]
• • ◊ • •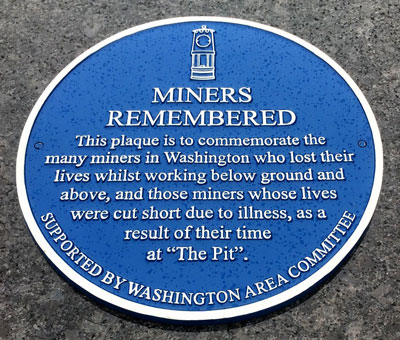 Washington Miners' Statue and Blue Plaque
[ Picture from Washington History Society ]
• • ◊ • •
Some Recent Additions
1. Article relating to Washington's WW2 Money Raising Efforts reorganised to include 1942 Warship Week Programme.
2. Tom Neal, Usworth Colliery Miner / Footballer, played for Leeds United in Div.1. Tom's career was cut short by illness.
3. Once again, our fabulous Victoria Bridge and its Dedication Stone, remembering Supervising Engineer T. E. Harrison,
has been subjected to a graffiti attack. The above picture shows some 'old' graffiti at the top of three Columns.
4. Harraton War Memorial Page reorganised to include 7 new pictures highlighting key events in its 99 Year History.
5. Painting by Sunderland Artist, Thomas McCree Scott, who overcame a grievous WW1 injury to continue his career.
6. Any idea where this Street Party was held? Note the curve at the far end. Go to Page 2, Last Tab. Thanks Carol.
7. Excellent image of Worswick Street's steep Waiting Areas and Bus Stands added to 'On The Buses'. Thanks Ernie.
• • ◊ • •
What's Where?
Site Map / Location Index
[ Click one of the above Images. ]
"Nothing is ever really lost to us as long as we remember it."
Lucy Maud Montgomery
(1874-1942)
• • ◊ • •
The Content of this Website was provided by the People of Washington.
You are welcome to download any non-copyright images that you would like to keep or print.
[ If you wish to upload images to another website, please mention raggyspelk.co.uk ]
---