NOTICE BOARD
Latest upload: Friday, 24th September 2021.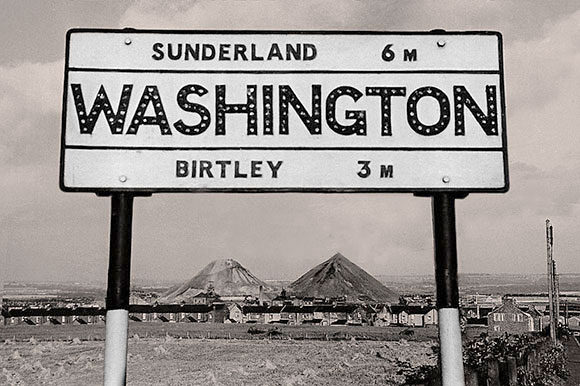 A Nostalgic Journey 'in & around' the original Village of Washington
[ Click above picture for views of the 'F' Pit Heaps. ]
• • ◊ • •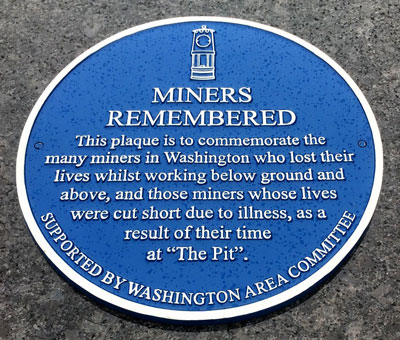 Washington Miners' Statue and Blue Plaque
[ Picture from Washington History Society ]
• • ◊ • •
Some Recent Additions
1. Mistakes corrected in RCA Record Factory Article and more images added. Thanks to Adrian, Ernie & Ged of W.H.S.
2. Did Washington Chemical Works make Medicine? I'll let you decide for yourself. Bottle recently sold on EBay for £78!
Washington Chemical Works pages rearranged to accommodate The Bottle and some associated items.
3. Super Coxgreen Ferry photo added to our Barmston Riverside Article, Page 4/4. Environmentally friendly propulsion!
4. How could I have overlooked this picture when I set-up the Royal Visits page? After all, I was in Usworth Cubs,
admittedly a few years earlier! A memorable picture for the Cubs and Families, so I've smartened it up a bit.
5. An addition to our rearranged 'Bridges Collection'. You'll find the 'Picture Link' near the bottom of the target page.
6. Meggie Archer's Document plus more from Son Joe (Home Guard) and Daughter Sadie (Temperance Society).
7. Excellent image of Worswick Street's steep Waiting Areas and Bus Stands added to 'On The Buses'. Thanks Ernie.
• • ◊ • •
What's Where?
Site Map / Location Index
[ Click one of the above Images. ]
"Nothing is ever really lost to us as long as we remember it."
Lucy Maud Montgomery
(1874-1942)
• • ◊ • •
The Content of this Website was provided by the People of Washington.
You are welcome to download any non-copyright images that you would like to keep or print.
[ If you wish to upload images to another website, please mention raggyspelk.co.uk ]
---