A Nostalgic Journey in & around the Original Village of ...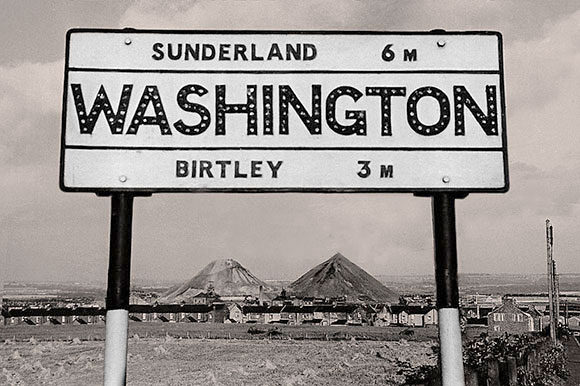 NOTICE BOARD
Last Upload: Friday, 22nd September 2017
• • ◊ • •
1. PHOTO GALLERY
1.1 Looking back from the high ground beyond the Washington Arms: The Village Green, Cross Keys & Our Lady's.
1.2 Thanks to Pauline for sending us an image to complement No. 1.3. How many times did you climb these pit heaps?
1.3 Usworth Secondary / Comprehensive School at the end of The Flat Tops. Usworth Colliery in the background.
1.4 A fairly long view taken behind Front Street, from close to the Gardener's Club, towards Spout Lane and the Co-op.
1.5 No doubt about it! Two local residents recognised this as the former Primitive Methodist Chapel at 'Our Cox Green'.
Over 2 miles from one end to the other:
Village Lane
See this image to compare the distance to Birtley
from Top of Village Lane (top picture), with
that on the road sign in The Village.
( Somebody got his sums wrong! )
---
2. ARTICLES, SELECTIONS, MAPS ETC.
2.1 The latest contribution from Jimmy Rutter - the Residents of Richardson Terrace, 29 Sept 1939. Cheers, Jimmy.
2.2 Every now and again, I'll highlight a page that regulars may have forgotten about. In this case, old train tickets.
2.3 This bridge once carried Vigo Lane over the Tyne Dock to Consett Railway. Map of old Harraton Pits included.
* NEW *
Wooden Wagonways
... once transported coal from our local
Collieries down to the River.
Also included: a highly relevant
photo of the River Wear.
---
3. OTHER STUFF
'What's Where' & 'How To Get There'
( Click one of these great pictures. )
• • ◊ • •
The Content of this Website was provided by the People of Washington.
You are welcome to download any non-copyright images that you would like to keep or print.
If you wish to upload images to another website, please mention raggyspelk.co.uk.
---
"Nothing is ever really lost to us as long as we remember it."
Lucy Maud Montgomery
(1874-1942)
---