A Nostalgic Journey in & around the Original Village of ...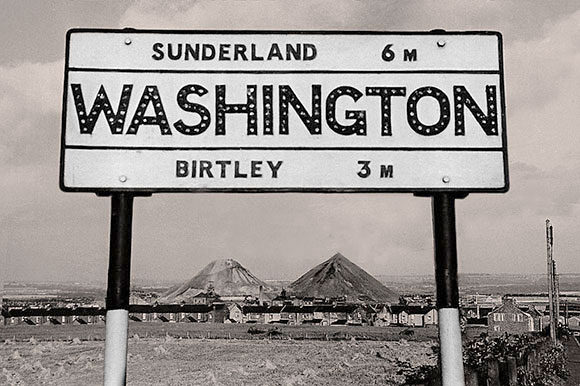 NOTICE BOARD
Latest upload: Friday, 22nd February 2019.
• • ◊ • •
1. PHOTO GALLERY
1.1 Super picture, thanks to Harry M. Same added to our 'Then & Now' Collection. Go to Tab 4, 'New Inn Corner 2/2'
1.2 Two pictures of the River Wear Tugboat, Biddick, built in 1944. Added to our Photo Gallery Miscellaneous Page.
1.3 Joseph Cook's (Washington Iron Works) catalogue cover. Fits in nicely with the recently added Cook's Plaque.
1.4 A major walking route. Houses on the banks of the R. Wear. The building on the high ground was a Chapel.
1.5 The road to Woolco from Washington Highway. Also a great aerial view of the Superstore and nearby car parks.
Added to our 'Then & Now' Collection
Spout Lane Blocked!
[ Thanks to Adrian Lupton ]
---
2. ARTICLES, SELECTIONS, MAPS ETC.
2.1 Memories of Usworth Colliery Mining Community. Thanks to North East Labour History Society and John Suggett.
2.2 This is a 21st century wooden plaque but I think its image adds an excellent finish to our Barmston Ferry Page.
2.3 Another renovated Colour Postcard of a well known Washington scene. Any similar contributions will go here.
Washington 'F' Pit Overman
Joseph Olds
2 Mining Certificates & 1 Council Acceptance
• • ◊ • •
* First Aid and Gas Testing added to *
'MORE MINING CERTIFICATES'
Found in a Doris Terrace Garden:
Approx. 60 Roman Coins
• • ◊ • •
Very Limited Information but
interesting, nevertheless!
---
3. OTHER STUFF
'What's Where' & 'How To Get There'
( Click one of these great pictures. )
• • ◊ • •
The Content of this Website was provided by the People of Washington.
You are welcome to download any non-copyright images that you would like to keep or print.
If you wish to upload images to another website, please mention raggyspelk.co.uk.
---
"Nothing is ever really lost to us as long as we remember it."
Lucy Maud Montgomery
(1874-1942)
---