---
Memories of an Usworth Family
The Richardsons of Railway Terrace ( 3 of 3 )
---
THE RICHARDSON FAMILY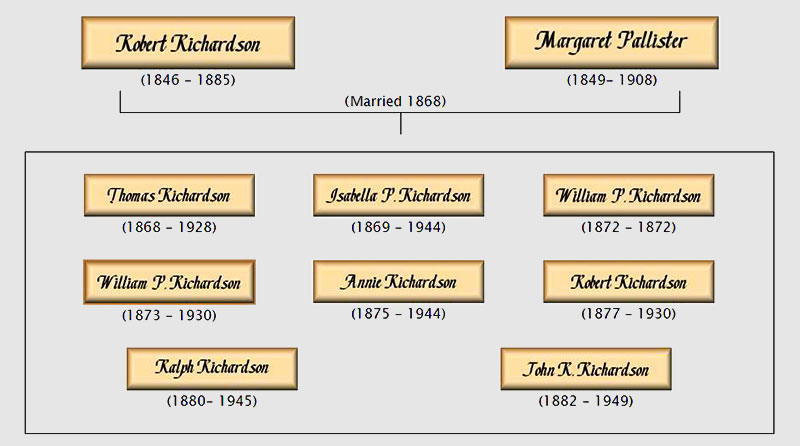 Robert & Margaret Richardson's Family


Usworth Homes occupied by Robert & Margaret's Family
Notes:
1. Margaret's husband, Robert, was the son of Thomas and Mary Richardson who lived in Inkerman Terrace.
2. Ex-miner Ralph Richardson had his Sweet Shop at 1, Monument Terrace - it later became Moran's Sweet Shop.
3. Pensher View, Cooperative Terrace, Richardson Terrace, Manor View, Wood Terrace and Elliot Terrace are still standing.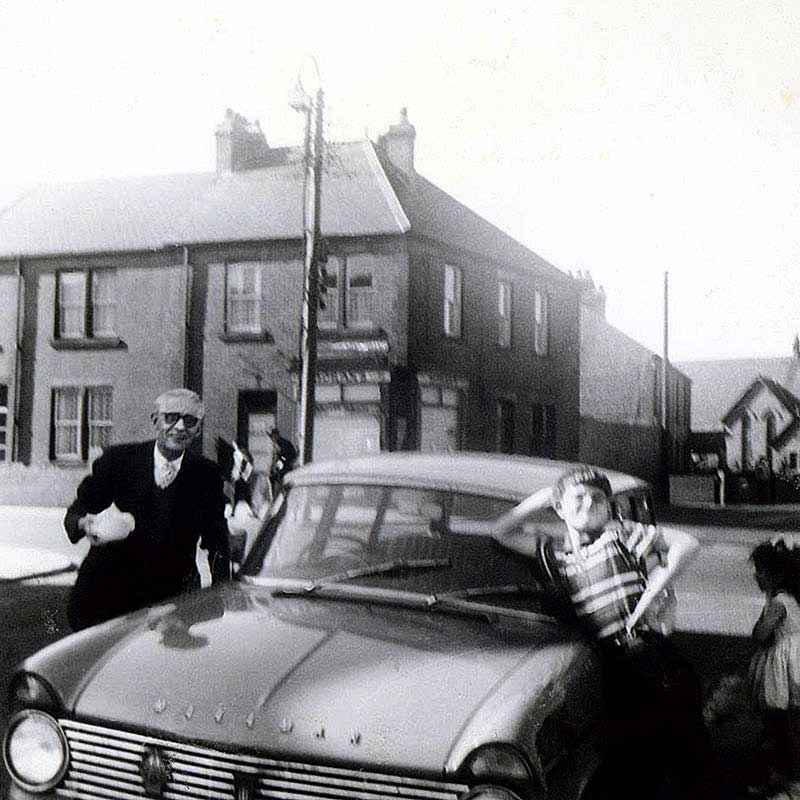 Moran's Shop - 1 Monument Terrace - at the top of Edith Avenue.
Previously, Ralph Richardson's Sweet Shop.
Before Moran's, it was John Carr's.
( Giulio Forte in the Foreground. )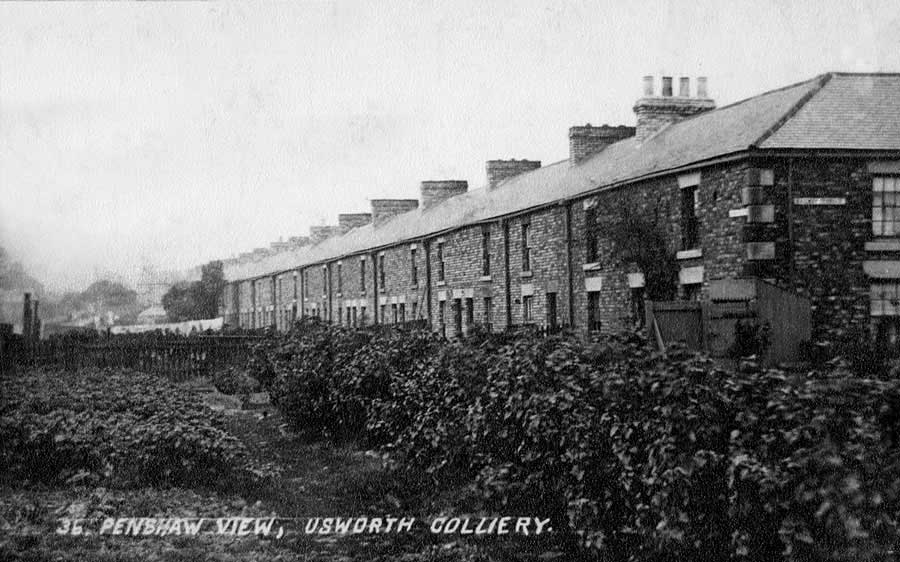 Pensher View
( Looking towards St. Michael's Church. Corner with Railway Terrace. )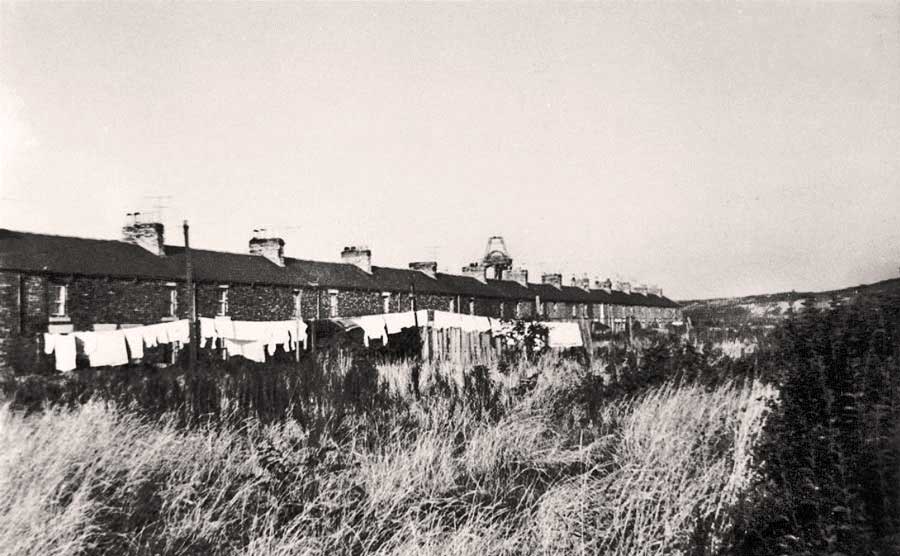 Railway Terrace
( Usworth Colliery in the Background )
[ Family information courtesy of W.P. 'Bill' Richardson. ]
RICHARDSON TERRACE
When was it built? Who was it named after?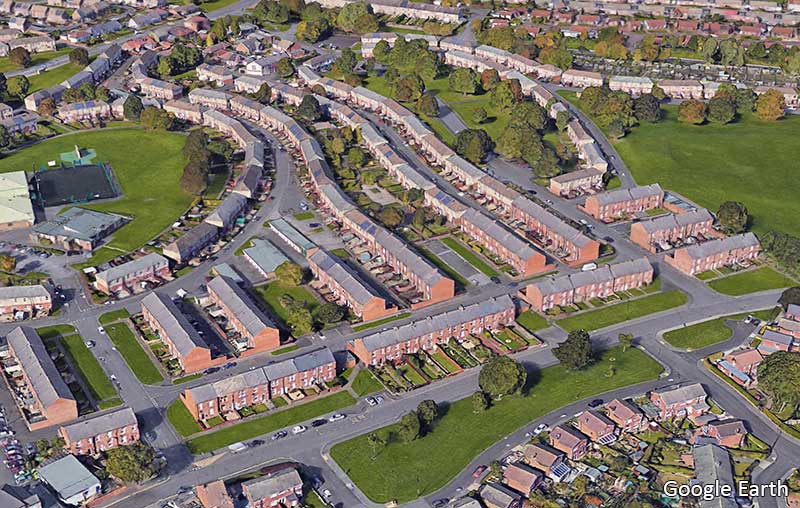 RICHARDSON TERRACE
( Manor Road )
Who Was It Named After?
"I began this article thinking Richardson Terrace was probably named in honour of W. P. Richardson,
It was obvious that it could have been his elder brother Tom, but unlikely to be anyone else."
W. P. Richardson
Consider these facts:
1. W.P. (as he was known) lived in Usworth and was a highly respected, God-fearing member of the tight-knit, local mining community.
2. A Pony Driver, Putter, then Hewer at Usworth Colliery, he was appointed Usworth Lodge Secretary, in 1898, while still a young man.
3. In 1912 he became a member of the Durham Miners' Federation Board, and in 1915 became an agent of the Durham Miners' Association.
4. In 1916, he was honoured for his services as Branch Secretary to Usworth Miners and was presented with a gold watch, chain and medal.
5. In July 1924, after the death of Mr. Thomas Cann, he was appointed General Secretary of the Durham Miners' Association.
6. For 15 years before he went to the Durham Miners' offices, W.P. also served the community as Chairman of Usworth Parish Council.
7. W.P.'s father, Robert Richardson, was a casualty in the dreadful Usworth Colliery Disaster of 1885.
8. In Esther, William Pallister Richardson had the perfect wife. She assisted him with his Parish Council, Community and Church duties and gave him sterling support throughout their marriage. She was active, in her own right, within the local community and Labour movement.
Extract from the Minutes of Usworth Parish Council
18.04.1916
It was resolved that it be recorded in the minutes that the Council highly appreciated the services that have been rendered as Chairman of the Council by Mr W. P. Richardson, and we offer him our best thanks and express the wish that he may be highly successful in the new sphere of work upon which he has entered.
Only his elder brother Thomas could compete with that.
Thomas Richardson
Tom Richardson's Certificate (Page 2, Tab 5) shows the high regard in which he was held in 1907 - before Richardson Terrace was built!
It also shows that he was a valued member of Chester-le-Street Rural District Council.
SO WHEN WAS IT BUILT?
The 1911 census shows only 18 houses in Richardson Terrace, together with their occupants.
Davey Barron has seen the house deeds for no.19. It was built in 1912.
RICHARDSON TERRACE - 1911

| House No. | Residents |
| --- | --- |
| 1 | Dunn, J. |
| 2 | Marshall, E. |
| 3 | Tyson, J. |
| 4 | Clements, H. |
| 5 | Brown, T. |
| 6 | Williams, J. G. |
| 7 | Anderson, H. |
| 8 | Gaunt, L. |
| 9 | Devenport, W. J. |
| 10 | Robinson, S. |
| 11 | Wardle, A. |
| 12 | Stephenson, J. |
| 13 | Fullerton, W. |
| 14 | Wilson, F. |
| 15 | Nevins, W. |
| 16 | Hughes E. |
| 17 | Muncanton, G. |
| 18 | Affleck, J. |
Note Leinan Gaunt - Bella's Husband.
[ Thanks to W.P. (Bill) Richardson ]
UPDATE
Crucial Piece of New Evidence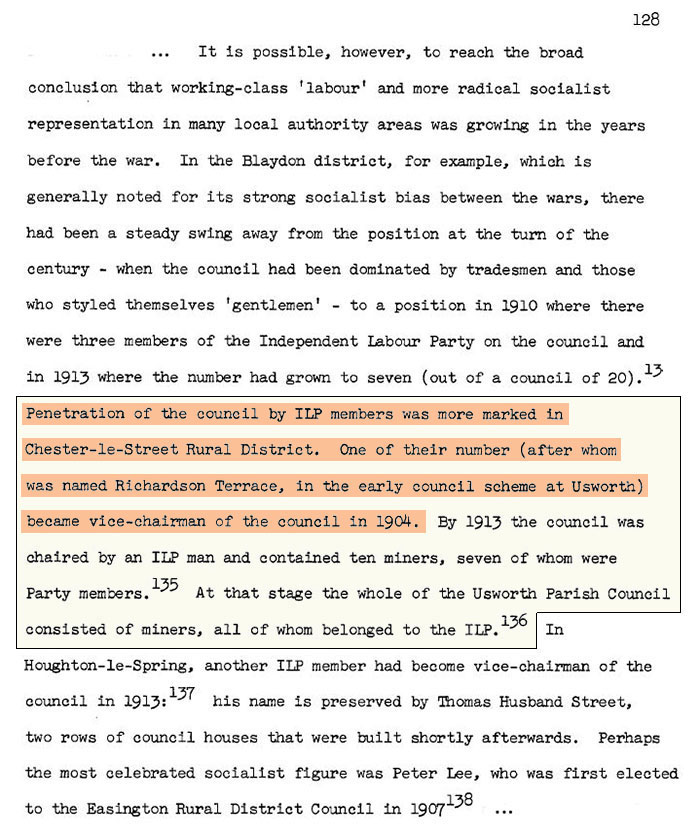 Extract from a Durham University, Master of Philosophy Thesis
Council House Building in County Durham, 1900-1939:
The Local Implementation of National Policy,
by Robert Ryder, 1979.
• • ◊ • •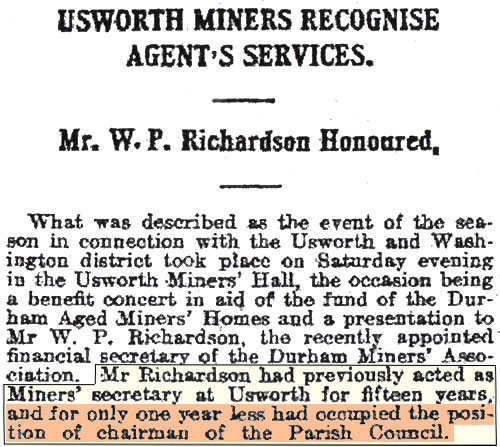 Extract: W.P.'s Presentation Night in 1916.
( See Page 1, Usworth Miners Honour W.P. )
• • ◊ • •
MY PERSONAL CONCLUSIONS AFTER READING THE ABOVE TWO EXTRACTS
William Pallister Richardson was Chairman of Usworth Parish Council in 1904.
The Vice-Chairman of Chester-le-Street Council must have been Tom.
Therefore, according to Robert Ryder's Thesis / Research,
Richardson Terrace was probably named after Thomas Richardson M.P.
What do you think?
[ Thanks to Mr Ryder for making his Thesis available on-line. ]
---