---
Memories of a Washington Lady
Gertrude Bell C.B.E.
---
Gertrude Margaret Lowthian Bell C.B.E. (1868 - 1926)

The Lady from Washington Hall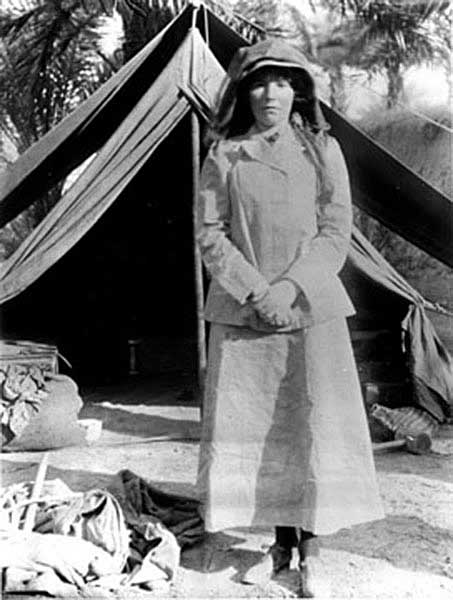 Gertrude - The Archaeologist
(Babylon, 1909)
Archaeologist, Cartographer, Explorer, Mountaineer, Writer,
Linguist, Political Intelligence Officer & King-maker
EDUCATION:
1. Gertrude Margaret Lowthian Bell was born on the 14th July 1868 in Washington Hall (Dame Margaret's). She was the daughter of Sir Hugh and Mary Shield Bell. Her grandfather was the wealthy industrialist, company director and Liberal MP, Sir Isaac Lowthian Bell FRS.

Gertrude Bell
2. Gertrude was initially educated at home but later attended Queen's College, Harley Street (London) before gaining entry to Oxford University's Lady Margaret Hall. There she studied history - one of the very few subjects available to women in those days - graduating at the age of only 17 as the first woman at Oxford to be awarded a first-class honours degree in Modern History.
ACHIEVEMENTS
1. She taught herself Persian (1892) and travelled to Iran, where her uncle was British Ambassador. Here she fell in love with the Middle East.
2. Whilst in Jerusalem in 1897, she taught herself Arabic. Her travels included two round-the-world trips: one in 1897/98 and one in 1902/03.
3. She was the greatest woman mountaineer of her time and gained great renown for surviving 53 hours on a rope on the unclimbed north-east face of the Finsteraarhorn - the largest mountain in the (Swiss) Bernese Alps - when her expedition was unexpectedly caught up in a blizzard.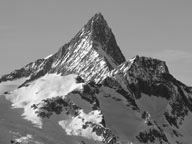 Finsteraarhorn
• One of her letters home from The Alps, 18th July 1902: "Whenever there was snow we sank in it up to the waist ... I nearly took a straight cut on to the glacier, for I slipped on a bit of iced rock into a snow gully till the rope fortunately caught me. We all cut our hands over that incident, but it was otherwise the most comfortable part of the descent."
4. At the outbreak of World War One, she was denied a Middle East posting and instead volunteered for duty with the Red Cross in France. Because of her love of the Arab peoples and her intimate knowledge of their countries and tribes, she was recruited by British Intelligence.
5. As a cartographer, she created maps of Syria, Mesopotamia, Asia Minor and Arabia.
6. In 1921, she was a highly placed official of the British Administration in Baghdad and was responsible for drawing up the boundaries of Mesopotamia - the country that would eventually become Iraq. These borders, as set out by Gertrude Bell, lasted until 1968.
• Letter to her father, 4th December 1921: "I had a well-spent morning at the office making out the southern desert frontier of the Iraq."
7. Gertrude also taught herself archaeology, which was to become her great passion. After the coronation of King Faisal of Iraq in August 1921 (she played a major role in his ascending the throne) Gertrude set out to plan and build the Iraqi National Museum. As Honorary Director of Antiquities in Iraq, she then helped to stock it from the accumulated artifacts taken from such famous sites as Babylon, Nineveh and Ur.
8. Gertrude Bell wrote many books on Arabic and Persian languages and on the history of Arabia, the Near East and the Middle East.
PERSONAL:
1. Gertrude was a slim lady with reddish hair and piercing blue-green eyes. She was energetic, intellectual and had a thirst for adventure.
2. She never married or had children. Her first love was rejected by her father as 'impecunious'. A later 'very close friend' died in 1915, WW1.
3. Gertrude Bell died unexpectedly at the age of 57, following an overdose of sleeping pills. Whether this was accidental or intentional is open to debate. She was found on Monday, 12th July 1926. Her funeral was a major event in Bagdhad, attended by large numbers of people including her colleagues, British officials and King Faisal, who watched the procession from his private balcony as they carried her coffin to the British cemetery. In Iraq today, she is still referred to as 'Miss Bell'.
Information from numerous sources but many thanks to James Buchan of The Guardian.
Cairo Conference - 1921

Gertrude Bell was the only woman present at the 1921 Cairo Conference.
It was convened by Winston Churchill to determine the boundaries of the new Iraq.
British diplomatic photographs of the early 20th-century Middle East often included a solitary woman. That woman was Gertrude Bell. She can be seen in the above picture at the 1921 Cairo Conference. At this time she was Oriental Secretary for the High Commissioner of Iraq, Sir Percy Cox. Winston Churchill (Secretary of State for the Colonies) can be seen centre-front and T. E. Lawrence (Special Advisor to the Colonial Office) is fourth from the right in the second row.
Gertrude was highly influential in choosing King Faisal as monarch of Iraq. In August 1921, she would write that it had been a difficult week but "We have got our King". In addition to the political manoeuvring to bring about the new country, drawing its borders and selecting its King, she took on the more traditional female tasks of finding King Faisal a house, decorating it, and preparing it for his arrival in Baghdad. She advised him about his coronation clothes, and those of his son, designed a flag, and helped plan the ceremony itself.
Churchill, Bell & Lawrence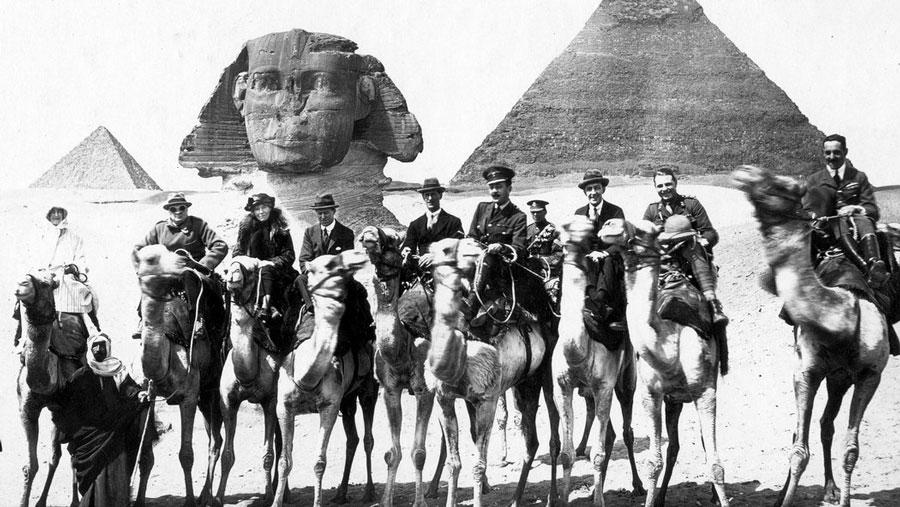 Winston Churchill, Gertrude Bell & T. E. Lawrence visit The Sphinx. Note that Miss Bell is in total control of her camel!
Gertrude with Lawrence of Arabia

Gertrude Bell, Sir Herbert Samuel (High Commissioner of Palestine) and T. E. Lawrence
(Jordan c.1921)

Gertrude Bell
Thomas Edward Lawrence (Archaeologist, Army Officer, Diplomat)
Thanks to Gertrude Bell Archive, Newcastle University.
( Circa 1921 )
Oxfiord Dictionary of National Biographies
BIOGRAPHY OF GERTRUDE BELL
Author: Liora Lukitz PhD

Biography Page 1/7
Thank's to Dr Lukitz and Oxford Dictionary of National Biographies for posting Miss Bell's Biography as a Free item.
As a result, I hope to give many Washington Residents access to Miss Bell's incredible life story.
Oxfiord Dictionary of National Biographies
BIOGRAPHY OF GERTRUDE BELL
Author: Liora Lukitz PhD

Biography Page 2/7
Oxfiord Dictionary of National Biographies
BIOGRAPHY OF GERTRUDE BELL
Author: Liora Lukitz PhD

Biography Page 3/7
Oxfiord Dictionary of National Biographies
BIOGRAPHY OF GERTRUDE BELL
Author: Liora Lukitz PhD

Biography Page 4/7
Oxfiord Dictionary of National Biographies
BIOGRAPHY OF GERTRUDE BELL
Author: Liora Lukitz PhD

Biography Page 5/7
Oxfiord Dictionary of National Biographies
BIOGRAPHY OF GERTRUDE BELL
Author: Liora Lukitz PhD

Biography Page 6/7
Oxfiord Dictionary of National Biographies
BIOGRAPHY OF GERTRUDE BELL
Author: Liora Lukitz PhD

Biography Page 7/7
Dame Margaret's Hall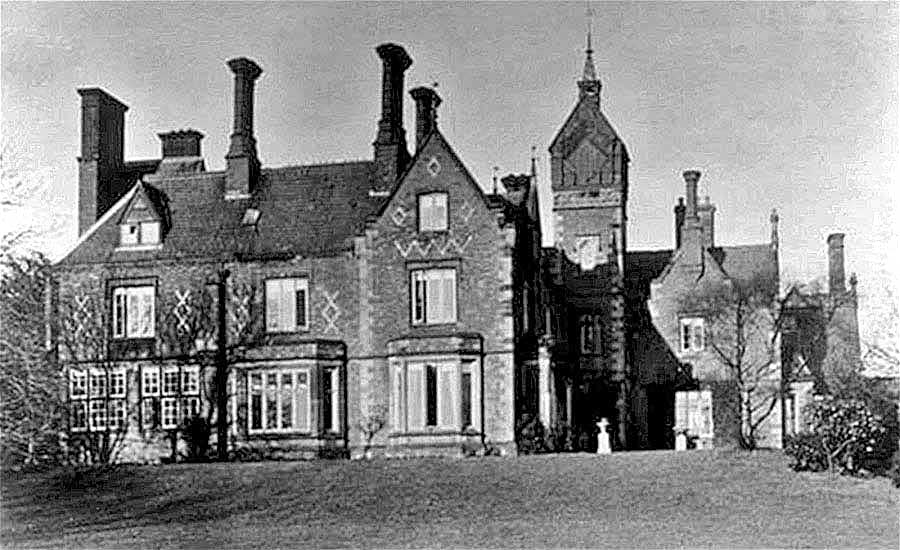 Washington New Hall, later known as Dame Margaret's Home / Hall - birthplace and family home of Gertrude Bell
Washington New Hall was built in 1854 by Gertrude Bell's grandfather, Sir Isaac Lowthian Bell FRS. He was a very wealthy industrialist, the founder of Washington Chemical Works, a Lord Mayor of Newcastle-upon-Tyne, and a Member of Parliament for North Durham and for Hartlepool. After the death of his wife, Margaret (née Pattinson - as in Pattinson Town) Sir Isaac gave the Hall for use as an orphanage to be named in her memory - Dame Margaret's Home. With its extensive grounds, Dame Margaret's could accommodate up to 130 children under the age of ten at their time of admission. The boys were taught crafts such as boot & shoe making, tailoring, bread-making and farm & garden work, while the girls did knitting, dress-making & millinery, and washing & laundry work.
The house was later acquired by Barnardo's with the official opening taking place in April, 1912. A Mr Armitage was appointed superintendent for the boys while his sister took charge of the girls. Boys and girls at Dame Margaret's had separate quarters. Meals were taken together in the dining hall with boys and girls eating in separate sections. During the week the children attended a local school and on Sunday mornings they attended a service at Holy Trinity Church.
Dr Barnardo's Home

Dame Margaret's Hall: A Dr Barnardo's Home (1889 - 1946)
Entrance on The Avenue

Dr Barnardo's Children in The Grounds
The Blue Plaque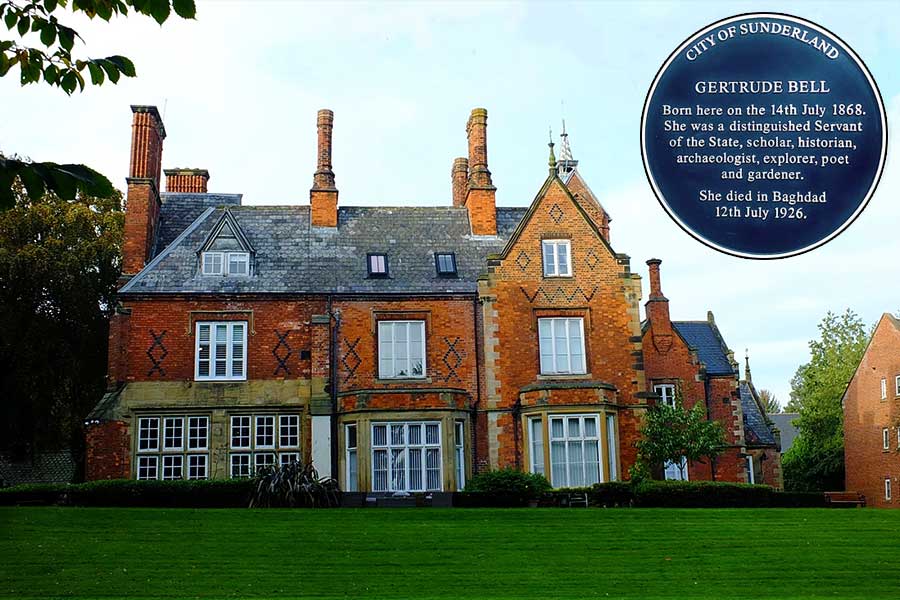 Dame Margaret's Home / Hall - Birthplace and Family Home of Gertrude Bell
The Blue Plaque is on the left side of The Hall, next to The Avenue.
[ Thanks to Photographer Keith Cockerill, 8th October 2023. ]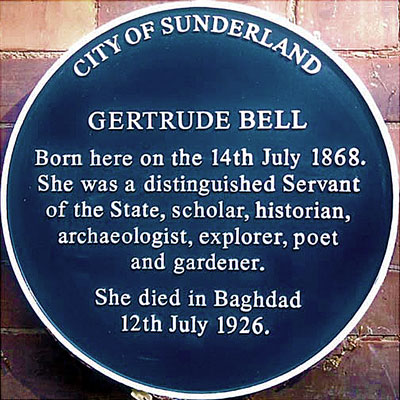 DAME MARGARET'S HALL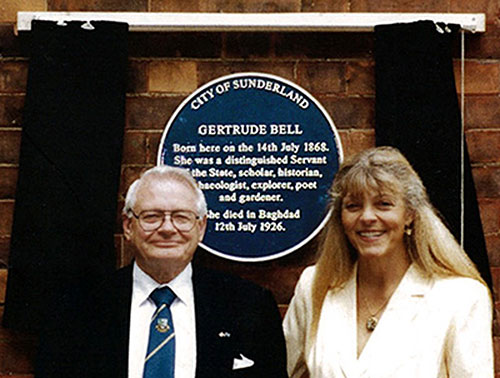 Jan Long MBE, accompanied by Councillor Bill Craddock, officially unveiling
the Gertrude Bell Plaque at Dame Margaret's Hall in July 2002.
(Funded by Washington Councillors Community Chest.)
Washington's Bill Craddock was awarded the MBE in 2004. To find out more, go to: What's Where; People; Craddock - Bill.
• • ◊ • •
A Blue Plaque on The Avenue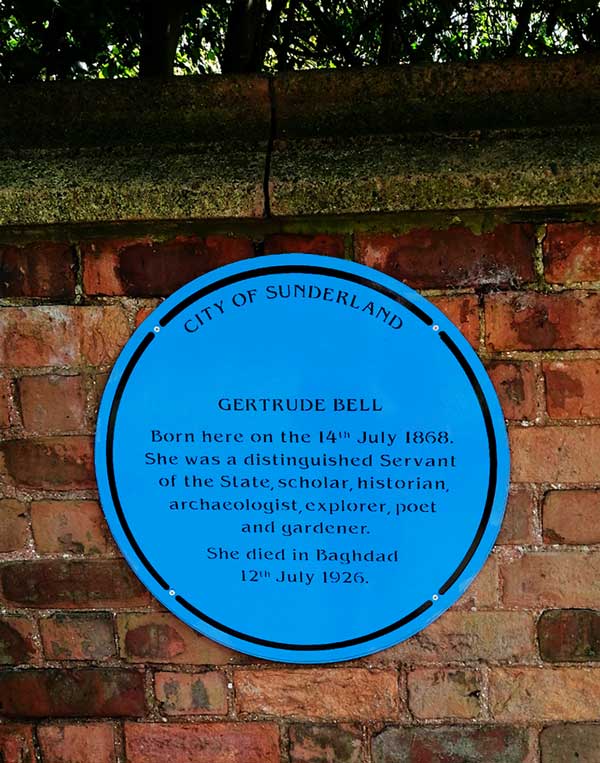 Duplicate Blue Plaque at the Entrance to Dame Margaret's Hall
The Official Plaque isn't readable from The Avenue.
[ Courtesy of Washington History Society, Oct 2023. ]
---