---
Memories of Halls & Castles
Removing The Confusion!
---
Usworth House
( later known as )

Peareth Hall

Usworth House - later, home of William Peareth Esq.
Picture from a postcard, sending a Christmas greeting, dated 23 December 1905.

Usworth House / Peareth Hall

Map showing the location of Usworth House
Quotation - source unknown: "Usworth House, a handsome stone building, of regular architecture, in an open commanding situation, with an extensive prospect to the South and East. The mansion is sheltered by a fine grove on the North and West, and the grounds are scattered over with lofty flourishing evergreens, yew, cypress, and Lusitanian laurel."
The A194(M) Tyne Tunnel / South Shields road now runs under the road between Holy Trinity and the former entrance to Usworth House grounds. (Please click the thumbnail to take a closer look.)
These maps were made available by former Havannah Bank man, Michael Elund. Thanks, Mike.
Usworth Hall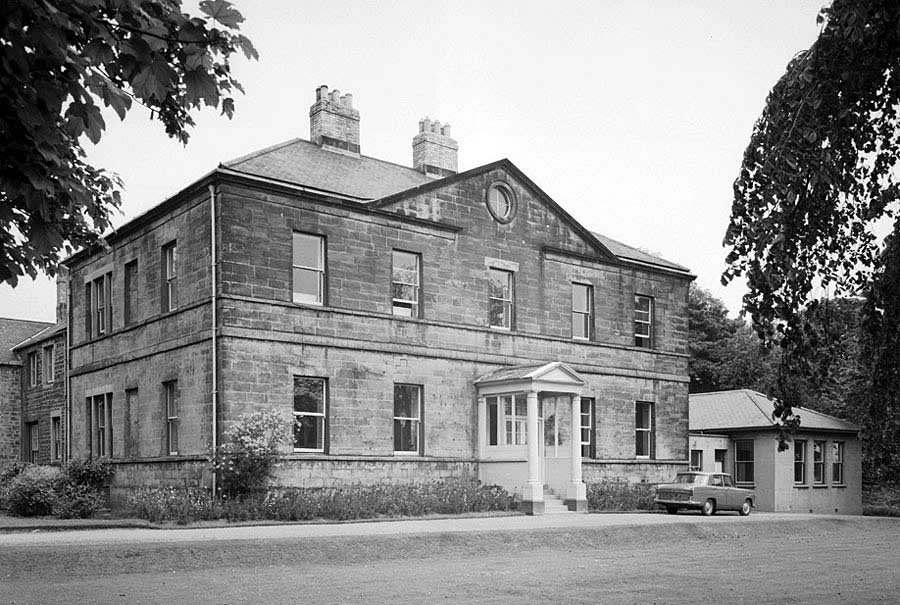 Usworth Hall (1965)
[ Courtesy of Tyne & Wear Archives & Museums ]

Map showing the location of Usworth Hall - c.1950s
In the 1960s, Usworth Hall was the National Coal Board, North East Area, 'A' Group Headquarters. The collieries under its control were: Washington 'F', Washington Glebe, Usworth & Wardley/Follingsby. Pit Ponies roamed freely in its grounds - known locally as The Plantation.
Later, during the development of Washington New Town, Usworth Hall became the headquarters of the Washington Development Corp.
North Biddick Hall / Cook's Hall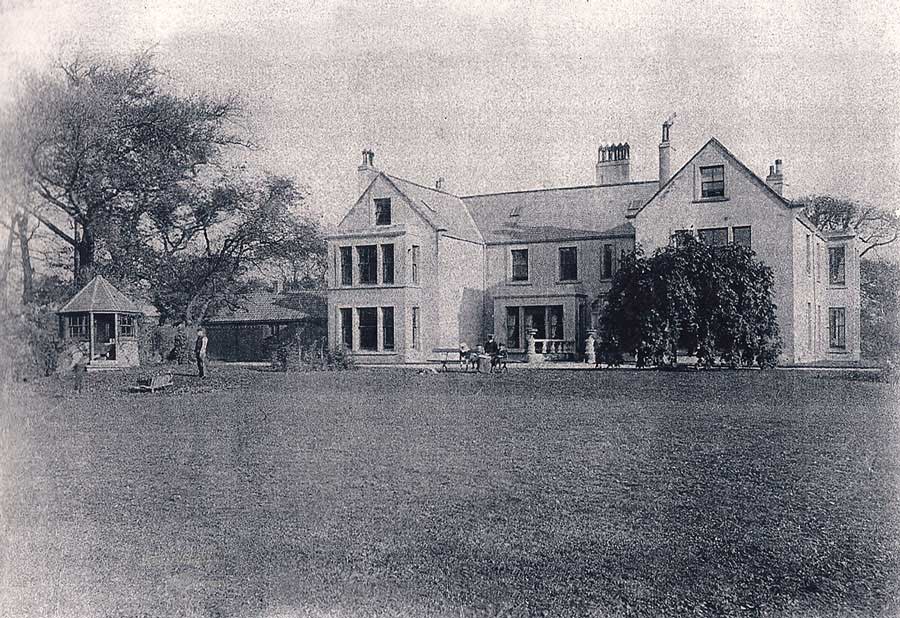 North Biddick Hall (early 1890s)
Home of Joseph Cook

Joseph Cook's Home - North Biddick Hall.
Some years later, an extension!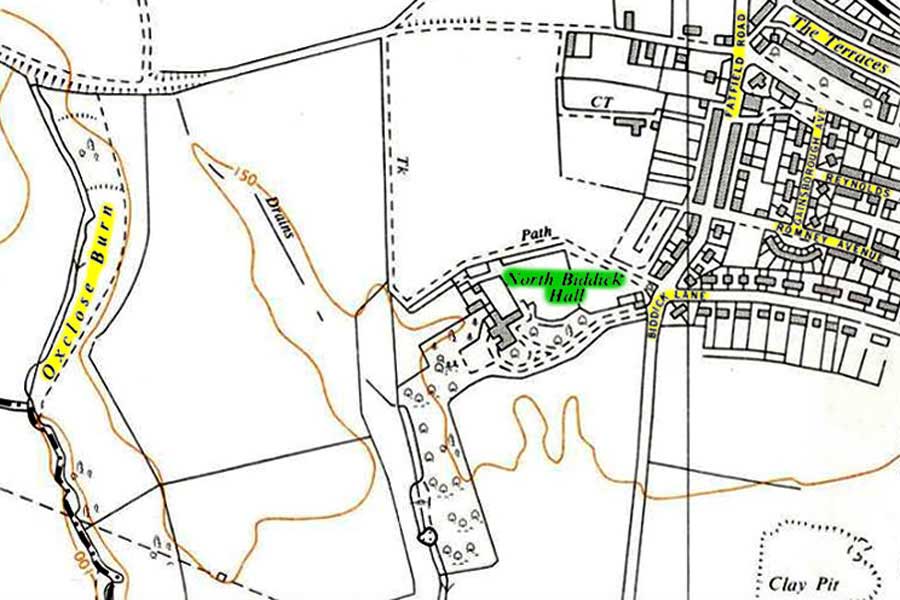 Map showing the location of Cook's Hall
North Biddick Hall, known locally as Cook's Hall, was the home of Joseph Cook, founder of Washington Ironworks. It was demolished in 1966.
Oxclose Burn flows south through Princess Anne Park. Oxclose Dene was close to the map's top-left corner. The Parade, Poplars & Gables are just below the words Fatfield Road. Biddick Academy is above 'Clay Pit' and Saint Robert's School is off-picture, bottom-centre.
Biddick Hall

Biddick Hall - Seat of the Lambton Family

Map showing the relative locations of Biddick Hall (Lambton Family) & North Biddick Hall (Joseph Cook)
[ Bottom Left: The site of A1M Junction No.63 at Chester-le-Street. ]
Lambton Castle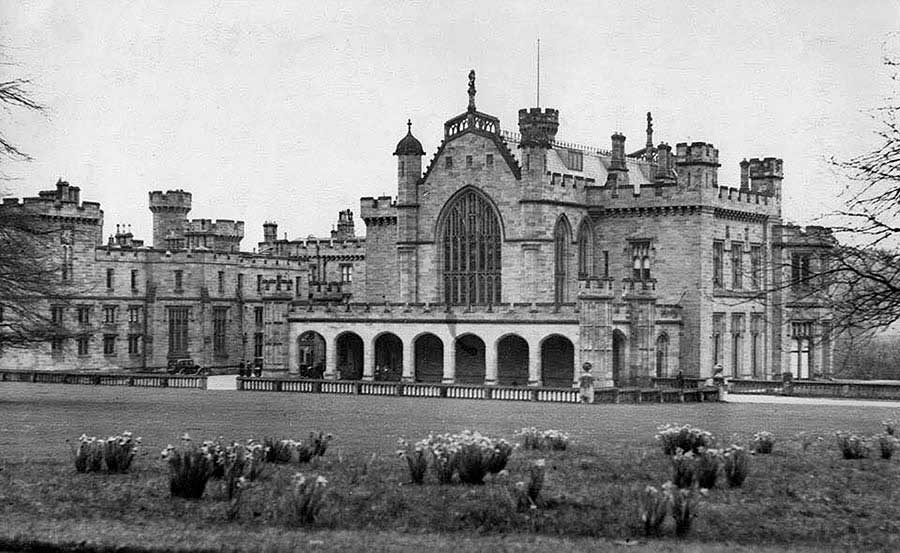 Lambton Castle - 1930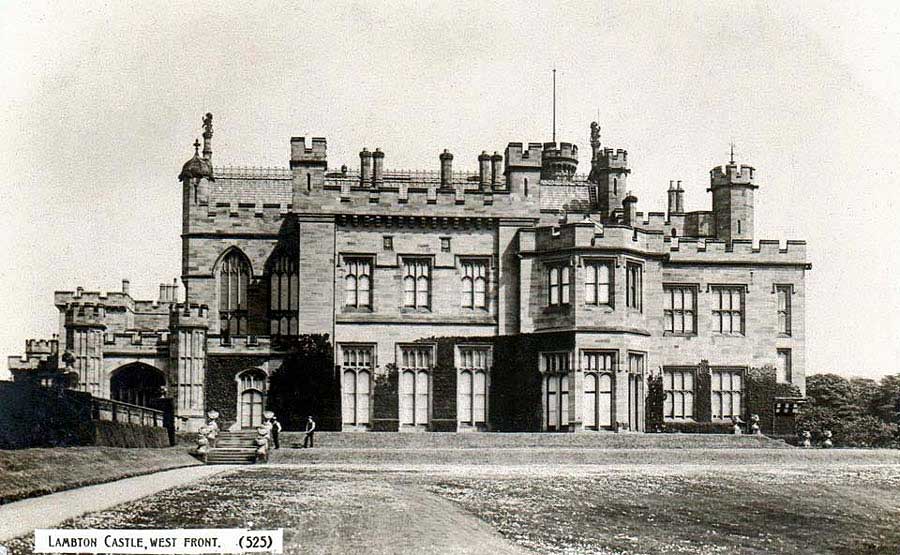 Lambton Castle - West Front

Photograph taken by renowned photographer, Francis Frith

Harraton Terrace
As seen on a walk from Chartershaugh Bridge - passing The General's Wood and Sports Ground - en route to Bonemill Lane.
This Terrace was built over a Century ago; could it have been used to house Senior Workers on the Harraton Estate?
See Ordinance Survey Map below. Photographer: Keith Cockerill - 2020
[ In the 18th Century the Harraton Estate was North of the River Wear and the Lambton Estate was South. ]

Map (2011) showing the location of Lambton Castle
Harraton Terrace is shown centre-map, just right of Number 34.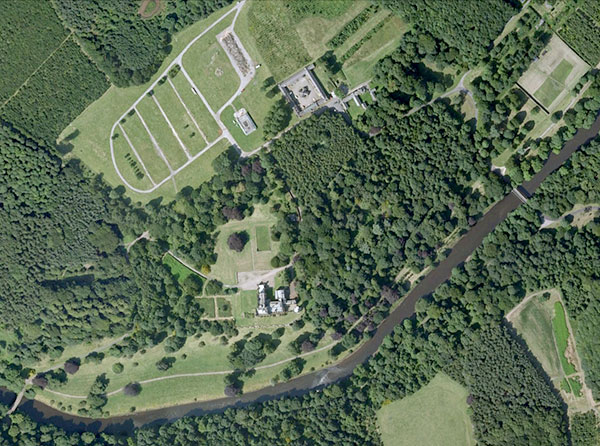 Overhead view of Lambton Castle - 2008.
[ Courtesy of Google Earth ]

LAMBTON CASTLE on 'Site of Harraton Hall'
O.S. Six Inch Map: 1888-1913
SOME NOTABLE LOCATIONS
Vigo Lane - Harraton Colliery - Saint George's Church - The General's Wood - Haggis Hall - Chartershaugh
Harraton Terrace - Fatfield Lodge - Stables for Lambton Castle
• • ◊ • •
[ N.B. To the best of my knowledge, Lambton Castle is not open to the general public, nor can it be seen from public areas. ]
Lumley Castle

England clinching The Ashes - 4th Test at Durham County Cricket Club's Riverside Ground - 2013.
[ Photograph posted by Daily Mail ]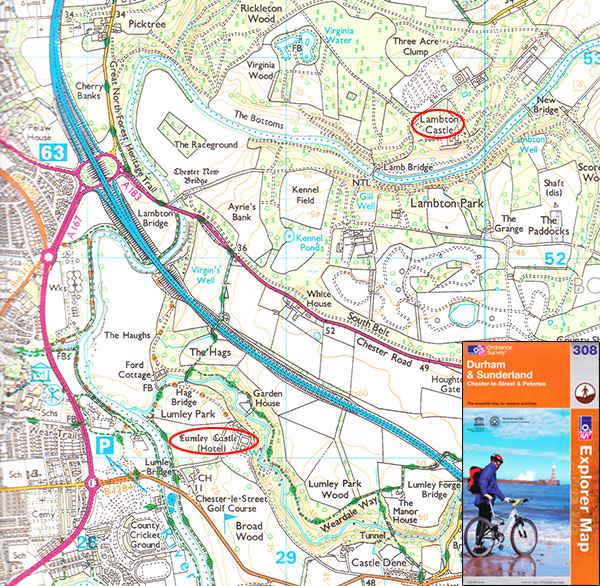 Map showing the relative positions of Lumley Castle and Lambton Castle - 2011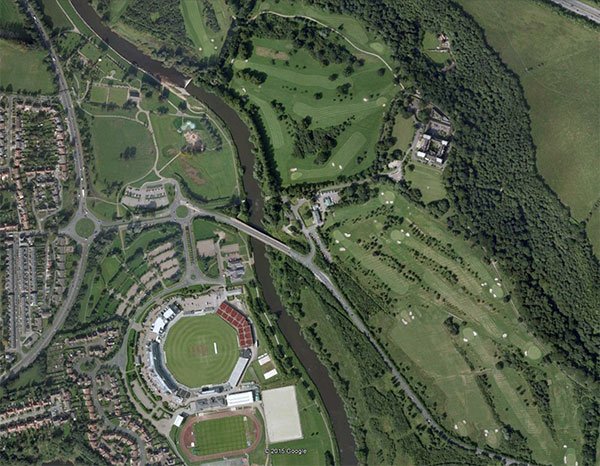 Overhead view of Lumley Castle (Hotel) - 2008.
[ Courtesy of Google Earth ]
Top Picture: Note Saint George's Flag flying proudly on the Lumley Castle battlements.
Haggis Hall

Haggis Hall was not a prestigious residence. In 1881 it housed the family of Joseph Appleby, a local coal miner.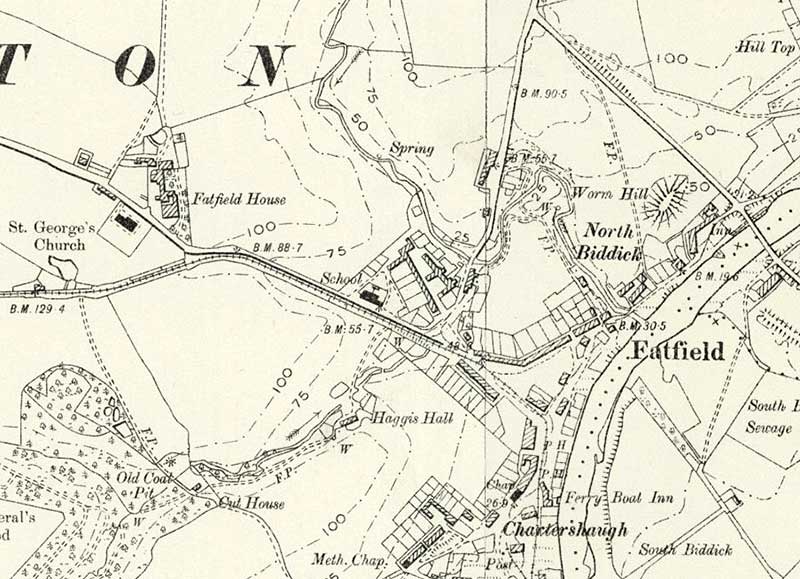 1888-1913 Map
Haggis Hall's location relative to St. George's Church, Fatfield School, Biddick Lane, Worm Hill, Fatfield Bridge.

The Family of Joseph Appleby
Extract: 1881 Census
HYLTON CASTLE
A Connection with The Washington Family
My wife and I went along to a guided tour at the newly and magnificently refurbished Hylton Castle.
It has a nice café too! It's on the ground floor next to the Castle Entrance Gate.
We really enjoyed our visit.
( Castle Photographs & Comments: Thanks to Keith Cockerill. Posted: 15 April 2022. )
WASHINGTON FAMILY CREST
( Hylton Castle West Front )
In the early 2000's I took a photograph of the Washington Family Crest above the Entrance Door of Hylton Castle.
Unfortunately it was vandalised some time later, but English Heritage told me that they had the broken
pieces in safe keeping and would repair it when the Castle itself was restored and fully secured.
The Castle has now been fully refurbished, but as yet the Crest has not been restored.
I include NOW (Left 2022) and THEN (Right c2000) shots of the Crest.
VIEW OF PENSHAW MONUMENT
( From the Upper Floor of the Castle )
EXTRACTS RELATING TO THE ABOVE WASHINGTON CREST
( Taken from the following Booklet )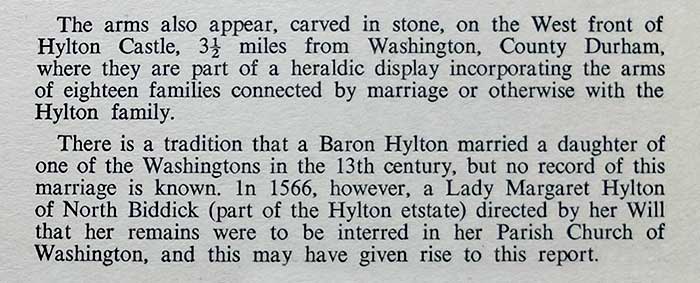 LOCATION OF THE WASHINGTON CREST
( On the West Front of the once derelict Hylton Castle )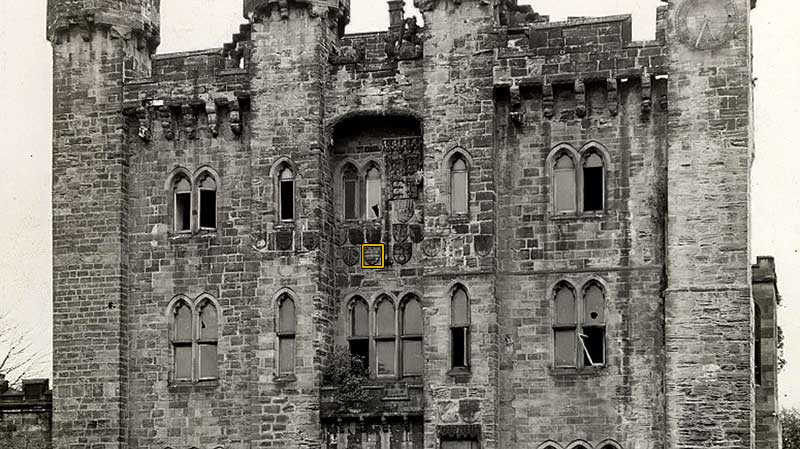 HYLTON CASTLE and CHAPEL
( Showing the Castle's original Two Wings - now demolished. )
Keith says, The Castle Wings were demolished in 1862 by owner William Briggs.
WASHINGTON BUG HALL
Gan-on ... Smile!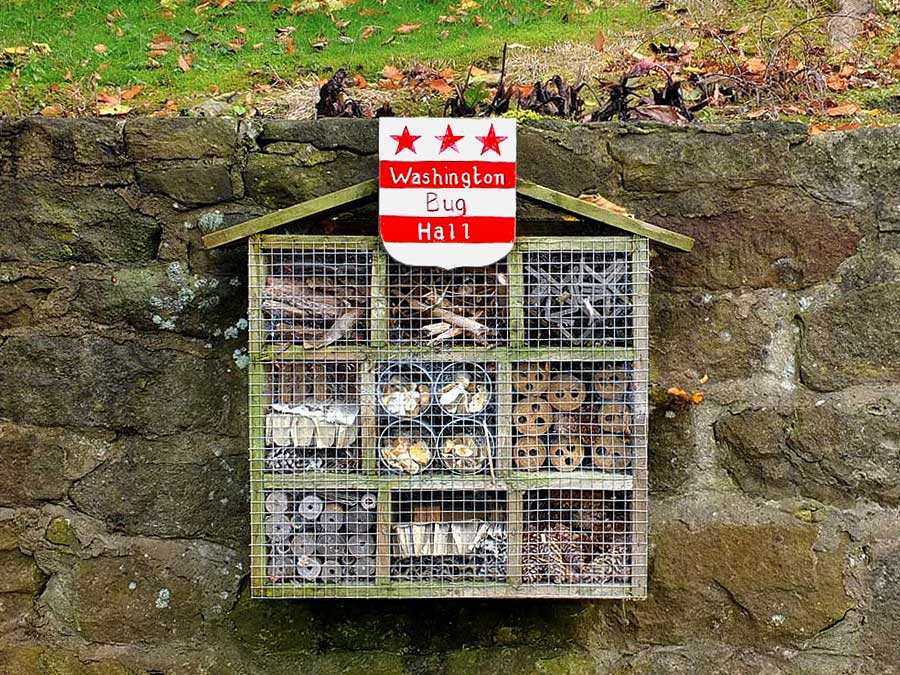 ( Photograph: Thanks to Keith Cockerill. 8th October 2023. )
I've decided not to pinpoint the location of this Brilliant Piece of Architecture ... for obvious reasons! {Jim}
---