---
Memories of Washington
Victorian Photo Cards (2 of 2)
---
Victoria Bridge & North Biddick Colliery - 1870s
'Carte de Visite'
Thanks again to local historian Keith Cockerill for this wonderful copy of his Victorian 'Carte de Visite'.
Keith says: "There is what appears to be a mooring post in the immediate foreground. The gentlemen to the
right are sitting on the edge of Dog Hole Staith and the boat is afloat just off Cow Road Nook.
I can just make out the ferry boat in the distance, opposite Low Lambton Staith."
[ Comment: The man with the hat is looking at a swimmer in the river, maybe two. What do you think? ]
Photographer's Details: Back of 'Carte de Visite'.
Keith says, "The photographer was Alfred Wilkinson of Sunderland, further details of which you will see on the back of the CDV.
He moved from Garden Place in Sunderland to 15 Holmeside around the time the photo was taken as you will see
from his handwriting on the CDV back. I have found him in 15 Holmeside on the 1881 census."

"Upon reading the history of CDVs: they went from square cornered cards to round corners in about 1875,
but I think the 1870s is the best way to date it on present information. I have a CDV for the
Lambton Drops near Wearmouth Bridge which is hand dated to 1856, so they
can be quite early! The copyright will be well out of date by now."
Victoria Bridge & North Biddick Colliery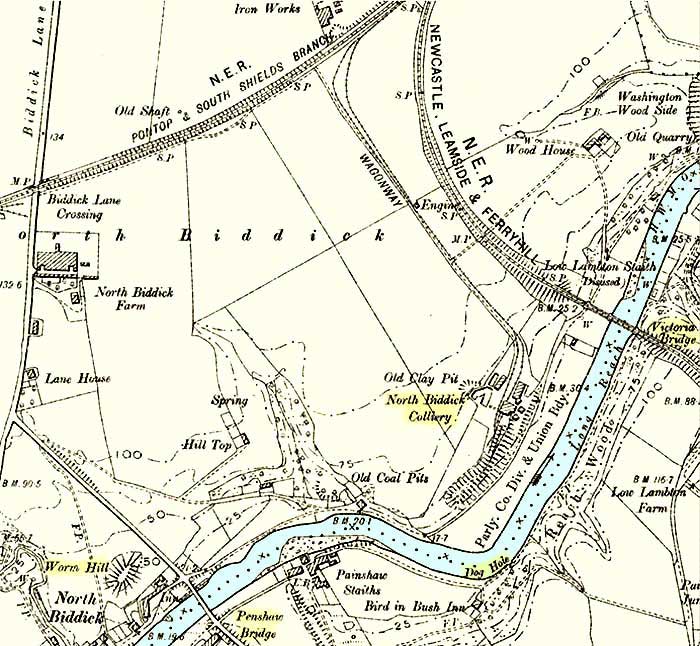 Map of North Biddick Colliery, 1888-1913.
North Biddick Colliery
View from the Leamside Line, north-west of the Victoria Bridge, across the colliery towards Dog Hole.