---
Memories of Washington
Local Bricks & Brickyards 1/2
---
Not ... Just Another Brick in the Wall!
J. C. Blythe & Sons - King George V - Made in 1912 - Washington Station
The side wall of the Washington Arms (2002)
[ Photo: Keith Cockerill - 20th July 2017 ]
Keith informs me that there were 6 or more such bricks in the wall when this photograph was taken.
[ N.B. The above brick, marked on its end, was manufactured in the same year that RMS Titanic sank. ]
• • ◊ • •
Manufactured by the Brickworks at Cook's Ironworks, Washington Station
[ Photo: Keith Cockerill - March 2021 ]
This Brick, also marked on its end, was given to Keith by a Collector.
• • ◊ • •
Map of above Brickworks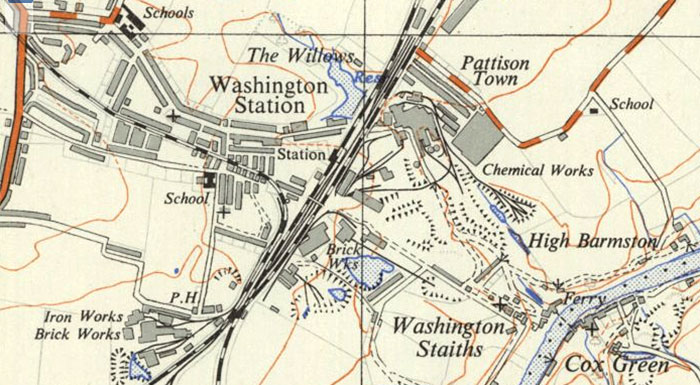 Blythe & Sons is centre picture, just above the large lower pond.
Cook's is in the bottom-left corner.
The pond was created by clay extraction for the Brickworks.
Usworth & Washington Brickworks - 1960s

Usworth Brickyard on Waterloo Road
Usworth Colliery in the background

Washington Brickyard on Blue House Lane
Wensleydale Ave / Old Power Station (middle-right).
To read a Brief History of Usworth Brickyard ... Click Me.
Surprise Find in Sunderland's East End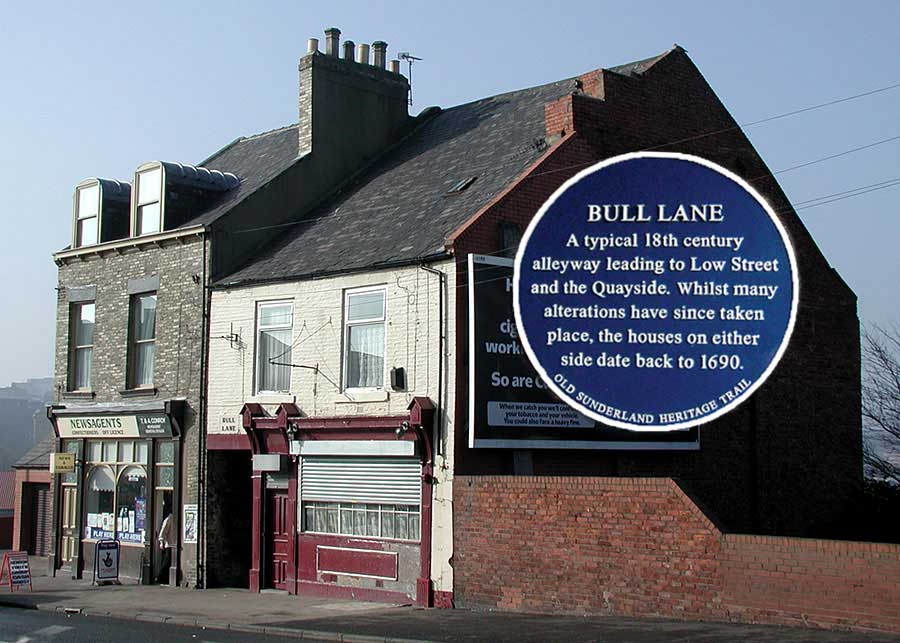 Bull Lane & The Clarendon Public House
Formerly, The Butchers Arms.
[ Photo: Keith Cockerill - 30th April 2021 ]
Keith says:
"I was down in the old East End of Sunderland this morning, photographing the 18th Century Bull Lane, which nestles between two remaining old properties and is one of the oldest surviving alleys leading to the River Wear. One of those properties is The Clarendon, reputed to be Sunderland's oldest public house, which is unfortunately closed at present. Walking through the alleyway you get a sense of real history. My family ran a Boot and Shoemakers Shop opposite The Clarendon in the early / mid 19th Century."
Usworth Bricks!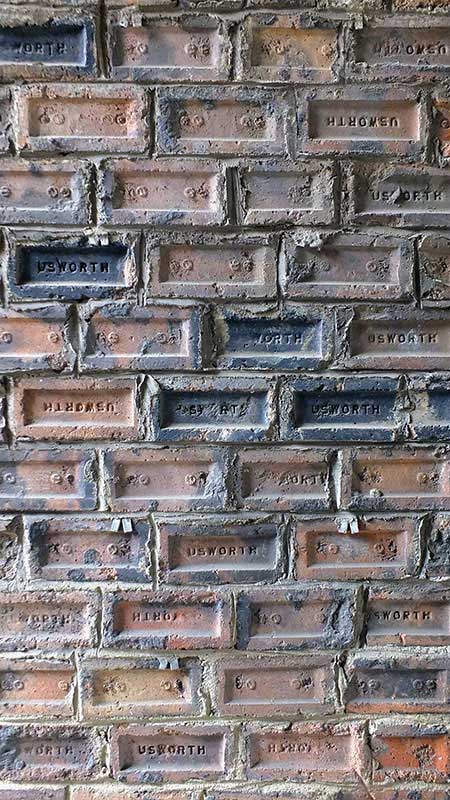 Wall in Bull Lane Alleyway
[ Photo: Keith Cockerill - 30th April 2021 ]
Keith says:
"I was surprised when walking through the alley to come across a hoard of Usworth
Bricks built into the ancient wall, probably placed there in the early 20th Century."
◊ ◊ ◊
More Bricks on Page 2/2. See Top Menu.