---
Memories of Washington
Local Bricks & Brickyards 2/2
---
Bricks Found In River Wear Mud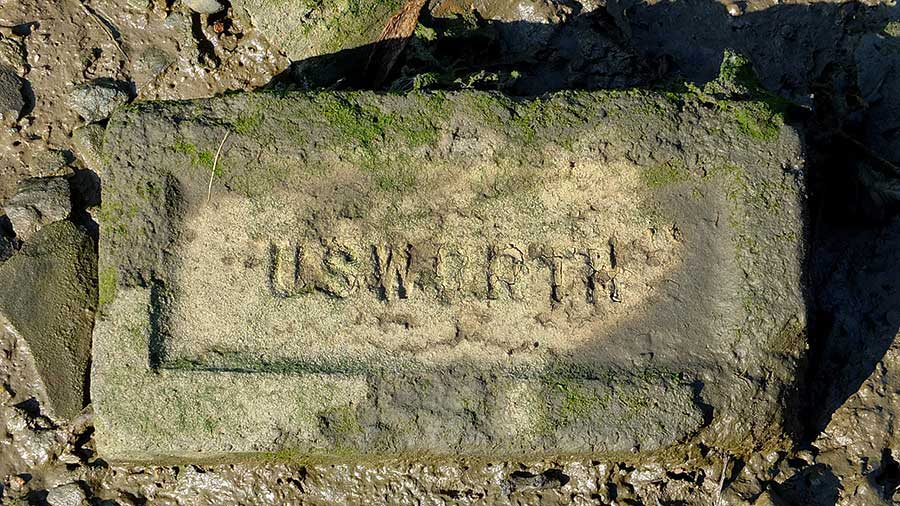 [ Found and Photographed by Keith Cockerill - 31st August 2018 ]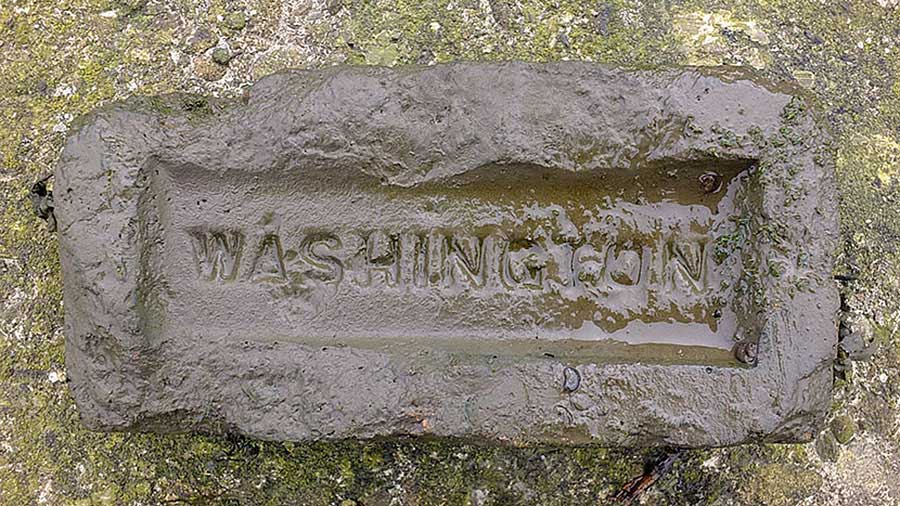 [ Found and Photographed by Keith Cockerill - 1st March 2021 ]
USWORTH & WASHINGTON BRICKS
Keith says:
"Discovered close to the old limekilns at Claxheugh Rock, near to the derelict Concrete Tugboat, Cretehawser,
on the south bank of the River Wear, about half a mile upstream from the Northern Spire Bridge.
Ford Paper Company was once on site below Claxheugh Rock, and the old Coal Drops
at the Stadium of Light have Usworth Bricks built into them."
[ Washington Brick cleaned up. See 'Best Wishes' below. ]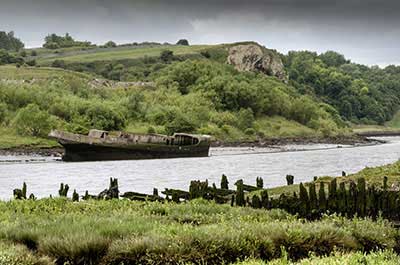 River Wear, Cretehawser & Claxheugh Rock
[ Posted on Flickr by Photographer: David Allan ]
Cretehawser was built by the Wear Concrete Company in 1919, when steel was in short supply.
Two sister Tugs were called Creterope and Cretecable.
[ Information from The Sunderland Echo ]
• • ◊ • •
♫ Walling in love again ♫
( Apologies to Miss Dietrich. )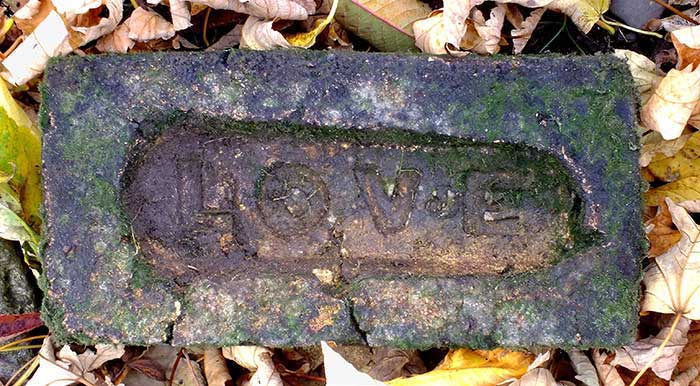 [ Photo: Keith Cockerill - c.2015 ]
Keith says:
"I found the above brick along the banks of the river at Washington a couple of years ago; it conveys a fine message indeed!
There are many such bricks along the riverbank, but finding one in good condition is a bit more difficult.
They were not made in Washington but by Joseph Love who owned Shincliffe Colliery
and Brickworks. They must have been used extensively around the area."
[ Keith later discovered a second good-quality 'LOVE' brick - along with the muddy 'USWORTH' brick, above. ]
• • ◊ • •
SEE ALSO: 'Londonderry Brick' in next section.
Other Bricks of Interest
Penshaw Brickworks, Co Durham
[ Photo: Keith Cockerill - 13th Sept 2018 ]
• • ◊ • •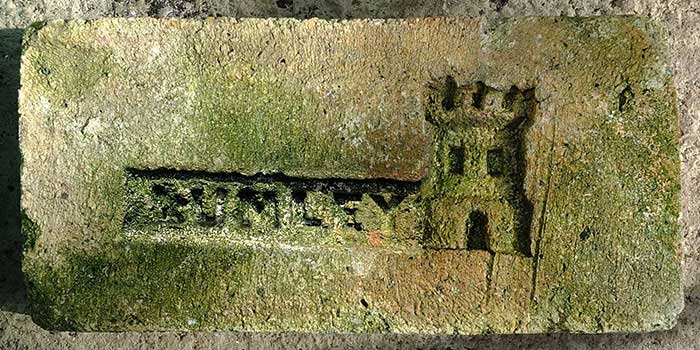 Lumley Brickworks, near Fence Houses - Demolished in 1992
[ Photo: Keith Cockerill - April 2021 ]
This Brick was given to Keith by a Friend. Note Lumley Castle.
• • ◊ • •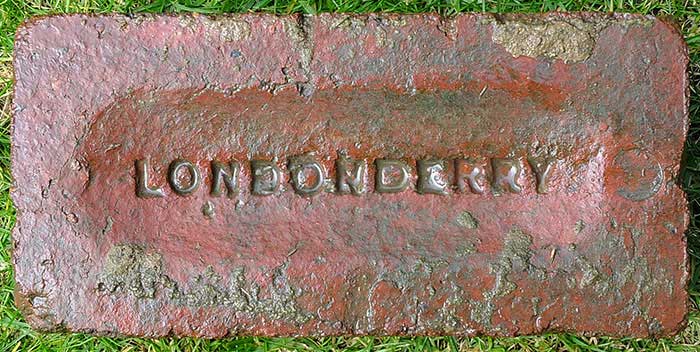 Londonderry Brickworks, Seaham
[ Photo: Keith Cockerill - April 2021 ]
Brick was found by Keith in the R. Wear at Hylton. Such Bricks have been found on Seaham beach.
Charles Stewart, the 3rd Marquess of Londonderry married a wealthy local woman, Frances Anne Vane-Tempest.
Building and operating Seaham Harbour, Coal Mining Interests (including Vane Tempest Colliery and Dog Hole Staith at Fatfield)
were included in their business ventures, as was Londonderry Brickworks. This would account for the Brick Name.
Best Wishes to All Our Readers,
Love from Washington
[ Photo: Keith Cockerill - 2nd March 2021 ]
Keith says:
"The above Bricks were made at kilns 15 or more miles apart, Shincliffe and Washington.
I found both of them on the Banks of the River Wear."
◊ ◊ ◊
Cheers Keith, you're a Brick!