---
Memories of Washington
Then & Now Collection ( 8/8 )
---
Washington Galleries Bus Station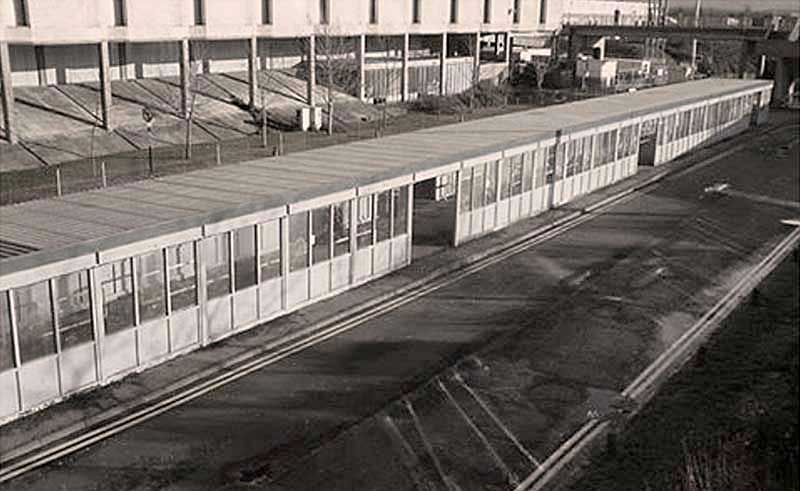 THEN
The Cold & Draughty Bus Shelter
Woolco: top-right

NOW
View from the overhead walkway near Durham House
Escalator up: left. Steps up: right.
[ Photo: J.G. 27th December 2017 ]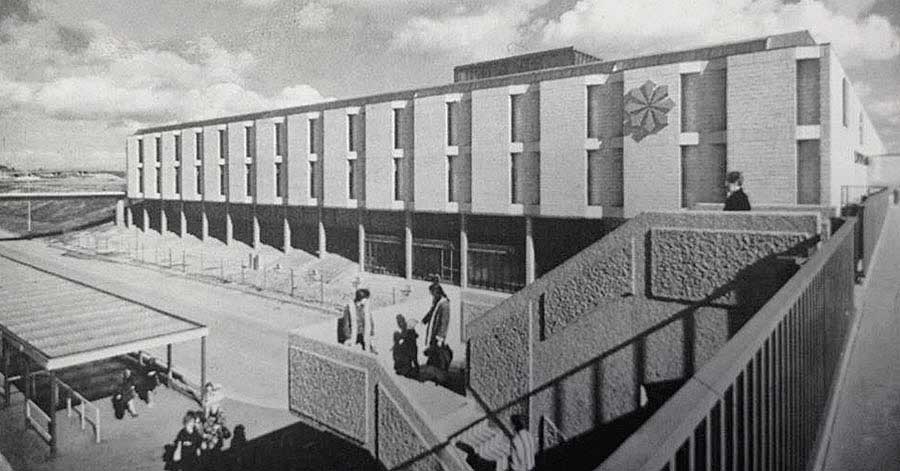 THEN
The original concrete steps, from The Galleries main entrance and Woolco Superstore, to the Bus Station & car parks

THEN
Steps down to The Galleries Bus Station. Woolco Superstore
Washington Galleries Bus Station
Don't scroll down the page yet!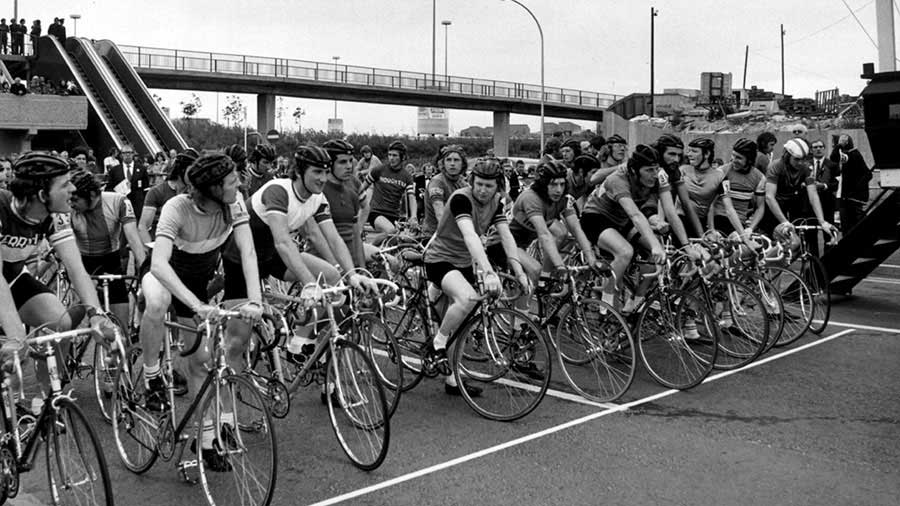 THEN
Where's the Bus Station?
Before looking at any more pictures, can you identify the exact location of these cyclists, in relation to the Bus Station?
Is the starting line inside the Bus Station area or is it to the north or south of the Bus Station?
Which way are they heading? North towards Concord, or South towards Fatfield?
[ It took me ages to figure this out! All will be revealed in the next two images.]

NOW
Note the walkway pillars, the pattern of the fencing, the curved street lamp and the 'no-entry' sign.
The outdoor escalator has been removed and its replacement is on the other side
of the walkway, where it leads directly into the new Bus Station.
[ Photo: J.G. 27th December 2017 ]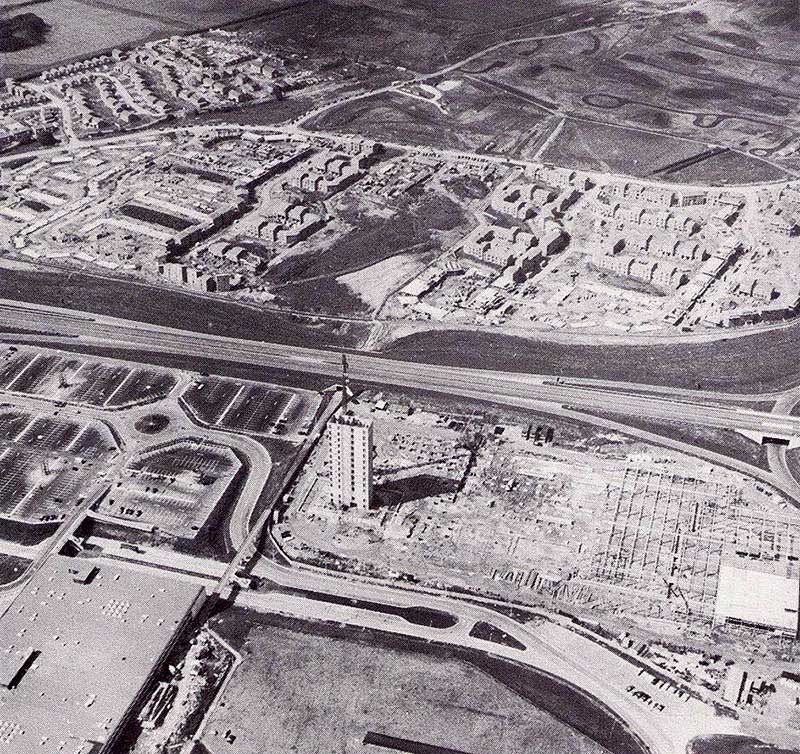 THEN
Oxclose Village (under construction), Washington Highway, Car Parks, Durham House and Washington Galleries Bus Station.
On the Durham House side, the Outside Escalator and Concrete Steps lead down and away from the Bus Station.
From the road/walkway on the Woolco side, the Concrete Steps lead down into the Bus Station.
South Approach To Washington Galleries Bus Station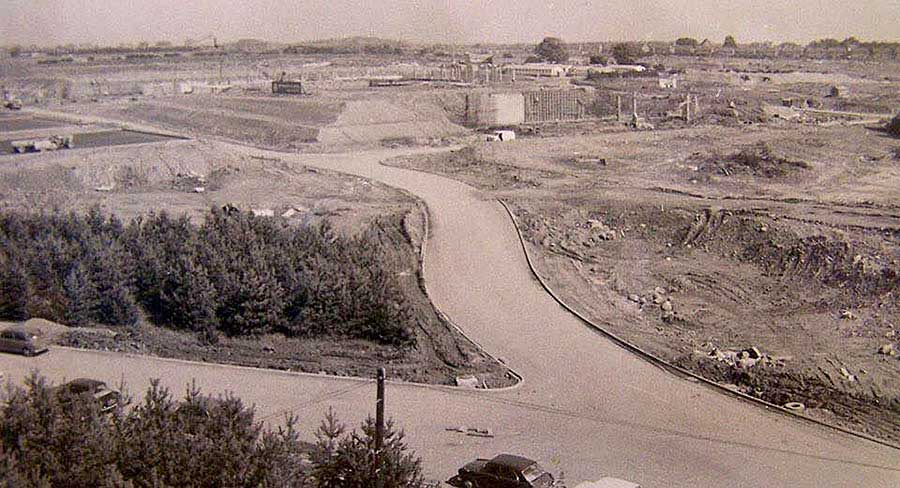 THEN
Left to Car Parks. Ahead to Bus Station. Right to Washington Highway, Oxclose and Lambton.
[ Traffic lights here now. ]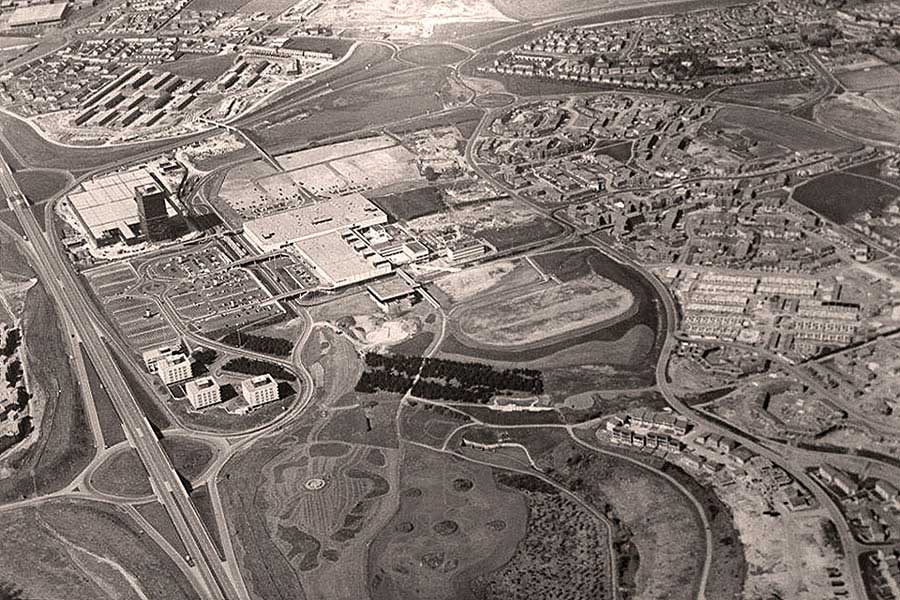 SOME YEARS LATER
Aerial View showing The Galleries and its Bus Station
[ Note the road junction shown in the top image. ]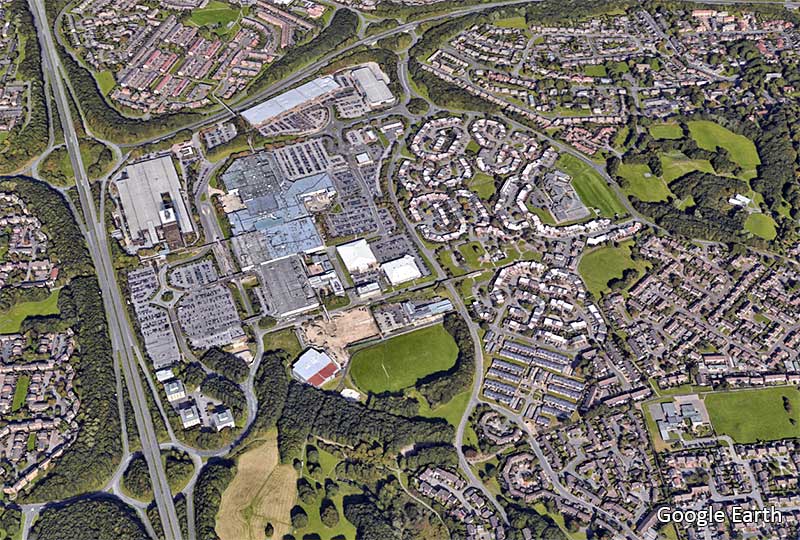 NOW
Google Earth
[ 2018 ]
View From Sheddon's Hill
... looking North.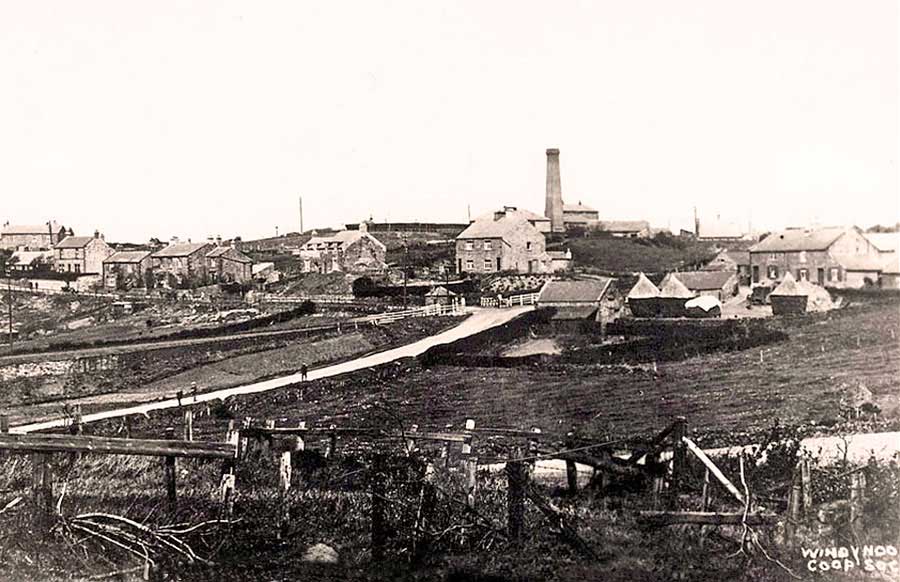 THEN
Eighton Banks as seen from the lower, north side of Sheddon's Hill. Bowes Railway Level Crossing, centre-picture.
Blackim Hill Engine House chimney is on the horizon. Mount Moor Colliery was off-picture, left.
[ Ordnance Survey maps spell it as Sheddon's Hill but, as kids, we always pronounced it Shay-don's Hill.]

NOW
[ Photo: J.G. 18th May 2017 ]

Blackfell Hauler & Mount Moor Colliery
[ Photograph by David Kitching ]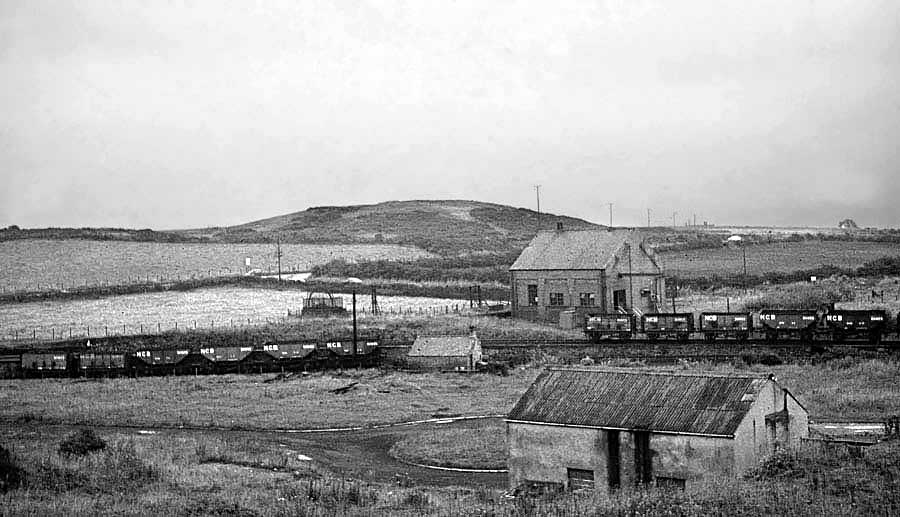 Sheddon's Hill & Blackfell Hauler
[ The Mill House Hotel & Washington are beyond the hill. ]

Sheddon's Hill & Eighton Banks
[ OS Map: 1888 - 1913 ]
Mount Moor Colliery (aka Vale Pit) is described as disused on the above map.
Durham Mining Museum list it as opening before 1826 and closing in May 1931.
Maybe the original mine was abandoned, then reopened some years later.
The Mill House Hotel
... looking South-East.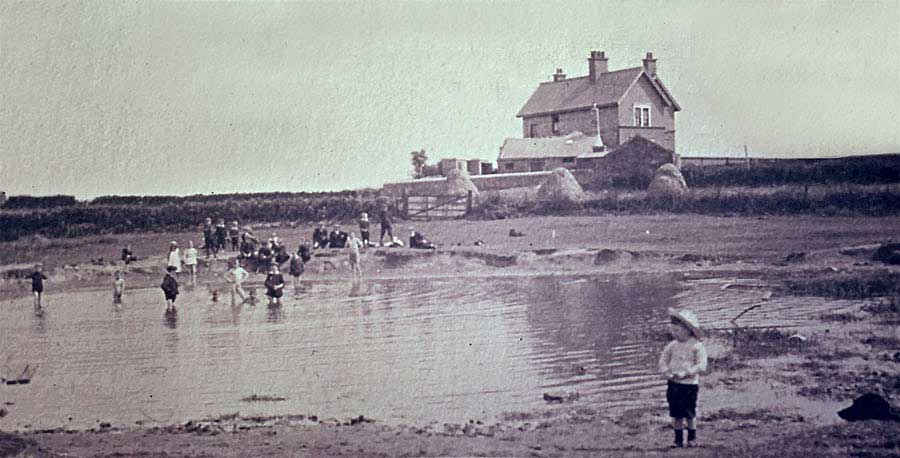 THEN
The Mill House Hotel seen across the fields from the road to Eighton Banks. Sheddon's Hill is off-picture, left.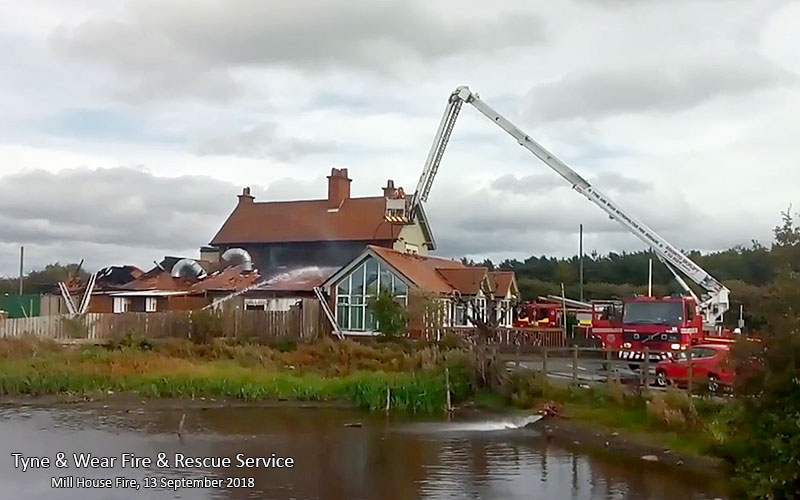 NOW
Mill House staff and customers evacuated as 26 Firefighters tackle major blaze.
[ Image posted by Tyne & Wear Fire & Rescue Service, 13th Sept 2018 ]

NOW
Emergency Services at the Scene.
[ Image posted by The Sunderland Echo, 13th Sept 2018 ]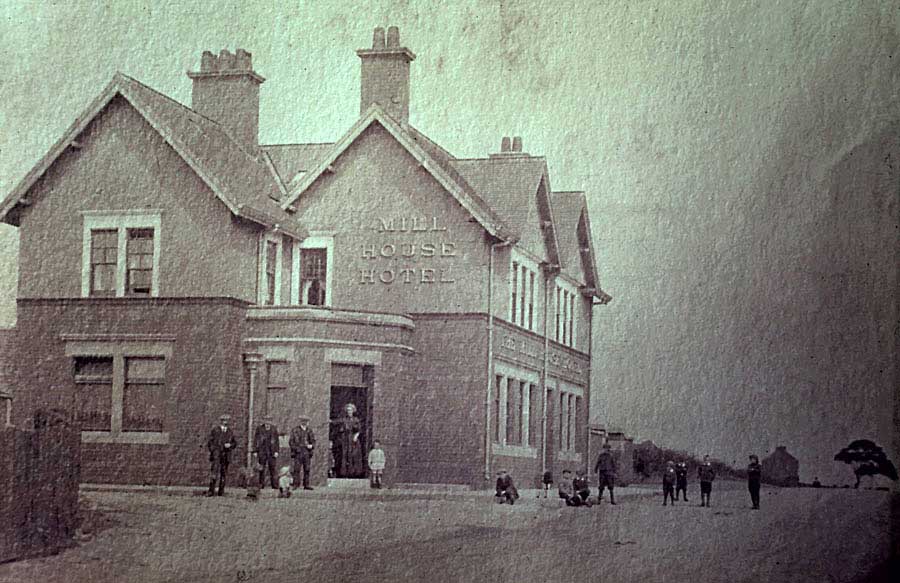 THEN
The Mill House Hotel
---