---
Memories of Washington
Then & Now - Miscellaneous Collection (6 of 6)
---
Washington Galleries Bus Station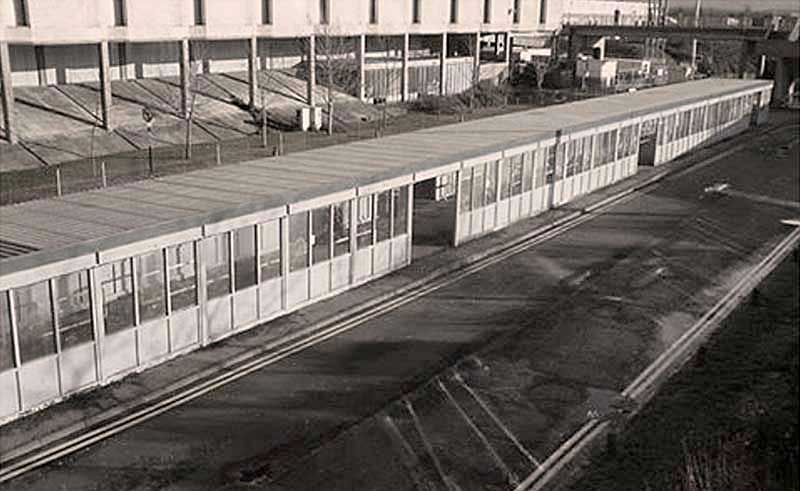 THEN
The Cold & Draughty Bus Shelter
Woolco: top-right

NOW
View from the overhead walkway near Durham House
Escalator up: left. Steps up: right.
[ Photo: J.G. 27th December 2017 ]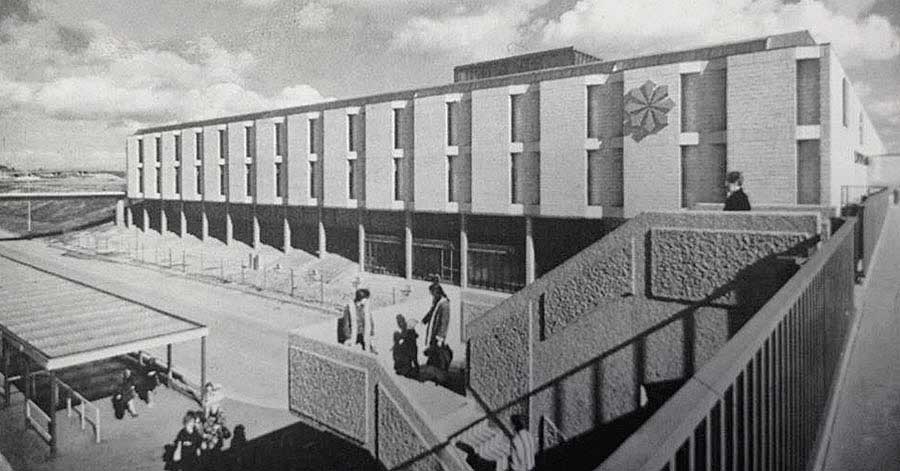 THEN
The original concrete steps, from The Galleries main entrance and Woolco Superstore, to the Bus Station & car parks

THEN
Steps down to The Galleries Bus Station. Woolco Superstore
Washington Galleries Bus Station
Don't scroll down the page yet!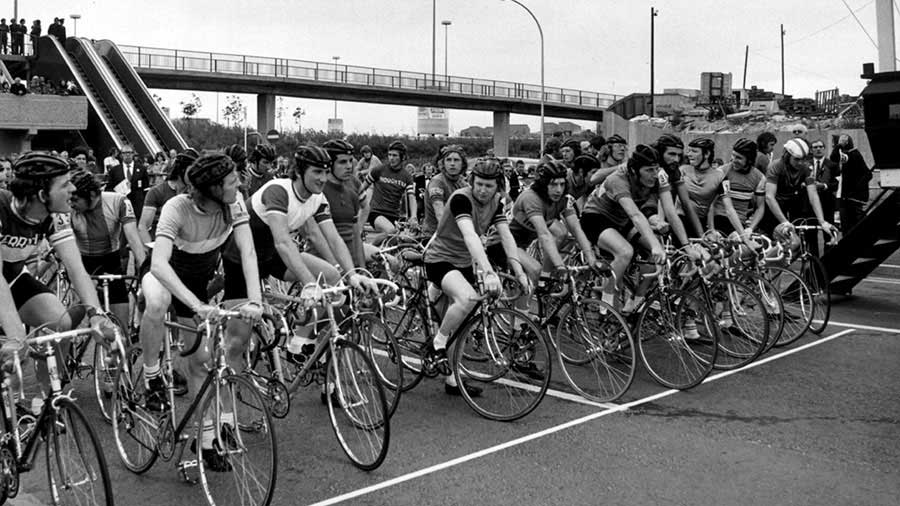 THEN
Where's the Bus Station?
Before looking at any more pictures, can you identify the exact location of these cyclists, in relation to the Bus Station?
Is the starting line inside the Bus Station area or is it to the north or south of the Bus Station?
Which way are they heading? North towards Concord, or South towards Fatfield?
[ It took me ages to figure this out! All will be revealed in the next two images.]

NOW
Note the walkway pillars, the pattern of the fencing, the curved street lamp and the 'no-entry' sign.
The outdoor escalator has been removed and its replacement is on the other side
of the walkway, where it leads directly into the new Bus Station.
[ Photo: J.G. 27th December 2017 ]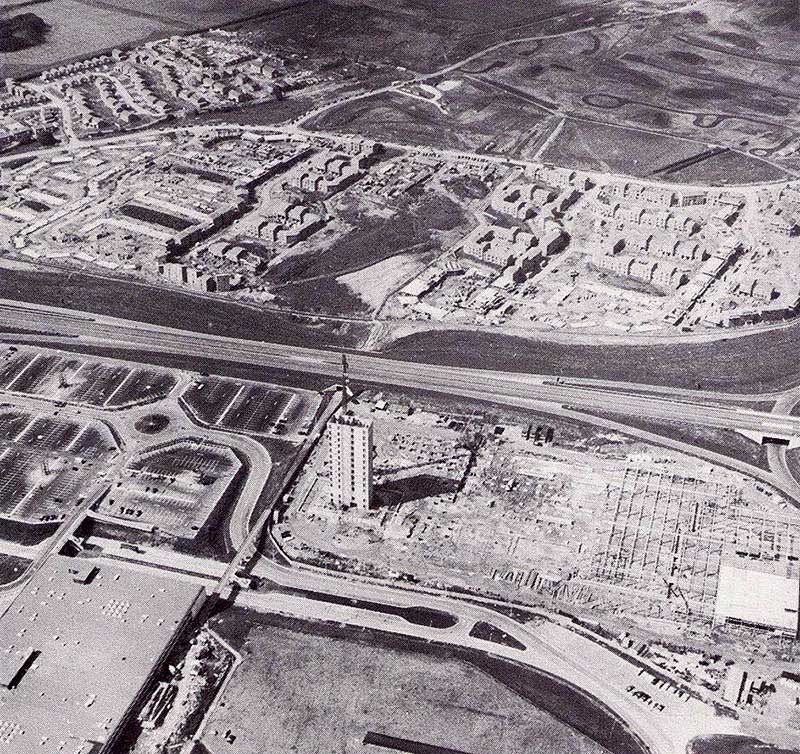 THEN
Oxclose Village (under construction), Washington Highway, Car Parks, Durham House and Washington Galleries Bus Station.
On the Durham House side, the Outside Escalator and Concrete Steps lead down and away from the Bus Station.
From the road/walkway on the Woolco side, the Concrete Steps lead down into the Bus Station.
Worm Hill Terrace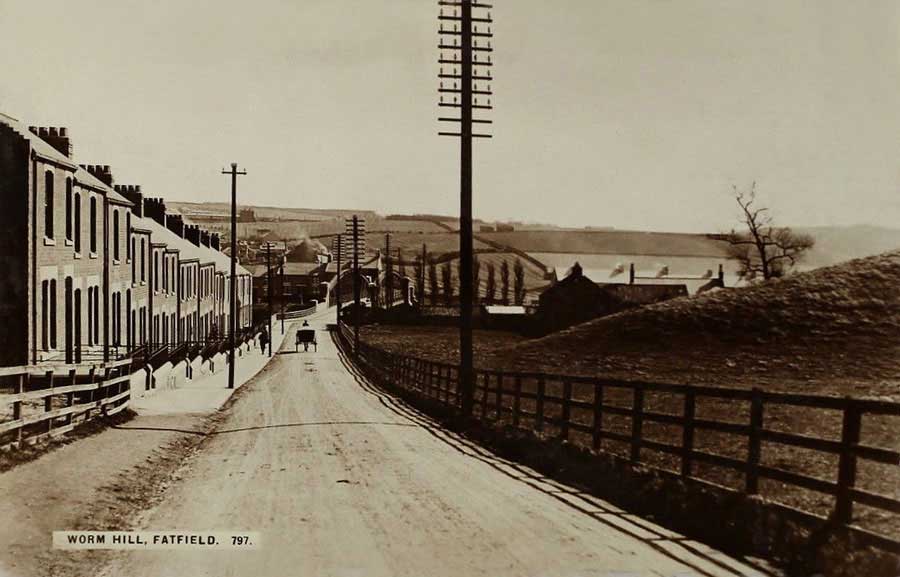 THEN
Worm Hill Terrace leading down to Fatfield Bridge. Worm Hill on the right-hand side.

NOW
More horsepower, lots of satellite dishes and one significant change which occurred in the 1940s.
The metal railings were removed to assist the war effort - ostensibly to make weapons!
[ Photo: J.G. 10th Nov 2017 ]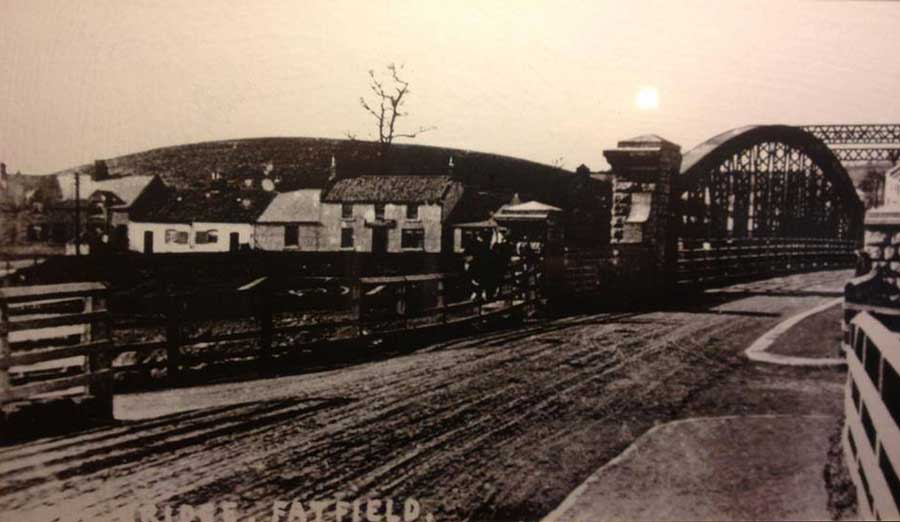 THEN
Worm Hill, Biddick Inn & Fatfield Bridge
[ Pre-1922. No Memorial on Worm Hill! ]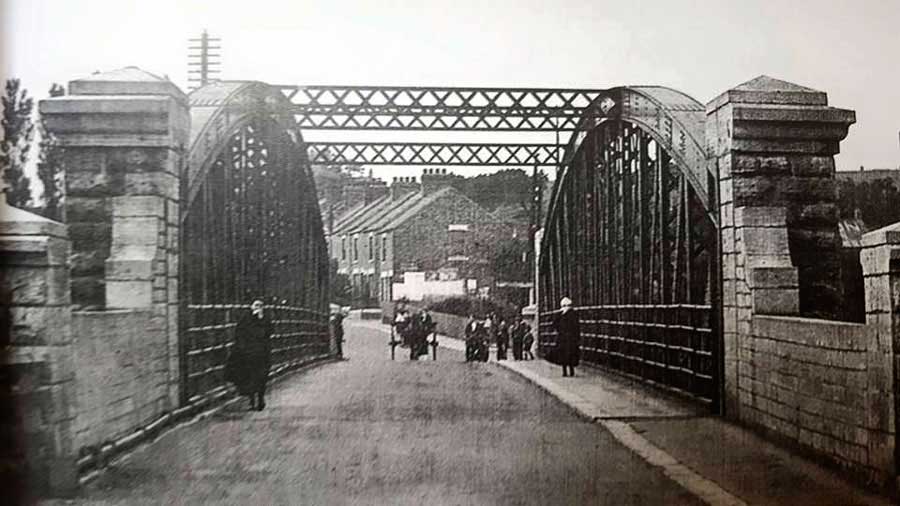 THEN
Fatfield Bridge & Worm Hill Terrace
[ 1915 ]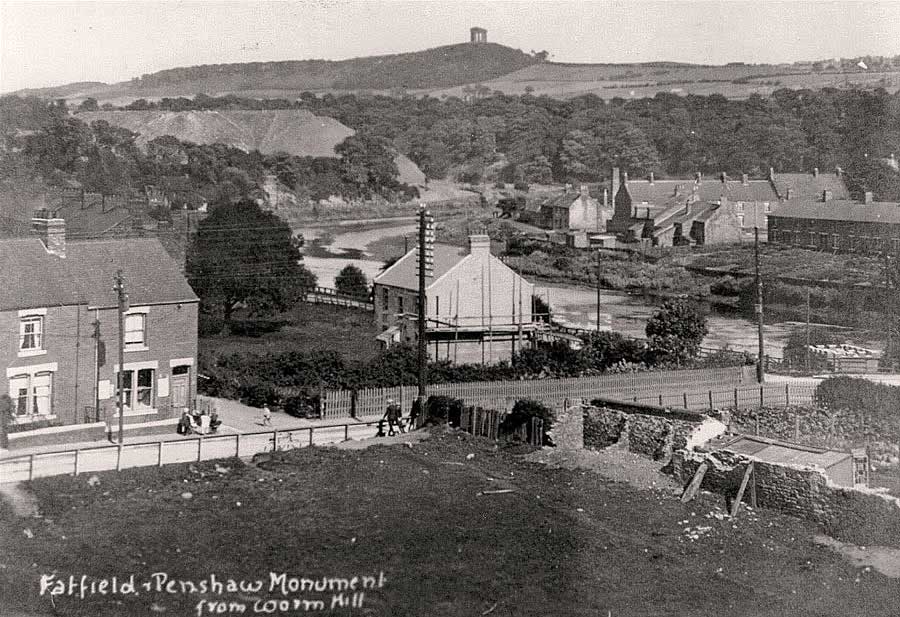 THEN
Bottom of Worm Hill Terrace as seen from Worm Hill
[ Note North Biddick Colliery Pit Heap. ]
Biddick Inn
... looking upstream from the north-side of Fatfield Bridge.

THEN
Biddick Inn at the entrance to Bonemill Lane

NOW
The Taxi Office and Harraton War Memorial are the only structures standing between Biddick Inn and the Old Co-op Building.
[ Photo: J.G. 5th April 2017 ]

THEN
Harraton miner William Hughes passing a snowy Biddick Inn.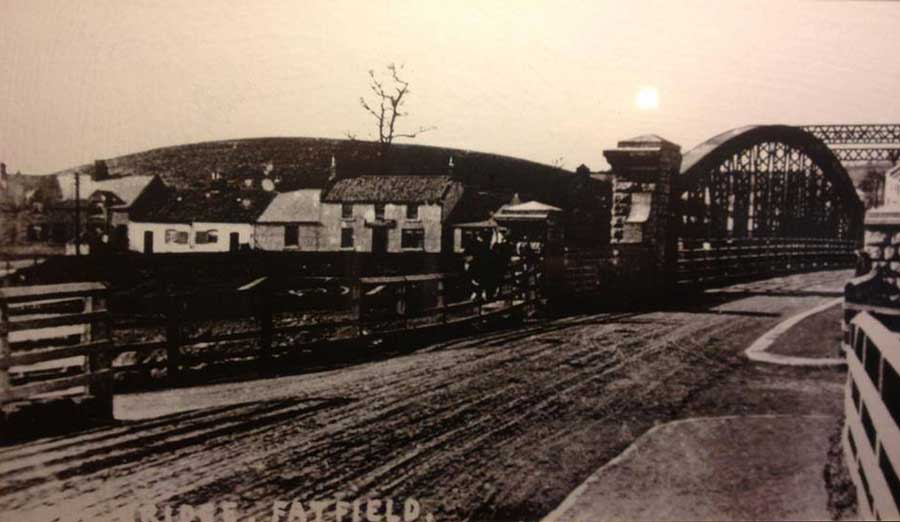 THEN
Biddick Inn, Worm Hill & Fatfield Bridge
( View from south of the river. )

THEN
Biddick Inn, Fatfield Bridge & Gem Cinema, seen from Worm Hill.
( The Gem is just above Fatfield Bridge. )
Lots of old pub pictures at: Pub Crawl
Junction: Bonemill Lane / Biddick Lane
... looking North-West.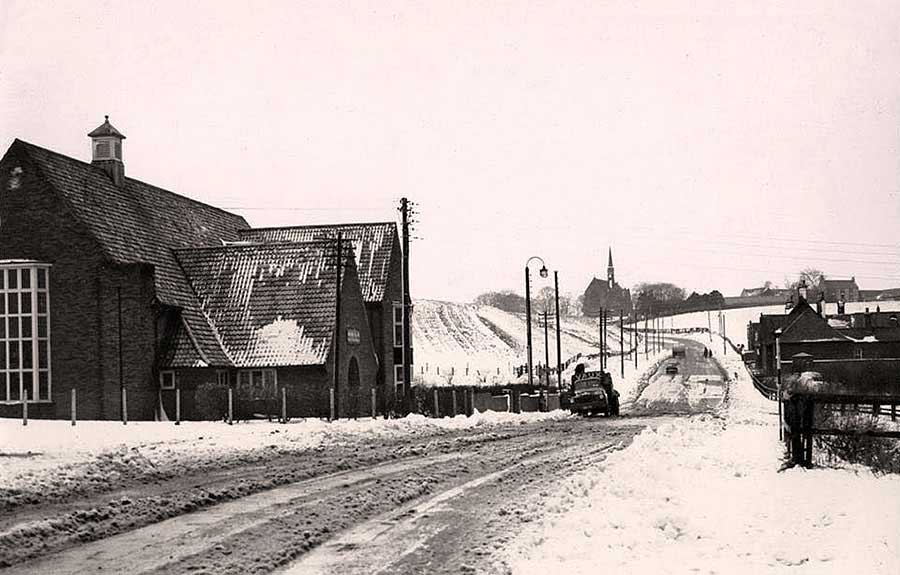 THEN
Harraton Community Centre - formerly Harraton Miners' Welfare Hall. Saint George's Church. Fatfield School.
Bonemill Lane passes the old school buildings before curving left towards Harraton Colliery.

NOW
Bonemill Lane curves left immediately after Biddick Lane and goes under the Washington Highway.
Note the parked cars on the old route, where houses have replaced Fatfield School.
The spire of Saint George's Church is just visible above the trees.
[ Photo: J.G. 18th Oct 2017 ]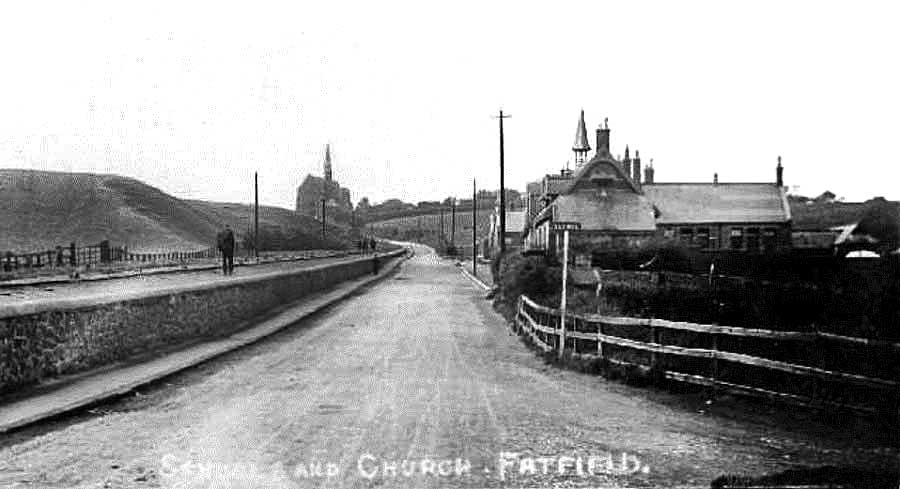 Then 2
Bonemill Lane & Biddick Lane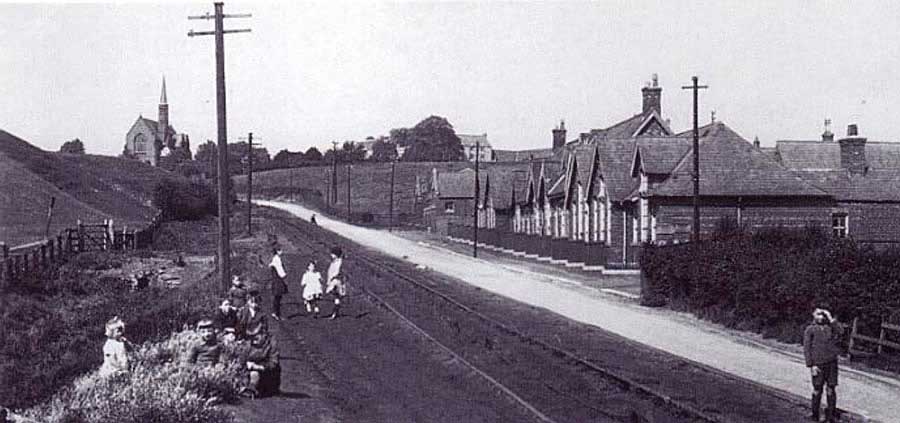 Then 3
St. George's Church - Harraton Wagonway - Fatfield School

Bonemill Lane / Biddick Lane Junction
[ OS Map: 1888 - 1913 ]

The new route of Bonemill Lane: south of Saint George's Church to Harraton Community Centre.
Part of the old route: the cul-de-sac, in the trees, below Saint George's churchyard.
[ Thanks to Google Earth ]
---