---
Memories of ...
Fatfield Primary School
---
Fatfield Primary School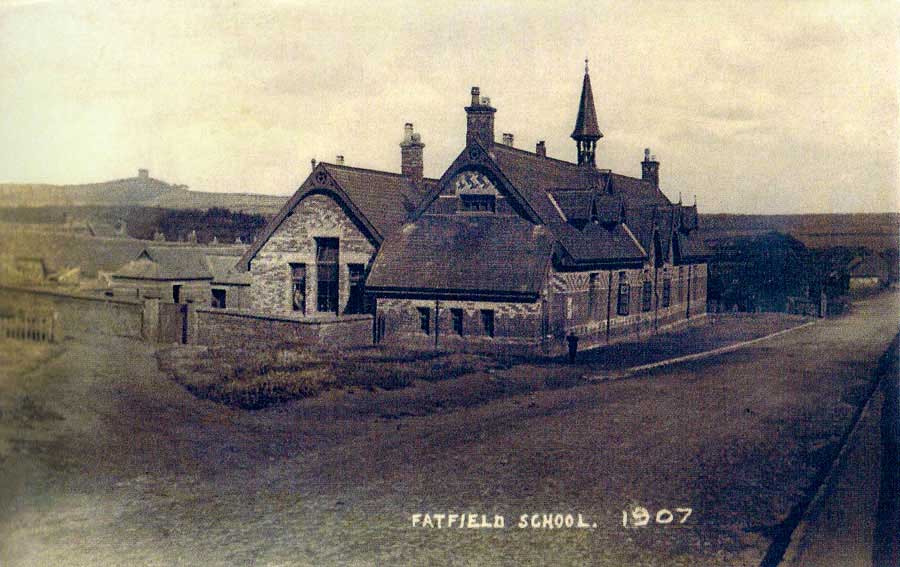 FATFIELD PRIMARY SCHOOL on BONEMILL LANE, 1907
Penshaw Monument: left horizon - Biddick Lane: turn left, just beyond the school - Fatfield Bridge: straight ahead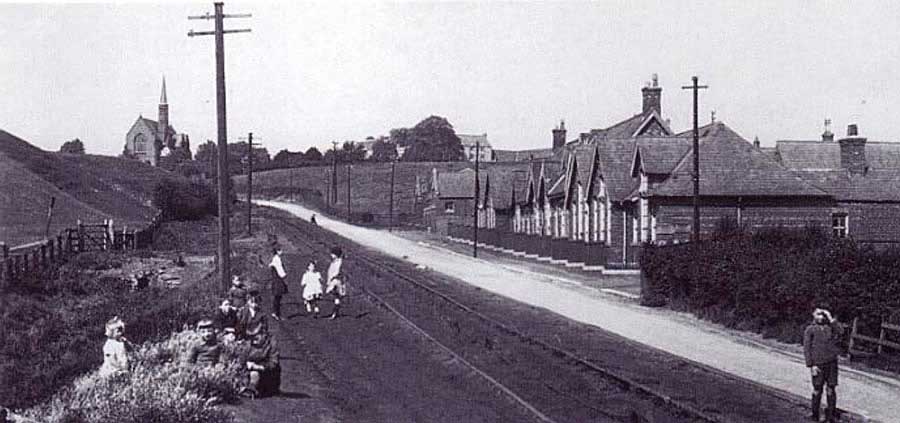 ST GEORGE'S CHURCH - FATFIELD PRIMARY SCHOOL
The Washington Highway (A182 to Shiney Row) will cross Bonemill Lane immediately beyond the school.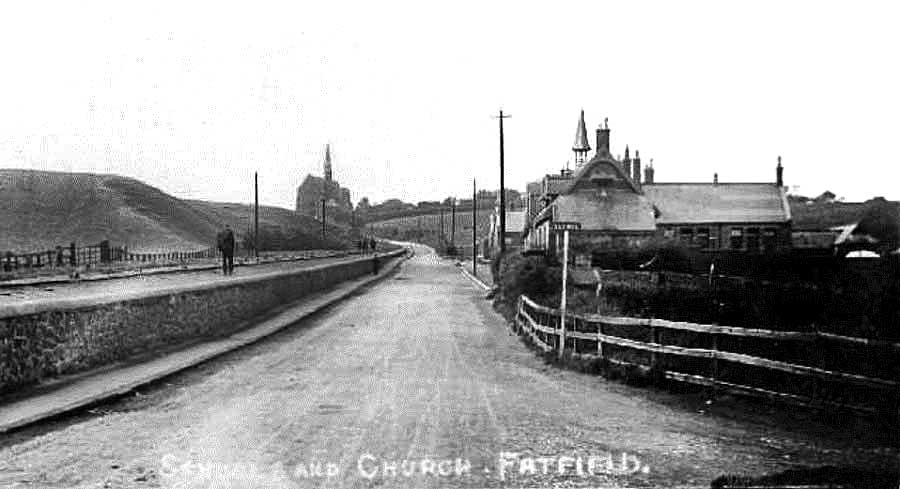 ST GEORGE'S CHURCH - FATFIELD PRIMARY SCHOOL
Note: St George's Church is on Vigo Lane - Biddick Lane: bottom right
The man is standing on Harraton Wagonway, which ran from Harraton Colliery to the River Wear.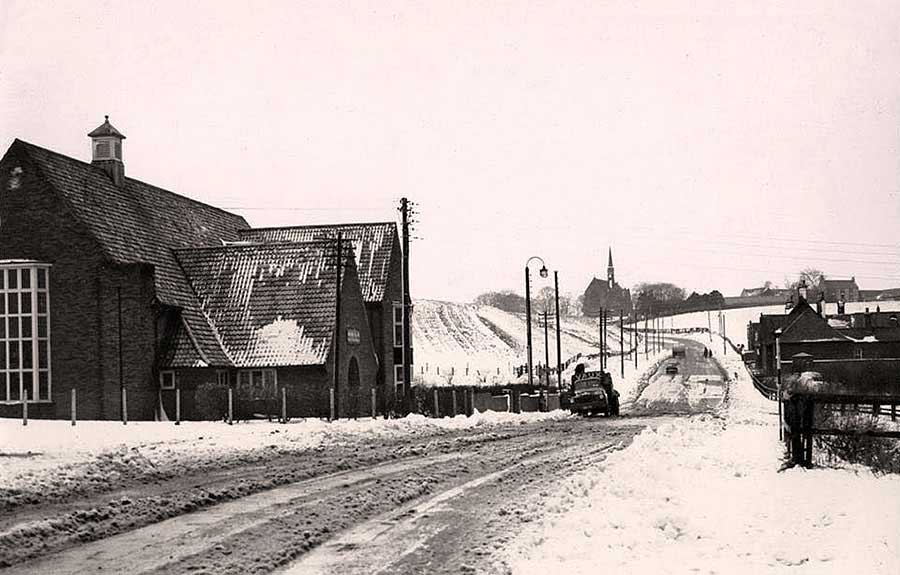 HARRATON MINERS' HALL, later COMMUNITY CENTRE - ST GEORGE'S CHURCH - FATFIELD SCHOOL
Note the Vaux Brewery Lorry making a delivery to the Community Centre. Biddick Lane is to the right of the lorry.
Fatfield Primary School
FATFIELD PRIMARY SCHOOL on BONEMILL LANE
Artist's Impression of School and Surrounding Area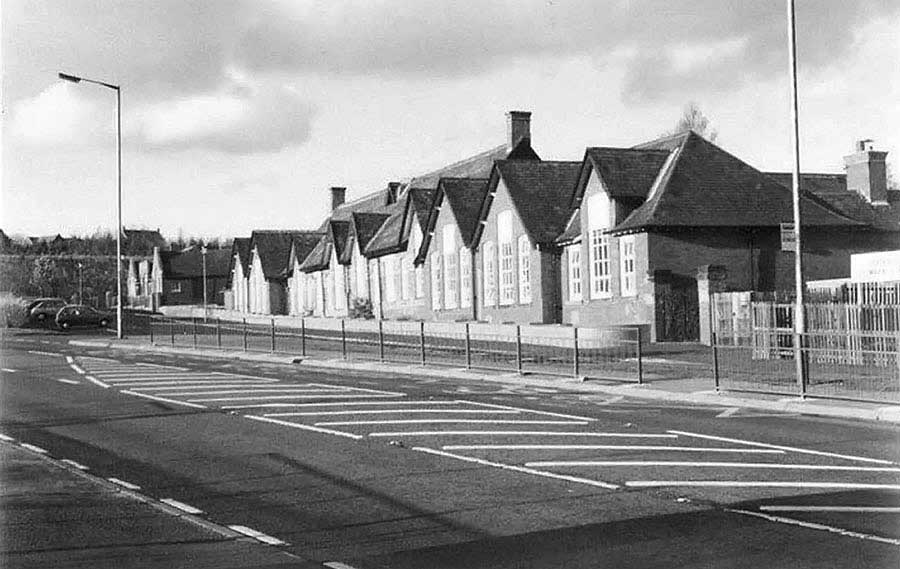 FATFIELD PRIMARY SCHOOL on BONEMILL LANE.
Note the Washington Highway Embankment.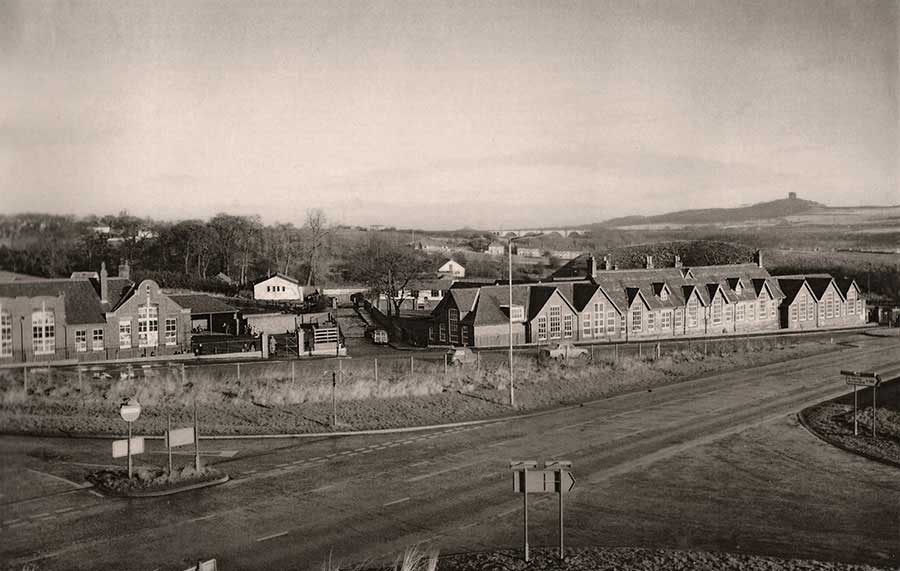 FATFIELD SCHOOL on BONEMILL LANE.
View from the A182 Washington Highway - not long before the School faces demolition.
Note Victoria Viaduct and Penshaw Monument
Fatfield Primary School
Demolition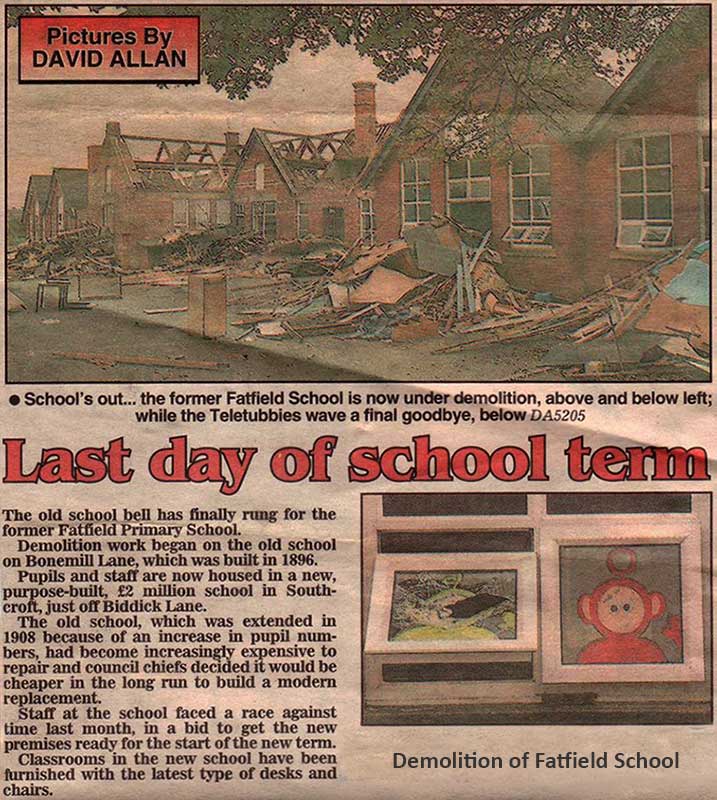 DEMOLITION of FATFIELD PRIMARY SCHOOL
[ Unidentified Press Cutting ]
Fatfield School War Memorial
Roll of Honour
TEACHERS
Jas F.G. Ashworth
Alex. J. Metcalfe
OLD BOYS
George H. Ainsley
John G. Appleby
John T. Appleby
Robert Appleby
William Appleby
Richard Bell
George Black
Joseph Black
James Bohill
John Charlton MM
John Colpitts
John T. Corps MM
Arthur Crisp
Newrick Crow
Ralph Crow
Thomas Crow
Joseph Cumpson
Joseph Elliott
Edward Foster
Robert S. Gould
George Johnson
Thomas Lake
Arch. Leighton
Nathan Marshall
Robert Marshall
William McCulloch
John McNeil
Ralph McNeil
William Moore MM
Hugh Murray
John W. Noble
James G. Oliver
Thomas Oliver
Robt. Pattinson
Alfred Potter
Fred Potter MM
Joseph Ramshaw
Charles Todd
Henry Wells
Robert Willis
To The Memory Of
The Brave Sons Of The Empire
Who Fell On The Battlefields Of Europe
"They Have Fought The Good Fight"
Dying In The Cause Of Humanity
That Honour Might Live.
Picture Courtesy of Photographer, Peter Welsh
[ N.B. Newrick Crow's name is inscribed incorrectly on this Memorial. ]
John George Charlton MM

Royal Field Artillery
Former Pupil of Fatfield Council School
John Charlton won his MM for putting out a fire in an Ammo Dump. He was later killed in action on 14 August 1917.
A Bombardier in Royal Field Artillery, he was the Son of Esther, of The Square, Fatfield.
John is buried in Aeroplane Cemetery, near Ypres in Belgium.
This Gold Watch was presented to his Mother.
Peter says, "The People of Fatfield bought Gold Watches for all those who won the MM or above."
HEADMASTER'S LOG BOOK
( 5th May 1919 )
"We desire to erect a suitable War Memorial tablet or picture in the Hall, in memory of the 30 old boys and teachers who gave their lives, and in honour of the 100 or more who served in army or navy. Children were asked to subscribe today, and are responding nicely."
The School War Memorial was finally opened on 7th October 1920, by JF Bell Esq, the Reverend Reeman presiding. 2 teachers and 49 old scholars (only 40 are actually named on the memorial) are known to have lost their lives in the Great War, and 136 are known to have served in addition. The tablet and roll have cost over £30, raised by subscriptions from scholars, teachers and friends. The County Education Committee have defrayed the cost of framing and glazing the picture, and Mrs White kindly inscribed and ornamented the roll free of charge. The elder scholars (boys and girls) sang appropriate songs under the musical direction of Mr Stables and the ceremony passed off suitably and successfully."
Peter says, "Thomas Lake fought in The Boer War."
Thanks to Peter Welsh and Wessington U3A War Memorials Project for above Pictures / Information.
( If you're interested in local War Memorials, visit their website at: wwmp.weebly.com )
The Fatfield School War Memorial is currently on display in Harraton Community Centre.
( November 2019 )
Fatfield Primary School Former Pupils
Newrick, Ralph & Thomas Crow
( Brothers who fell in WW1 )
In
Affectionate Remembrance
of
Newrick Crow
The dearly beloved husband of
Maria Crow,
Who was Killed in Action,
September 18th, 1916,
Aged 30 Years.
NEWRICK CROW
Northumberland Fusiliers, Service No. 8163
Commemorated at Thiepval Memorial, The Somme
''Greater love hath no man than
that which lay down his life for
his friends''
Lord, ere I join this deadly strife,
And battle terrors dare,
First would I render soul and life
To Thine Almighty care;
And when grim death in smoke
wreaths robed,
Comes thundering o'er the scene,
What fears can reach a soldier's heart
Where trust in Thee has been.
Christ shall clasp the broken chain,
Closer when we meet again.
24 The Square
Fatfield
''This is a memorial ribbon for Newrick Crow who fell at The Somme. He is one of three brothers, Newrick, Ralph and Thomas Crow, my great uncles, who fell in the Great War and are remembered on the Fatfield School Memorial. On the memorial Newrick's name is spelled incorrectly as Nurich! Newrick is also remembered on the Thiepval Memorial to the Missing of The Somme. Ralph also fell at the Somme and is buried in Abbeville Cemetery; Thomas fell at Paschendale, and is remembered on the Tyne Cot Memorial to the Missing.''
[ Photographs, Information and Comments: Thanks to Dr Ken Reay.]
RALPH CROW
Tyneside Irish, Service No. 27/107
Buried at Abbeville Cemetery, The Somme
THOMAS CROW
Northumberland Fusiliers, Service No. 18750
Commemorated at Tyne Cot, Memorial to The Missing, Belgium
[ Thomas fell at Paschendale, 26 October 1917. Aged 35. ]
[ This page also available in What's Where - World Wars / Memorials - WW1 Washington's Volunteers article. ]
Fatfield Primary School
Famous 'Old Boys'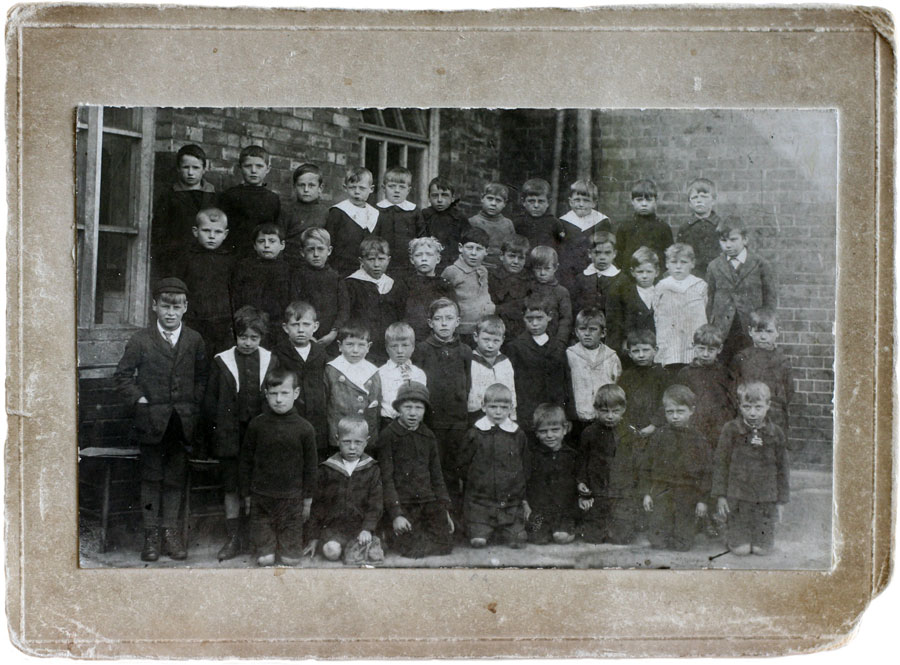 THE BOYS OF FATFIELD SCHOOL c.1920
Two schoolmates from Penshaw Staithes: Stan Rodgerson (2nd row, 8th from the left) & Bobby Thompson (centre of back row)
[ This precious family photograph appears here by kind permission of David Jones, nephew of Stan Rodgerson. Many thanks, Dave. ]
• • ◊ • •
---