---
Memories of a Washington Genius
Sir Harold Jeffreys FRS
---
Sir Harold Jeffreys FRS

Plaque at Armstrong College, Newcastle University
Born in the School House on Bonemill Lane, Fatfield, 22nd April 1891,
Harold Jeffreys became one of the great scientific minds of the 20th century. He made major contributions in the fields of
Astronomy, Geology, Philosophy, Meteorology, Nuclear Physics, Seismology, Mathematics and Statistics.
THE ROYAL SOCIETY
The Royal Society is a Fellowship of the world's most eminent scientists.
It is the oldest Scientific Academy in continuous existence.
FELLOWS of the ROYAL SOCIETY
• HM Queen Elizabeth II (Patron)
• HM Queen Victoria (Patron)
• Sir Isaac Newton
• Albert Einstein
• Michael Faraday
• Stephen Hawking
• Sir Tim Berners-Lee
• Robert Boyle
• Sir Humphry Davy
• Daniel Gabriel Fahrenheit
• Enrico Fermi
• Sir Alexander Fleming
• Werner Karl Heisenberg
• Sir Frederick William Herschel
• Robert Hooke
• Antoine Laurent de Lavoisier
• Charles Messier
• Joseph Priestley
• Erwin Schrödinger
[ Small sample of Fellows ]
WASHINGTON MEN
who were
FELLOWS of the ROYAL SOCIETY
Sir Isaac Lowthian Bell FRS
of New Washington (later, Dame Margaret's) Hall.
See What's Where: People; Gertrude Bell.
Sir Harold Jeffreys FRS
of Fatfield.
Hugh Lee Pattinson FRS
Co-founder of Washington Chemical Works.
Born: Alston. Lived: Gateshead.
Interred: Washington Holy Trinity Churchyard.
Sir Harold Jeffreys FRS (1891 - 1989)

Fellow of the Royal Society

Graduating from Rutherford College, Newcastle (1907)

Harold Jeffreys (top-right) St John's College, Cambridge

Sir Harold and Lady Bertha in Japan (1971)
Lady Jeffreys MA, PhD was President of the prestigious Mathematical Association in 1969.
Sir Harold Jeffreys FRS (1891 - 1989)
EDUCATION:
1. Harold Jeffreys was born on the 22nd April 1891 in Fatfield School House. He was the only child of Robert Hall Jeffreys and Elizabeth Mary Jeffreys. Both his parents were head teachers - his father at Fatfield School and his mother formerly at Bournmoor School.
2. Harold was educated at Fatfield School and at the age of 12 he was awarded a Durham County Scholarship to Rutherford College in Newcastle.
He became the First Prefect of the college and, in later life, President of the Old Rutherfordians' Association.
3. In 1907, at the age of 16, he was awarded another scholarship to attend Armstrong College, Newcastle University. Here he studied mathematics, physics, chemistry and geology. He graduated with first class honours and was awarded an entrance scholarship to St. John's College Cambridge.
4. At Cambridge he was awarded the Hugh's Prize, as the most outstanding student, and was honoured with a fellowship of St. John's College.
ACHIEVEMENTS
1. Harold Jeffreys is credited as the discoverer of the inner structure of the earth. By studying earthquake waves he showed that the earth's core
is liquid in part and there is a significant difference between what is known today as the upper and lower mantle.
2. In 1923 he calculated the surface temperatures of the four outer planets: Jupiter, Saturn, Uranus and Neptune.
3. Harold Jeffreys became a Fellow of the Royal Society on the 7th May 1925 - joining Sir Isaac Newton, Michael Faraday and Albert Einstein.
4. He analysed earthquake records to produce tables which are still used today to calculate and locate the epicentre of earthquakes
5. Knighted in 1953, Sir Harold's many books included: The Earth, Its Origin, History and Physical Constitution, Ocean Waves and Kindred Geophysical Phenomena, Theory of Probability and Operational Methods in Mathematical Physics.
6. He retired from his chair at Cambridge in 1958, but not from active research.
PERSONAL:
1. Sir Harold Jeffreys married Bertha Swirles on 6th May 1940. Bertha was a former lecturer in atomic physics and mathematics. They had no children of their own but treated former students as family. Many of them were invited to Sunday tea.
2. Sir Harold was known as one of the great characters of St. John's College. He smoked constantly and was often seen cycling in shorts, well into
his nineties. In his leisure time he had a passion for singing and was a member of the Cambridge Philharmonic Choir. On one occasion during a visit to the International Latitude Observatory in Japan, the wife of the director encouraged the delegates of the different nations to sing a characteristic song. Sir Harold led the British contingent in an uplifting rendering of The Blaydon Races.
3. Sir Harold passed away in Addenbrooke's Hospital, Cambridge on the 18th March 1989, at the age of 98. A funeral service was held in St. John's College and his coffin was led in procession to the Great Gate of the college.
4. Sir Harold Jeffreys never forgot his childhood and his humble beginnings in Fatfield. His contributions to scientific knowledge are immense.
• • ◊ • •
This superb article was researched and written by Andrea Kirby.
Many thanks to Mrs Kirby and Cambridge University for giving us all, and especially our children, the opportunity to discover one of the world's great scientists:
Fatfield's Sir Harold Jeffreys F.R.S.
Fatfield Primary School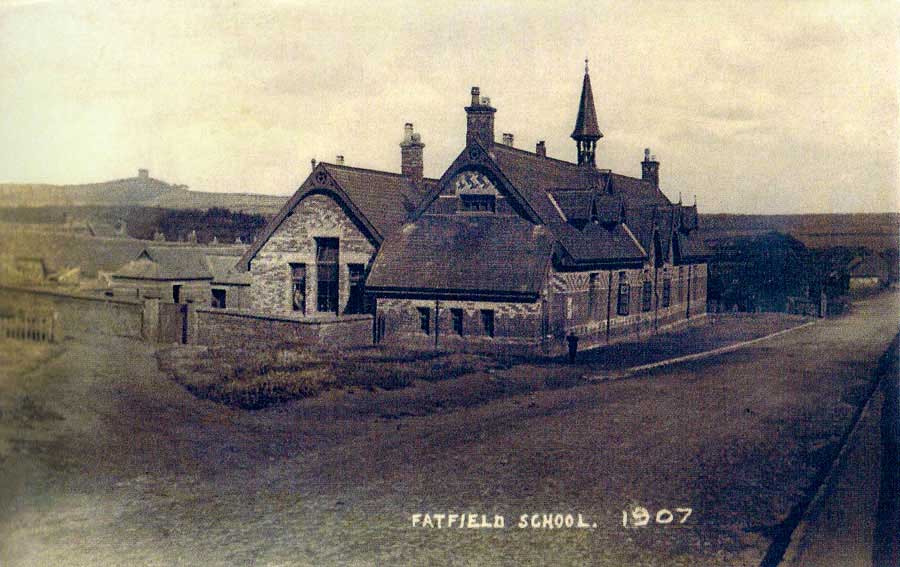 Sir Harold's Primary School on Bonemill Lane
Pass the School: Biddick Lane, 1st Left. - Harraton Miners' Welfare Hall / Harraton Community Centre, off-picture, centre-right.
• • ◊ • •
Interesting Aside:
This was the Primary School of another Local Genius - a Comic Genius - Bobby Thompson!
[ You'll find LITTLE BOBBY at What's Where / People / Thompson - Robert Michael ]
• • ◊ • •
Memorial Plaque on Bonemill Lane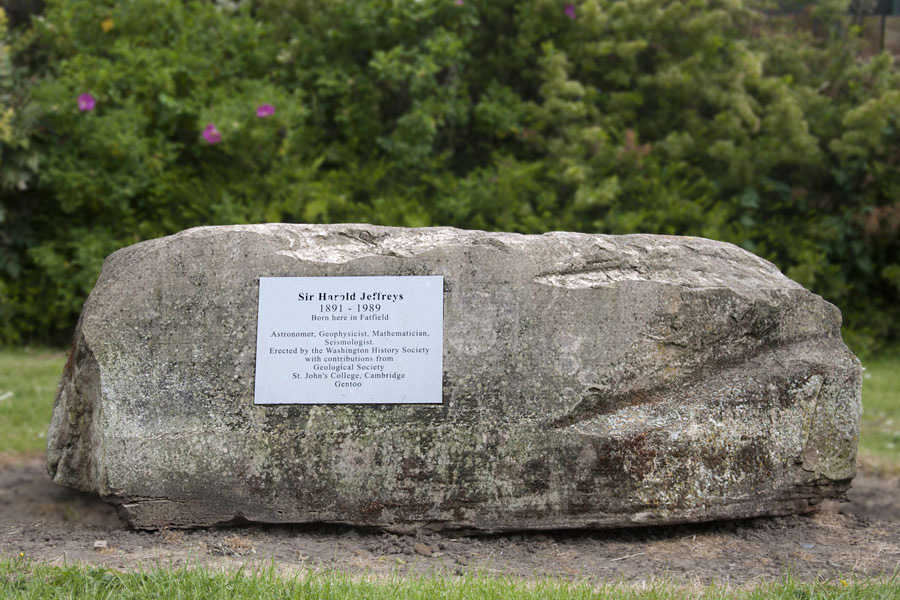 Sir Harold Jeffreys FRS
Memorial Plaque on Bonemill Lane.
[ Photo: Monday, 8 June 2015 ]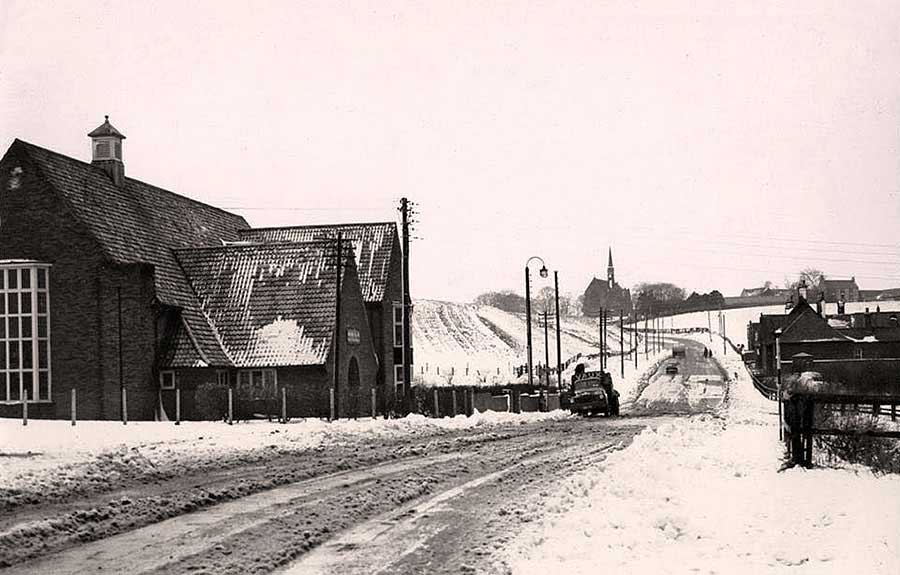 Harraton Miners' Welfare Hall - Bonemill Lane / Biddick Lane Junction
Fatfield Primary School - St. George's Church.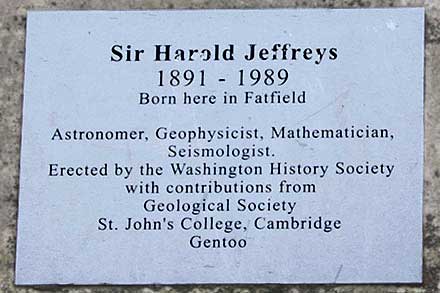 Close-up

Newspaper Death Notice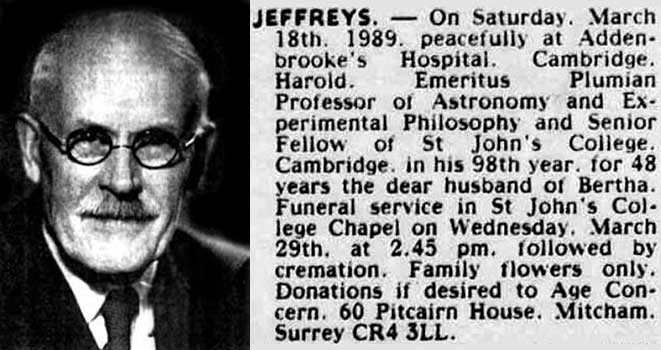 Funeral / Cremation

Unidentified Press Cuttings
[ The Portrait Photograph is not part of the Death Notice. ]
• • ◊ • •
Family Gravestones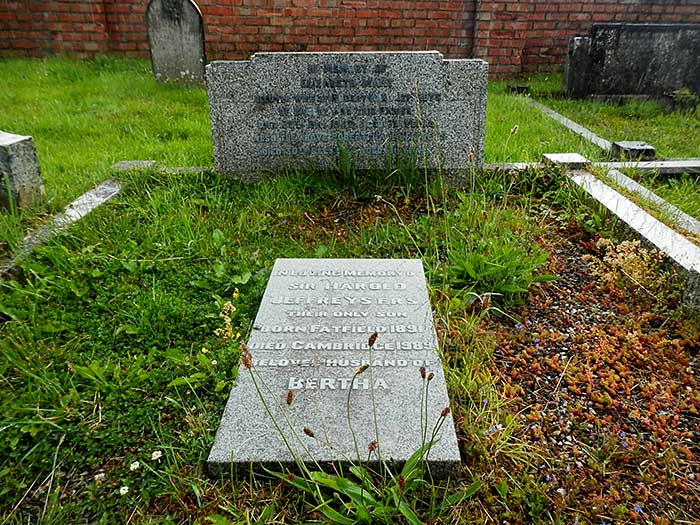 Saint Helen's Churchyard, Longhorsley, Northumberland
[ June 2016 ]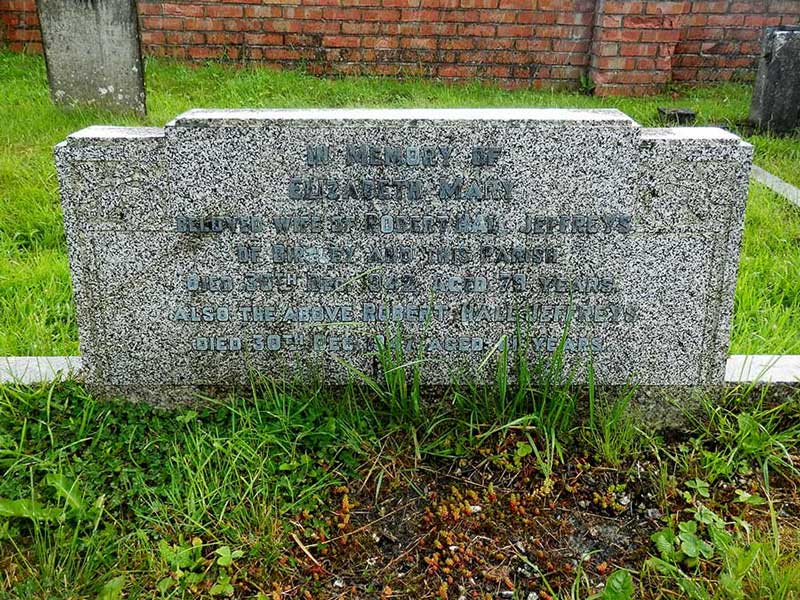 The Parents of Sir Harold Jeffreys
In memory of
Elizabeth Mary
beloved wife of Robert Hall Jeffreys
of Birtley and this Parish
died 30th Dec 1942 aged 79 years
Also the above Robert Hall Jeffreys
died 30th Dec 1947 aged 81 years

Sir Harold Jeffreys FRS
[ Gravestone Photographs posted at 'findagrave.com' by Dimitrios Corcodilos - 27 June 2016. ]
---