---
Memories of ...
The Little Waster
---
---
Bobby Thompson
Full Name:
Parents:
Date of Birth:
Place of Birth:
Date of Death:
Place of Death:
Robert Michael Thompson
7th child of coal miner John Thompson and his wife Mary
18 November 1911
Penshaw, Co. Durham
16 April 1988 (aged 76)
Preston Hospital, North Shields
---
1. He crossed the bridge from Penshaw Staithes to attend Fatfield School.
2. Orphaned by the age of 8 and brought up in Fatfield by his eldest sister.
3. Working at North Biddick Colliery (aged, 14), his first pay was 11s 9d.
4. Bobby left the pit in 1931 to join Billy Bankhead's Mouth Organ Band.
He played the mouth organ and was the band's resident comedian.
5. During World War II, he served with the Border Regiment.
---
Phyllis: "Bobby, can yer fix the string on wa carrier bag?"
Wor Bobby: "Whey yuh nahr am norran engineer!"
---

Caricature of The Little Waster by Paul Hutchinson
Bobby Thompson - Fatfield Schoolboy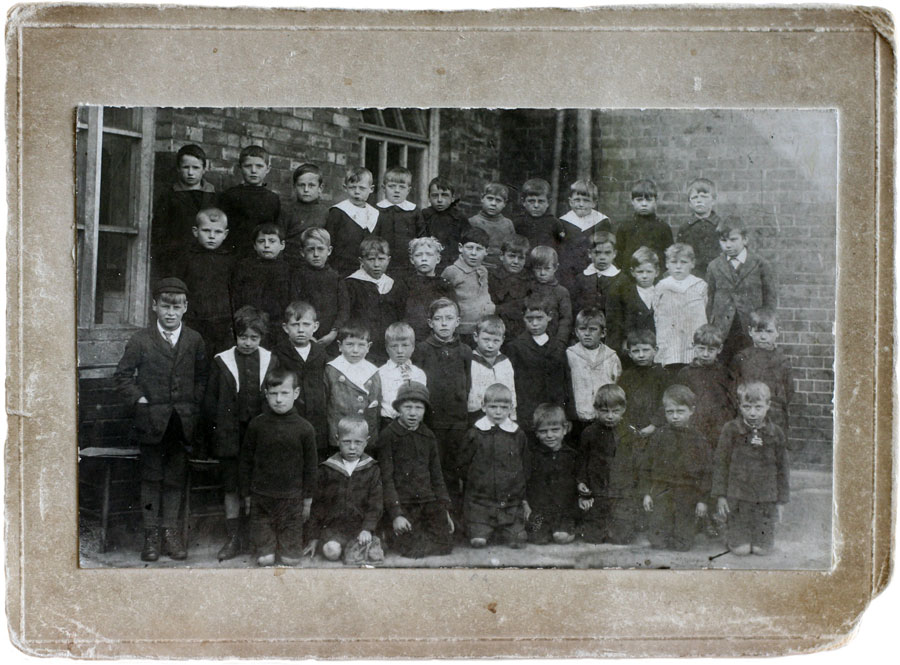 THE BOYS OF FATFIELD SCHOOL
c.1920
Two schoolmates from Penshaw Staithes: Stan Rodgerson (2nd row, 8th from the left) & Bobby Thompson (centre of back row)
[ This precious family photograph appears here by kind permission of David Jones, nephew of Stan Rodgerson. Many thanks, Dave. ]
• • ◊ • •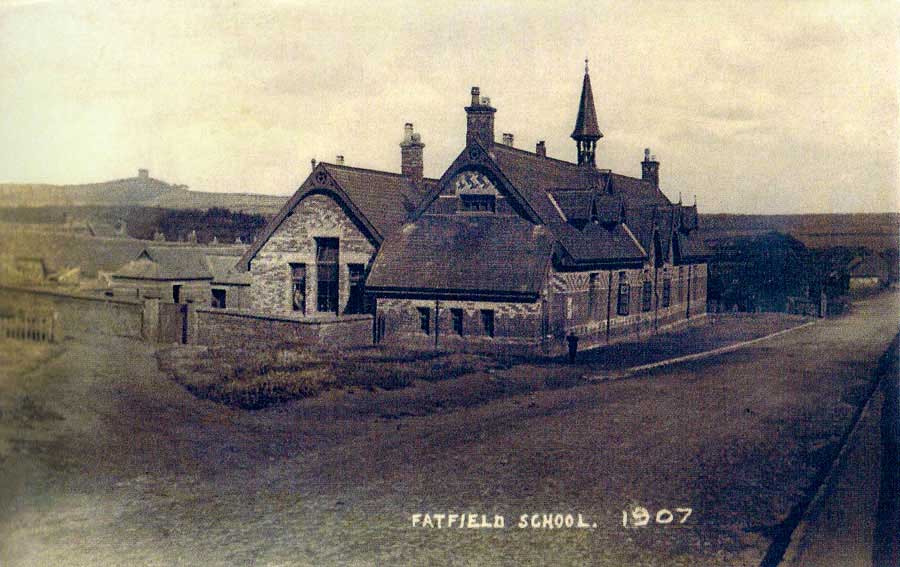 FATFIELD SCHOOL
1907
Biddick Lane, left just beyond the school. Straight ahead to the River Wear, Fatfield Bridge and Penshaw Staithes.
---
NOT MANY PEOPLE KNOW THIS!
Bobby Thompson went to the same primary school as one of the world's greatest scientific minds, Sir Harold ... Whatchamacally?
"If yer divvent knar wot the' carled him, click here."
---
Bobby's Pit
North Biddick Colliery - Victoria Viaduct - The River Wear
Looking downstream towards Cox Green.
• • ◊ • •
Blue Bird Band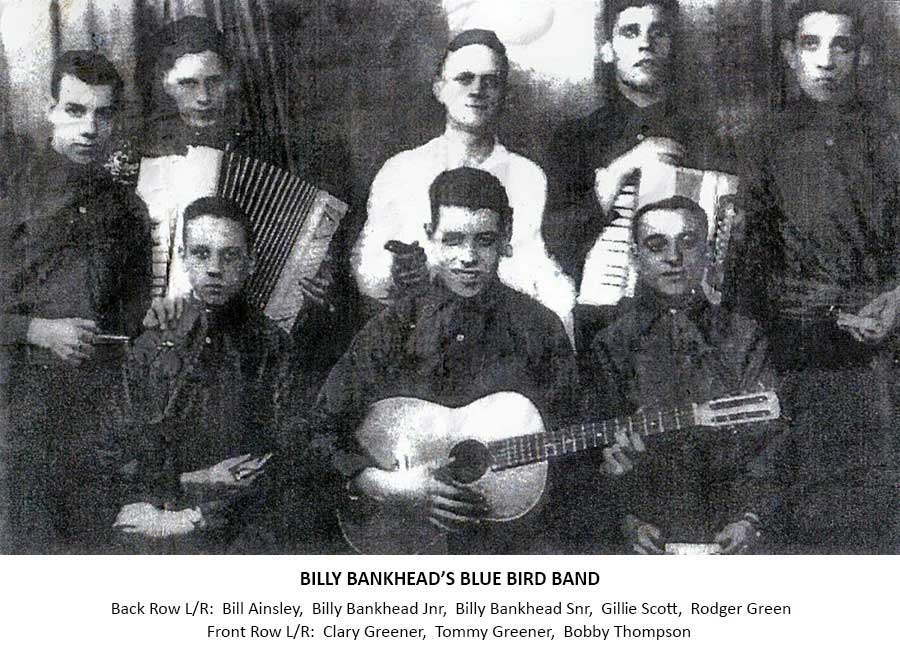 Bobby left North Biddick Colliery in 1931 to join Billy Bankhead's Mouth Organ Band.
He played mouth organ and was the band's resident comedian.
---
More Facts about Little Bobby
Height:
Lived at:
Second Wife:
Third Wife:
1950s:
1960s:
1970s/80s:
5ft 4ins (1.63m)
Penshaw, Fatfield, Great Lumley, Barley Mow & Whitley Bay.
Phyllis (died 25th April 1967)
Eleanor Cicely Palmer (née Ward, m.1980) - Bobby's former housekeeper.
Bobby was a Radio Star, thanks to the BBC's 'Wot Cheor Geordie' programme.
His career nosedived following a disasterous venture into television with TTT.
Given a chance to perform again by Frank Wappat, he became King of Clubland.
---
1. Poverty & debt were the mainstay of Bobby's act, along with a host of mother-in-law jokes.
2. Discovered by Richard Kelly, he had great success with BBC Radio's Wot Cheor, Geordie.
3. Later, in the early 1960s, a disastrous TTT series, produced by someone who knew nothing about North-East culture & dialects, almost killed his career. (For example: he ordered Bobby to say things like 'going' instead of 'gannin'!) For the next 5 years, Bobby struggled to get bookings and had to resort to taking part in Talent Competitions to raise some cash. He also appeared in court for non-payment of debts.
4. Bobby had serious problems with drinking, smoking & gambling, losing many thousands of pounds. He eventually gave up drinking but had to stick with the 'tabs' because they were such an important part of his stage persona. He always enjoyed a little flutter.
5. Bobby almost wrecked his career, single-handedly, by sometimes accepting bookings at clubs and failing to turn-up, leaving hundreds of disappointed members. He'd have been offered a few shillings more to perform at another club, and would go there instead!
6. His gambling led to financial problems and, reputedly, he died owing the tax man £137,000.
---
Little Bobby: "If yu pays what yu owe, yu'll niver hev nowt."
---

Cissy: Bobby's Third Wife
[Photo: Chronicle Live]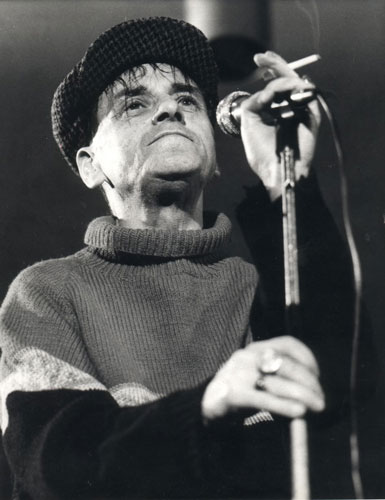 Bobby Thompson as The Little Waster
[Photo: Chronicle Live]
The Little Waster
Remember these?
1. "The dole is my shepherd, I shall not work.
2. "A man come to oor door. Ah says come in, tak a seat. He says, 'I'm coming in to tak the lot.'"
3. "Wu got off the train at Blackpool, the porter came up an' asked if 'e could carry me baggage. I said 'Na, let 'er wark'."
4. "Wu went into a restaurant an' asked for a coffee. The waiter asked if wu wanted black or white. She says, 'I'll have black wi' milk in'."
5. "He's a Freemason; he puts fireplaces in for nowt!"
6. "When ya drunk, yu say things yu divent mean. I says to her, I love ya. After a wiped the blood off me face ... Ah says gis a kiss under the mistletoe. She says, 'Ask me mother'. Ask 'er mother for a kiss under the mistletoe! Ah wouldn' kiss 'er under chloroform!"
7. "Ah says, 'Am not gannin te work; it's ower foggy.' She looks ooter the winda 'n' says, 'Well I can see over the rooftops'. Ah says, 'Ah divvent gan that way!'"
8. "She's putting up sandwiches on the Monday an' wa not gannin till the Wednesday. Well ye kna tinned tomatoes torn claggy."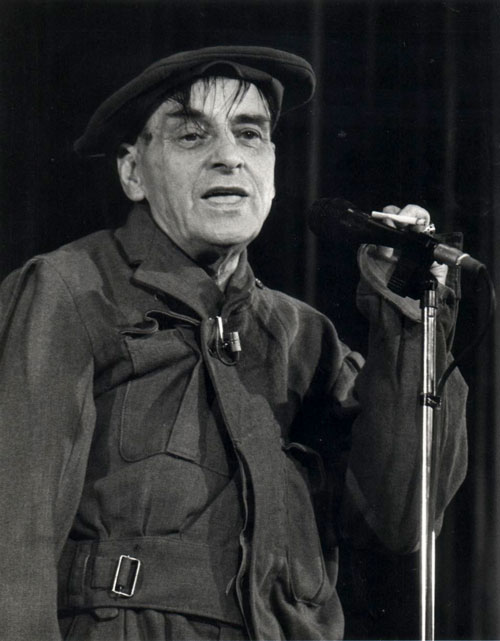 Bobby Thompson relating his Wartime Experiences
[Photo: Chronicle Live]
The Auld Soldier
More of Bobby's Gems:
9. "1939 - I was secretary for the street ... I went for treasurer but ah was too well known!"
10. "They came into the court and they woz givin' the papers out to the jurerors ... She shouts, 'Bobby, there must be a Hoosie on before yer case!'"
11. "Noo, ah divvent kna where aal ye's are from ... (changes to a posh accent)
but I'm from Whitley Bay."
12. "She says, 'Bobby, we'll just have a two course lunch cos it's rather warm'.
Two course?! Chips n' sarce!!"
13. "There was a knock at oor door last Wednesdah mornin. He says, 'Am from Littlewoods'. Ah says, God bless ya! I've won the treble chance?! He says, 'Nah, your wife's up for shoplifting!'"
14. "Now, that's the thing aboot debt. Some carls it debt, ya see, and then there's them what carls it credit. Committee men's wives, 'on account'. Well, am in debt on account of not being able to pay me credit!"
15. "Ah went to the doctors. He said, 'Can you walk?' Ah said, 'Work! ah cannet even wark!'"
16. "The Queen came up tiv us wirra a plate of cakes. 'Bobby, would you like a scone or a meringue?'. Ah says, 'Nah ya quite reet, ah'll have a scone.'"
Little Bobby at The Gem
Thanks to Derek Sleightholme for supplying this press cutting.
The Gem Theatre / Cinema is located just above Fatfield Bridge.

Letters 'NEDS' on the side door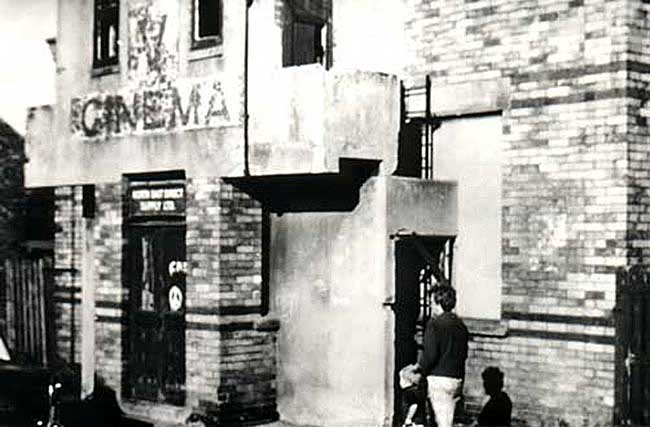 North East Direct Supply Ltd on the front door
THE GEM CINEMA
The Gem Cinema started life as the North Biddick Colliery Miners' Welfare Hall.
While it was best known as the Gem Cinema, its name was changed to the Victory Cinema after WW2. Note the 'V'.
In its final years it hosted NEDS - a well known local distribution company which delivered pop by lorry to households in the surrounding area.
Who remembers: Lemonade, Cherryade, Ice Cream Soda, Sarsaparilla, Dandelion & Burdock et al?
( With the impending demolition of The Gem, NEDS moved to a new factory on land between the Bird In Hand public house and the Leamside Line. Thanks to Dave Jones. )
Bobby Thompson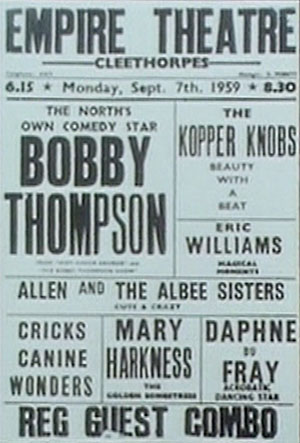 Top of the Bill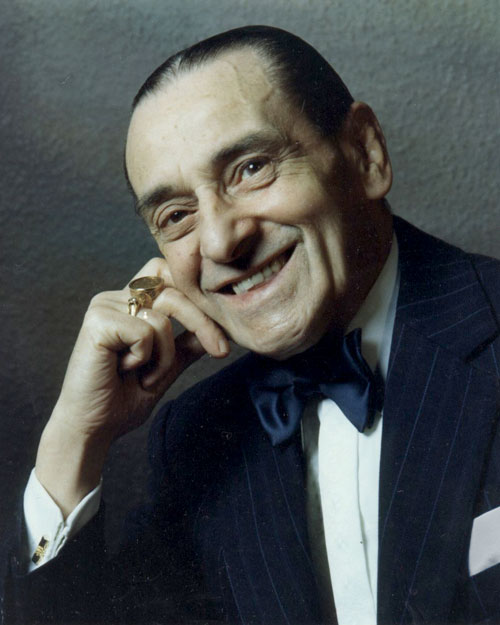 "Thanks for the laughs, Bobby."
Time For A Drink!

SOUTH SHIELDS - 1983
Bobby Thompson re-opens the Church of England Children's Society Shop in Dean Street.
[ Photo & Information: Thanks to Chronicle Live ]
• • ◊ • •
Time For A Drag!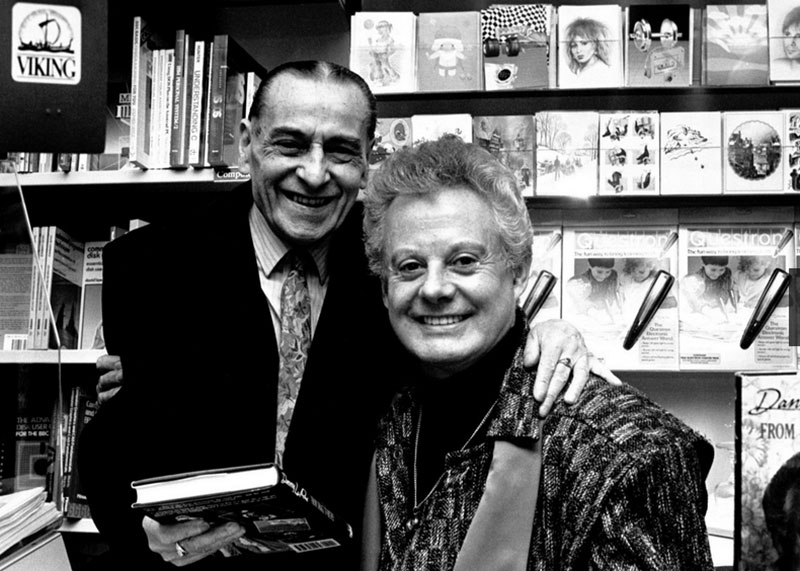 WH Smith, Eldon Square, NEWCASTLE - 3rd November 1987
Little Bobby with Danny La Rue - who was signing copies of his autobiography,
'From Drags To Riches'.
[ Photo & Information: Thanks to Chronicle Live ]
---
PERSONAL RECOLLECTION
Usworth Top Club
(Sulgrave)
I saw Bobby Thompson live on only one occasion, in the Top Club concert room. I went with fellow members, and life-long mates of mine, Tom Thirlaway and Bob Brookes. The place was packed and there was only one topic of conversation, "Will he turn up?" Then the Concert Chairman called for order - "Ladies and Gentlemen ... I can now inform you that Mr Thompson is on his way toooo the Club." (Cheering!)
Sometime later, we were called to order once again: "Ladies and Gentlemen ... Mr Thompson is now iiiiin the Club." (More cheering and clapping, plus much anticipation.) Bobby did the same old act - some had seen it umpteen times - The Little Waster & The Auld Soldier. But who cared? Nobody! He was hilarious and a great night was had by all.
Bobby Thompson had his ups & downs but he brought laughter into our lives. He was a Star! (Jim)
---
Bobby's Blue Plaque
Unveiled at Harraton Community Centre on 15th November 2019 by Bobby's son, Keith.
[ Photo courtesy of: Ernie Guy, Member of Washington History Society - 15 Nov 2019. ]
Harraton Community Centre on Bonemill Lane
[ Photo: J.G. 18th October 2017 ]
"Fost Hand? ... A'd Rather Be Fost Foot!"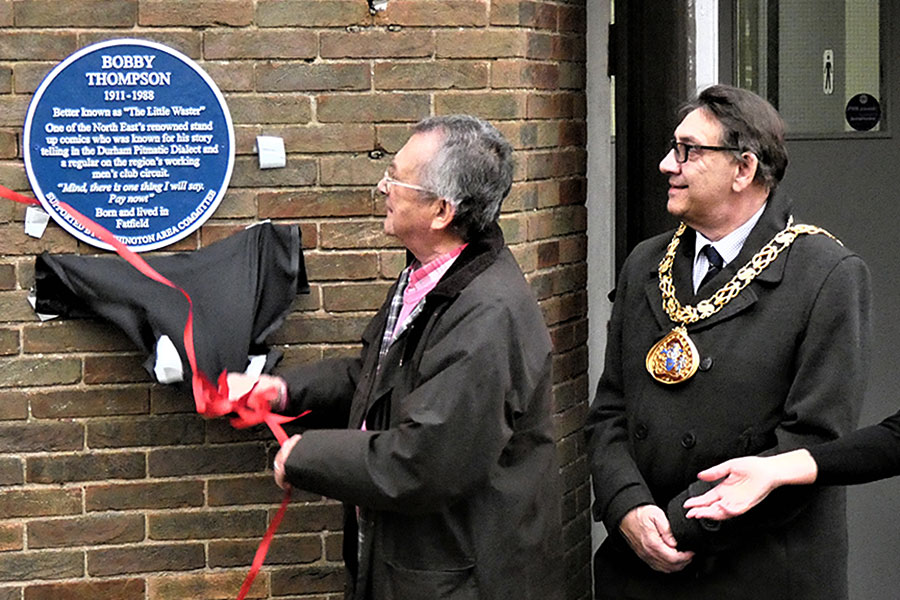 Keith Thompson unveiling His Father's Plaque
[ Photo courtesy of: Ernie Guy - 15 Nov 2019. ]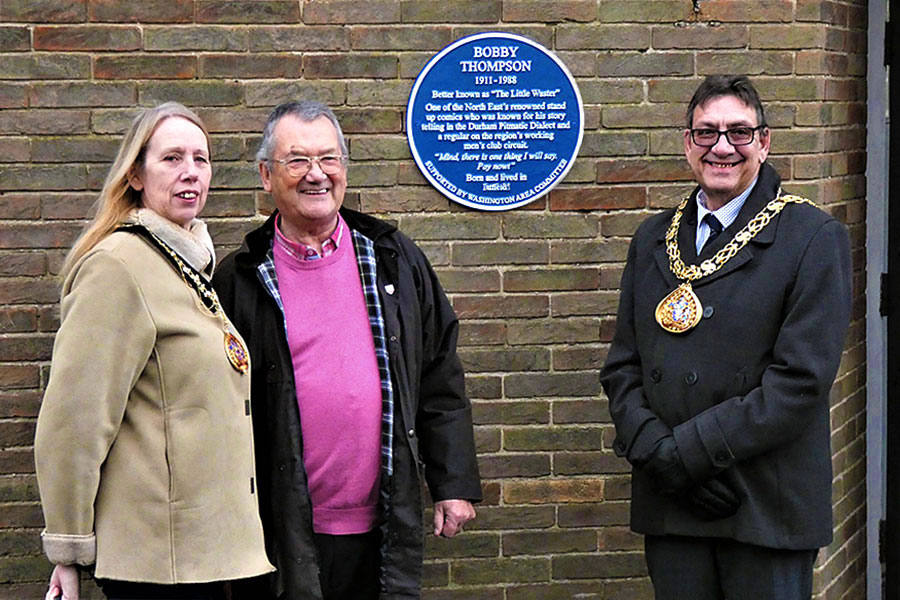 Mayoress, Cllr Dianne Snowdon - Keith Thompson - Mayor of Sunderland, Cllr David Snowdon
[ Photo courtesy of: Ernie Guy - 15 Nov 2019. ]
Peter Peverley - Keeping The Legend Alive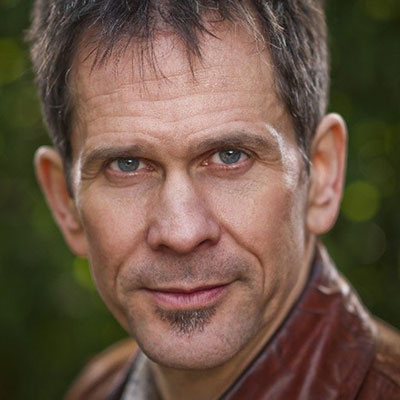 Washington's Peter Peverley
Shakespearean Actor & Musician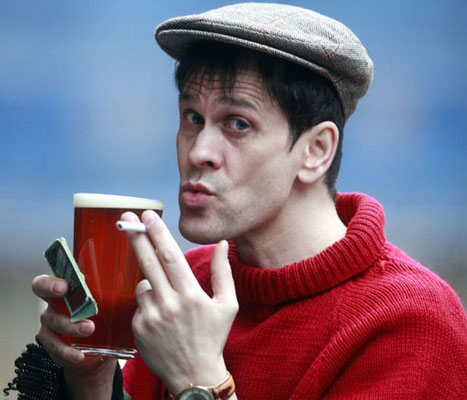 Theatre Royal - Peter commemorating 25 years since Bobby's death
[Photo: Chronicle Live]
EVENING CHRONICLE
(Quotations from an Article by Entertainment Editor, Gordon Barr, March 2013)
Gordon Barr: "Pete's self-devised one-man show is a celebration of the life and work of Bobby, a touching and heartfelt tribute to his immense talent, and also the culture to which North Easterners owe their very unique identity and sense of humour."
Peter: "Bobby had a special place in our hearts and minds and with this 25th anniversary tour, I hope I can help people relive some of the wonderful moments they had in his presence, initiate the uninitiated, and recreate some of the magical memories we all have of this very special man."
• • ◊ • •
Bobby's Blue Plaque
( Harraton Community Centre )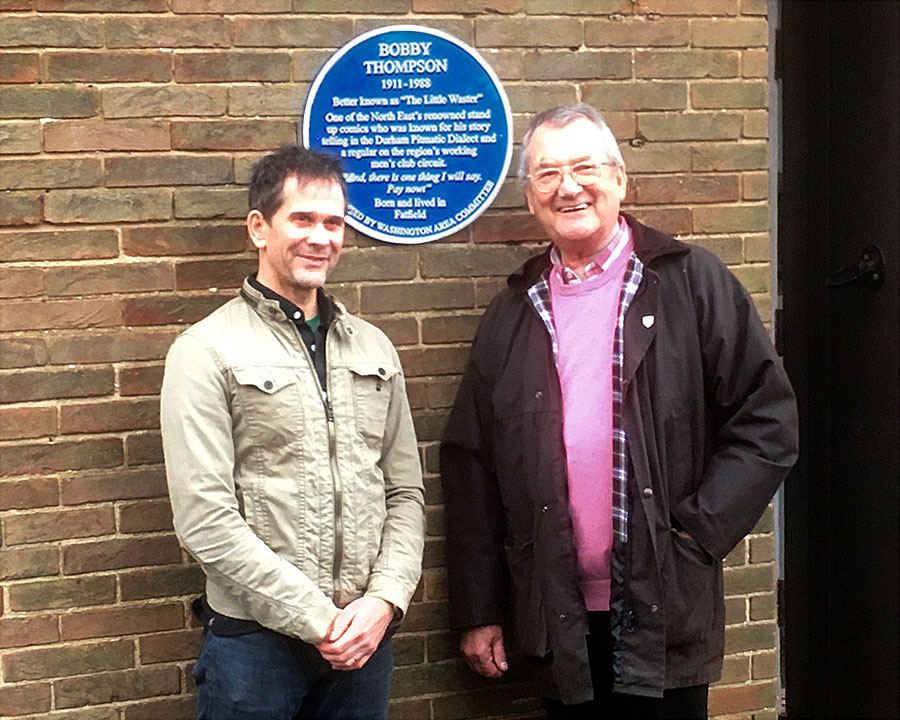 Pete Peverley with Keith Thompson, after Keith had unveiled his father's Blue Plaque.
[ Photo courtesy of: Ernie Guy, Member of Washington History Society - 15 Nov 2019. ]
Keith's Cartoon & Bobby's Statue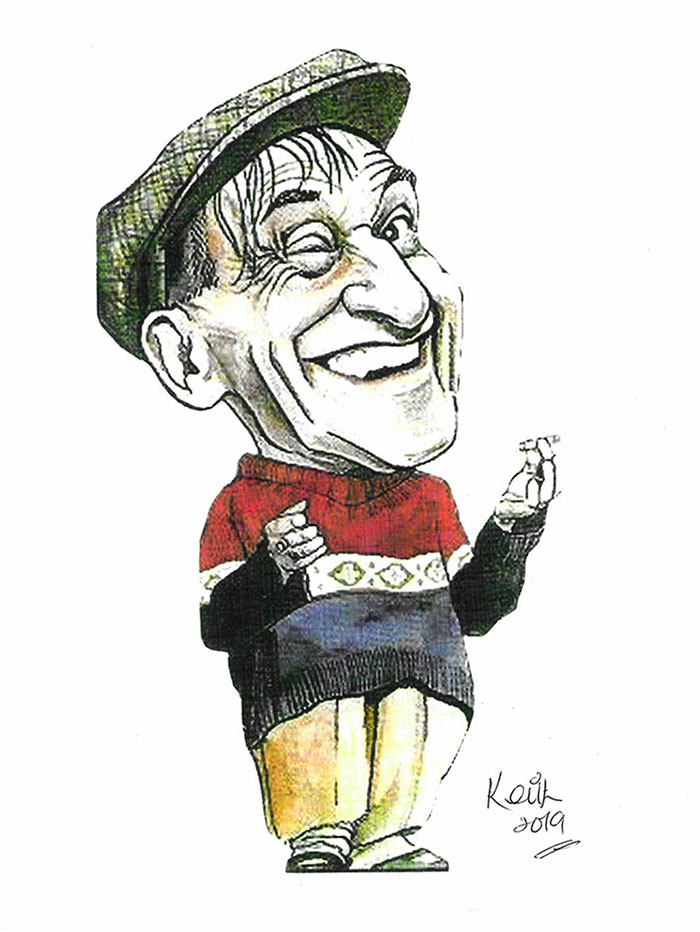 Keith Thompson's Cartoon of his Father, 'Little Bobby'.
Statue of 'Little Bobby' c/w Packet of Woodbines!
Discovered in an Antiques Shop in the grounds of South Causey Inn, near Causey Arch.
[ Photographer: Keith Cockerill, 14 August 2022 ]
---