---
Memories of Washington & Surroundings
Joseph Gibson's 1851 Map
---
Local Extracts from the 1851 ...
Map of the Coalfield of Northumberland and Durham
showing the ascertained Collieries, Pit, Faults, Dykes and other Interruptions with the Railways and Ports of Shipment
constructed for the Coalfield By William Oliver, Mining Engineer , Walbottle, Newcastle,
with assistance of other mining engineers of the District, 1851.
• • ◊ • •
• • ◊ • •
General View of the Washington Area in 1851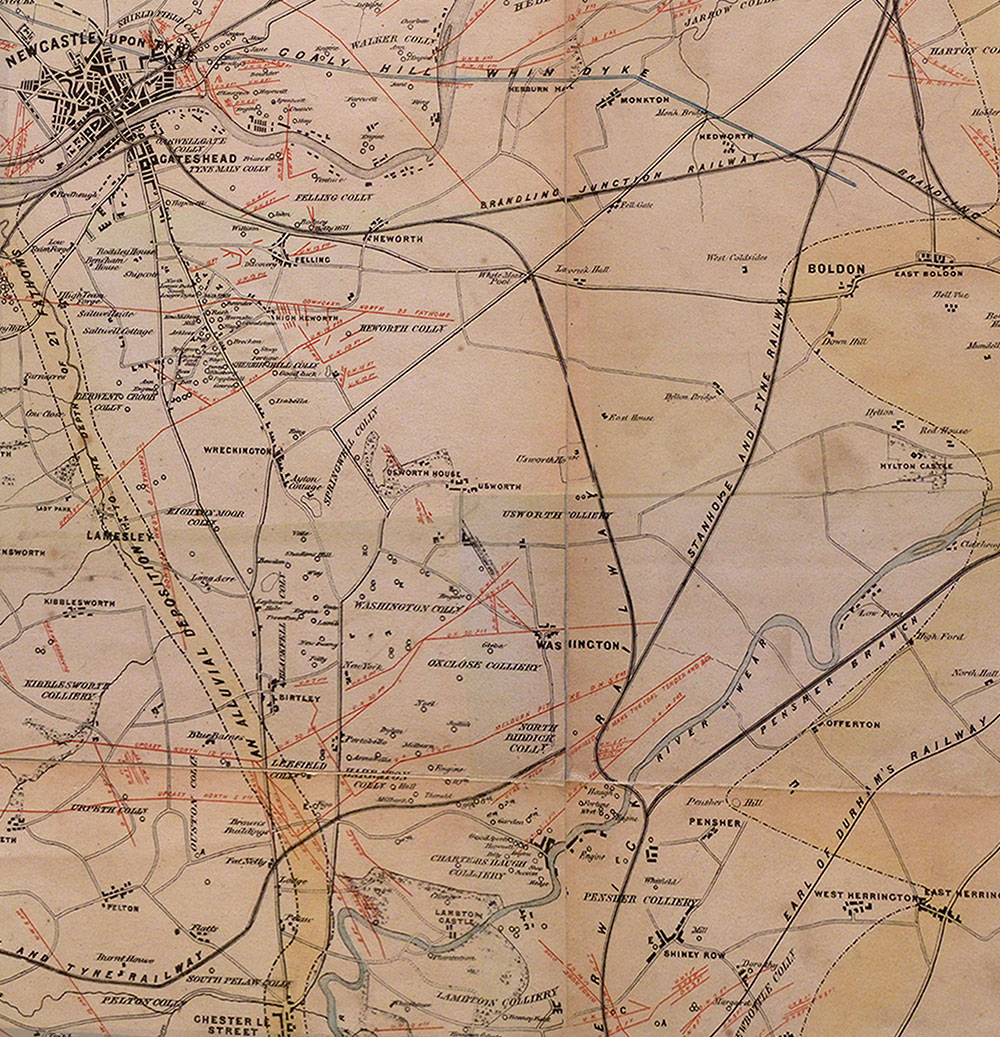 Close-ups above this Map
Points of Note:
1. The above is a view of the Washington Area only. Joseph Gibson's map, as the name states, covers Northumberland and Durham.
2. For some unknown reason, the Stanhope and Tyne Railway is not shown joining the Leamside Line south of Washington Station.
3. The London to Newcastle Railway passes through Washington, Usworth, Heworth & Gateshead, crossing the High Level Bridge.
4. North Biddick Colliery was south of the Stanhope and Tyne Railway, its title should be closer to the R. Wear & Victoria Bridge.
5. Just above Chester-le-Street: Brown's Buildings (location of The Barley Mow Inn) and Fat Nelly's (now The Wheatsheaf Inn).
6. Two manor houses, both called Usworth House. See the 'Newcastle to Usworth' close-up, above.
7. Interesting spellings: Wreckington, Shadon's Hill, Charters Haugh, Pensher.
Acknowledgement:
The images on this page were kindly photographed and passed to this website by David Gibson.
They come from an original 1851 map that belonged to David's father, Dr Joseph Gibson.
Joseph was the son of Usworth Miner and Fallen WW1 Hero, George Gibson.
Dr Joseph Gibson was appointed a full-time member of the N.C.B.
in 1977, with special responsibility for science.
Click for more on: Joseph Gibson or George Gibson.
---