---
Memories of Washington Secondary School
Joseph Gibson's Report (2 of 2)
---
Washington Secondary School
Joseph Gibson's Report - Autumn Term, 1931
Washington Secondary School
Joseph Gibson's Report - Summer Term, 1932
Washington Secondary School
Joseph Gibson's Report - Autumn Term, 1932
Washington Secondary School
Joseph Gibson's Report - Summer Term, 1933
Washington Secondary School
Joseph Gibson's Report - Autumn Term, 1933
Washington Secondary School
Joseph Gibson's Report - Summer Term, 1934
Dr Joseph Gibson
Full-Time Member of the National Coal Board, with Special Responsibility for Science.
[ Gloucestershire Echo, 22 July 1977 ]
Dr Joseph Gibson CBE Hon DCL FREng Hon FIChemE FInstE FRSC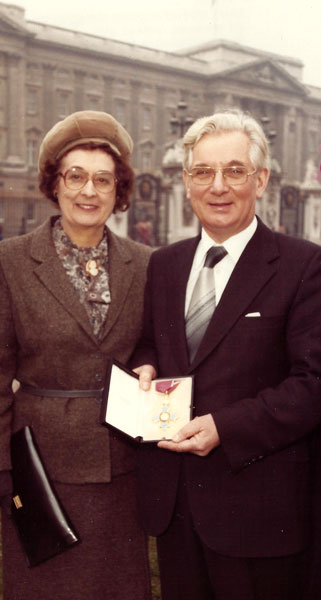 Dr & Mrs Lily Gibson at Buckingham Palace - CBE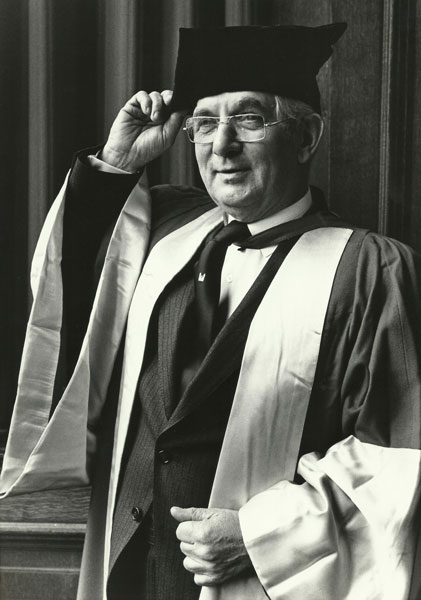 Newcastle University - Doctorate of Civil Law
Commander of the Most Excellent Order of the British Empire
Honorary Doctor of Civil Law
Fellow of the Royal Academy of Engineering
Honorary Fellow of the Institution of Chemical Engineers
Fellow of the Institute of Energy
Fellow of the Royal Society of Chemistry
Dr Joseph Gibson passed away on 27th January 2011, aged 94.
He was a credit to his Father, Mother, Usworth Mining Community & Washington Secondary School.
Joseph's mother Minnie (Mary Ann) was the driving force behind her son's academic career. Following the death of his father George,
in 1918 France, she was convinced that the best route for him to take was through education and, consequently, she ignored
all advice to end young Joe's education and send him out to bring in some money. And wasn't she vindicated!
Joseph Gibson served in the 23rd Durham (Washington) Battalion of the Home Guard from 26th August 1942 to 31st December 1945.
In February 1943 he was appointed Lance Corporal and was quickly promoted to Corporal (March) and then Sergeant (April).
One of the 23rd Battalion's duties was to guard Usworth Aerodrome.
[ This article apears here by kind permission of David Gibson - grandson of George; son of Joseph. ]
---