---
Memories of ...
Chester-le-Street Boys & Durham County Schools' FA
---
7 Washington Lads represent 'Chester Boys' ... at Old Trafford!
( The best players played for their schools. The very best players played for Chester-le-Street Boys. )
[ Hover your cursor over the Washington contingent. ]
Usworth Teacher, Mr Ralph Bonney also coached tennis at Washington Grammar School. He was accompanied by an Usworth colleague, Miss Carter.
---
Chester-le-Street & District Schools' Football Association - Junior League (1951-70)

Chester-le-Street Junior Schools' League Badge
Junior League Champions
1951 - Sacriston
1952 - Usworth
1953 - Usworth
1954 - Usworth
1955 - Usworth
1956 - Usworth
1957 - Usworth
1958 - Usworth
1959 - Washington Glebe
1960 - Washington Glebe
1961 - Usworth
1962 - Washington Glebe
1963 - Pelton Country
1964 - Usworth
1965 - Usworth
1966 - Usworth
1967 - High Usworth
1968 - Pelton Roseberry
1969 - High Usworth
1970 - Biddick
East Division
Birtley Elizabethville
Fence Houses
New Lambton
Ravensworth Terrace
Usworth
Washington Glebe
Washington St. Joseph's
West Division
Chester Council
Grange Villa
Langley Park
Pelton Council
Roseberry
Sacriston
West Pelton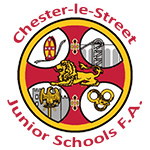 The Junior Section of the Chester-le-Street & District Schools' Football Association was formed on 17 July 1950. Mr F. Foster of Usworth Colliery Junior Mixed School was elected as its first Chairman.
The league was split into two divisions, shown left, and the winners of each division met home & away, in a 2-leg final, to determine the first League Trophy winners. Sacriston overcame Usworth Juniors to win the inaugural competition. During the 50s and 60s the Chester-le-Street Junior League was dominated by teams from Washington, Usworth in particular.
Many thanks to: www.chester-le-streetschools.org.uk/football/schools/schools_history.htm
---
Arrangements for the Original (postponed) Game
( Note: Tips for the Players 1, 2 & 3. )
Welcome from the Hosts / Notes about the Teams
( Howard Kendall made captain of Durham Boys. )
Teams for the Game at Poundswick Grammar School
( This was the game postponed because of fog.)
Match Report - Old Trafford, under floodlights!
( This was the rescheduled game. )
Durham County Schools' FA
( For players who excelled with Chester-le-Street Boys, the next step was Durham County Schoolboys ... )

Washington's Colin Suggett
Player: Sunderland, West Bromwich Albion & Norwich City.
• • ◊ • •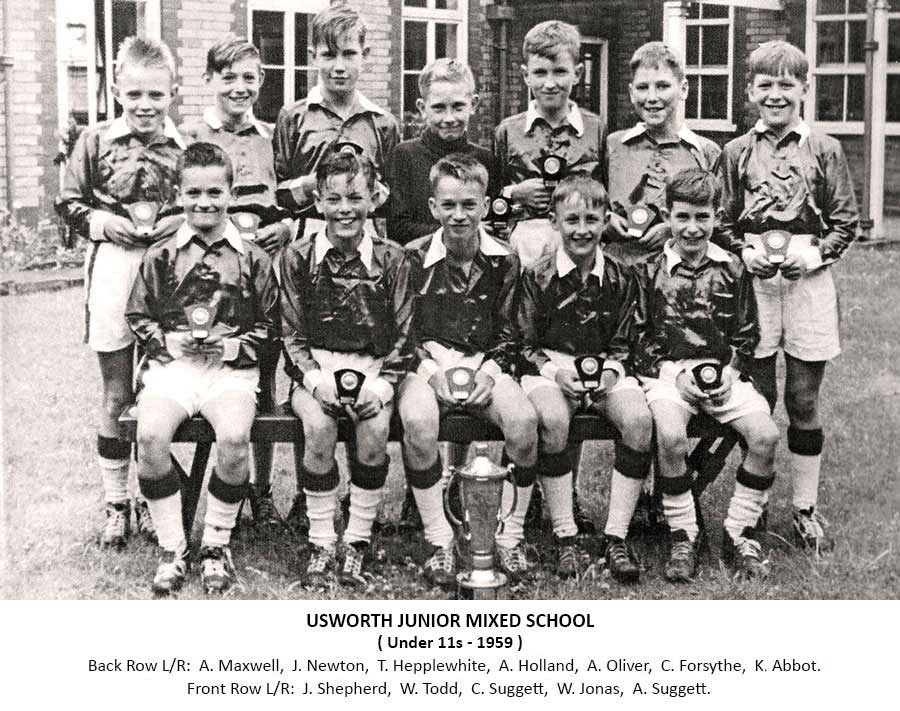 Durham County Schools' FA
( ... and the step after that was England Schoolboys. )

HOWARD KENDALL
Usworth Colliery Juniors - Washington Grammar - Chester-le-Street Boys - Durham County Schools - England Schoolboys
[ Note the England Cap & Badge. Picture contributed by WGS Teammate, Peter Graham. ]

Washington's Howard Kendall
Player: Preston N.E., Everton (1), Birmingham City, Stoke City, Blackburn Rovers & Everton (2).
Manager: Blackburn Rovers, Everton (1), Athletic Bilboa, Manchester City, Everton (2), Xanthi, Notts County, Sheffield United, Everton (3) & Ethnikos Piraeus.
English Schools' Football Association Trophy, 1964

( Final at Roker Park - 2nd Leg )

Eight of the Washington Grammar School players who represented Chester-le-Street Boys in the above match.
[ The ninth player was Keith Felton. Picture from the 1965 School Magazine. Thanks to Brian Craggs. ]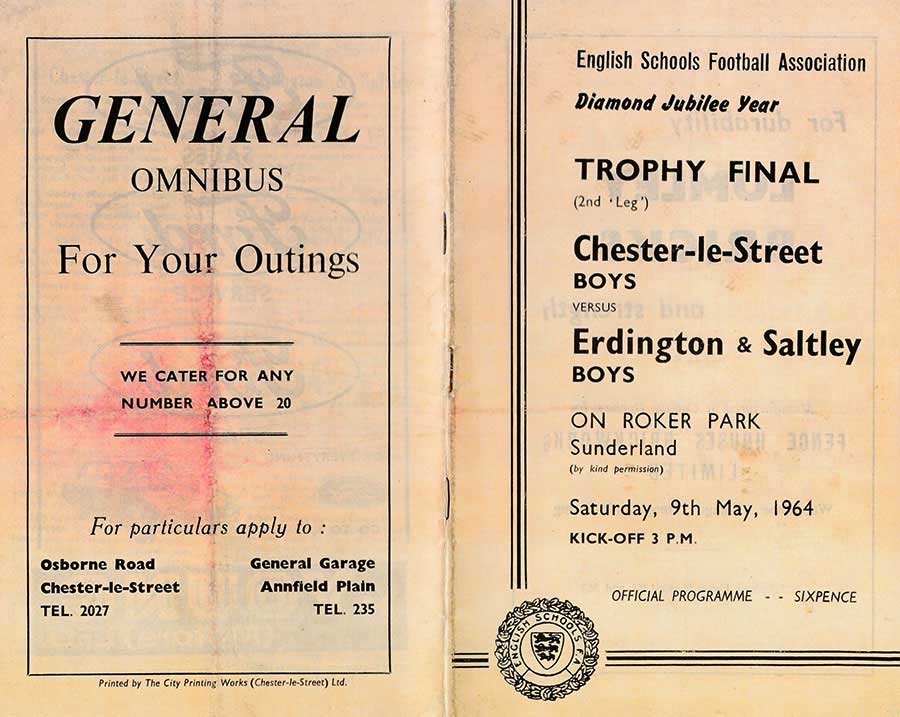 Programme Cover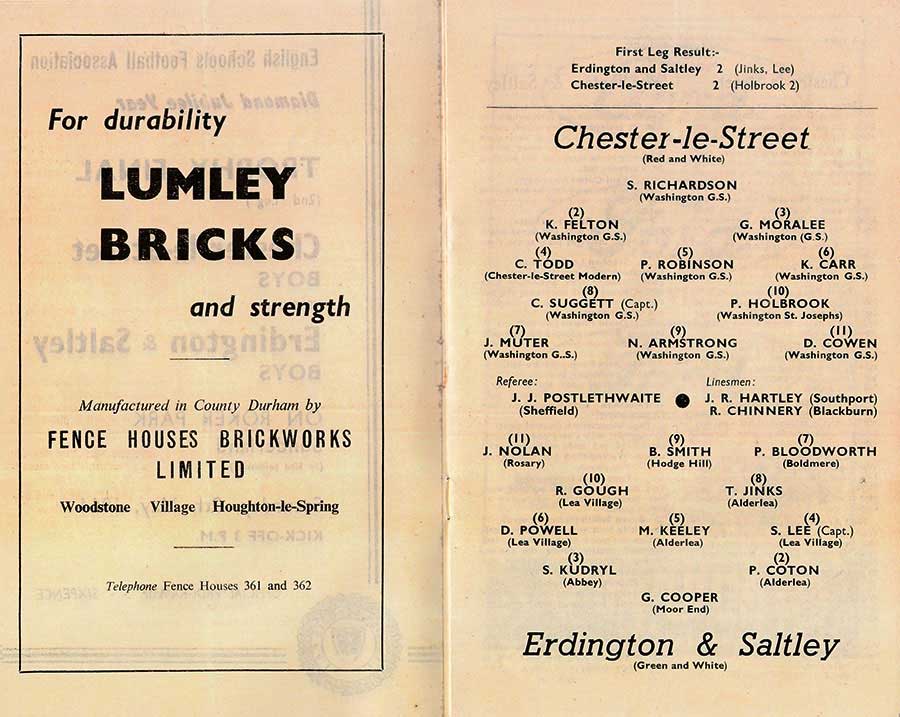 Pages 2 & 3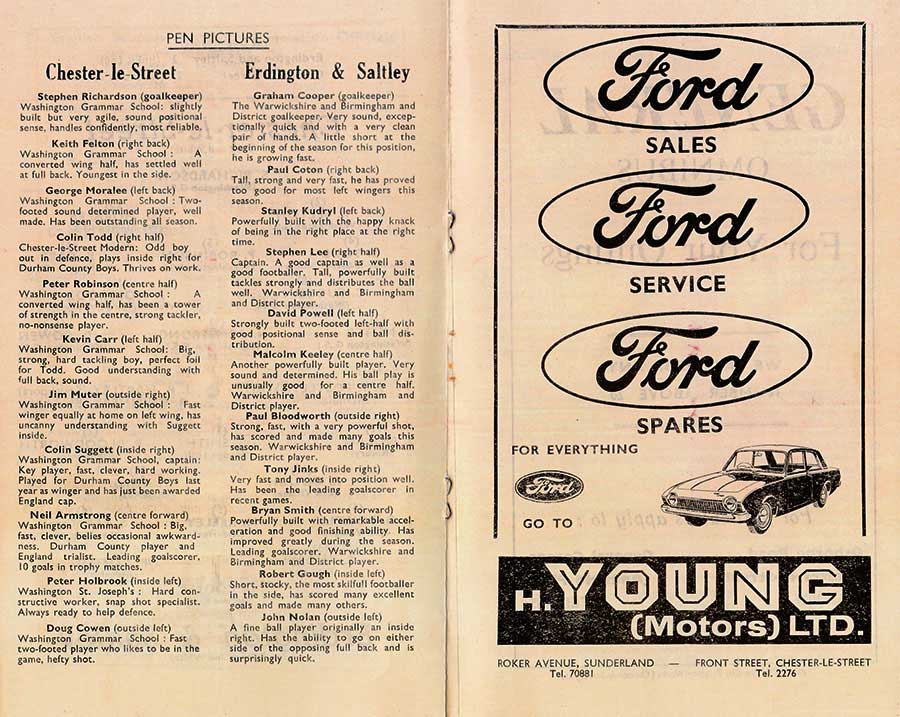 Pages 4 & 5

Pages 6 & 7
Sadly for local fans, the match - watched by 22,000 spectators - resulted in a 2-1 win (agg. 4-3) for Erdington & Saltley.
Peter Holbrook scored a headed goal to bring his total to all 3 Chester-le-Street goals in the 2-leg final.
N.B. Peter and Colin Todd were the only non-Washington Grammar School players and
therefore, 10 lads from Washington schools represented the entire C.L.S. area.
Thanks to Brian Craggs (WGS, 1958 intake) for contributing the actual programme.
It was given to me in the Washington Arms on 14th November 2018
together with Brian's kind permission to forward it to the
Washington History Society archive.