---
Memories of ...
The Riverside near Barmston (1 of 3)
---
Jean Potts' Memories of Barmston Riverside
Passenger Steamer 'City of Norwich' - passing Orchard Cottage, en route to Sunderland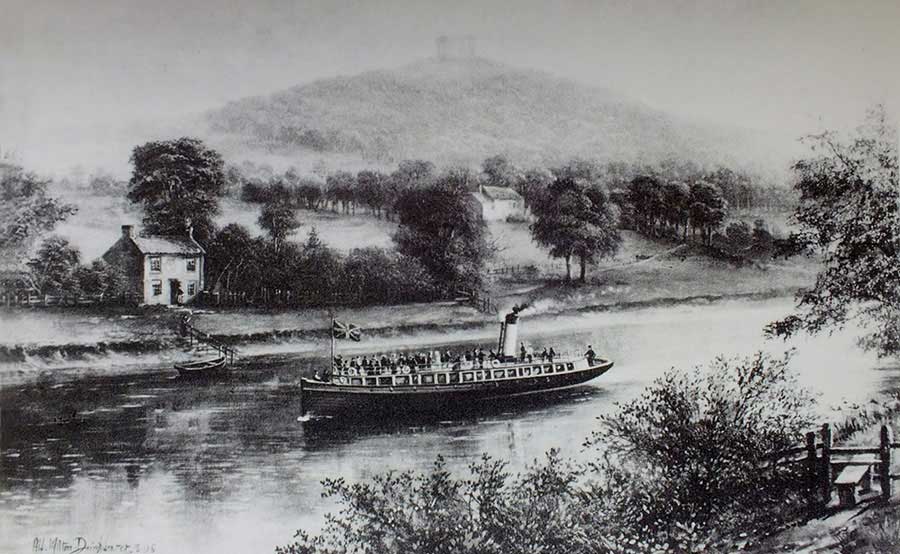 Orchard Cottage at 'Head of the Haugh' - from a painting by Albert Milton Drinkwater (1895)
The view looking south, across the River Wear, over the future Wearside Golf Course, to Penshaw Monument.
Not surprisingly, the garden of Orchard Cottage contained many fruit trees.
Jean says, "The steamer went up to Fatfield and back every summer.
My auntie, who was born at High Barmston in 1923, said they called it 'The Cake Boat'.
Local dignitaries on board would be having afternoon tea and would throw cakes to the children on the riverbank."
Jean also remembers Sunday evening walks and a regular resting place near that stile.
She sat on large stones, probably from The Forge or The Mill buildings.
( Note the small ferry boat near the cottage. )
• • ◊ • •
ADDITIONAL INFORMATION
( Sunderland Echo: Quotes from an article written by Neil Mears, 27 July 2017 )
1. Built in Great Yarmouth in 1885, the City of Norwich arrived in the River Wear on March 15, 1894.
2. Licensed to carry 200 passengers, the 72ft boat could navigate the upper reaches of the river, when the tide permitted, on account of her shallow draught.
3. North Biddick was a favourite destination, with dozens of passengers disembarking to enjoy the delights of Mrs Batey's Girdle Cake Cottage and Tea Rooms.
4. Fares cost one shilling return between Wearmouth Bridge Landing and Cox Green or Biddick, with an intermediate call at Hylton.
Orchard Cottage

Orchard Cottage at Offerton 'Head of the Haugh'
The view looking upstream, towards Cox Green & High Barmston Farm.
Note Penshaw Monument and golfers of Wearside Golf Club.
The cottage was demolished in the late 1940s.
( Photo courtesy of Bob Russell. )
Orchard Cottage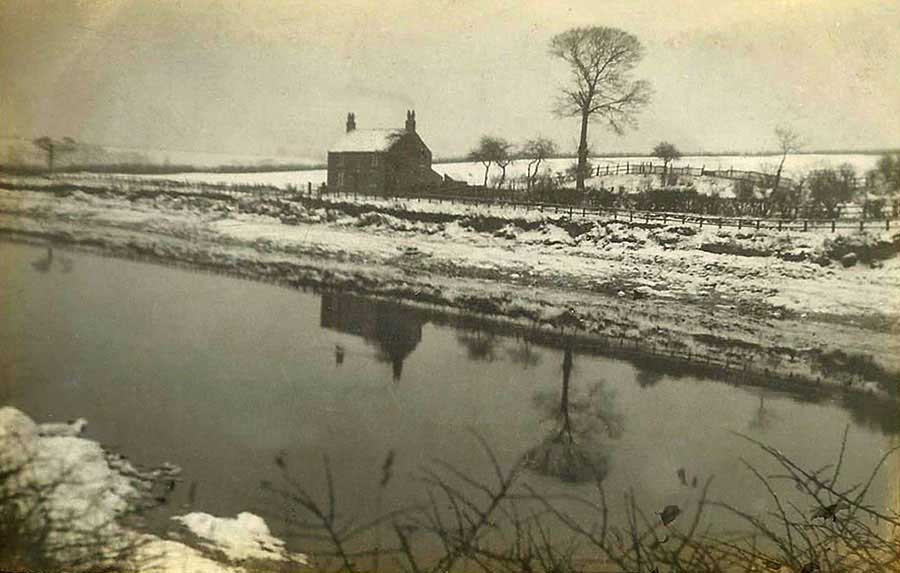 Orchard Cottage at Offerton 'Head of the Haugh'
Orchard Cottage stood opposite today's Washington Wetlands.
The view looking downstream, towards Sunderland.
( Photographer: William Potts of Middle Barmston Farm. )
Orchard Cottage at 'Head of the Haugh' / Low Barmston Farm (1895)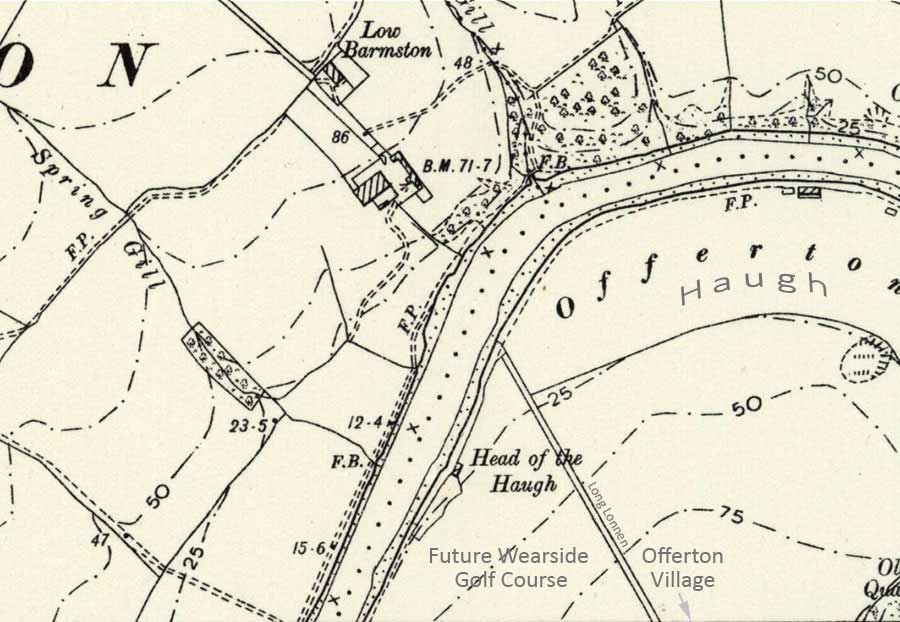 Note Long Lonnen which still runs south-east from the River Wear, uphill to Offerton Village.
( Lonnen: Old Geordie word for Lane. Haugh: a piece of flat land formed by river deposits. )
Low Barmston Farm

NOW
View from Long Lonnen, over the River Wear, to Low Barmston Farm
( Photo: J.G. 15th October 2018 - That's a big bird, not a black blotch! )
Low Barmston Farm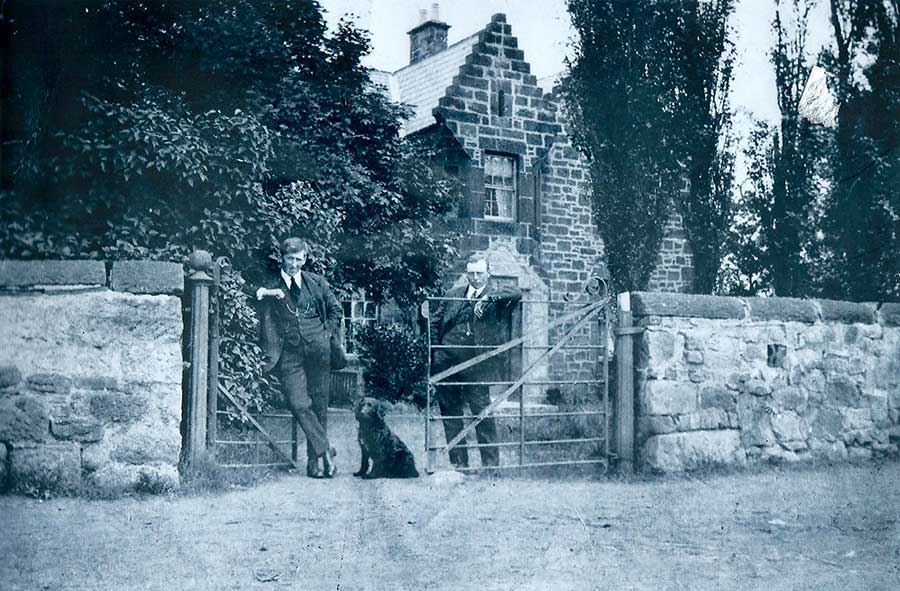 THEN
William & John Stothard Potts at Low Barmston Farm, on the north bank of the River Wear, east of the Wildfowl Centre
John was Jean's grandfather, William was his cousin, but the Potts Family never farmed at Low Barmston.
The farmer was Davy Smith. Low Barmston Farm was built between 1840 and 1856.
( See Map below. )
Jean Atkinson née Potts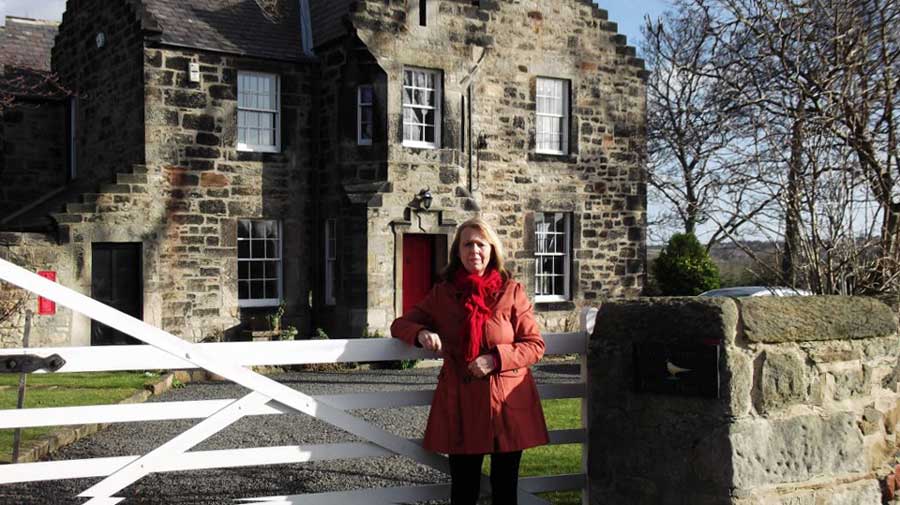 NOW
Jean, formerly of High Barmston Farm, emulating her grandfather's picture at Low Barmston Farm (c. 2011)
( A massive Thank You to Jean Potts for her photographs, guidance, local knowledge and permission to pass on her memories. )
Orchard Cottage at 'Head of the Haugh' / Low Barmston Farm (1862)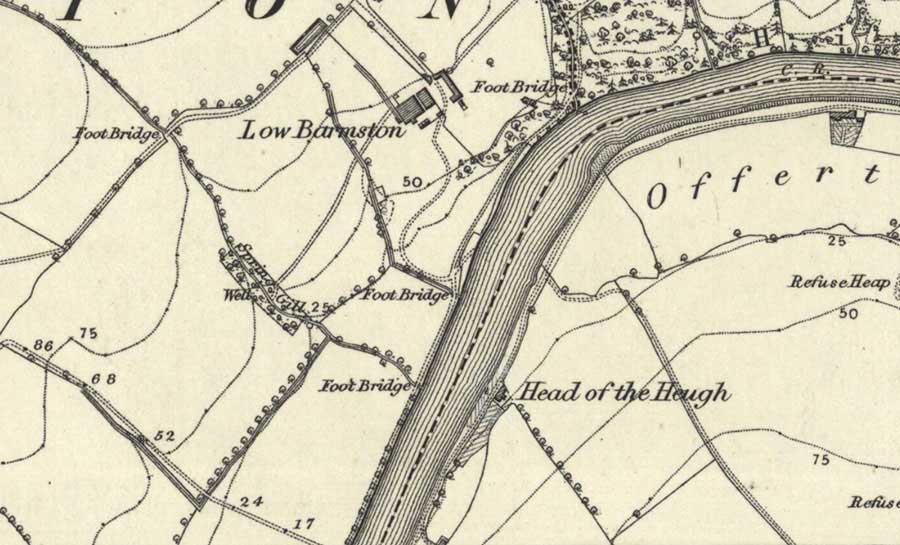 A ferry once operated in this area, so Orchard Cottage may have been the ferryman's abode.
---