---
Memories of World War II
Raising Money for The War Effort
---
The Washington Post
Appeal from Council Chairman
( May 1941 )
The Washington Post
Weapons Week Events
( May 1941 )
Note the Importance of Washington 'F' Colliery Miners' Hall to Local Communities.
The Washington Post
Local Business Adverts
( Weapons Week Edition, May 1941 )

1 / 4

2 / 4

3 / 4

4 / 4
Local Businesses who advertised in The Washington Post, Weapons Week Edition, 1941.
Washington Adopts HMS Sarabande
( Washington Continues to Raise Money for The War Effort )

Washington's Warship Week - 1942

Washington's 'Wings for Victory' Week - 1943
On the 24th May 1941, the British Battleship HMS Hood sank in the Denmark Strait while engaging the German Battleship Bismark. This was arguably the most well known British naval disaster of World War II. As 1941 progressed, it became a very bad year for the Royal Navy - further losses included a significant number of major fighting ships as well as numerous smaller warships. Many sailors lost their lives when their ships went down. The men could be replaced by recruitment campaigns and volunteers, but money was needed to build and equip new warships.
In late 1941 and early 1942, the British Government organised a nationwide drive to encourage National Savings. Each area of the UK was allocated a savings target based on the size of its population. Warships were then assigned to each area according to the size of their savings target, with large cities being allocated major warships. Washington was allocated HMS Sarabande, an Armed Trawler capable of anti-submarine warfare and mine-sweeping. As each area's target was met, their adopted ship's Commanding Officer would visit to exchange plaques, photographs, documents etc. with local representatives.
The number of warships adopted was over 1,200 and the money saved was effectively loaned, as War Bonds, to the Government for the duration of the war. This plan financed new ships and gave people throughout the UK their own 'personal' ship to look out for. Warship Week in Washington raised £57,000.
For more on HMS Sarabande, click the WASHINGTON WARSHIP Link above.
Warship Week
March 1942
( Official Programme )

Front Cover

Back Cover - Joan Nichols

Pages 2 & 3

Pages 4 & 5

Pages 6 & 7

Pages 8 & 9

Pages 10 & 11

Pages 12 & 13

Pages 14 & 15
[ Thanks to Ernie Guy and Washington History Society for giving this Website access to the above Images. ]
• • ◊ • •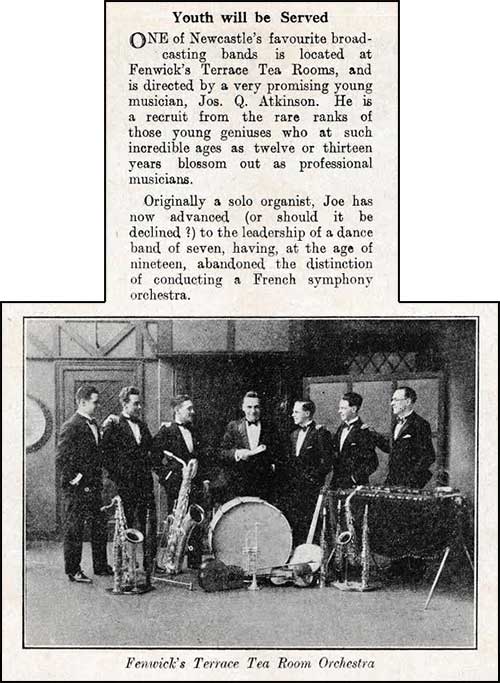 Jos. Q. Atkinson's Orchestra
Melody Maker, Vol 11, May 1927
( See Page 13 above. )
Jos. Q. Atkinson's Orchestra was one of the North East's Top Dance Bands. They regularly played well known local venues such as
The Old Assembly Rooms, The LNER Hotel (later, Central Station Hotel), The Spanish City, and Fenwick's Tea Rooms!
Their performance at Washington 'F' Colliery Miners' Welfare Hall took place during Warship Week.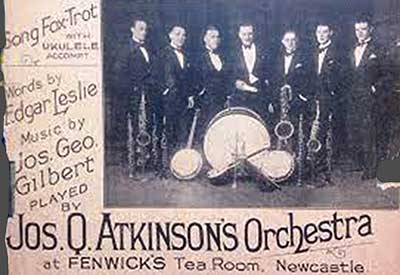 Music at Fenwick's
The Orchestra were regulars on local Radio Channels, 5NO Newcastle and Regional Programme Northern (replaced by BBC Home Service in 1939).
[ Thanks Lance. ]
Wings for Victory Week
June 1943

Front Cover of Official Programme

Some of the Events that took place during Washington's 'Wings For Victory' Week in June 1943.
[ Another example of how prominently Washington Miners' Welfare Hall once figured in the lives of the Local Community. ]