---
Memories of World War II
HMS Sarabande
---
Washington's Adopted WWII Warship - HMS Sarabande

[ Technical Drawing of Washington's Warship - posted by 'Mac' Mackay in his Navigation Québec Blog ]

[ Photographed by James Gill, courtesy of Washington Galleries Library - 16 June 2015 ]
The above plaque, currently on public display in Washington Galleries Library, commemorates Washington's adoption of the Royal Navy Armed Trawler, His Majesty's Ship Sarabande - pennant number T125. Plaques were exchanged between Washington's representative Councillor William Haskett and Sarabande's Commander G. F. Bradshaw D.S.O. at a ceremony during 'Wings For Victory' Week in 1943.
WASHINGTON
EXITUS • ACTA • PROBAT
(The outcome justifies the deed.)
TO COMMEMORATE THE ADOPTION
of HMS SARABANDE
by the CITIZENS of the URBAN
DISTRICT of WASHINGTON
WARSHIP WEEK MARCH 1942
[ Plaque Inscription ]
Royal Navy Armoured Trawler - Dance Class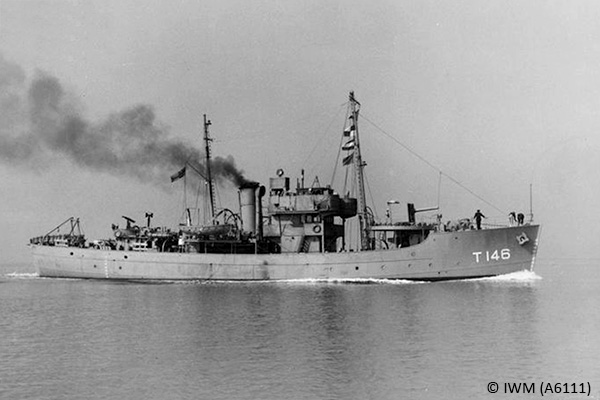 HMS Sarabande's sister ship - Armed Trawler HMS Tango (T146)
Duties included: Patrol, Convoy Escort,
Anti-Submarine Warfare and Mine-Sweeping.
---
HMS Sarabande
DETAILS
Type:
Class:
Pennant:
Propulsion:
Tonnage:
Length:
Breadth:
Draught:
Built By:
Ordered:
Laid Down:
Launched:
Commissioned:
End of Service:
Scrapped:
ASW Trawler
Dance
T125
Steam
300 Tons (305 Tonnes)
160ft 6in (48.9 m)
27ft 6in (8.4 m)
10ft 6in (3.2 m)
A. & J. Inglis (Glasgow)
9 September 1939
5 March 1940
29 August 1940
2 January 1941
Sold in March 1946
1968
MEN & ARMAMENTS
Men:
Depth Charges:
Large Gun:
Anti-aircraft Guns:
40
30
4 inch (100 mm)
3 - 20 mm
---
HMS Sarabande renamed Guard Mavoline

After the War, HMS Sarabande was bought by a Canadian Salvage Company and renamed Guard Mavoline.
( This image of the Guard Mavoline was first posted by Harland & Wolff )
County Durham's Adopted Warships - WWII
TOWN / DISTRICT
Barnard Castle
Billingham
Birtley & District
Bishop Auckland
Blaydon
Boldon
Chester-le-Street
Consett
Darlington
Darlington RD
Durham
Ferryhill
Gateshead
Hartlepool
Hetton-le-Hole
Houghton-le-Spring
Jarrow
Lanchester
North Easington
Seaham
Sedgefield RD
Shildon
South Easington
South Shields
Spennymoor
Stanley UD
Stockton-on-Tees
Sunderland
Washington
Weardale RD
West Hartlepool
Whickham
WARSHIP
HMS Zetland
HMS Verbena
MTBs 14 & 75
HMS Gleaner
MTB 91
HMS Bownet
HMS Ruby
HMS Hydrandea
HMS Nizam
MTB 52
HMS Witherington
MTB 83
HMS Eskimo
HMS Ludlow
MTB 218
HMS Wellard
HMS Abelia
MTB 36
HMS Hawthorn
HMS Seaham
MTB 341
HMS Saon
MTB 38
HMS Chaplet
HMS Wolsey
HMS Anchusa
HMS Hurwood
HMS Delhi
HMS Sarabande
HMS Kingston Amber
HMS Wivern
MTB 50
TYPE
Type II Hunt Class Destroyer
Flower Class Corvette
Motor Torpedo Boats
Halcyon Class Minesweeper
Motor Torpedo Boat
Boom Defence Vessel
Trawler Anti-submarine Training
Flower Class Corvette
'N' Class Destroyer
Motor Torpedo Boat
Admiralty Modified 'W' Class Destroyer
Motor Torpedo Boat
Tribal Class Destroyer
Type 7 Town Class Destroyer
Motor Torpedo Boat
Trawler Anti-submarine
Flower Class Corvette
Motor Torpedo Boat
Trawler - Minesweeper
Bangor Class Minesweeper
Motor Torpedo Boat
Trawler Anti-submarine
Motor Torpedo Boat
'C' Class Destroyer
Thorneycroft 'V' & 'W' Class Destroyer
Flower Class Corvette
Type II Hunt Class Destroyer
'D' Type Light Cruiser
Dance Class Armed Trawler (Anti-Sub)
Trawler Anti-Submarine
Admiralty Modified 'W' Class Destroyer
Motor Torpedo Boat
WARSHIP WEEK
Mar 1942
Dec 1941
18-25 Oct 1941
14-21 Feb 1942
31 Jan-7 Feb 1942
15-22 Nov 1942
...
...
Feb 1942
...
Feb 1942
...
...
...
21-28 Feb 1942
6-13 Dec 1941
13-20 Dec 1941
...
17-24 Jan 1942
7-14 Mar 1942
...
21-28 Feb 1942
14-21 Feb 1942
24-31 Jan 1942
Dec 1941
14-21 Feb 1942
Mar 1942 & Oct 1943
14-21 Feb 1942
14-21 Mar 1942
...
Mar 1942
14-21 Jan 1942
---