---
Memories of Usworth Colliery
Lodge Banners
---
Usworth Colliery Lodge 'Keir Hardie' Banner Replaced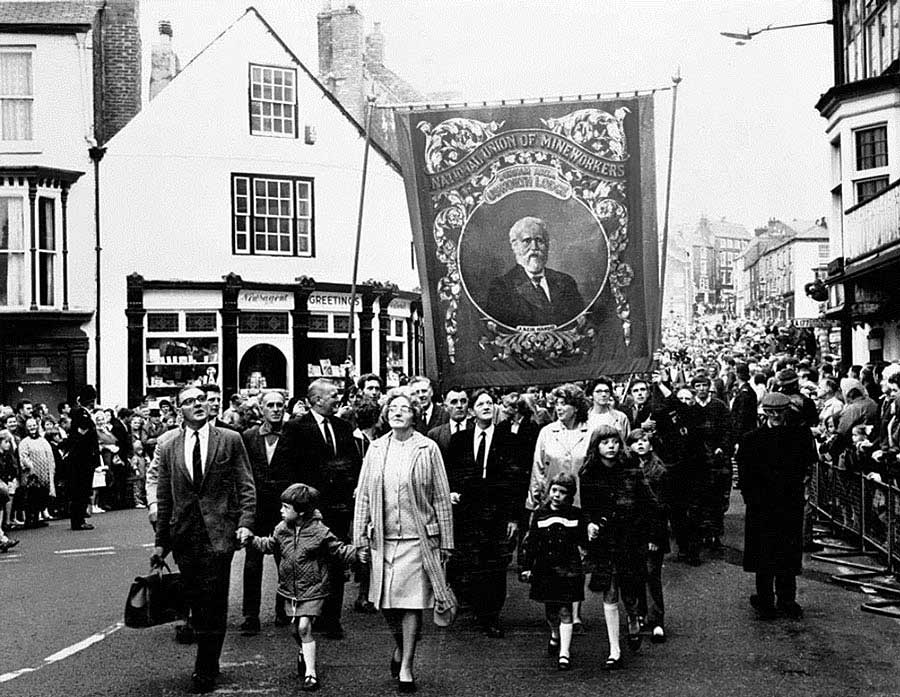 Durham Big Meeting: Usworth Colliery Lodge Banner passing the County Hotel en route to The Racecourse
( James Keir Hardie - Scottish Socialist and first Labour Party Leader )

The New Usworth Colliery Lodge Banner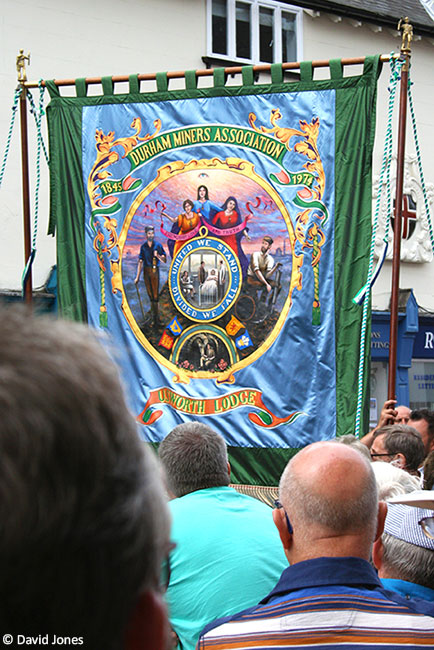 ... as seen at Durham Big Meeting, 11th July 2015

[ The above photographs appear by kind permission of David Jones (WGS 1959). Cheers Dave. ]
Compare Usworth Colliery Lodge Banners ( 2015 & 'Keir Hardie' )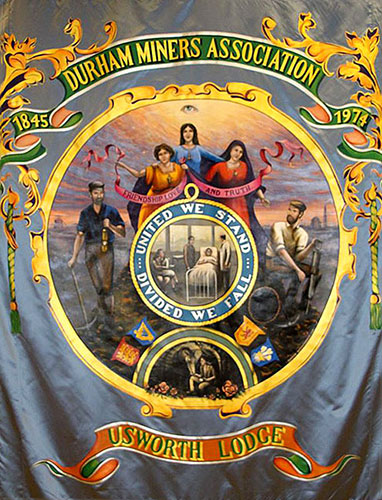 The New Usworth Colliery Lodge Banner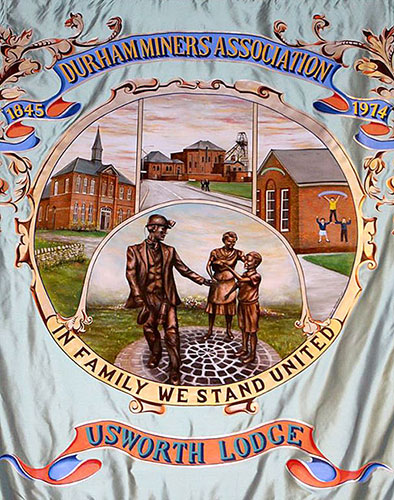 ... as seen at Durham Big Meeting, 11th July 2015

THE JAMES KEIR HARDIE BANNER


The Former Lodge Banner showing James Keir Hardie
[ N.B. The New Banner is smaller, more manageable and better suited to indoor displays. ]
• • ◊ • •
JAMES KEIR HARDIE BANNER - REVERSE
Note the Female Figure leading Workmen and their Families to a Better Life.


EMANCIPATION OF LABOUR
[ OED: Free from Restraint, esp. Legal, Social or Political. ]
MINERS OF ALL LANDS UNITE! YOU HAVE A WORLD TO WIN.
YOU HAVE NOTHING TO LOSE BUT YOUR CHAINS.
( Paraphrasing Karl Marx )
[ From the 115th Durham Miners' Gala Souvenir Programme which belonged to my Wife's Brother, fellow 'Usworth Squatter', the late David M. Simpson. ]
James Keir Hardy

Usworth Colliery Lodge Banner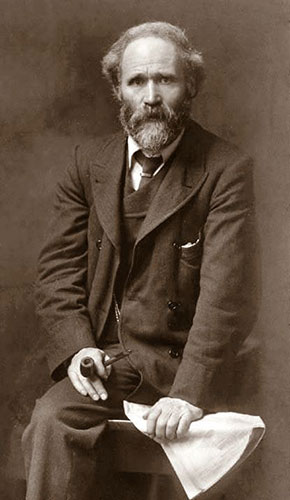 Portrait by John Furley Lewis, 1902.
James Keir Hardy (15 August 1856 - 26 September 1915)
Hardie was a Scottish socialist / labour leader. He was an skilled orator and was principal speaker at Durham Miners' Gala in 1905, 1906 and 1910. Hardie became a Lanarkshire miner at 10 years of age and was dismissed as an agitator in 1878, aged 22. He took up journalism while working for the Organisation of Miners and was Secretary for Ayrshire Miners. In 1886 he became Secretary of the Scottish Miners' Federation. He then became chairman of the newly formed Scottish Labour Party and probably did more than anyone else to create the British political Labour Movement. Hardie was M.P. for South West Ham in 1892 and first leader of the Independant Labour Party in 1906.
Banner Portrayals
Hardie's distinguished portrait has appeared on the lodge banners of Blackhall, Chilton, Easington, Fishburn, Handon Hold,
Heworth, Hylton, New Herrington, Philadelphia, Silksworth, Tanfield Lea, Tursdale, Usworth and many others.
Why was this Usworth Banner one of the first to arrive in Durham?
The men of Usworth Lodge made a special effort to arrive early in Durham for The Big Meeting, not just for the prestige of their Lodge and Colliery, but so James Keir Hardie would be at the forefront of the Gala Procession. They also held age and tradition in high regard. In 1955, when the new Lodge Banner was unfurled, the ceremony was performed by local retired miner Tim McGuire who, at the age of 79, could look back on 30 years of service as Usworth Lodge's representative to the Durham Miners' Association.
[ Information extracted & edited from several sources. If you see any inaccuracies, please let me know. ]
Usworth's 'Keir Hardie' Banner En Route To Big Meeting

Approaching Usworth Station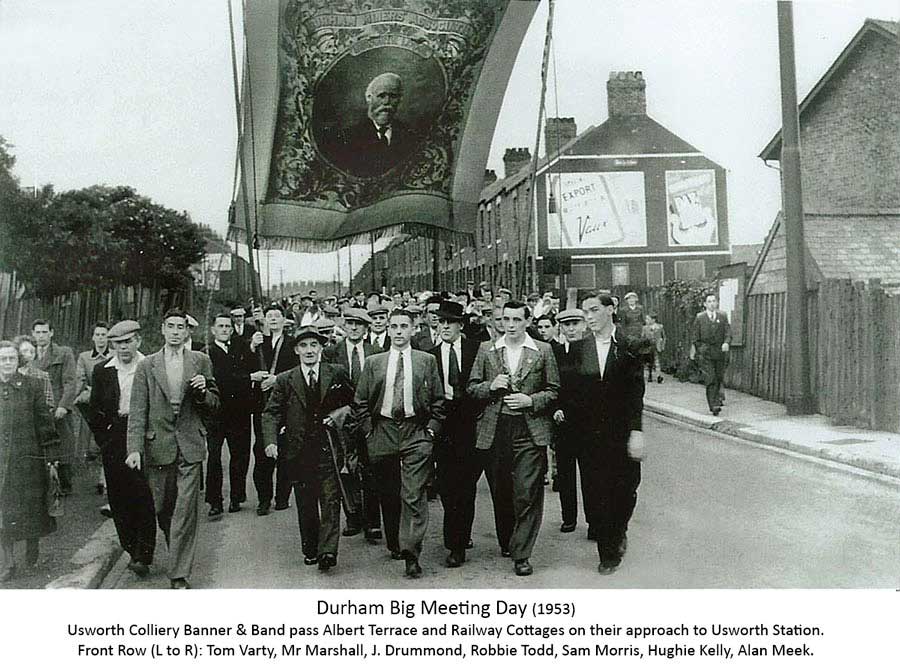 Early Saturday morning, 1953: The Keir Hardie Banner approaching Usworth Station, en route to Durham.
• • ◊ • •
Departed Durham Station - Heading Down North Road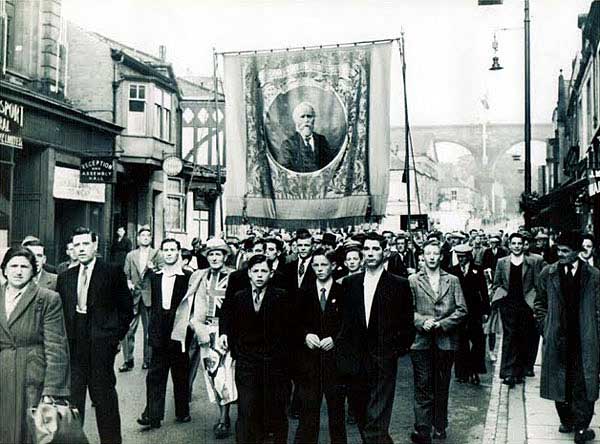 Durham, 1953: Peter McGivern (bait tucked safely inside his jacket) on North Road with the Usworth Banner.
• • ◊ • •
Crossed Elvet Bridge - Heading Towards The County Hotel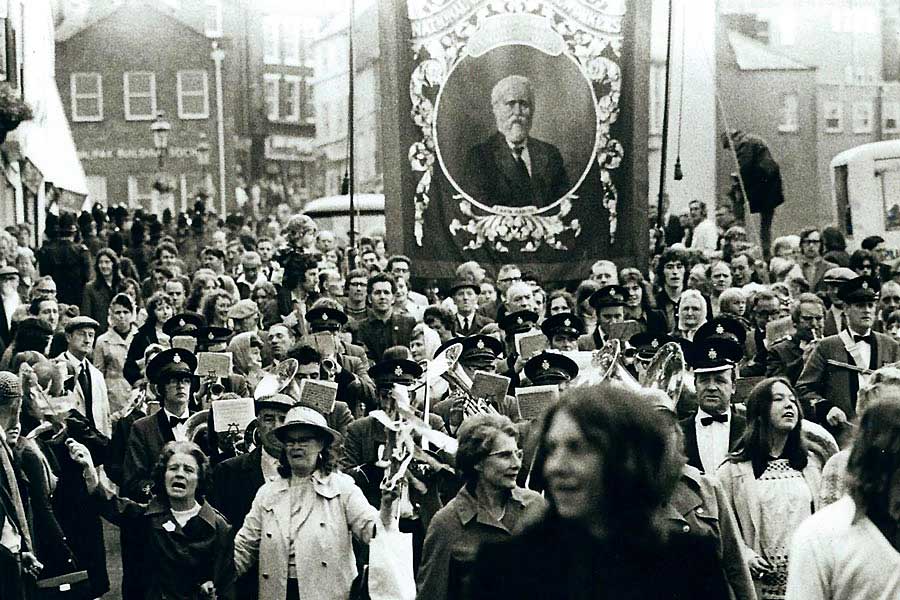 Usworth Banner - Elvet Bridge (1973). Lenny Wilson (glasses, below banner pole)
alongside David Cook (tall, black hair, child on shoulders).
• • ◊ • •
Passing The County Hotel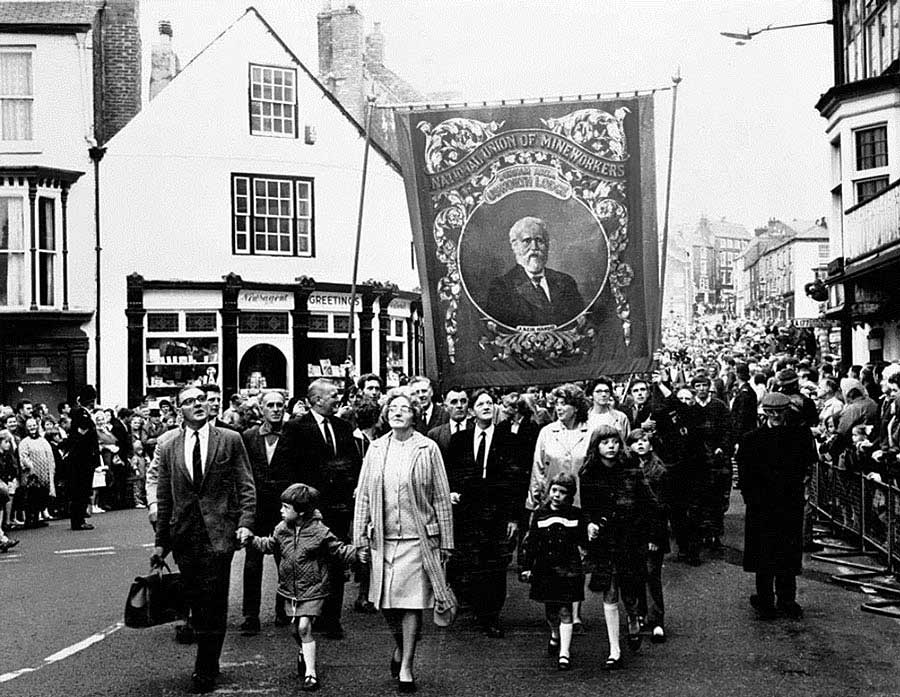 Durham Big Meeting: Usworth Colliery Lodge Banner passing the County Hotel en route to The Racecourse.
• • ◊ • •
Arriving at The Racecourse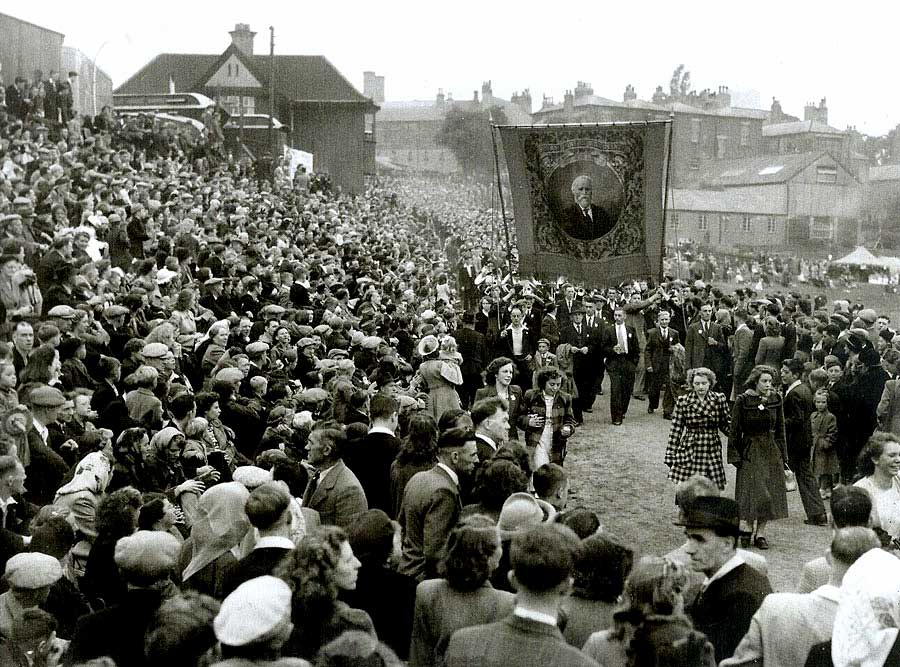 Durham Big Meeting, 1952: Usworth Banner leading the Colliery Band, miners, family & friends onto The Racecourse.
• • ◊ • •
Relaxing at The Racecourse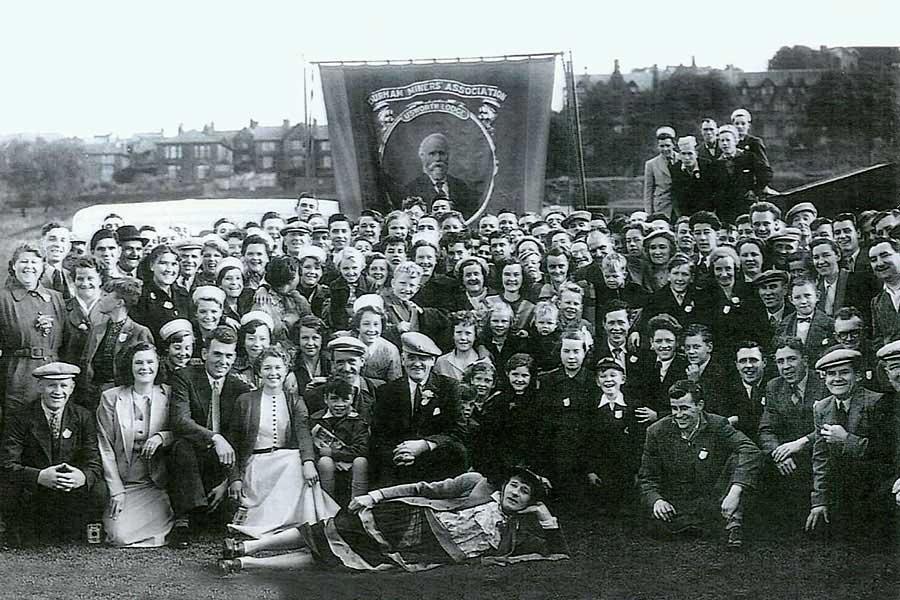 Durham Big Meeting, 1954: Old Mother Riley (Matty Snell) with the Usworth Banner.
Bobby Felton - 3rd left, suit & tie. Andy Storey - blond curls, centre.

Usworth Banner at Durham Big Meeting. Note the two years (1952 & 1953) on the side of the (ice cream?) van.
• • ◊ • •
Returning to Usworth

Turning into Manor Road - heading for Usworth Miners' Welfare Hall.
• • ◊ • •
Back to Base - Usworth Miners' Welfare Hall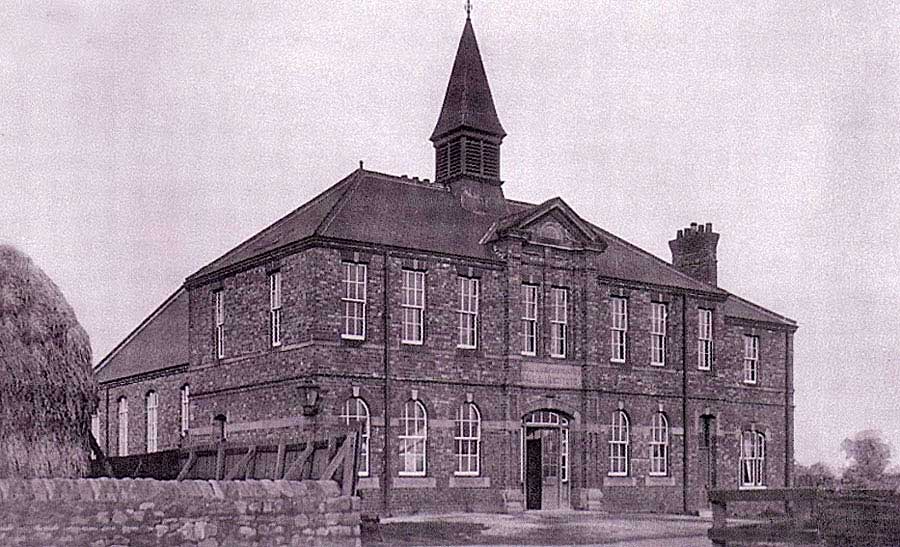 Usworth Colliery Miners' Welfare Hall, on Manor Road.
Tribute to an Usworth Coal Miner

Les Simpson - Chairman of Usworth Banner Group
[ I bumped into Les in Washington Village on several occasions. We chatted like lifelong Marras. A Great Guy! RIP Les, Jim ]
• • ◊ • •
FATFIELD COLLIERY DISASTER - UNVEILING THE BLUE PLAQUE

Blue Plaque Commemorating the 69 People who died at Fatfield Colliery in 1708
Members of Washington Miners & Community Heritage Group. The D.M.A. and Washington Glebe Banners.
Les Simpson (Chairman, left) - Alex Mason (centre) - Derek Sleightholme (right)
[ Photographer: Tom Copeman, 18th August 2018 ]
• • ◊ • •
WASHINGTON SCHOOLCHILDREN'S STRIKE - UNVEILING THE BLUE PLAQUE

Usworth Schoolchildren, in Period Dress, accompanying Mr Les Simpson in front of The Usworth Lodge Banner.
[ Photographer: Councillor John Kelly, 19 November 2019. ]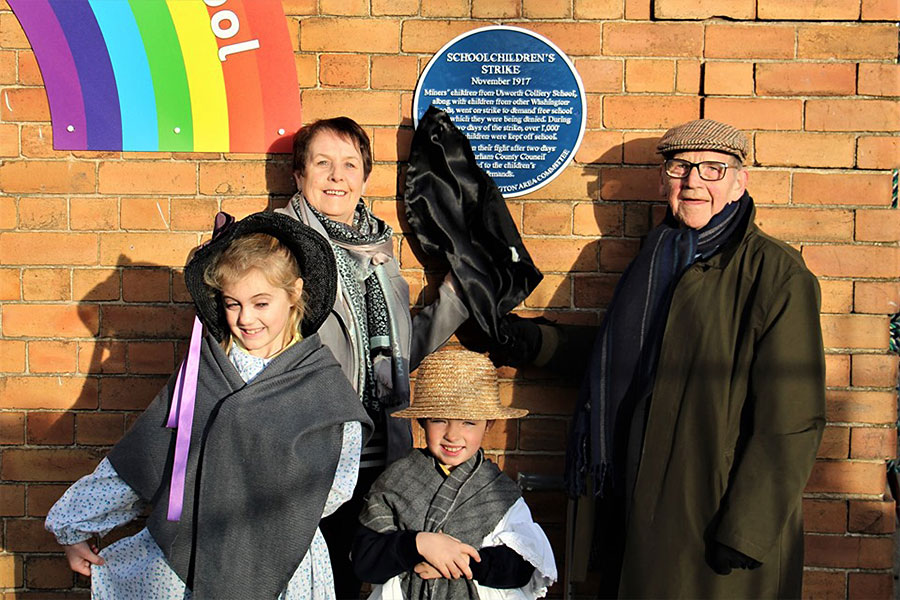 Councillor Jill Fletcher and Mr Simpson, Chairman of Washington Miners & Community Heritage Group.
[ Photographer: Councillor John Kelly, 19 November 2019. ]
• • ◊ • •
A TOUCHING SHOW OF RESPECT

Les Simpson paying homage at the Washington Miners' Statue
Concord Bus Station, Victoria Road
• • ◊ • •
ON PARADE

Les Simpson, Chairman of Usworth Miners' Banner Group,
with the Washington Glebe Lodge Banner
Much More Information:
Fatfield Colliery Disaster - Washington School Strike
---