---
Memories of Washington Schools
1917: The Kids are on Strike! (Page 1/6)
---
Washington School Strike

THE BLUE PLAQUE
Attached to Usworth Colliery Primary School
Unveiled on the 19th November 2019 by Mr Les Simpson,
Chairman of Washington Miners & Community Heritage Group.
[ Courtesy of Photographer: Tom Copeman, Member of Washington History Society, 21 Nov 2019. ]
• • ◊ • •

BEFORE THE CEREMONY
Usworth Schoolchildren, in Period Dress, accompanying Mr Les Simpson in front of The Usworth Lodge Banner.
[ Courtesy of Photographer: Councillor John Kelly, 19 Nov 2019. First posted by The Washington Trust. ]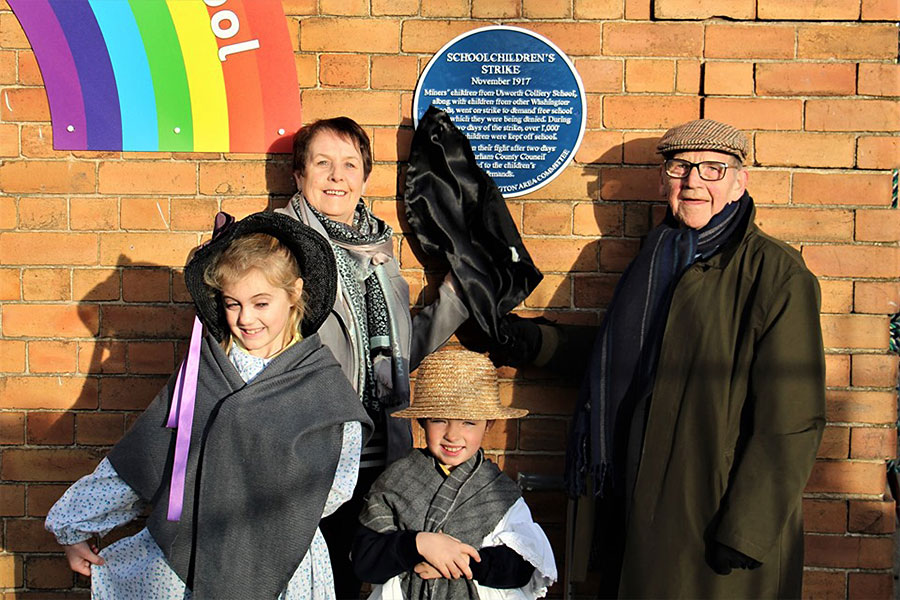 THE UNVEILING CEREMONY
Councillor Jill Fletcher and Mr Simpson, Chairman of Washington Miners & Community Heritage Group, do the Honours.
[ Courtesy of Photographer: Councillor John Kelly, 19 Nov 2019. First posted by The Washington Trust. ]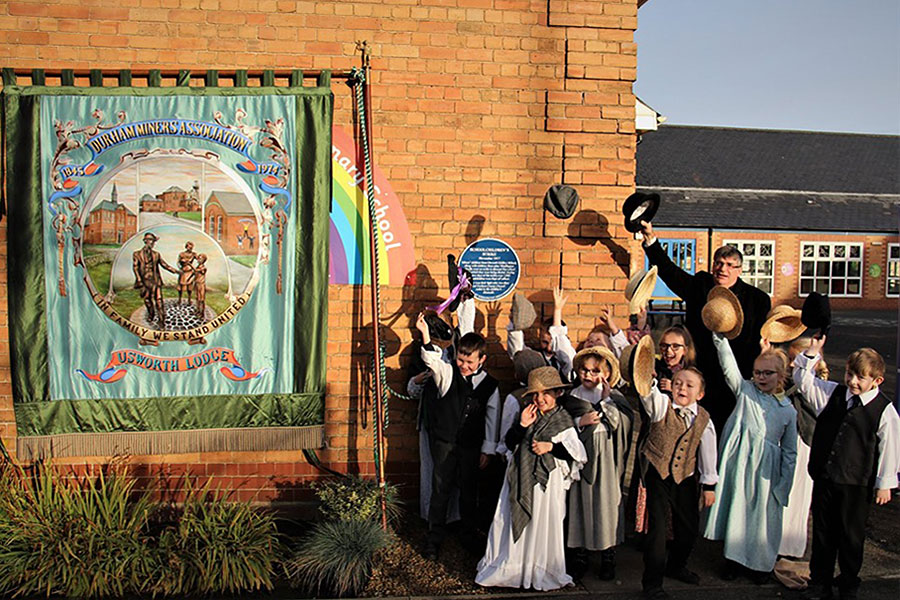 HATS IN THE AIR
The Usworth Schoolchildren Celebrate Victory.
[ Courtesy of Photographer: Councillor John Kelly, 19 Nov 2019. First posted by The Washington Trust. ]
• • ◊ • •
For much more information about Washington School Strike, see Top Menu.
• • ◊ • •
The Washington Trust supports community groups and organisations which operate within Washington, Tyne & Wear.
They provide community development support and, in particular, volunteer development.
The Washington Trust also delivers a range of heritage projects and programmes.

---