---
Memories of Washington
Convenient Places in Washington
---
Open-Air Urinals
WASHINGTON VILLAGE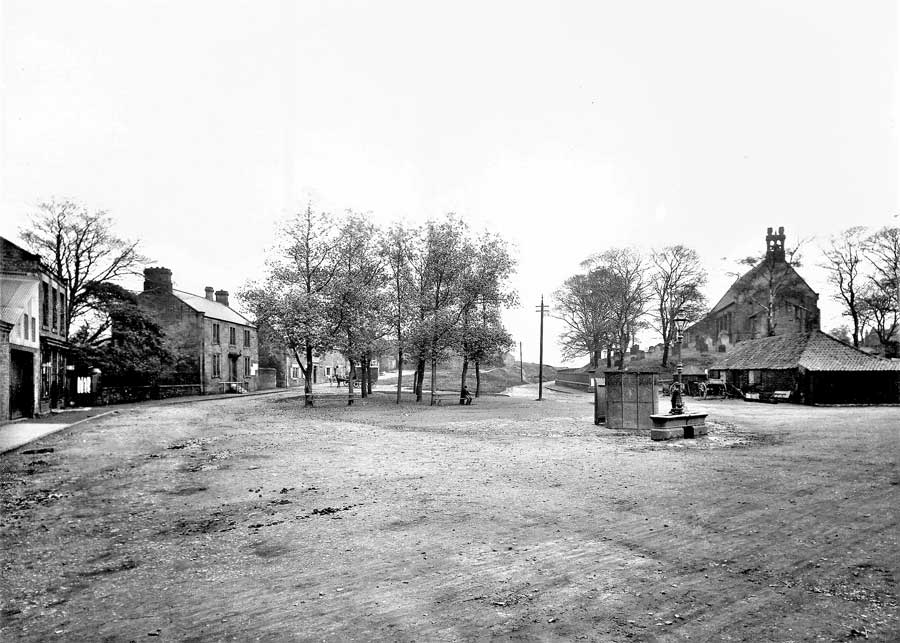 THE VILLAGE GREEN - c.1910
Blimey, Peeing was permitted on The Village Green!
Note the Urinal next to the Horse Trough.
Things Of Interest In This Wonderful Photograph
1. The Shop that became the Washington Village Library.
2. Fallen Beech Tree. ( Click Me to see what followed during the next 100 years! )
3. Auld Cop Shop. ( Village Police Station )
4. Commercial Hotel, later The Washington Arms. ( Horse-drawn beer delivery? )
5. Old Man on the Seat.
6. Telegraph Poles ran alongside Railway Lines. ( Washington Station to Post Office? )
7. Village Smithy, Holy Trinity Church and Washington Old Hall.
8. Gentlemen's Urinal and nearby Horse Trough.
9. State of Spout Lane. ( Was it still called New Road? ) Horse Manure!
[ This photograph was contributed by Washington History Society. It brought back 'floods' of memories regarding other Outdoor Conveniences! ]

BEHIND THE VILLAGE SMITHY
The Urinal in the top picture was replaced by another Outdoor Gents.
It was built along the Path that runs between the Village Smithy Back Wall and Holy Trinity Church.
[ Yes, Many Times! ]
WASHINGTON STATION ROAD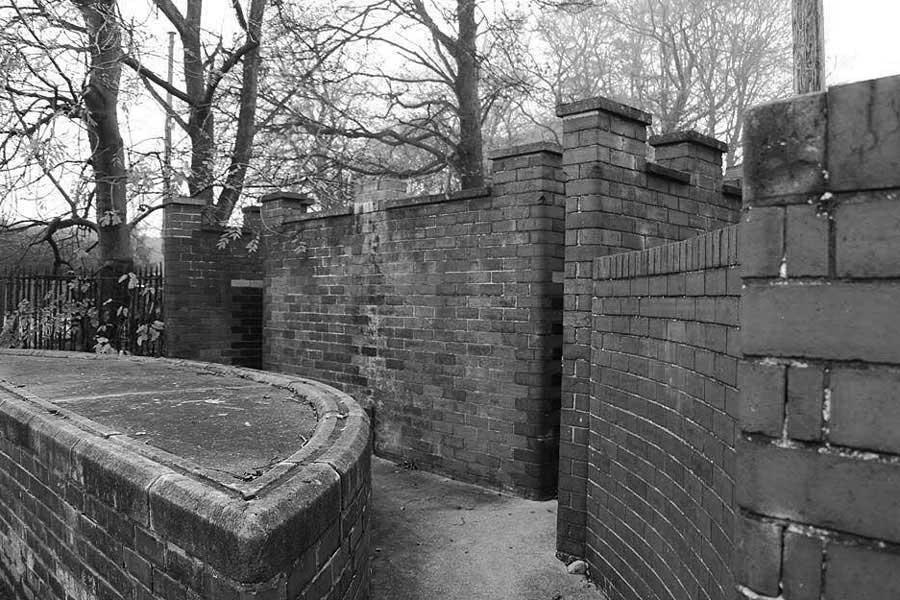 TOP OF EMMERSON TERRACE
Sadly, this Gents was permanently(?) closed with iron grill gates at the start of the Covid Pandemic.

MY LAST VISIT:
The Channel was blocked with leaves ... and it stank!
Let's hope it'll soon be back in action.
[ Just A Few Times! ]
BRADY SQUARE

RECREATION GROUND / BUS STATION LAVATORIES
This is where I first read those immortal lines:
It's no good standing on the seat; the Crabs in here can jump 6 feet.
[ A Crab? A Crab Louse, of course! ]

BRADY SQUARE 'LAVS'
Note the Bus Station and The Colliery Wagonway.
PEARETH HALL ROAD

CANDY BANK - GREAT / HIGH USWORTH
At the top of the Bank the road curves left before passing Usworth Holy Trinity Church.
The Gents was halfway up the bank, opposite the White Houses.
It's clearly visible in this picture.
[ Yes, But Not Often! ]
MANOR ROAD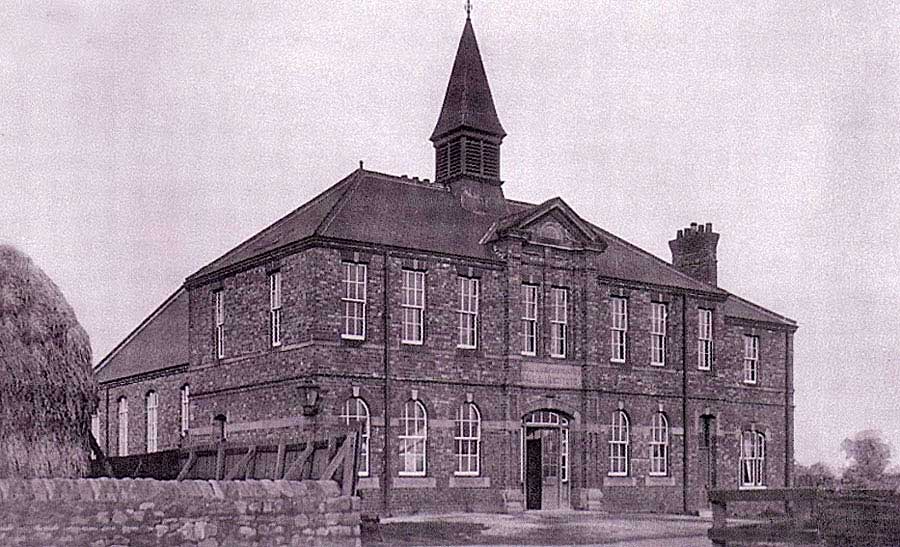 USWORTH MINERS' WELFARE HALL
There was a small Outside 'single person' Urinal on the back of The Hall.
Accessed along the Path between Haystack and Hall, it offered very little privacy ... but just enough!
[ Many Times! ]
USWORTH COLLIERY WELFARE PARK

MANOR ROAD
Who remembers the open-air Gents at the top-left corner of the Main Football Field?
' PC ' on the Map Below.
[ Many Times! ]

USWORTH PARK - 1965
BLUE HOUSE LANE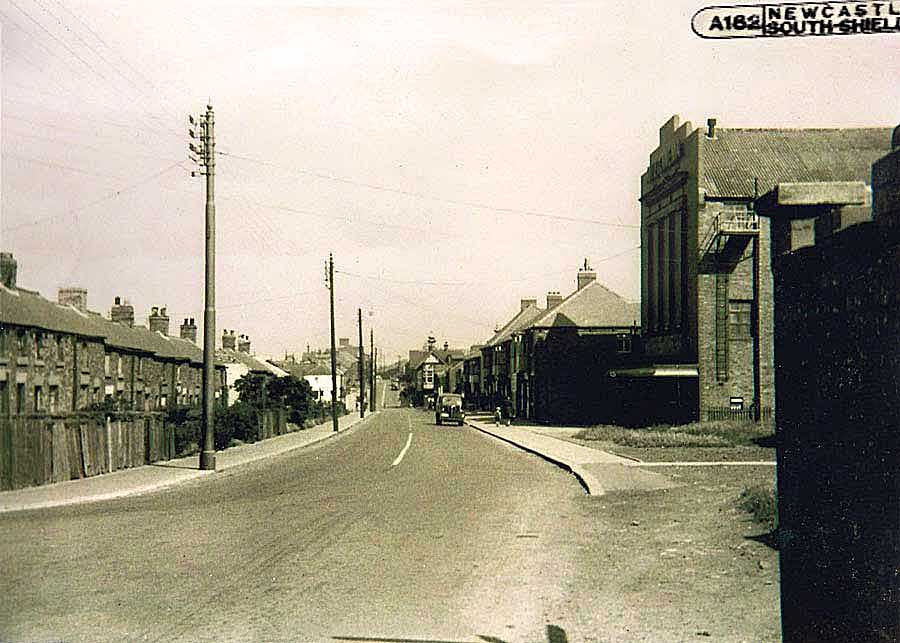 VIEW FROM BOTTOM OF BLUE HOUSE LANE
Note the Gents, bottom right, across Blue House Lane from New Rows Chapel.
The Ritz Cinema on Victoria Rd - New Rows Terraced Houses, opposite.
Heworth Road to Newcastle, bottom left - Front St in the distance.
[ A Few Times in the late 1950s! ]

BLUE HOUSE LANE GENTS - 1937
Washington Glebe and 'F' Pit Banners taking part in a Protest March.
[ Eleven Harworth Men and a Miner's Wife convicted of riot and jailed with hard labour - Nottingham Area strike. ]
---