---
Memories of Coal Mining
Qualifications / Certificates 1/5
---
Joseph Olds
Washington 'F' Colliery Overman, Local Councillor and Justice of the Peace
Extract from:
WHO'S WHO IN COUNTY DURHAM, 1936.
JOSEPH OLDS J.P.
Deputy Overman, 35 Havannah Terrace, New Washington, County Durham.
Born 1875, South Pontop, Annfield Plain, County Durham.
Son of the late Richards Olds and Elizabeth Jane Olds.
Educated at Castle Eden and Usworth Colliery Schools.
Married 1896, to Alice, daughter of the late William Midgley and Dorothy Midgley of Page Bank Colliery.
Treasurer of Washington 'F' Pit Lodge, D.M.A. 1911. Re-elected 1935 for the 25th year.
Member of Washington U.D.C. 1925-1936; Vice-Chairman, 1927; Chairman, 1928.
Justice of the Peace, 1928-1936.
Gained 2nd Class Mine Managers Certificate in 1908; 1st Class in 1909.
Member of the Durham County Council, Examination Board of Deputies.
Examination Certificate in Principles of Mining
( Joseph Olds, 1898 )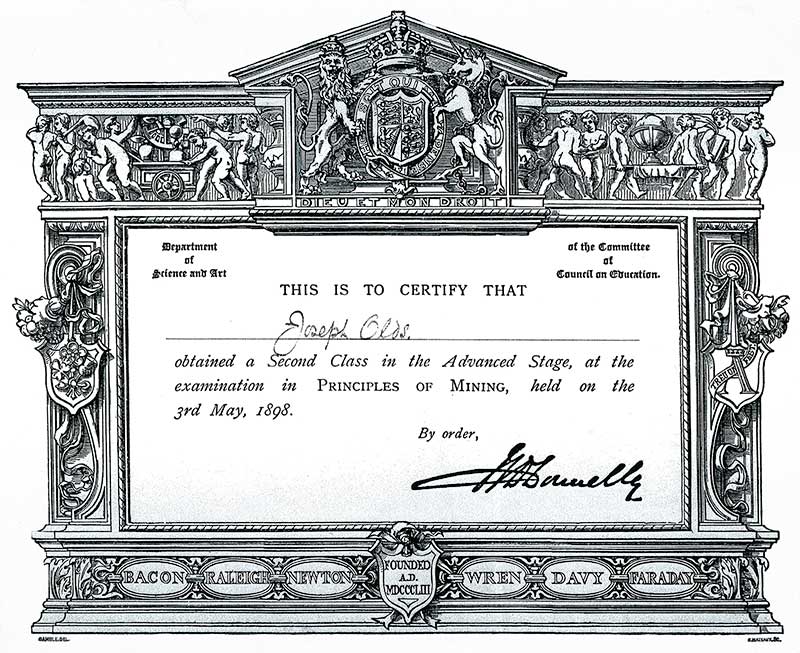 Joseph Olds' Certificate following his successful Studies and Final Examination
[ Note the Awarding Body and the names of the luminaries at the bottom of this certificate - indications of the very high standard of this qualification. ]
Certificate of Competency
( 1908 )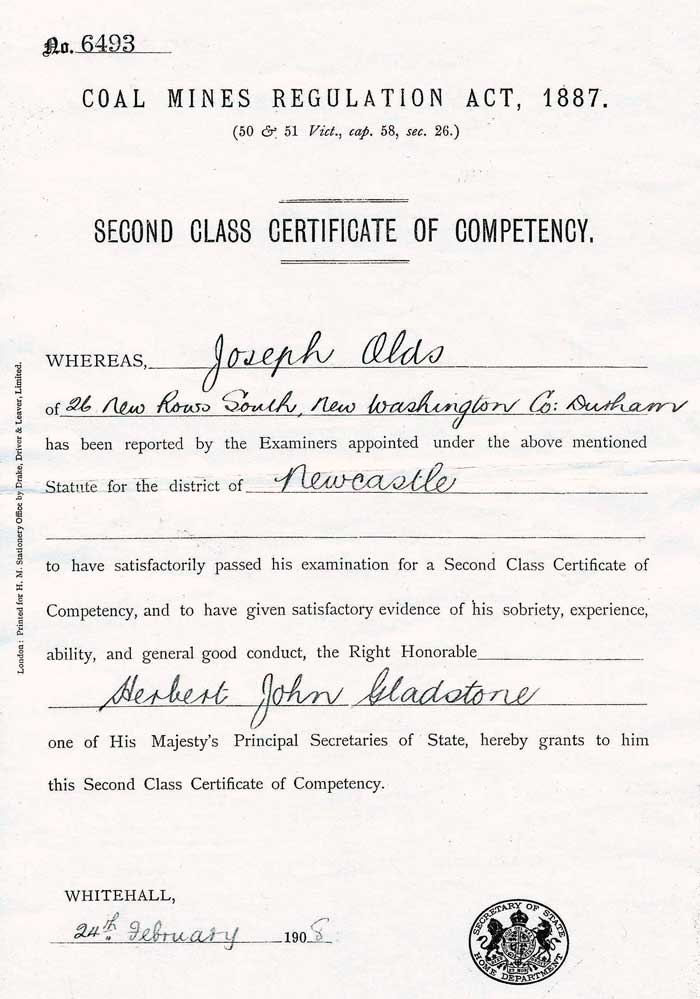 Joseph Olds' Second Class Certificate of Competency - to be in charge of a
Coal Mine in the absence of the Manager and Undermanager.
Joseph gained his First Class Certificate in 1909.
[ A Second Class Certificate of Competency qualified the holder to apply for the Post of Colliery Undermanager. ]
Acceptance of Office - Washington Ward
( Washington Urban District Council )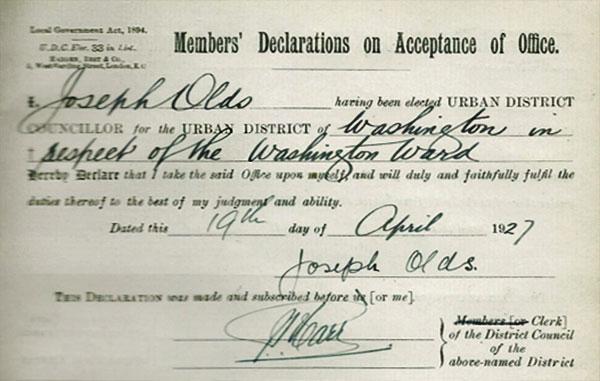 Joseph Olds served as a Member of Washington U.D.C. from 1925 to 1936.
He was appointed Vice-Chairman in 1927 and Chairman in 1928.

26, New Rows South (distant, right)

35, Havannah Terrace
Joseph Olds lived in these two New Washington streets.
---