---
Memories of Washington Secondary School
Capt. John Spencer - Pitman's son / former pupil
---
Mr. John Spencer - Our Own "Mr Chips"
( Extract from Bullis Magazine. Bullis is a private, independent college in Potomac, Maryland, a suburb of Washington D.C. )
"A true native Washingtonian, John was born in Washington, England, on March 12, 1916, educated at
Leeds University, served as a Captain in the British Royal Army during WW II."
( Extract from Obituary: THE WASHINGTON POST, 6 Feb. 2008. )
• • ◊ • •
Washington Secondary School
Washington's Top School offered hundreds of working-class youngsters life-changing Education / Opportunities.
Looking down Spout Lane towards the New Inn Corner, Manor Road, Richardson Terrace & Viola Street.
• • ◊ • •
John W. Spencer - Sixth Form Pupil (c.1934)
John is listed in the 1939 Civilian Residents' Register as living at 12, Viola Street - behind Richardson Terrace.
He was at the beginning of his teaching career and is described as a Certificated Assistant Schoolmaster.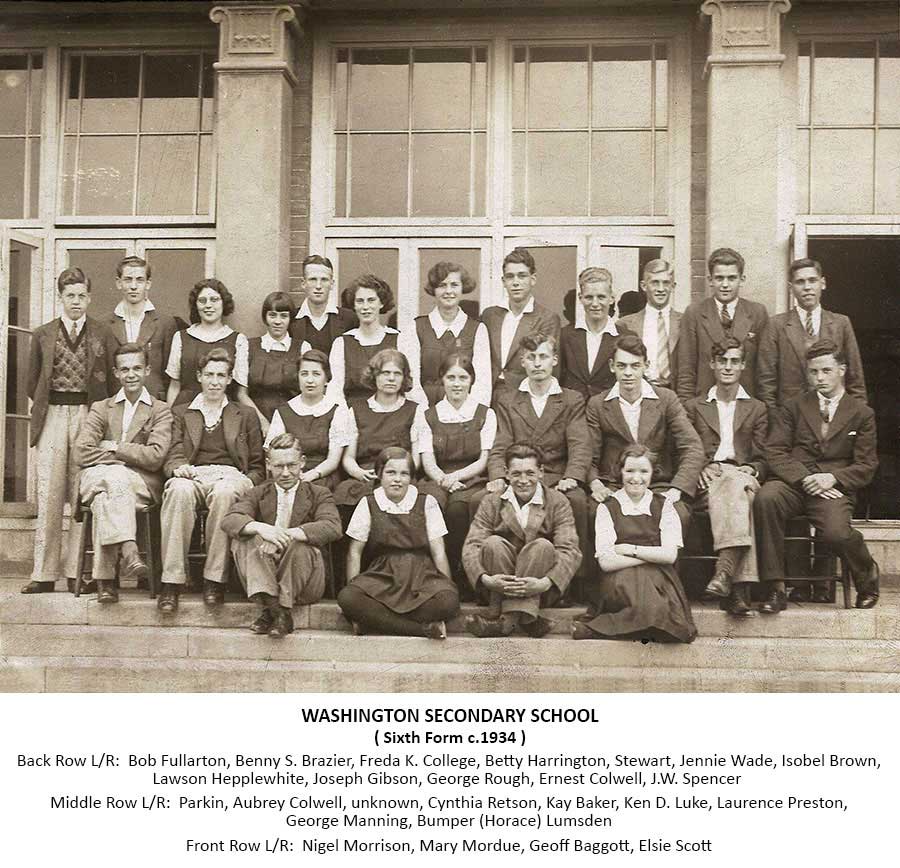 [ This photograph appears here by kind permission of David Gibson, son of Joseph Gibson. ]
John Spencer is standing extreme-right in the back row. He and his friend Joseph Gibson remained in contact 'well into the 2000s'.
John's father worked in a local colliery lamp cabin; his grandfather was a miner at Bishopswearmouth.
The menfolk on his mother's side of the family worked as colliery masons.
• • ◊ • •
For more on Joseph Gibson Click Me.
Mentioned In Despatches
(Recognition of Brave or Meritorious Action)
Capt. John W. Spencer B.Sc.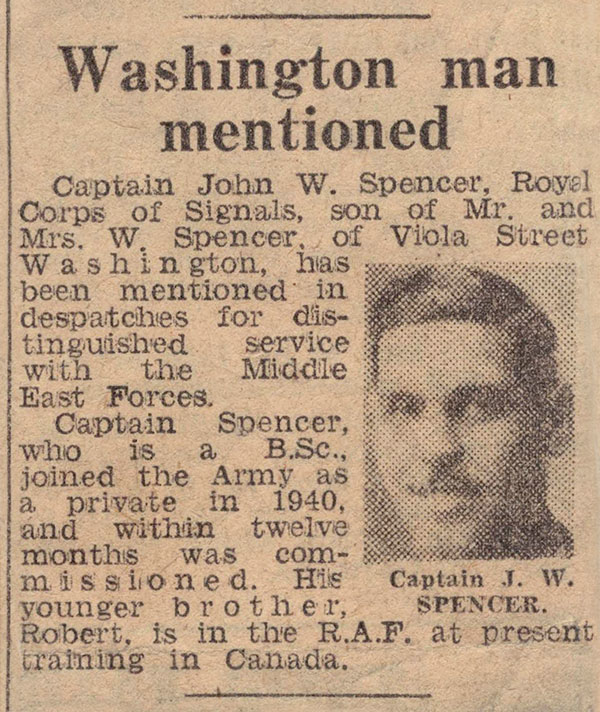 Newpaper / Date - Unidentified.
"... however, I did find the notice in the London Gazette, the official record of such an award, dated 23 September 1943.
The award was for services in North Africa. From the date, this may very well refer to involvement in
the successful invasion of Sicily by Allied Forces in July 1943 (Operation Husky).
John Spencer's brother sadly died while training in Canada."
[ Comments from David Gibson. ]
• • ◊ • •
Leading Aircraftman Robert W. Spencer R.A.F. (VR)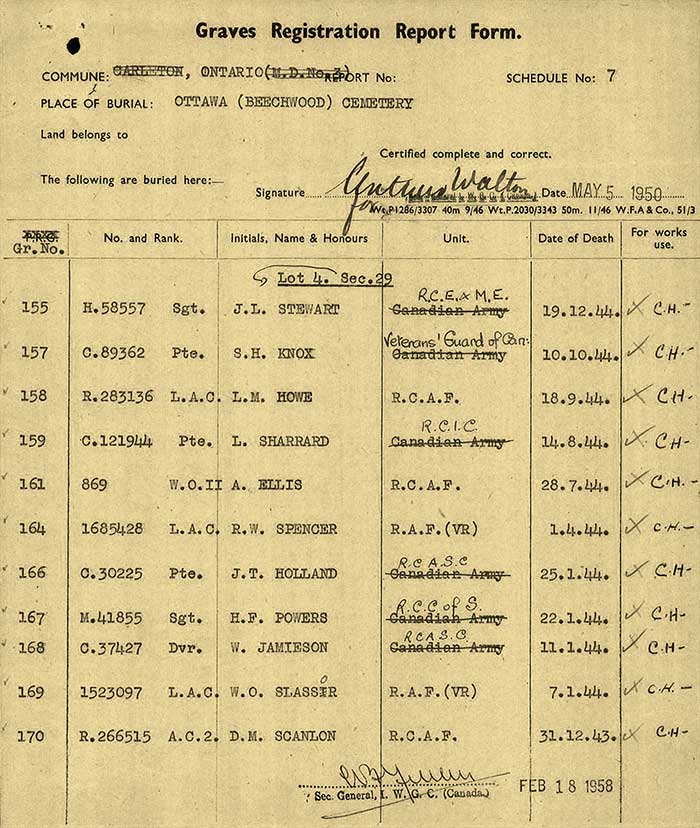 Robert Spencer died while serving with the R.A.F. and is laid to rest in Beechwood Cemetry, Canada.
Extract from Commonwealth War Graves Commission documentation.
Washington C.D. To Washington D.C.
JOHN W. SPENCER: A lad from Viola Street, Washington, who became a highly respected Headmaster in Washington D.C.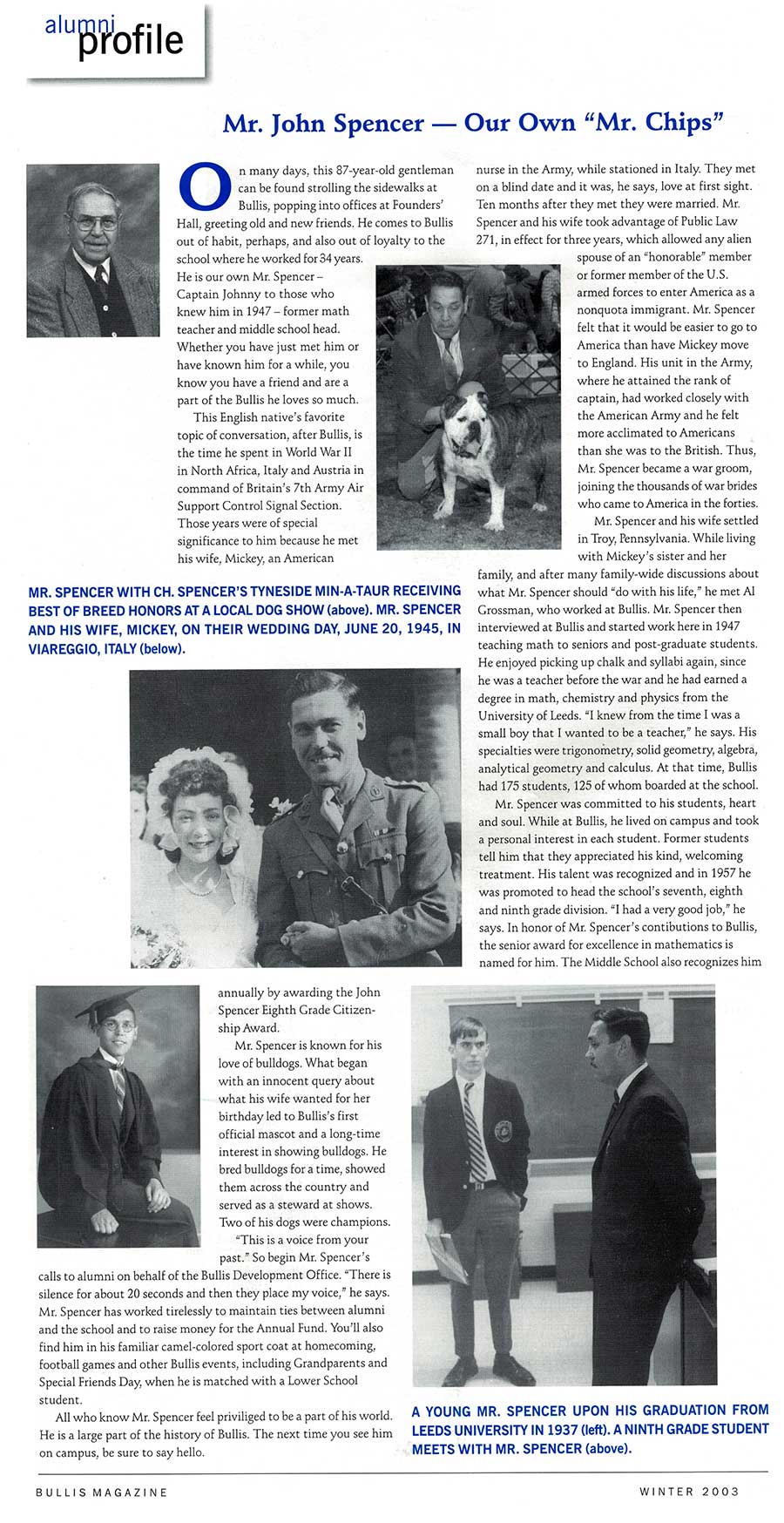 Washington Pitman's son, John W. Spencer
This testimonial demonstrates the high quality of education that Washington Secondary School provided to the local community.
• • ◊ • •
Mr Chips: the beloved schoolmaster, Mr Chipping, in James Hilton's novella, 'Goodbye, Mr Chips'.
Played by Robert Donat in the ever popular 1939 film of the same name.
Obituary Notices
John W. Spencer - Soldier & Headmaster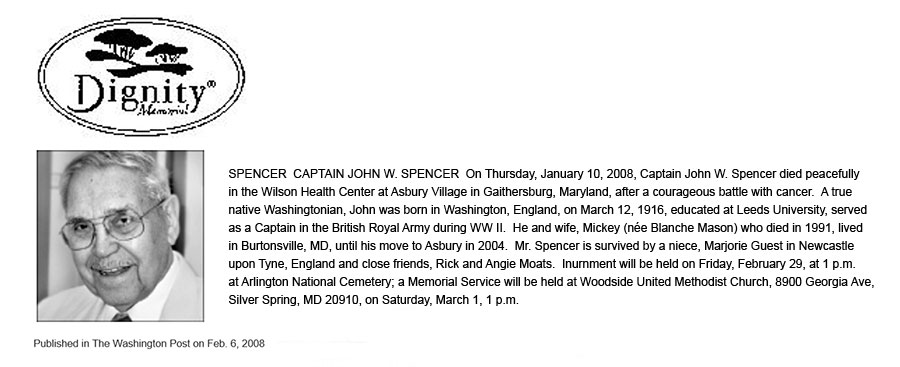 THE WASHINGTON POST
• • ◊ • •
John W. Spencer - Headmaster, Bullis Middle School
John W. Spencer, 91, who taught mathematics at the Bullis School before becoming headmaster of its Middle School, died of cancer Jan. 10 at the Wilson Health Care Center at Asbury Village in Gaithersburg.

Mr. Spencer, who nurtured a love of teaching from his boyhood in England, began as a teacher at Bullis in 1947. Within 10 years, he became headmaster of the Middle School and held the position until his retirement in 1981.

He was affectionately known as the "Mr. Chips of the Bullis School" and was a gentleman and scholar who expected nothing less than gentlemanly behavior and the best academic efforts from Middle School students, whom he often referred to as his boys, said a family friend, Charly Ryan.

Each year, an award for excellence in mathematics named for Mr. Spencer was presented to a graduating senior. Mr. Spencer was an honorary member of the Bullis Alumni Association and, in later years, enjoyed volunteering at the school and helping with alumni fundraising and school events.

Mr. Spencer was born in Washington, England, and was educated at Leeds University in math, chemistry and physics before serving as a captain in the British Royal Army during World War II.

He married Blanche "Mickey" Mason, an American nurse with the U.S. Army and often described himself as being a "male war bride." The couple were wed in Italy and moved to the United States just after the war.

Mr. Spencer was also very active in the Bulldog Club of Maryland. He and his wife bred and raised champion bulldogs at their home in Burtonsville, and he would often bring his dogs to serve as mascots at Bullis football games. The bulldog soon became the official mascot of the Bullis School. Mr. Spencer was also a member of the Pennsylvania Stewards Club.

As a longtime member of Woodside United Methodist Church in Silver Spring, he sang tenor in the choir until his move to Asbury in 2004. He also enjoyed reading and took great pleasure in growing flowers and plants, particularly orchids.

His wife died in 1991, and he leaves no immediate survivors.

-- Yvonne Shinhoster Lamb
• • ◊ • •
The images and information in this article were provided by David Gibson, son of Joseph Gibson, Captain Spencer's life-long Secondary School Pal.
---