---
Memories of Mining
Washington Coal Co. Ltd.
---
Washington Coal Company Ltd
( With a few personal recollections about your wages! Jim )

Company Winding-Up Notice from The London Gazette, 1952. Note the resident of Blue House.

Pre-1949 Unidentified Extract: showing Directors, Employee Numbers etc.
Note: 1. Our local colliery group. 2. Washington phone numbers changed to 4-digits in 1949.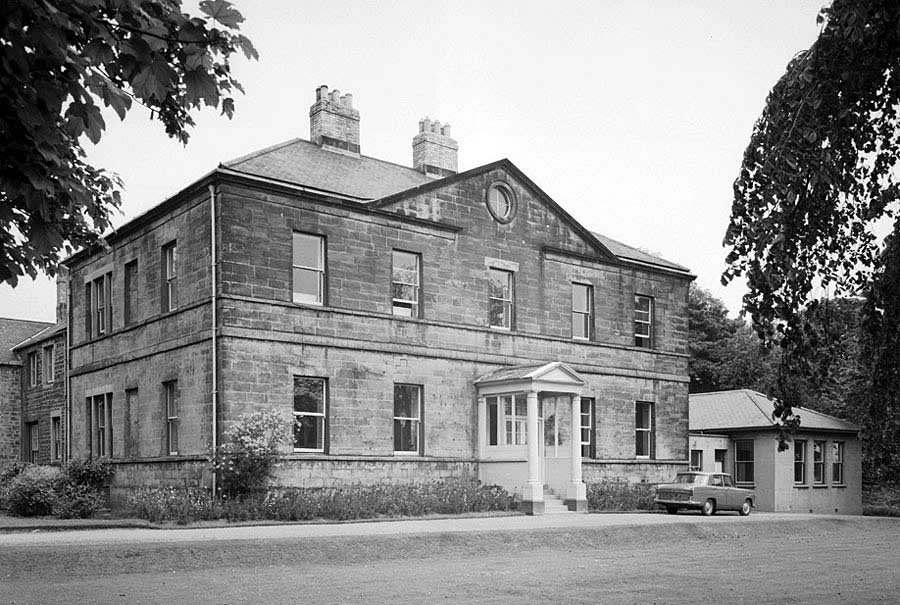 Usworth Hall: former HQ of the Washington Coal Co. Ltd. - 'F' Pit, Glebe, Usworth & Wardley.
I left school in 1963 and became a 16 y.o. National Coal Board Wages Clerk at Usworth Hall.
We calculated the wages for everyone below senior management at these 4 collieries.
They formed 'A' Group in the N.C.B. North Eastern Division, No.1 Area.
• • ◊ • •
Pound Notes, Ten-Bob Notes, Half Crowns, Two-Bob Bits, Shillings, Tanners, Thripenny Bits, Pennies & Ha'pennies.
( Ever wondered where your wages were on the night before pay day? )
Thursday was paynote day and, after 2 or 3 months learning the job, I would make the short walk from Usworth Hall to Usworth Colliery to deal with wage related queries. If any miner wasn't happy with his wages he would tell me his problem and, if I couldn't deal with it there and then, I would make sure that someone would have the answer for him when he came to collect his wages the following day. Miners who hadn't been paid correctly were reimbursed at the pay office with what was known as an 'advance note'.
Thursday home-time was exciting: Mr (Dick) Olds, the chief clerk, would inform his staff who would be on Friday's Pay Run i.e. who would be in each of four teams paying out the men's wages, and to which colliery they were assigned. Pay Day started early at Lloyd's Bank, near the New Inn Corner. I was allowed to help carry the money boxes from the bank vault to the armoured car. We had a fairly large NCB van, with seats in the back, to carry and drop off wages clerks at their assigned collieries. We also had a police escort!
Once we were safely locked inside a colliery pay office, the team leader would remove the money from the bank box, check it against the total wages bill, and place the cash in a special wooden distribution box, with separate compartments for notes and coins. When you handed your paynote in at the pay window, your works number was shouted out and I would read your wage entitlement from a large chart containing everybody's works number and wage. If everything was OK, your money was sorted, rechecked at the window, and handed to you with your paynote, less the slip. I crossed your details out using a coloured pencil and your pay slip was placed on a paper spike. That way we knew who still had to be paid, and in which order the distributed wages had been collected. Now and again, the time was written on a spiked slip - yes, your arrival was timed! My coloured chart was also used to check remaining money against unclaimed wages.
• • ◊ • •
12 months later, in spite of the lovely people I worked with, the short cycle ride from Don Gardens to Usworth Hall, the shirt & tie, and the cushy 9 'til 5 hours, I gave it all up ... to work down the pit. My mother was horrified! At 17 y.o. I became (probably) the N.C.B.'s oldest Craft Apprentice Electrician - at Wardley Colliery. Earlier, I'd been on a fascinating U/G visit to Washington 'F' Pit with my uncle, Overman Billy Gill. Moving from a nice warm office to take my first steps in engineering was my 2nd best decision. I married the best!
• • ◊ • •

Lloyd's Bank: The wages for our local collieries left here about 8 a.m. each Friday morning (1960s).
---