---
Memories of Mining
Fatalities at Usworth Colliery (1845 - 1974)
---
Usworth Colliery
Memorial Poster
Record of the Men and Boys who lost their lives at Usworth Colliery
[ 1845 - 1974 ]
[ The following Tab contains a Readable List. ]
Usworth Colliery
List of Casualties Recorded on Usworth Colliery Memorial Poster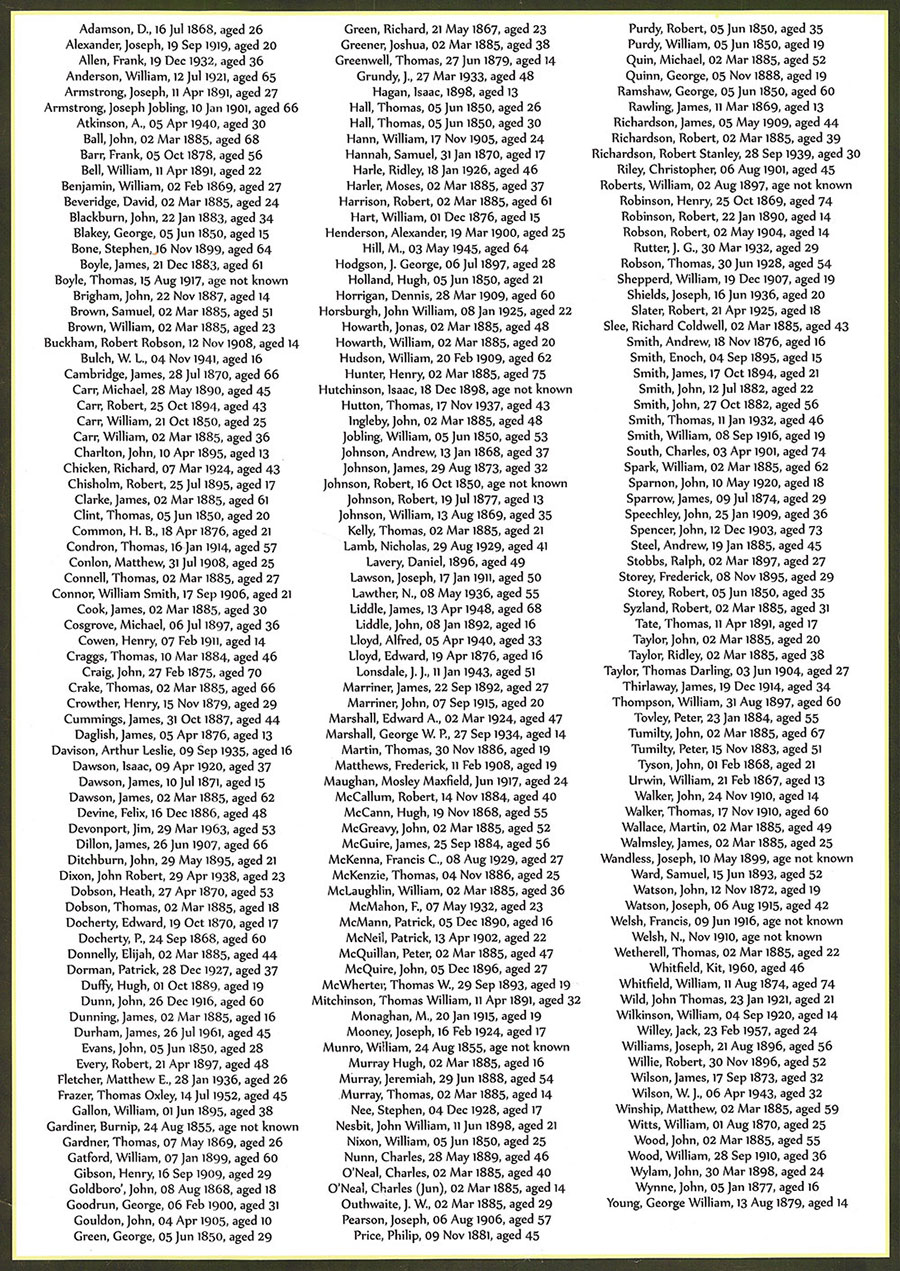 Record of the Men and Boys who lost their lives at Usworth Colliery
[ 1845 - 1974 ]
Usworth Memorial Poster was scanned & contributed by W.P. (Bill) Richardson, Great Grandson of Robert Richardson, listed above.
It appears in this article thanks to Kevin Roddy and Washington Miners' Banner Group.
[ Note also: William Smith, John Sparnon and Nicholas Lamb. ]
Fatal Accidents at Usworth Colliery
Reports by Workmen's Inspectors
A Record of Inspections by Workmen's Representatives following Fatal Accidents At Usworth Colliery
[ 1915 - 1932 ]

Auction Lots
Mining Records Sold At Auction
The above Mines & Quarries Report Book, together with a Durham Miners Association Minutes Book,
was sold at C & T Auctioneers, Royal Tunbridge Wells, Kent on 15th March 2017.
The Hammer Price was £200 ... plus 21% Buyer's Premium.
Fatal Accident to William Smith at Usworth Colliery
Report by Workmen's Inspectors
William Smith, aged 19. Laid to rest at Holy Trinity Church, High Usworth.
[ Accident: 8th September 1916 ]
TRANSCRIPT:
Victory pit place of fatal accident at drift bottom of West Maudlin.
Accident in our opinion was caused due to the rope of beetle breaking when the set
was half way up the drift the cow failed to hold the set at once & the set ran back
into the landing at the bottom of the drift catching the boy W Smith & causing his death.
we are of opinion it has been a pure accident no negligence attached to anyone.
we examined the refuge holes in the drift & travelling way of the same. we found a quantity of
dust & rubbish in two of the holes & and the other hole completely closed up. we recommend be attended
to without delay we found a number of broken heads in the drift which need attending to at once.
We examined the beetle engine and found it in working order.
Bernard Fitzsimons
James Hedley
GLOSSARY:
Rope of Beetle: steel rope used to pull tubs up an incline.
Drift: an inclined roadway (tunnel).
Cow: a safety device designed to stop a Set (train) of tubs running backwards down an incline.
Landing: in this instance, a place where tubs are loaded/unloaded, organised into sets etc.
Refuge Holes: safe bolt-holes, in the side of a roadway, where men could safely shelter from passing sets of tubs. Must be kept empty!
Travelling Way: a route designated for men to walk along.
Dust: possibly bags of Stone Dust - a yellow cement-like powder, bought-in and used to prevent/quell coal dust explosions.
Heads: likely to be wooden planks used as roof supports, fitted between the roof and the tops of pit props.
Fatal Accident to John Sparnon at Usworth Colliery
Report by Workmen's Inspectors
John Sparnon, aged 18. Laid to rest at Holy Trinity Church, High Usworth.
[ Accident: 10th May 1920 ]
TRANSCRIPT:
Busty Drift & place where Fatal Accident occurred to J Sparnon Jnr.
The Swivel of the Tail Chain broke when Set was
was (sic) leaving top of Drift. By some means the set ran
into Empty Tub Siding at Bottom of Drift & caught John Sparnon
We think that better provision ought to be made at the
bottom of Drift for lads to stay in while set is coming
down the drift
In our opinion it is a pure accident with no blame attached
to anyone.
J. Walmsley
John Walton
GLOSSARY:
Swivel: a coupling between two parts enabling one to revolve without turning the other.
Fatal Accident to Nicholas Lamb at Usworth Colliery
Report by Workmen's Inspectors
Nicholas Lamb, aged 41. Laid to rest at Our Blessed Lady Immaculate Church, Washington Village.
[ Accident: 29th August 1929 ]
TRANSCRIPT:
1st Left Hand coal face
Busty Beaumont Seam the Place Where the fatal accident occurred to Nichol Lamb.
We find that Deceased Was Working in the Right Side of face When a Big Stone
came away Between two Slips in the Roof and caught Him.
in our opinion the Place was Well Timber and a good Supply of Timber and
Straps lying about in the face
in our opinion it Was a Pure accident and No Blame to anyone.
Patrick Kelly
GLOSSARY:
Strap: a length of timber (or corrugated steel) used to support the roof - held in position by two pit props.
[ N.B. All Serious Incidents were investigated by Highly Qualified & Experienced Engineers from H.M. Inspectorate of Mines. Their inspections and reports were meticulous.]