---
Memories of Usworth
Boxer Jack Harbin
---
JACK HARBIN, the pitman middleweight from Usworth, carved a niche in boxing's hall of fame by twice defeating 'cast-iron' Jack Casey. It is true that, subsequently, Casey left him well behind in the pugilistic heights, but if Harbin never achieved anything more that double success over the illustrious 'iron man' assures him of a place in British boxing history.
When one reflects on Casey's post-Harbin achievements, the Usworth miner's double win over him entitles Harbin to claim, "Well, I accomplished what precious few other opponents have done." Modest Harbin made no such claim, speaking in retrospect and with characteristic humility, the Usworth lad said, "It's a piece of luck, I did not have to meet Casey when he was fighting at his best."
Let us go back to the Holmeside Stadium on the Saturday night of January 1929, when Harbin and Casey clashed in a 12-round support to the drawn bout between Sonny Bird and Franz Kruppel. I had the privilege of refereeing both contests. James Douglas reported in the Sunderland Echo: "Casey started on the aggressive but found Harbin's left jabs very troublesome. Casey was well able to mix his deliveries, however, which helped him greatly in the scoring business. Both were clever in eluding punishment and kept up a wonderfully fast rate. In the seventh round Harbin had the pull but Casey rallied during the next session. Harbin was the more skilful, besides having a powerful punch, and he well deserved the verdict on points."
RETURN MATCH
Tom Murphy, matchmaker at St James's Hall, Newcastle, secured a return match, and this is how R.B.G. Greenfield, the well known Tyneside authority, described the fight: "The meeting between Jack Harbin and Jack Casey produced some hefty punching, and one of the hardest battles seen for some time went to the bitter end."
"The pace was a cracker all the way, with Casey continually on the attack. Harbin, however, met his advances with a clean straight-left and on occasion landed right-hooks, one of which put Casey's left eye into mourning in the third round. This disadvantage did not deter Casey, who joined in the 'hammer and tongs' exchange with gusto. In the sixth and ninth Harbin was shaken to his heels by rights to the jaw, but the Usworth boy never forgot his left hand, and generally managed to keep the aggressive Casey away."
"In the later rounds Harbin showed up cleverly in attack and defence, but always the clean left hand was his scoring medium, and he won a points award."
BUY GLOVES
Son of Henry Harbin, also an Usworth miner, Jack was the nephew of Jack Harbin, a much feared bare-knuckle fighter. Young Jack and brother Harry used to spar on the kitchen rug with towels wrapped round their hands, that is until father was able to buy a set of boxing gloves. Mother Harbin frowned on boxing but was gradually reconciled to the art when other young fighters called for tea and spun spectacular yarns about the glamour of the ring.
One of Harbin's early fights was against George Coll, a West African who settled in North Shields. When Jack got into his corner and glanced across at his opponent, with a skin as shiny as the coal Harbin was accustomed to hewing in the pit, he was all for turning tail until reminded that Coll - really the most placid of men outside the ring - might not be as fearsome as he looked.
Harbin need not have worried, Coll was no Battling Siki and there was to be no Carpentier-like 'massacre' on this occasion. Harbin proceeded to carve out a handsome victory, again with the aid of his trusty left hand. The game coloured man, beaten all ends up, was saved from further punishment when the referee stopped hostilities in the sixth round.
BIZARRE CHARACTER
Harbin twice met Peter Furmark, a bizarre character, who campaigned under the fighting name of 'The Doctor'. Furmark, a dapper moustachioed young man, ran his own shows at a converted warehouse in Prudhoe Street, North Shields. He was much sought after by outside promoters but he preferred to cash in on his undoubted popularity at his own arena. Furmark had two full houses for his double tilt at Harbin but the best he could do was draw with the Usworth boy. The other bout was won on points by Harbin, who foiled all his antagonist's attempts to make a close-range fight of it.
Fighting among his 'ain folk' at Washington, Harbin was always in sparkling form, beating men like Ted Pearson, Jack White, Jack Bullock and Jim Brand. In a middleweight competition at Morecambe, the Usworth pitman was made a hot favourite when he beat Sergeant Livesey. Unfortunately, though beating Hal O'Neill in the next stage, he was eliminated for failing to scale the required weight.
Harbin used to say the toughest man he ever opposed, apart from Casey, was Willie Antonowitz, one of a number of German boys who trained and campaigned from Sunderland. Harbin and Antonowitz met before a jam-packed crowd at the Princess Ballroom, Ashington. Harbin supplied all the science, and coasted through the first few rounds. He seemed able to score at will, but the Touton displayed remarkable powers of assimilation. Only once Harbin appeared at a loss to combat the invulnerability of the advancing Antonowitz. One would not have given a brass farthing for Antonowitz's chances at the halfway stage but, urged on by the excited onlookers, he fought splendidly against the Usworth fighter who had failed to put him away with practically the entire repertoire of punches at his command. When, at the completion of 15 of the most thrilling rounds of fighting ever seen in a Northumbrian pit-town, the referee declared a draw, Harbin confessed that his gallant opponent had fully earned it.
Harbin's farewell fight, a losing one to Doncaster's Harry Pye at the Windsor (...) Leeds, earned him the greatest ovation of his career. Harbin was handicapped by a cut eye in the third round, but fought on to the tenth, when the referee called a halt. Spectators, officials, attendants and the programme sellers applauded as Hardin left the ring.
Jack Harbin followed his occupation as a miner (...) but in recent years he has enjoyed good health and is, at present, recuperating in a Yorkshire rest home.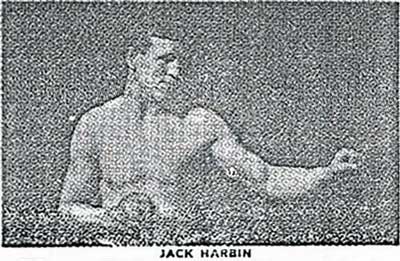 RECORD OF JACK HARBIN
(Born October 26, 1907)
1925
Oct
Nov
1926
Jan
Feb
Apr
June
July
Aug
Oct
Oct
Oct
Dec
Dec
1927
Jan
Feb
Mar
Mar
Mar
Apr
May
May
May
June
July
Aug
Oct
Oct
Nov
Nov
Dec
1928
Jan
Jan
Mar
Mar
Apr
May
July
July
Aug
Aug
Aug
Sep
Nov
Nov
Nov
Dec
1929
Jan
Feb
Mar
Apr
Aug
Sep
Oct
Nov
Nov
Dec
Dec
1930
Jan
Feb
Feb
...
...
...
Nov
1931
Jan
31
21
9
13
17
5
3
14
2
9
16
11
13
...
12
5
11
27
23
7
14
18
4
15
19
7
28
11
18
16
13
21
2
10
29
30
7
28
10
17
30
21
1
12
17
21
12
9
2
6
3
8
19
5
17
2
26
20
12
25
...
...
...
28
4
Young Reeves
Jimmy Streets
Young Feeney
Ted Pearson
Ted Pearson
Jim Marshall
Ted Pearson
Harry Bolam
Dick Lancaster
George Coll
Jack Gurk
Frank Pybus
Jim Mappleb...
Jack ...
'The Doctor'
Guardsman Fagan
George Thompson
Jack Bullock
'The Doctor'
Jack White
Joe Horsfall
Peter Kelly
Ted Pearson
Jack White
Jack White
Jim Brand
Jack Bullock
George Thompson
Harry Greb
Tommy Tate
Peter Kelly
Pat Brady
Tommy Tate
Peter Kelly
Jack Smith
George Hetherington
Syd Watson
Joe Horsfall
Marine Ryan
Arthur Bowen
Pat O'Brien
Peter Kelly
Peter Kelly
Pat O'Brien
Con Van Lenween
Willie Antonowitz
Jack Casey
Dino Guiselli
Jack Casey
Pat O'Brien
Farmer Jackson
Jack Bottomley
Jack Marshall
George Porter
Joe Lowther
Sam McVea
Sergeant Livesey
Jack Stephenson
Hal O'Neill
Arthur Rees
Seaman Cox
Jim Pearson
Billy Adair
Joe Woodruffe
Harry Pye
W
L
W
L
W
L
W
W
W
W
D
W
W
W
D
W
D
W
W
W
W
W
W
W
W
W
W
L
W
W
D
W
W
W
W
L
L
W
W
D
L
W
D
L
W
D
W
W
W
L
L
W
W
W
L
D
W
D
W
L
D
L
D
L
L
ko
ko
rtd
dis
rsf
ko
pts
pts
ko
rsf
-
rtd
rtd
...
-
ko
-
pts
pts
pts
rsf
pts
ko
pts
pts
pts
pts
dis
pts
pts
-
ko
rtd
pts
rtd
rtd
pts
rtd
rtd
-
pts
pts
-
pts
pts
-
pts
pts
pts
rtd
pts
pts
pts
pts
pts
-
pts
-
pts
pts
-
pts
-
pts
rsf
1
4
3
3
5
3
6
6
2
6
10
4
5
10
10
7
10
10
10
10
5
10
3
10
10
10
10
8
10
10
10
2
7
10
3
4
10
6
6
10
10
10
10
15
12
15
12
12
12
7
12
10
15
12
15
15
8
12
12
15
15
15
15
12
10
Sunderland
Sunderland
Newcastle
Sunderland
Sunderland
Newcastle
Sunderland
Newcastle
Newcastle
North Shields
Sunderland
Newcastle
North Shields
Newcastle
North Shields
North Shields
Newcastle
Tyne Dock
North Shields
Tyne Dock
Newcastle
West Stanley
Washington
Washington
Newcastle
Washington
Washington
Newcastle
West Stanley
West Stanley
West Stanley
Sunderland
Newcastle
Sunderland
Newcastle
Consett
South Shields
Chester-le-Street
Plymouth
Plymouth
Newcastle
Ashington
Ashington
Darlington
Sunderland
Ashington
Sunderland
Sunderland
Newcastle
Newcastle
Sunderland
Leeds
Sunderland
Manchester
Leeds
Hartlepool
Morcambe
York
Morcambe
Manchester
Preston
York
Mile End
Preston
Leeds

The above is a transcript of an original article written by Sunderland Echo boxing correspondent, Fred Charlton (Date unknown)
---
Please Note:
Fred's article was supplied as a poor quality photocopied press cutting. Many words were barely legible and several sentences had to be reconstructed.
Using a bit of deduction and a small amount of guesswork, I've attempted to reproduce a verbatum testiment to Jack Harbin from Fred's original.
Apologies to Mr Charlton for any errors that I may have introduced. Jim
---
Who was 'Cast-Iron' Jack Casey?
Quotation from punchlineboxing.co.uk: Born 22nd September 1908 in Southwick, Sunderland, Jack Casey would go on to a boxing career that saw him fight for the British Middleweight Championship and amass a record of two hundred and twenty four fights.
---