---
Memories of Washington
Dunkirk Farm (1/2)
---
Steam Fair at Dunkirk Farm
( Farmhouse - West of Sheddon's Hill )

Steam / Traction Engine Fair
Organised by John Younger, Tenant of Dunkirk Farm - Early 1960s
[ Picture from Adrian Lupton. Info from Bob Peacock, whose family farmed 18 acres of nearby Black Fell. ]
Note Dunkirk Farm House and Sheddon's Hill, both on the horizon. The Mill House is half a mile away, off-picture, centre-right.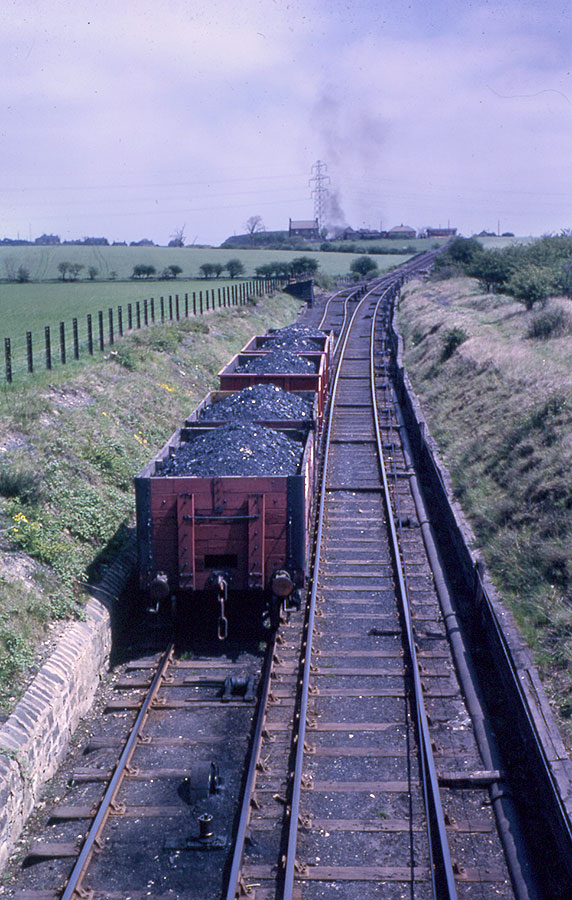 Blackfell Incline
[ Photograph taken by Colin E. Mountford, 27 May 1970, for the front cover of his Book, Rope & Chain Haulage. ]
Note Dunkirk Farm House. Sheddon's Hill is off-picture, right-horizon.
The track curves left at the top of the incline and passes Blackfell Hauler House en route to Eighton Banks railway crossing.

Dunkirk Farm, Sheddon's Hill & Eighton Banks
[ OS Map: 1888 - 1913 ]
It looks like the Steam Fair took place in front of the Farm House, in a field North of the Railway. What do you think?

The Track leading NW, from Dunkirk Farm to Long Bank, provided access for vehicles and equipment.
Please Note: Dunkirk got its name long before World War 2.