---
Memories of Washington
The Pageant of 1933 - Dame Margaret's
---
WASHINGTON PAGEANT 1933
Author: Winifred Waite
"A friend gave me some lovely old photographs of newspaper cuttings about a pageant that took place in
Washington in 1933. I've reproduced them below, together with a copy of the programme for the event.
The pageant was written by the Reverend Cyril Lomax, Rector of Washington, as a celebration of the
centenary of the Washington Parish Church."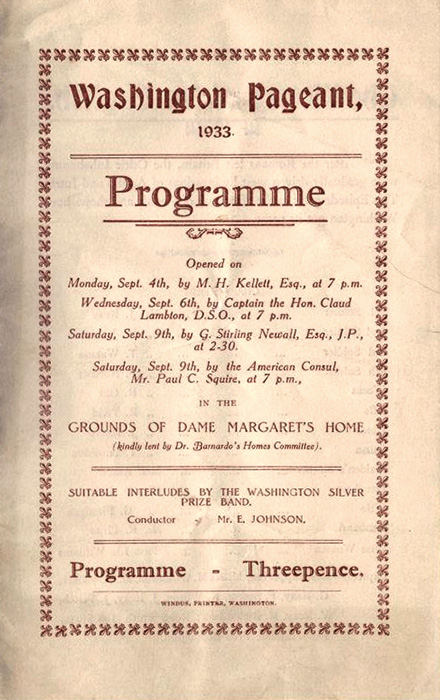 Venue: Dame Margaret's Home

John de Wessington and his Page
The Washington Pageant of 1933
( All original cuttings belong to Winifred Waite. )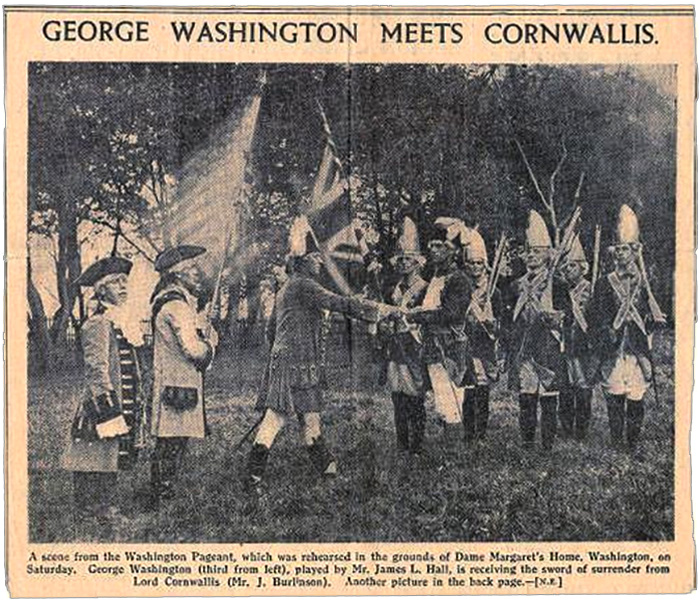 British General Charles Cornwallis surrendered to General George Washington at Yorktown, 19th October 1781.

The Reverend Cyril Lomax (Pageant Designer/Manager) with The Lambton Worm (Dragon)
Our thanks to Mrs Waite for giving everyone the opportunity to see these superb press cuttings.
They were originally posted on the AboutMyArea website, 14th May 2009.
• • ◊ • •
The Oxford English Dictionary defines Pageant as: Noun, "A public entertainment consisting of a
procession of people in elaborate, colourful costumes, or an outdoor performance of a historical scene."
---