---
Memories of ...
Usworth's Jimmy Hagan
---

Alfie Hagan - Miner & Professional Footballer
---
Alfie Hagan (Father)
THE HAGANS
by Colin Hagan
(b. 19th January 1937)
Part 1
My father was Alfie Hagan, he worked as a coal miner at Usworth Colliery in the 1920s. He also played football for Newcastle United. He lived at Waterloo, which was just next to Usworth Colliery. When he went for training at Newcastle, he used to get a pony and trap ride to Felling (which cost him a penny halfpenny) then from Felling, a train ride to Newcastle. He used to get £2 10s for working down the pit, and another £2 for playing for Newcastle. He was transferred to Cardiff City, before finishing his playing days at Tranmere.
My brother, Jimmy Hagan, played for Usworth Colliery School in 1932. He also played for Durham County Boys and then England Schoolboys. He first played for St. Joseph's School, as they were catholics. My father had an altercation with the Catholic Priest and punched him on the nose, which was not exactly the thing to do in those days. Anyway, my father took his daughters and my brother away from St. Joseph's. I wasn't around at that time, but when I came along, I was brought up as a Catholic in a Protestant school.
(1 of 4)
---
This account was written by a member of the Hagan family - Colin Hagan.
He later made it freely available to the people of Washington.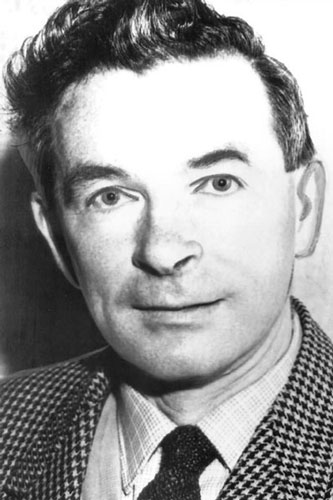 Jimmy Hagan - Professional Footballer & Manager
---
Jimmy Hagan (1918-98)
THE HAGANS
by Colin Hagan
(b. 19th January 1937)
Part 2
After finishing school at 14 years old, my brother was signed by Liverpool. He was there for about three months and then came home. He said to my father, "I went to Liverpool to play football, not to work in a timber yard." In those days, apprentices were given jobs during the day and Jim was stuck in a timber yard, which he didn't like. He was then signed up for Derby County and was playing for their first team when he was 16 years old. He played one game for Derby County at Roker Park. They say there was a crowd of 76,000 there.
From Derby, Jim was transferred to Sheffield United for a sum of about £1,500. He played a few representative games for England during the war, when he was in the Forces. He was also selected for England in the 1950s against Denmark.
After finishing playing when he was 41, he went into management starting at Peterborough, when they were in the Midland League. He took them into the Fourth Division, at the expense of Gateshead, then into the Third Division.
(2 of 4)
---
This account was written by a member of the Hagan family - Colin Hagan.
He later made it freely available to the people of Washington.
Colin Hagan (Brother and author of this article)
---
THE HAGANS
by Colin Hagan
(b. 19th January 1937)
Part 3
Jimmy went from Peterborough to West Bromwich Albion, and he took them to two League Cup Finals at Wembley. From West Brom he went to Benfica in Portugal. He led them to three league championships and a semi-final in the European Cup when they got beat 1-0 by Ajax of Holland. He coached a couple of lesser clubs in Portugal, and then retired at 64 years old. So from the age of 14 till he was 64, he was involved in the magic game of football which he loved.
He stayed in Portugal in his later years then he and his wife came back to England as he was suffering from Altzheimer's Disease. He died six years ago. He has a daughter Jackie living in London, and a son David living in Chester.
Going back for a minute to talk about Usworth Colliery School. I played for the school team in 1952. We won the County Cup and it was quite an achievement for a little football team from Usworth. There were about 116 teams in the competition and Lol Hedley was our captain. Our opponents were a Grammar School from Stockton. They were 16 year olds compared to us 14 year olds. The game was played on a Friday afternoon at Stockton. There were 27 buses lined up and down Front Street, to take our supporters to the game. We beat Stockton 3-1 and got presented with the County Cup. I might be mistaken but I don't think a team from Washington or Usworth won the County Cup again.
Lol Hedley was the greatest young player I have ever seen in my lifetime. He was one young guy who deserved a chance with a big club. He was like the rest of us working down the mine, and this soon snuffed out any natural football talent.
(3 of 4)
---
This account was written by a member of the Hagan family - Colin Hagan. He later made it freely available to the people of Washington.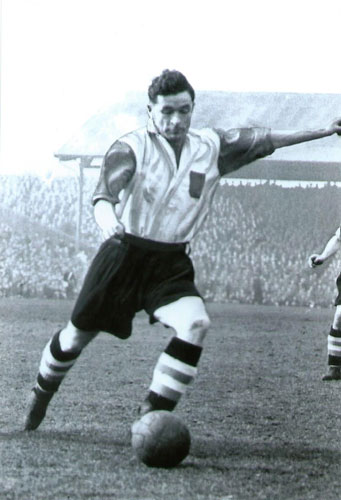 Jimmy Hagan - Inside Forward
---
Jimmy Hagan (1918-98)
THE HAGANS
by Colin Hagan
(b. 19th January 1937)
Part 4
Born in Usworth, January 1918
Jimmy attended St. Joseph's and Usworth Schools. It was inevitable that he became a footballer, football was in his blood. He was a pleasant looking young man, it was his determination and love of the game which took him to the top, and I think one of his moments of glory was being presented to King George VI when he represented his country.
He was a brilliant player, not only scoring goals, but he dribbled the ball as if a magnet was attached to his boots, he should have been called 'Golden Boots'.
English teams and foreigners would have been bartering for his signature, his name would have been commercialized, on T-shirts, strips, boots etc. He would have been fêted like David Beckham is today, a hero.
© Colin Hagan 2004
(4 of 4)
---
This account was written by a member of the Hagan family - Colin Hagan.
He later made it freely available to the people of Washington.
Jimmy Hagan meets King George VI

England's Captain Stan Cullis (Wolves) introduces his team to King George VI before England play Scotland at Wembley
( Wartime 'Friendly' International - 19th February 1944 )
R-L: Leslie Smith (Brentford), Stanley Matthews (Stoke City), Jimmy Hagan (Sheffield Utd) and Joe Mercer, Tommy Lawton & Cliff Britton (all Everton)
---
The Royal Box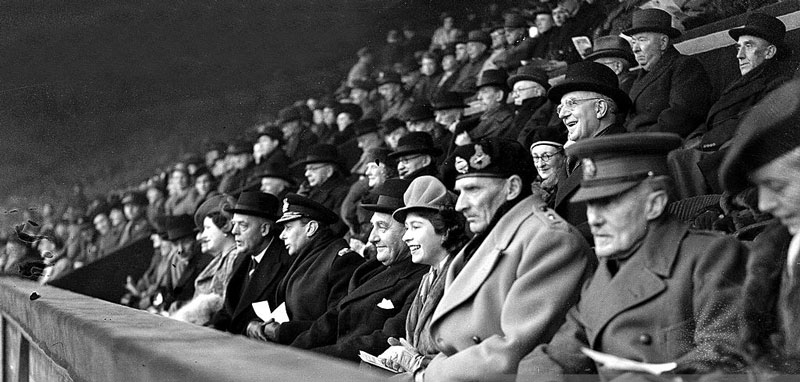 Queen Elizabeth, King George VI, Princess Elizabeth and Field Marshal Montgomery [Photo by GettyImages, Popperfoto]
---
ENGLAND v SCOTLAND
Wembley Stadium
19th February 1944
Because this game was played during World War II, it wasn't recognized as an official international match and it was designated as a 'Wartime International'. The game ended in a 6-2 victory to England with Jimmy Hagan scoring two of the England goals. The others were scored by Raich Carter, Tommy Lawton, Joe Mercer and an own goal. It was Jimmy's 13th 'wartime appearance' during which he scored 12 goals. By the end of the war his tally had risen to 13 goals from 16 games. Incredibly, he was to win only one solitary cap in official internationals. This came in 1948 when he played for England against Denmark in Copenhagen.
---
Jimmy Hagan's Cap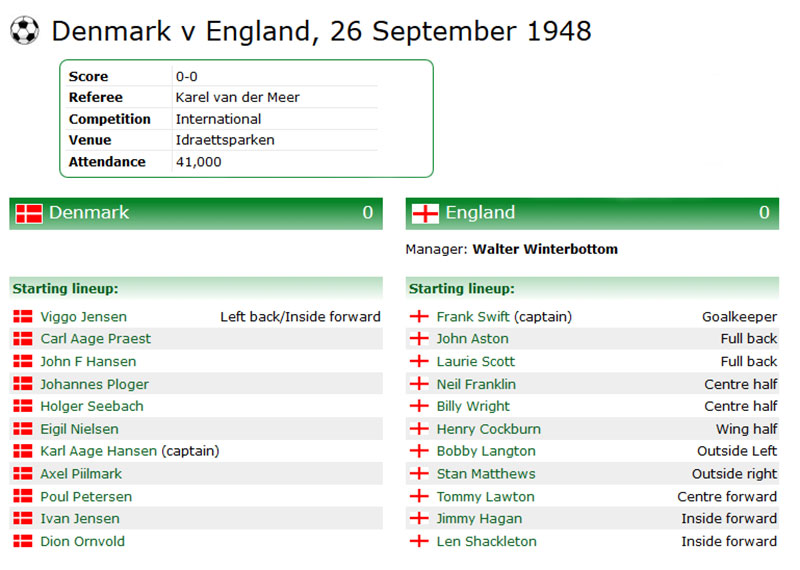 The Players - Denmark v England (1948)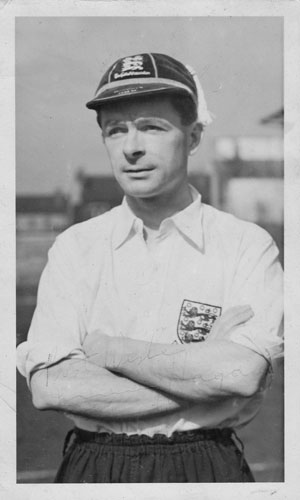 Signed: Best Wishes, Jimmy Hagan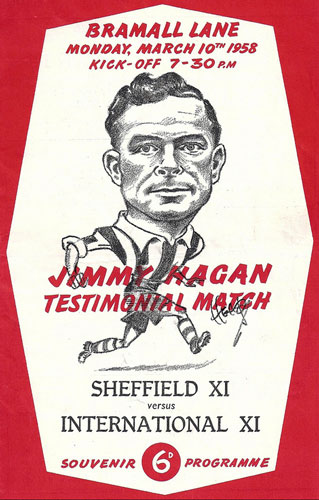 Jimmy Hagan's Testimonial Program
Jimmy Hagan's Testimonial Match
SHEFFIELD XI v INTERNATIONAL XI
Bramall Lane
(10th March 1958)
Jimmy Hagan retired from playing football in the late 1950s and was awarded a testimonial match. The game was played at his home ground, Sheffield United's Bramall Lane, and matched a team of players from Yorkshire clubs against an all-star International XI. The match was watched by 29,166 spectators and ended in a 4-3 victory to Jimmy's team, the all-stars.
SHEFFIELD XI
Hodgkinson (Sheffield Utd)
Coldwell (Sheffield Utd)
Makepeace (Doncaster Rovers)
Williams (Rotherham Utd)
Shaw J. (Sheffield Utd)
Keyworth (Rotherham Utd)
Wilkinson (Sheffield Wed)
Quixall (Sheffield Wed)
Chappell (Barnsley)
Graham (Barnsley)
Hawksworth (Sheffield Utd)
INTERNATIONAL XI
Harry Gregg (Man Utd & Ireland)
Jimmy Armfield (Blackpool & later England)
Alf McMichael (Newcastle Utd & Ireland)
Danny Blanchflower (Spurs & Ireland)
Billy Wright (Wolves & England)
Dave Bowen (Arsenal & Wales)
Stanley Matthews (Blackpool & England)
Jimmy Hagan (Sheffield Utd & England)
Brian Clough (Middlesbrough & later England)
Jimmy McIlroy (Burnley & Ireland)
Tom Finney (Preston NE & England)
Jimmy Hagan's Autographs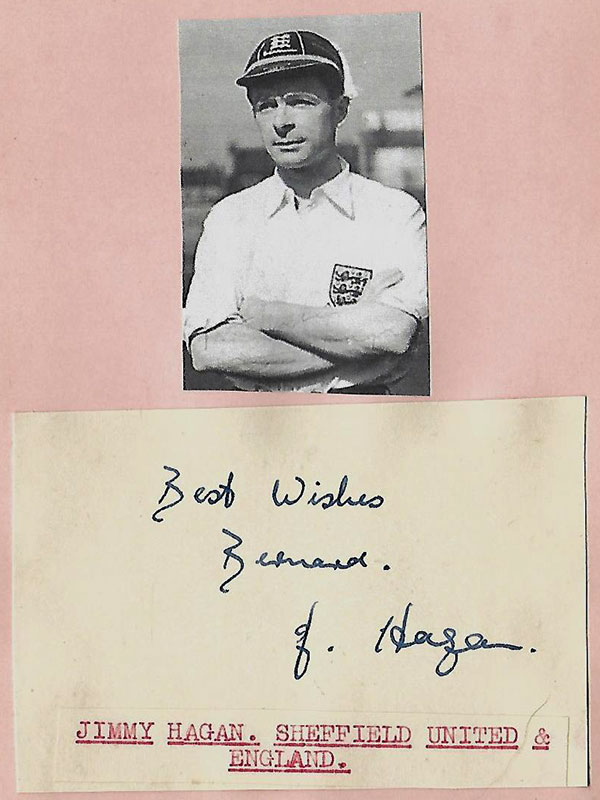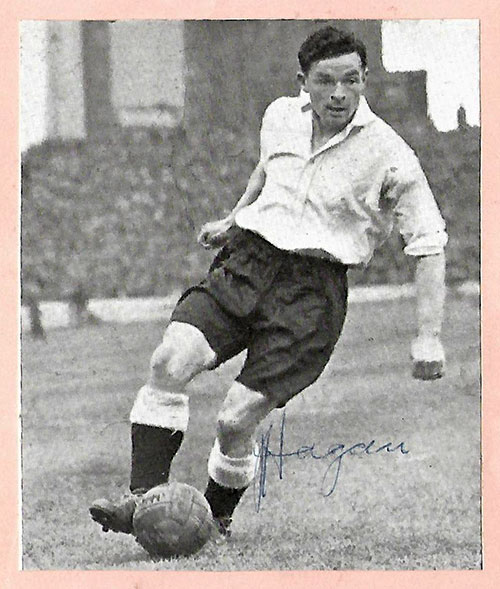 Note the laced-up Ball, with dubbin on, and Boots with Leather Studs.
---
Jimmy Hagan's Career
PERSONAL
Full Name:
Date of Birth:
Place of Birth:
Date of Death:
James Hagan
21 January 1918
Washington, Co. Durham
26 February 1998
CLUB
1933
1935-38
1938-58
Liverpool
Derby County
Sheffield Utd
App's / Goals
0 - 0
30 - 7
361 - 117
App's / Goals
16 - 13
1 - 0
MANAGEMENT
1958-62
1963-67
1970-73
1976-77
1978-79
1979-80
1980-81
Peterborough
West Bromwich Albion
Benfica (3 consecutive League Titles)
Sporting Clube de Portugal (Lisbon)
Boavista
Vitória Setúbal
Belenenses
---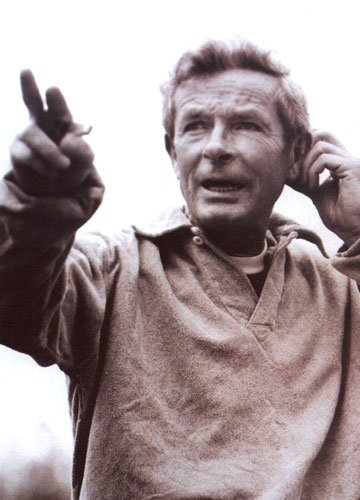 Jimmy Hagan - Manager & Head Coach
Jimmy Hagan - Manager / Head Coach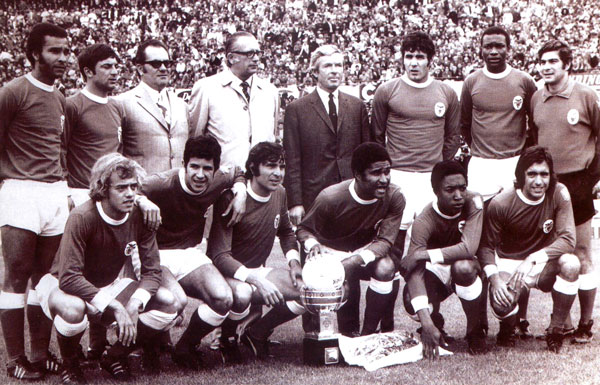 Benfica, Champions of Portugal (1972/73)
BR: Zeca, Vitor Martins, Fernando Neves (Director of Football), Borges Coutinho (Club President),
Jimmy Hagan (Head Coach), Toni, Messias and José Henrique
FR: Artur, Nené, Jaime Graça, Eusébio, Jordão and Adolfo
Rebellion at W.B.A.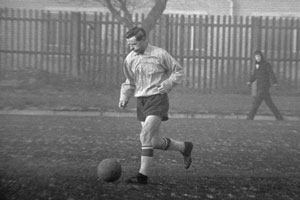 The West Brom Manager alone in the cold
In 1963 a group of West Brom first team players took exception to their manager's training methods - partly because they had to wear shorts in the cold weather. They wouldn't train because Hagan had refused to let them wear track-suit bottoms. Hagan trained alone.
Things got worse when he later backed his car into the nearby canal and had to be rescued by his rebellious players. After being hauled to safety by one out-of-breath player, Hagan turned and said, without a hint of humour: "You seem out of breath to me ... are you not fit?"
Hagan was still at West Brom four years later - that speaks volumes! [Source: Birmingham Mail]
---
Last Word from Eusébio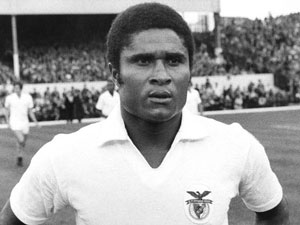 Eusébio - one of the world's greatest footballers
Speaking to the press prior to the dedication of Jimmy Hagan's statue at Sheffield United's Bramall Lane in 2001, Eusébio said:

"Jimmy is still in my heart to this day ... He was my coach at Benfica between 1970 and 1973 and I remember him being a manager who knew how to handle players well. He always offered me good advice and told me where I should be playing to get the best out of me."
"He was also a strong disciplinarian and when he first arrived, we were surprised by the physical preparation for games. All the players thought his training schedules were too punishing and some were physically sick after the first training session. But after a while, they realised it was worth it as we started winning games. He gave us the extra strength and he is the reason Benfica won three successive championships."
"It will be a very emotional moment when I unveil the statue. Jimmy deserves this recognition because he was a good player, a wonderful manager and a great man."
[Source: Sheffield United's Official Website]
---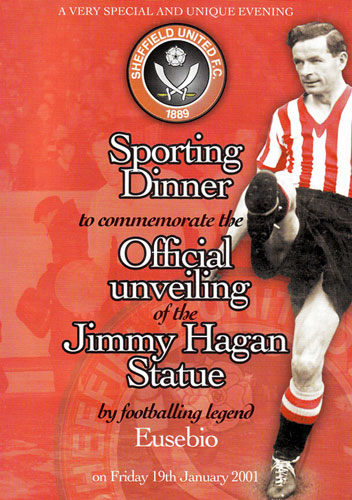 Guest of Honour: Eusébio da Silva Ferreira
---