---
Memories of ...
Washington Glebe Farm
---
The Glebe Farm

[ Picture: Thanks to Adrian Lupton ]
Map Showing Fields & Crops

[ Supplied by owner, Doris Jones ]
PERSONAL MEMORY
Follow the path from Village Lane (top-centre), over the Washington Wagonway, and continue South to pass the East side of Glebe Farm.
Continue on this footpath when it turns West to Oxclose Burn. Note the trees around The Burn. That's Oxclose Dene.
[ If you'd like to read Lorna Prudhoe's poem, Oxclose Dene, Click Me. ]
Typed Version of Above
One of the Trees in the Farmhouse Picture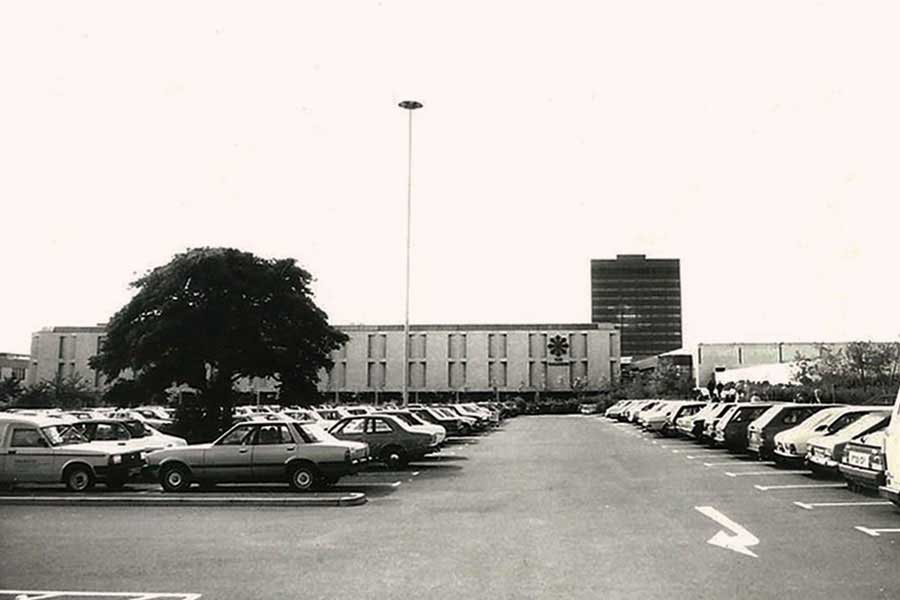 WASHINGTON GALLERIES
( East Car Park )
The Farm Buildings were to the right (North) of this Tree. It stood in the car park for many years before its removal.
[ Information: Thanks to Adrian Lupton. ]
The Location of Glebe Farm

Location identified by superimposing an old map over a modern map.
Note the Car Park road junction, just south of the Cross.
WASHINGTON GLEBE FARM
Glebe Farm buildings were centred around the white cross in The Galleries Shopping Centre car park.
Glebe: Land that provided income for a Church and its Rector - in this case, Holy Trinity.
[ A Special Thanks to Doris Jones for contributing her Map and inspiring this article. ]