---
Memories of Washington Moor
Blackfell Sanatorium
---
BLACK FELL SANATORIUM
( LOCATION )
BLACK FELL SANATORIUM
( A HISTORY IN PRESS CUTTINGS )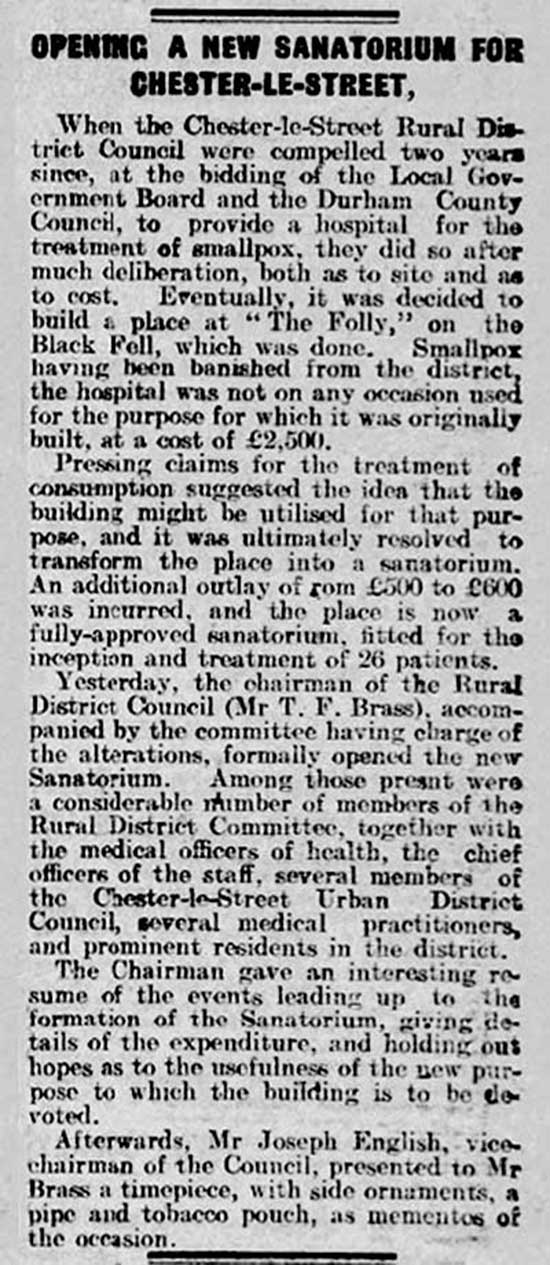 THE NORTH STAR
18 June 1909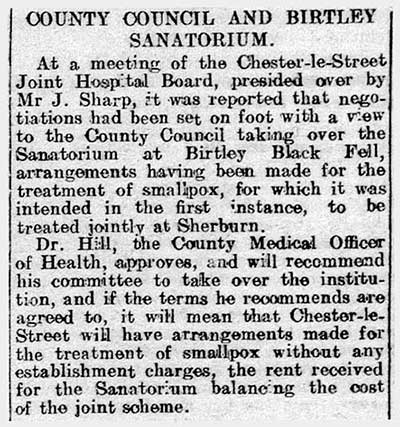 THE NORTH STAR
8 July 1916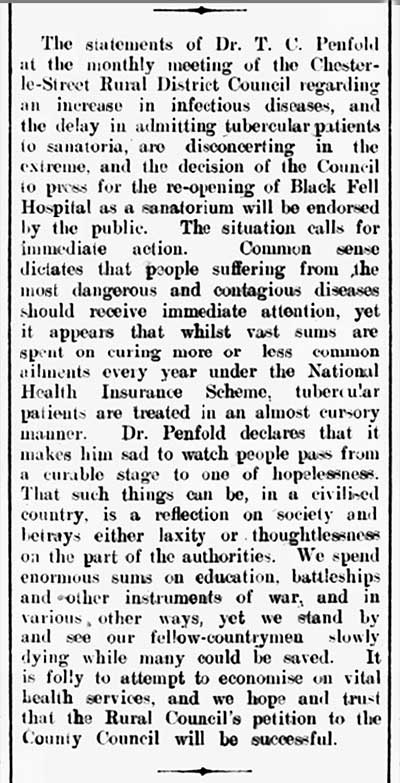 CHESTER-LE-STREET CHRONICLE
27 June 1930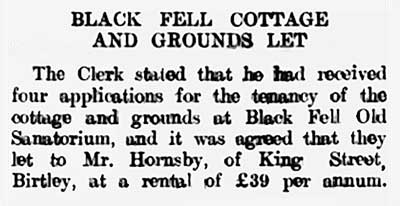 CHESTER-LE-STREET CHRONICLE
11 December 1936

SUNDERLAND ECHO
30 July 1949
[ Press Cuttings: Courtesy of Washington History Society ]
BLACK FELL SANATORIUM
( Later, Blackfell Caravan Park )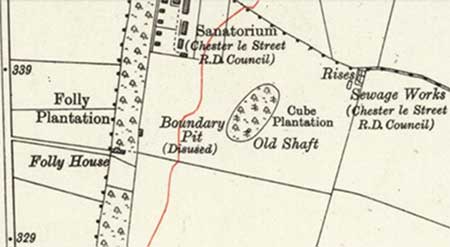 OS MAP 1921

OS MAP 1952
The above Maps show the Sanatorium location in 1921.
By 1952 the grounds had become a Caravan Park and the Sewage Works had gone.
Looking at the British Newspaper Archive, Maps and Census Records, the CLS DC Sanatorium opened in 1909.
Taken over by Durham County Council in 1916, it had 11 staff and 25 patients in 1921. It closed by 1930.
The council's request for it to be reopened was rejected, so it was privately rented out in 1936.
It does not appear in the 1939 register. By 1952 it had become a residential Caravan
Park with a Social Club. Local people could be signed in for their events.
BLACK FELL RESIDENTIAL CARAVAN PARK
[ Map Extracts, Aerial Photograph & Information: Courtesy of Washington History Society ]
Caravan Park Residents
RALPH BONNY
Mr Bonny was a PE & Form Teacher who taught English and Mathematics at Usworth Colliery Senior School.
He lived for sometime at Black Fell Caravan Park and travelled to School on his Motor Scooter.
( Recollection from an Authoritative Source )
ROBERT YOUNG
While discussing the Blackfell Caravan Site Article in a telephone conversation with my Brother Bob, who now lives in Gold River,
Vancouver Island, Canada, he passed on some old memories. Bob lived on the Site for sometime. Having served his apprenticeship
with NEEB, he went on to work for Vibroplant (Birtley) and later Cleveland Bridge Co. Bob recalls that the Caravan Site had no
mains power and relied on generators; there were at least two. The Club House and the Owner's House had their own generators.
( Thanks to Bob's Brother and regular contributor to this Website, Malcolm Young. )
LOCATION OF FORMER SANATORIUM & CARAVAN PARK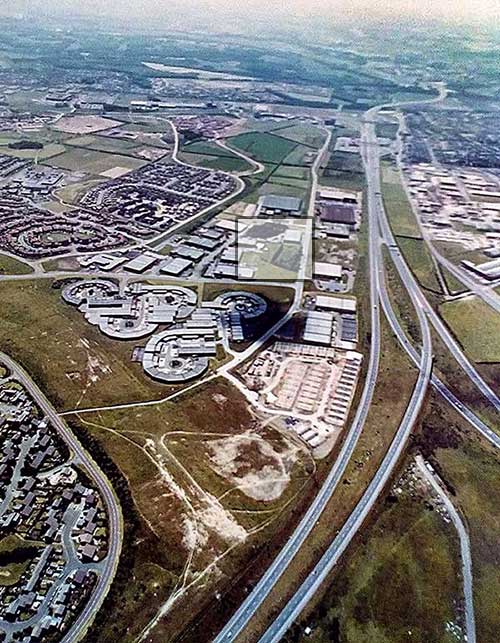 CROWTHER INDUSTRIAL ESTATE
N.B. The Plantation and other Dark Item in the Black Box are part of the original photograph.
[ Photo: Thanks to Adrian Lupton ]
Appeal from Washington History Society
If anyone has any Photographs, Documents, Stories etc. relating to the Sanatorium / Caravan Park,
and they'd like them recorded for posterity, W.H.S. would be delighted to hear from you at:
washingtonhistorysoc@gmail.com