---
Memories of Washington
Usworth Quarry Pond
---
USWORTH QUARRY POND
RESEARCHED BY WASHINGTON HISTORIAN LEO BOTTOMS
Written & Published by Daughter Monica - Local History Book On The Doorsteps oF Washington

OS MAP: Six Inch, 1888-1913
[ Please note: The Old Hall is not Washington Old Hall, it's Usworth Manor House. ]
• • ◊ • •
USWORTH MANOR HOUSE

The L shaped Old Hall, see above Map.
Manor Road at Top of Bank. Coal Depot at Bottom.
Today's Usworth School (left) and Richardson Terrace (right)

The Old Hall
Viewed from Top of Bank.
Compare the Gable End in both photographs.
• • ◊ • •
USWORTH MINERS' WELFARE HALL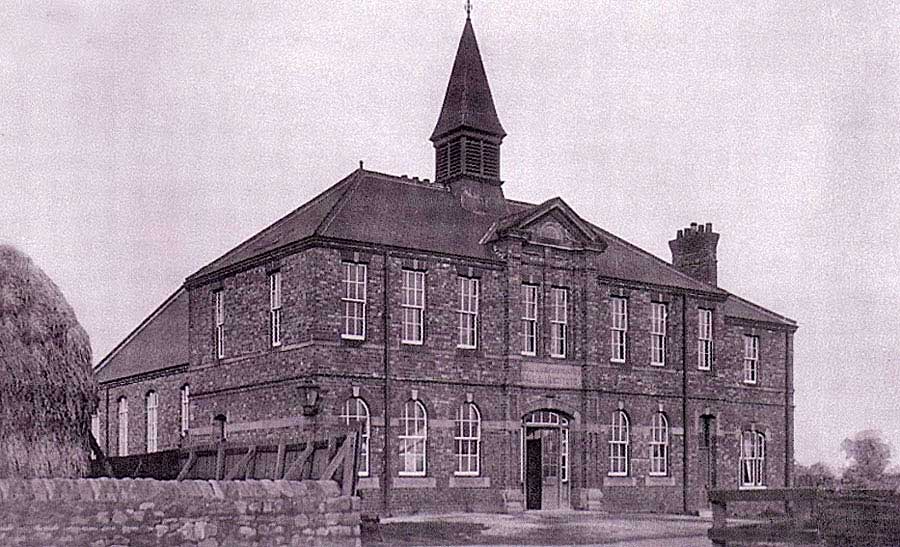 Note the Haystack, and the Farm Buildings on the Map - between Old Hall and Miners' Hall.
• • ◊ • •
VIEWS OVER USWORTH'S DEADLY POND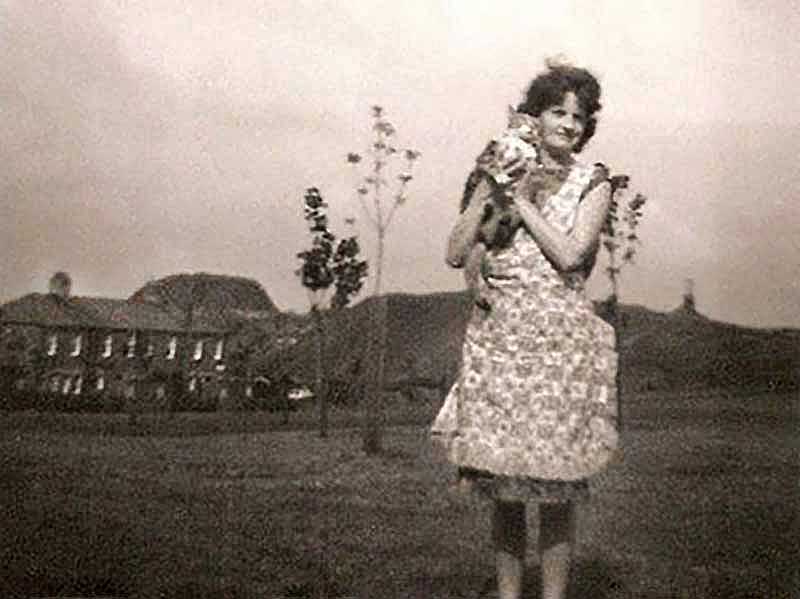 View from Tyne Gardens to Don Gardens - 1965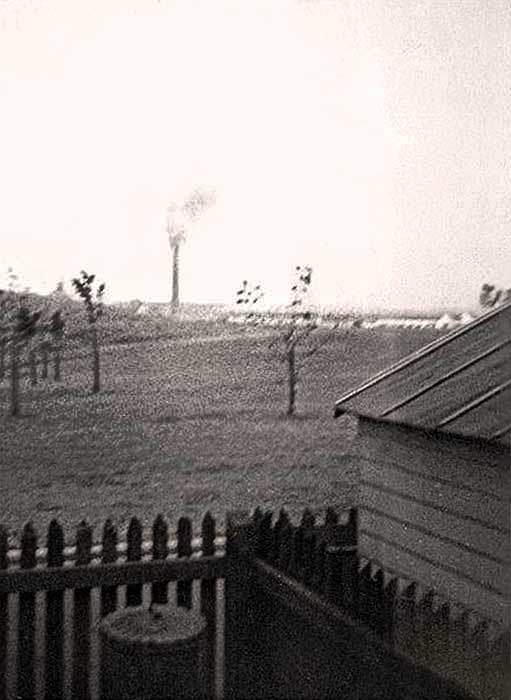 A Tyne Gardens Backyard
Mrs Jean Ward, Tiddles and the reclaimed Quarry / Pond / Pit Heap between Tyne Gdns & Don Gdns
Usworth Pit Heaps and Headgear, Usworth Brickyard and the Community of Usworth Colliery.
The 'Railway to Road' Coal Depot is bottom of Don Gdns, right of Jean, off-picture.
[ Thanks to Anne Jenkinson. ]
• • ◊ • •
SINGLE ROW & QUARRY ROW
Note the Bridge over The Burn and the Track up the Pit Heaps leading to Usworth Colliery.
• • ◊ • •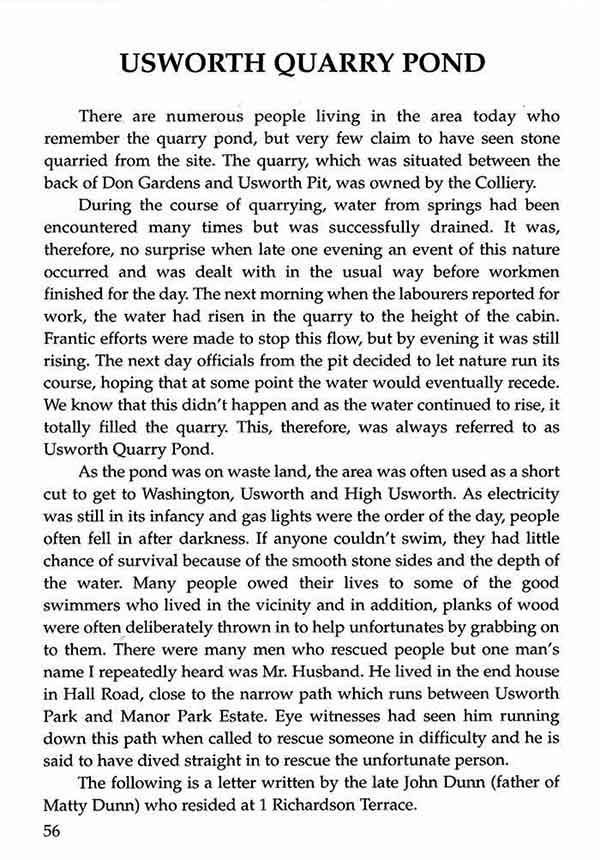 3 Pages extracted from On The Doorsteps Of Washington
One of many Local History Articles in this Book.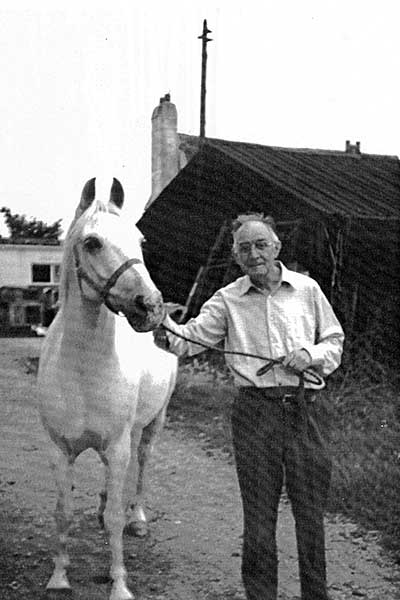 Leo Bottoms
Washington Historian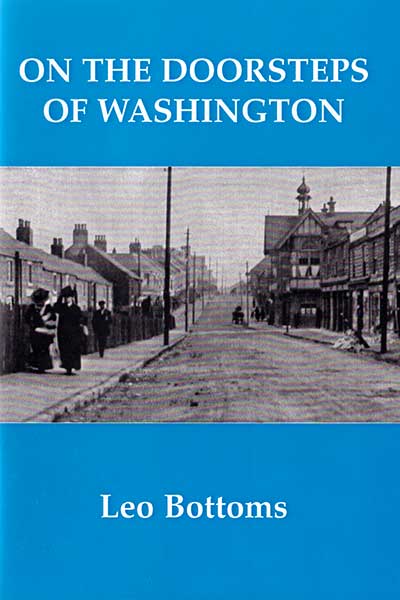 Written, Edited & Published
by Monica Bottoms

Master Butcher, Billy Stubbings with Monica Bottoms.
The above Books contain Monica's rewrites of her Father's Research.
( Sadly, both out of print. )
• • ◊ • •
SUNDERLAND ECHO & SHIPPING GAZETTE

15th July 1914
[ Press Cutting: Courtesy of Washington History Society. ]
• • ◊ • •
A CENTURY LATER

The former Site of Usworth Quarry / Pond / Pit Heap
Bordered by Don Gardens, Tyne Gardens, Manor Road and A195, Northumberland Way.
[ Thanks to Google Earth ]
• • ◊ • •
This article was inspired by Leo & Monica's excellent Books.
{ Jim }