---
Memories of Washington
Short Items - Local Footballers
---
TOM NEAL
Usworth Colliery, Leeds United & Hull City
Lived in 'The Flat Tops'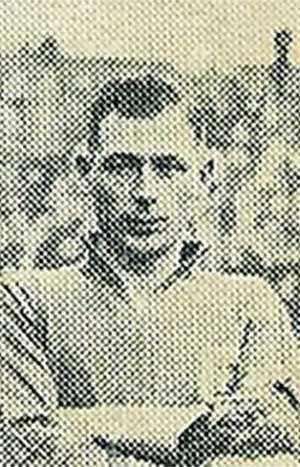 THOMAS WALKER NEAL
New Washington, 1910 - 1936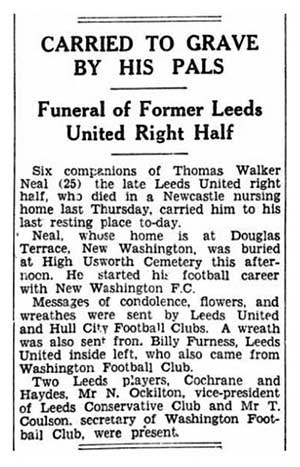 SUNDERLAND ECHO
15 September 1936
Neal, a former Miner, joined Leeds in February 1931 from North-East side Usworth Colliery, the club which produced Billy Furness. He was used as cover for Wilf Copping, Cyril Hornby and Bobby Browne in his five years at Leeds. He moved to Hull City in May 1936 but never made the Tigers' first team. He suffered badly from severe head pains in the 1936 close season, was admitted into Newcastle Infirmary and never played senior football again. He died in 1936.
Tom Neal played for Leeds United in 18 Division One games and 3 FA Cup Ties.
[ Picture and information Thanks to Oz White. Press Clipping courtesy of Washington History Society. ]
CHARLIE SPENCER
Washington Glebe Rovers, Washington Chemical Works,
Newcastle United, Manchester United & England

CHARLES WILLIAM SPENCER
Washington, Dec 1899 - Feb 1953
• • ◊ • •
EVENING CHRONICLE
( Article Continued )
One of the items in the collection is a Dinner Menu from a hotel in Brisbane, which named dishes
in honour of the England players, one of which was Cream of Tomato à la Spencer.
[ Evening Chronicle Press Clipping, courtesy of Washington History Society. ]