---
Memories of Washington
Railways - Victoria Bridge to Gateshead
---
Two Railway Routes from Victoria Bridge to Gateshead
1st (Existing Route, 1844) via Boldon Colliery (Red) - 2nd (Shorter Route, 1850) via Usworth Colliery (Green)
( Robert Stephenson's High Level Bridge to Newcastle Upon Tyne wasn't completed until 1849. )
OS MAP, 1885-1900
YELLOW: Tyne Dock to Consett via Biddick Crossing.
RED: Original Main Line, Darlington to Gateshead via Leamside.
GREEN: Washington Railway Station to Pelaw Junction via Usworth Station.
BLUE: Gateshead to Sunderland via Brockley Whins.
ORANGE: Durham to Sunderland via Leamside.
NOTE:
When Victoria Viaduct became operational, Brockley Whins Viaduct was not yet available.
The first Trains to Gateshead had to continue over Pontop Crossing into Brockley Whins where they could be turned.
They then joined the Sunderland to Gateshead Line via an existing curved access track. See Top Yellow Dot.
FURTHER NOTE:
The Curve, from Brockley Whins to the Sunderland / Gateshead Railway, shown on this Map, is not the original Curve.
The original Access Curve was very short and much closer to Pontop Crossing. It can be seen on an earlier version of the Map.
Three Railway Routes from Darlington to Gateshead
1st via Boldon Colliery (1844) - 2nd via Usworth Colliery (1850) - 3rd via Chester-le-Street (1868)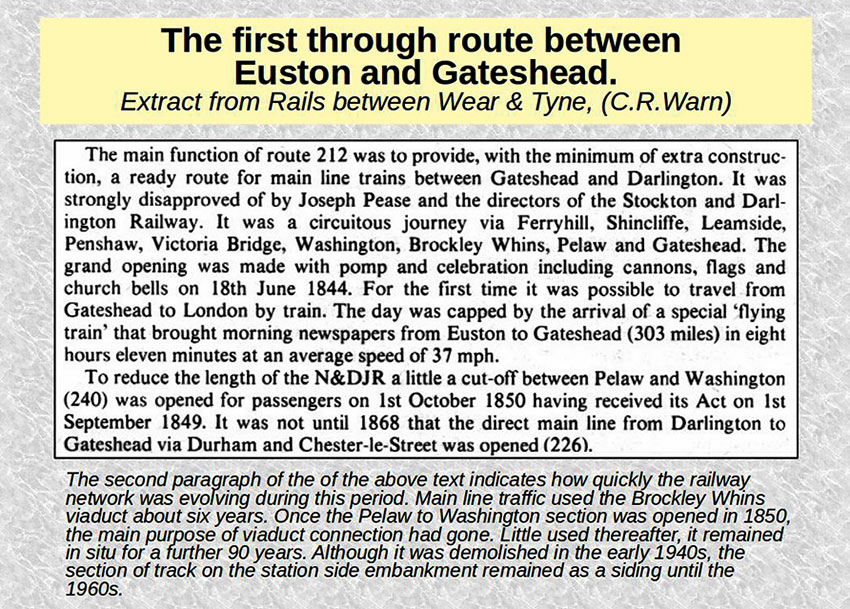 [ The Brockley Whins Viaduct can be seen further down this page. ]
Iron Ore Train at Pontop Crossing, Brockley Whins.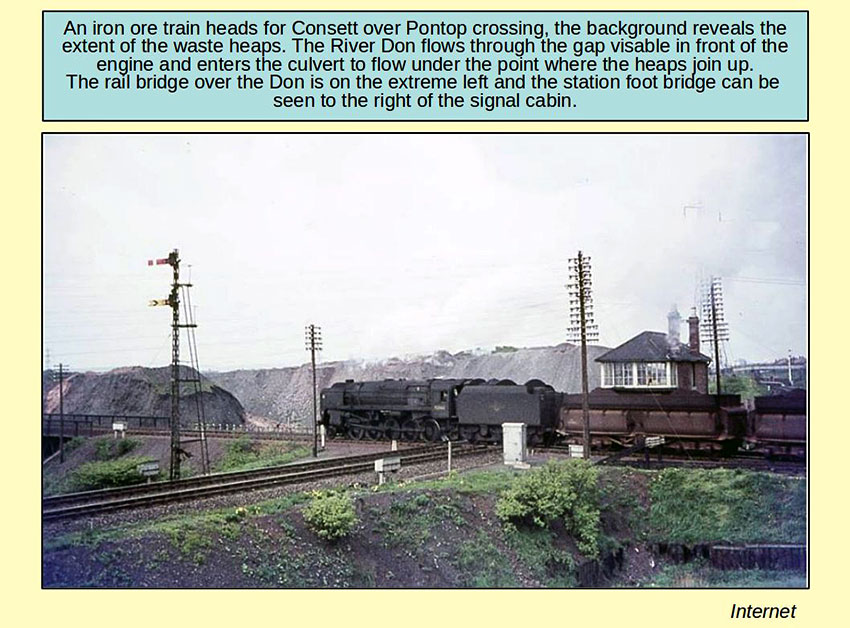 The Type 9F Steam Locomotive is about to cross the River Don, en route to Consett via Washington Station.
( See Top Map: Where the Yellow Dots cross the Blue Dots. )
Quite a few of us will remember The Burn, which flowed between High Row and Don Gardens.
It was a tributary of the River Don. Try following its route from Usworth Hall.
The Sunderland to Gateshead main line is in the foreground of this picture.
( Small Blue Dots )
Brockley Whins Viaduct
This Viaduct carried Gateshead-bound trains from Darlington. They arrived via Victoria Viaduct and Washington Station.
( See Top Map: Where a Red Dot lies between Yellow & Blue Dots )
Thanks to Malcolm Young for the above Information and Images.
Wider View of Railways passing through Washington and Usworth Stations
OS MAP, 1885-1900