---
Memories of a ... Local Footballer
Norman Hunter
---
Norman Hunter
( 29 Oct 1943 - 17 April 2020 )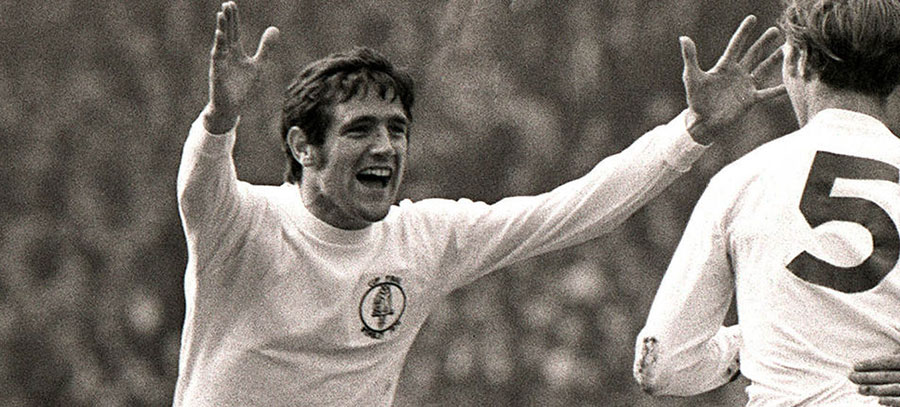 Norman Hunter with fellow Leeds centre-back, Ashington's Jack Charlton.
Tribute from
Mick McCarthy & Leeds United Football Club
( 17 April, 2020. Extracts from www.leeds-live.co.uk )
Norman Hunter: A Career In Words
A look back on the great achievements of Norman Hunter.
Born in Eighton Banks, County Durham, Norman Hunter left school at the age of 15 to become an electrical fitter. Playing on a Saturday for Birtley Juniors, Hunter was scouted by Leeds United and, following a trial game, was offered a place on the club's ground staff as a trainee footballer.
Hunter went on to make his first-team debut in the same match as last Tuesday's cover star and featured player, Paul Reaney, against Swansea Town on Saturday 8 September 1962, helping Don Revie's side to a 2-0 victory. This was just the start for Hunter, who would go on to be one of the greatest centre-backs Leeds United and England had ever seen...
After recording another clean sheet in his home debut, a 2-0 win against Chelsea, Hunter never looked back, keeping his place in the side and a defensive spot he would go on to make his own for the next 14 years, forming a legendary partnership with fellow centre-back Jack Charlton. Hunter scored his first goal for the club on his seventh outing, in a narrow 3-2 home defeat against Middlesbrough. Hunter ended the 1962/63 season where it began, playing against Swansea Town – this time with a 5-0 home victory. He made a total of 36 league outings and finished the campaign with two goals. Leeds' Second Division position dramatically improved, from almost suffering relegation the season before, to finishing fifth.
In 1963/64, Hunter helped Leeds United become Second Division champions for just the second time in the club's history. He played in every match as Leeds lost just three games in the league campaign, helping the side keep 17 clean sheets and remaining undefeated at Elland Road all season. He netted goals in a 2-0 win over Middlesbrough at Elland Road and a 2-2 away draw with Swindon Town.

England World Cup Squad - 1966.
( Norman Hunter: 5th from the right, back row. )
Tribute from Leeds United Football Club
Norman Hunter: A Career in Words
( Continued 2/4 )
In Leeds' first season back in the top flight, Hunter made 41 outings. It proved to be an incredible campaign, as Leeds finished as runners-up, missing out on the league title only on goal difference. At the time it was the club's highest ever finish. Leeds also went on to reach the FA Cup final for the first time in 1965. Hunter played in all seven games en route to Wembley, helping Leeds knock out the likes of Everton, Crystal Palace and Manchester United. Success in the 1965 FA Cup was not to be, though, as Liverpool ran out 2-1 winners after extra-time.
Hunter's impressive form for Leeds earned him his first international caps for England in 1965 and at the end of the 1965/66 season after Leeds had again finished as runners-up in the First Division, this time behind Liverpool, and reached the semi-final of the Inter-Cities Fairs Cup, Hunter was selected in the England squad for the 1966 World Cup – England's only success to date in the tournament.
In the 1966/67 campaign, Hunter lined up in every match Leeds had in the Fairs Cup, to help the Whites set up a two-legged final against Dinamo Zagreb which took place in August and September of the following season. It was the club's second ever major final, but Hunter couldn't help Leeds from losing 2-0 on aggregate.
However, despite the early season set-back in the 1967/68 campaign, Hunter and the club's wait for a first major honour came to an end in March 1968 with victory in the League Cup. He helped Leeds defeat Luton Town, Bury, Sunderland, Stoke City and Derby County, setting up a final with Arsenal at Wembley. Against the Gunners, Hunter helped Leeds keep a clean sheet and record a 1-0 win. A second trophy was just around the corner.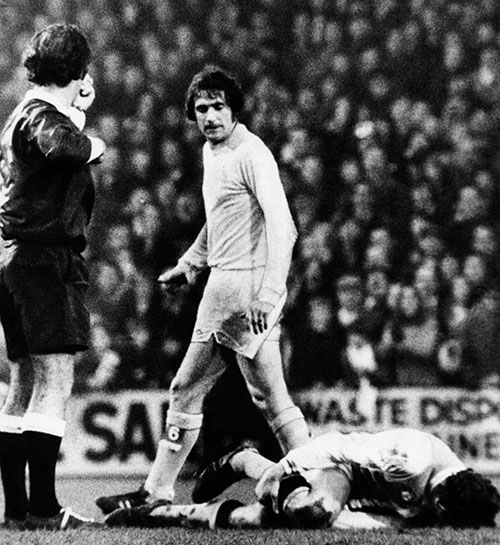 Norman 'Bites Yer Legs' Hunter
A Tough, Skillful Player. Not the Football Thug that his nickname might imply!
Division One: Crystal Palace 2 - Leeds United 2, 18th November 1972.
Ref Bob Matthewson books Hunter for a foul on John Craven.
Tribute from Leeds United Football Club
Norman Hunter: A Career in Words
( Continued 3/4 )
As in the previous season, Hunter played in every European match in the Fairs Cup, helping Leeds knock out Spora Luxembourg, Partizan Belgrade, Hibernian, Rangers and Dundee setting up a final with Ferencvaros. Once again, the two legs took place in the August and September of the following season. Hunter played in both games as Leeds defeated the Hungarian outfit 1-0 on aggregate.
After Fairs Cup success at the start of the campaign, Hunter and Leeds went on to be crowned First Division Champions in 1969 for the first time. He played in all 42 league matches, with Leeds losing just two games all season and setting a new record points tally. The title was secured with a fine defensive display away at fellow title challengers Liverpool in a 0-0 draw at Anfield, with Hunter at the heart of the defence.
Hunter helped the Whites claim the 1969 Charity Shield in a 2-1 win over Manchester City. Hunter and Leeds went close in all competitions that season, finishing as runnersup in both the league and the FA Cup, and reaching the semi-finals of the European Cup.
The 1970/71 campaign saw Hunter and Leeds again finish as runners-up in the First Division, but Hunter picked up his second Fairs Cup winners medal, when Leeds beat Juventus on away goals.
The Whites again narrowly finished as runners up in the First Division in 1972, but Hunter completed his domestic set of trophies. Leeds and Hunter saw off Bristol Rovers, Liverpool, Cardiff City and Birmingham City, to set up another Wembley final with Arsenal and the Whites again prevailed as Hunter helped Leeds to another clean sheet and 1-0 win.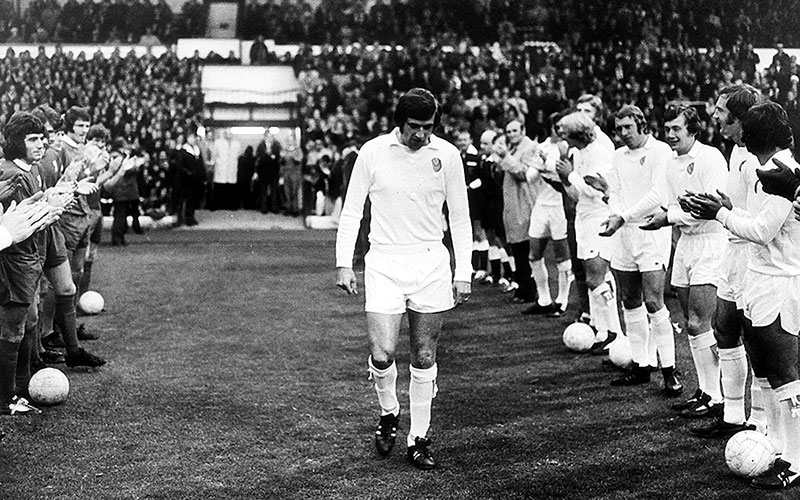 Norman Hunter goes to collect a Silver Tray marking his 600th game for Leeds United
( October 1973, Picture by Mirrorpix. )
Tribute from Leeds United Football Club
Norman Hunter: A Career in Words
( Continued 4/4 )
In 1973, Hunter was again a key part of the side which finished third in the league. He helped Leeds reach the FA Cup final again, but the club were stunned by Sunderland. Hunter and Leeds also finished as runners-up in a controversial European Cup-Winners' Cup final defeat by AC Milan, where Hunter was sent off late on.
In 1974, Hunter played all 42 league matches, just as he had done in 1969, to help Leeds become First Division champions for a second time. He helped Leeds set a new Football League record at the time, going on a 29-game undefeated run at the start of the campaign.
Following the departure of Don Revie, the manager who had given Hunter his debut, Jimmy Armfield took over. In this, Hunter's testimonial year, he helped Leeds reach the 1975 European Cup final. Hunter lined up in Paris, where Leeds suffered another controversial European final defeat, as Bayern Munich were 2-0 winners.
Hunter's final and 726th game for Leeds came on Saturday 6 October 1976 in a 3-1 victory away at West Ham United at Upton Park, before seeing out his playing years with Bristol City and Barnsley.
He scored 21 goals for Leeds and won a total of 28 caps for England. He is fifth in the club's all-time appearance list and will always be a club icon.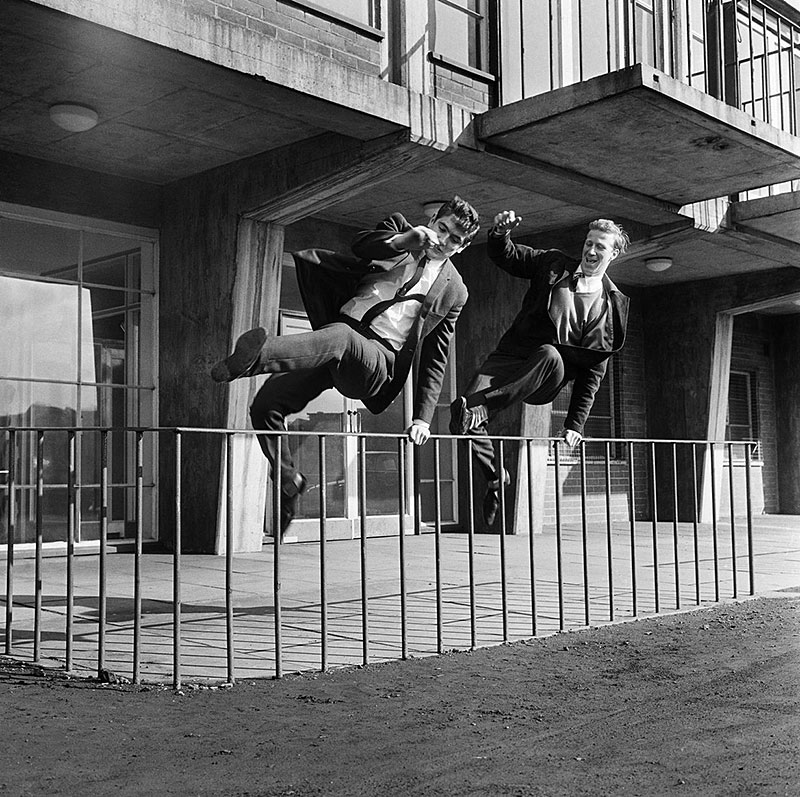 Norman Hunter & Jack Charlton - Jumping For Joy - Elland Road, March 1965
( Both Players chosen to play for the England League Team. )
NORMAN HUNTER
Extract From Obituary
THE GUARDIAN
Born in Gateshead, Norman was brought up by his mother, Betty, and two football-playing uncles; his father, also Norman, died before his birth. But it was Leeds, not his local team Newcastle United, who took him on straight from school. A lightweight in his early years, he was eventually built up by Revie's trusted daily concoction of sherry and raw egg, and if he was never a stylish footballer, his highly dependable presence in defence did much to help the club achieve glory.
NORMAN HUNTER
Extracts From Obituary
THE TIMES
Norman Hunter was born in Eighton Banks, Tyne and Wear, in 1943. He was named after his father, a retired footballer who had played for Sheffield United, but who died a few weeks before Norman Jr was born. He suffered a heart attack and died at a training session while attempting a comeback. Revie, Hunter later said, became a father figure to him.
Norman's mother, Betty, brought him and his older brother, Robert, up in a household that included an aunt and two uncles, who were both miners. Betty took in washing and ironing and made extra money putting up wallpaper for neighbours. It was an impoverished childhood, and Norman left Birtley Secondary Modern at the age of 15 without qualifications to become an electrical fitter.
He was spotted playing for Birtley Juniors by Leeds United in 1959, and made his professional debut for the club in September 1962. In 1964 the Yorkshiremen were promoted to the First Division, which they took by storm. They were only denied the 1964-65 League title at the last, pipped by Manchester United on goal average. In their first FA Cup final six days later they lost to Liverpool 2-1 in extra time.
[ Thanks to David Gibson for his contributions to this article. ]
---