---
Memories of Usworth Working Men's Club
The Top Club
---
The Original Usworth Working Men's Club
Usworth 'New' Top Club Committee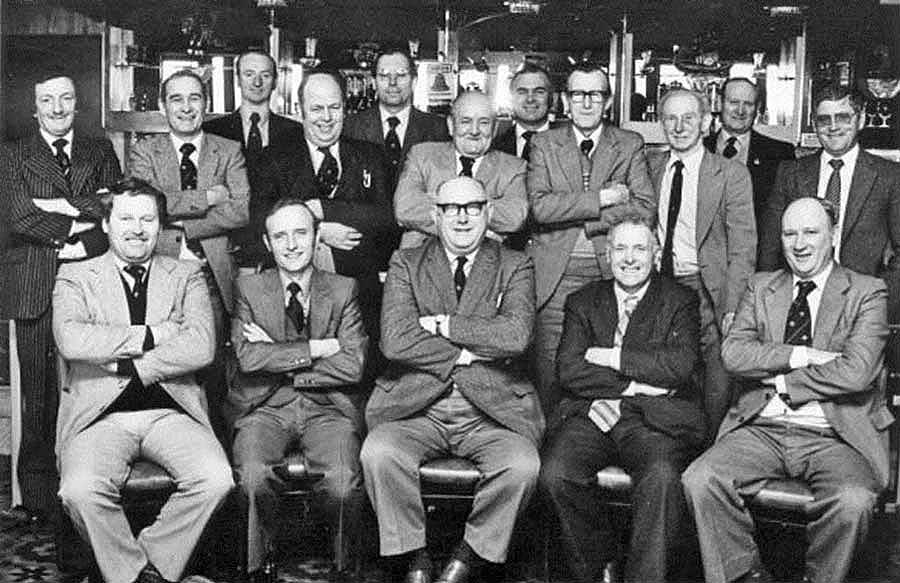 THE TOP CLUB COMMITTEE
Back Row: Bob Pitt (Steward), Steve Nesbitt, Bob Thirlaway, Jack Pearson, Joe Marshall, Charlie Quinn,
Not Identified, Jack Lowden, Alex McDougal, Henry Bannister, Harry Skillcorn
Front Row: Harry Lamb, Terry Shannon, Dennis Sweeney, Jim Nesbitt, Jim Carruthers
Usworth Top Club - Long Service Certificates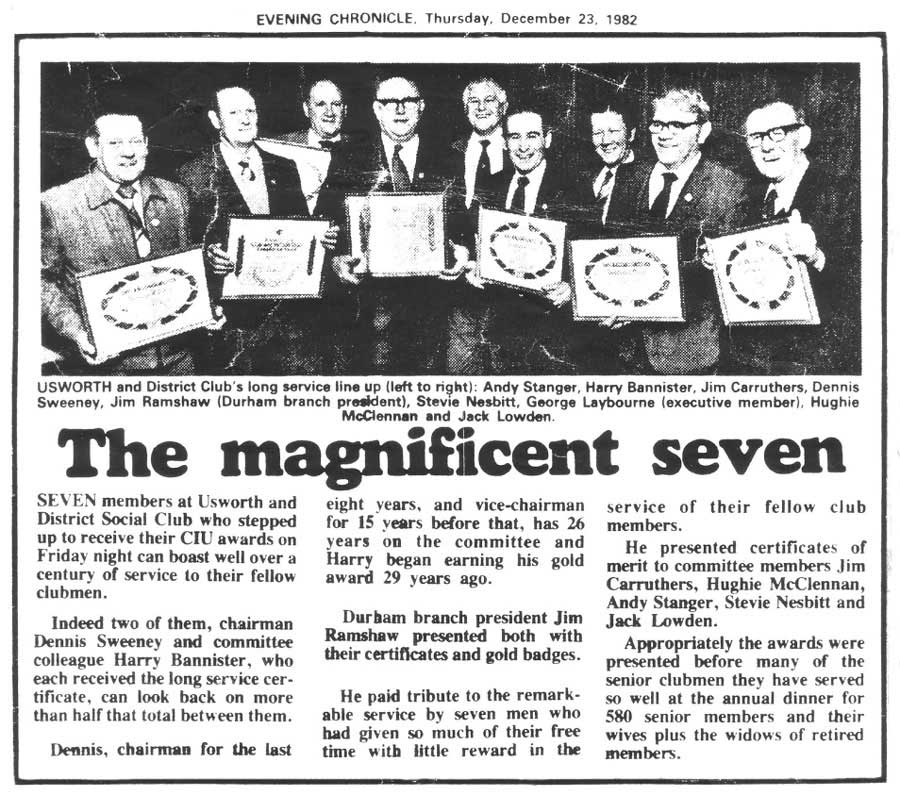 Usworth Top Club Domino Champions
[ Usworth Colliery Welfare Football Field. Note the Brickyard Chimney in the background. ]
Usworth Top Club - Billiards Champions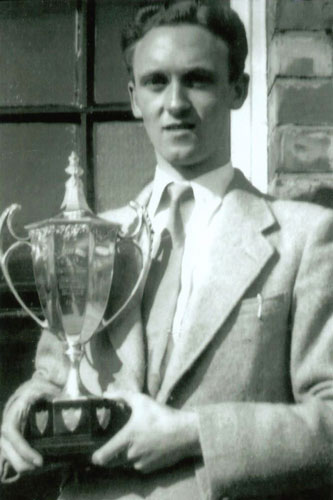 Brian Simpson, aged 22, with the 1955 Trophy
Winners of the
INDIVIDUAL NATIONAL C.I.U. BILLIARDS CHAMPIONSHIP
Brian Simpson
... won the competition for Usworth Working Men's Club in 1955 by beating Walter Smith of Kingston-on-Thames in the final. The score was 882 - 651. Brian was also runner-up on two occasions, in 1960 & 1965, while playing for Ashington Excelsior and Blaydon & District, respectively. He worked for NCB / British Coal and held the senior management post of Unit Surveyor at Easington Colliery.
Alf Nolan (1927 - 2014 )
... was the first man to bring the National Club & Institutes Union Billiards title back to Usworth Top Club. He won it in 1953, beating Reg C. Wright of Hinckley Regent by 1,000 - 559. Reg turned the tables in the 1954 final beating Alf by a score of 784 - 650.
After Brian's victory in 1955, Alf retained the title for Usworth Top Club in the following year's competion. Once again, the other finalist was Reg C. Wright. Alf took that 1956 trophy with a 872 - 788 victory.
Alf Nolan later represented Blaydon & District Club and was runner-up in the 1966 and 1972 competitions. He brought Blaydon two championships in 1962 & 1963 followed by a hat-trick of victories in 1967, 1968 & 1969. His final victory for Blaydon came in 1971. Alf went on to play for Western Social Club and was runner up for them in 1983, 1985 & 1991. He gave Western Social a championship victory in 1989. Alf was the Individual National CIU Billiards Champion 9 times.
Alf Nolan was also English Amateur Billiards Champion in 1964 and was the first ever President of the English Amateur Billiards Association.
---
Usworth Top Club Billiards & Snooker Team - 1955/56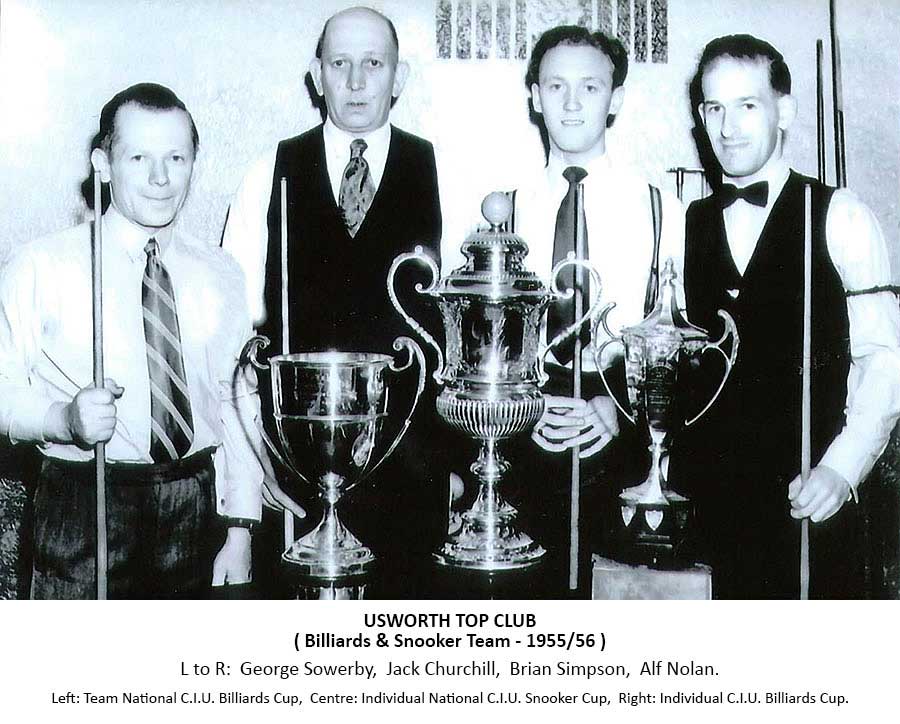 Usworth Top Club - The Blue Room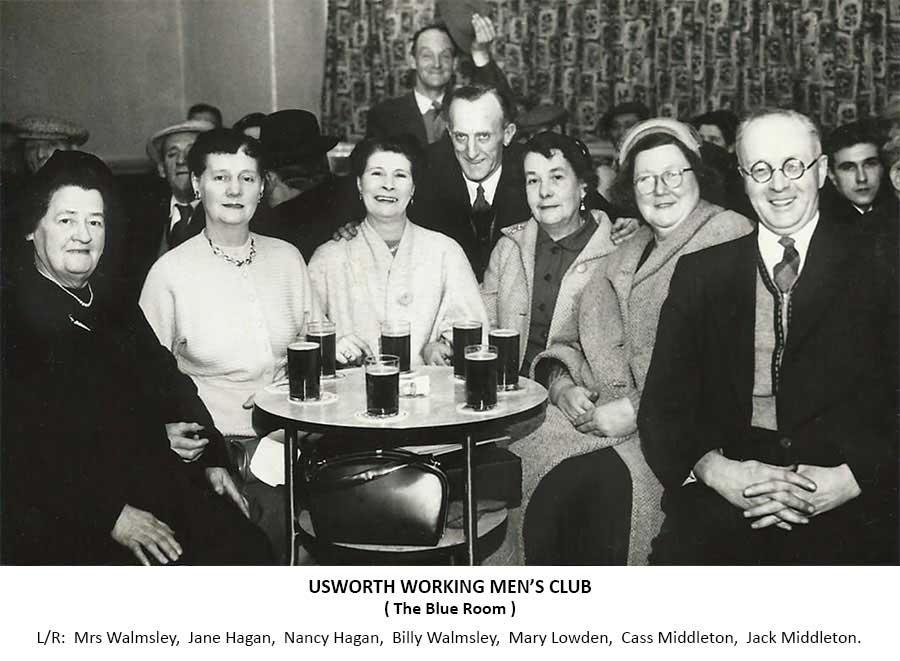 The Blue Room was first on the right after entering The Club.
Members of the local football fraternity will recall that this room was often used to host celebrations following league / cup success.
[ Photographer: G. Eaton of 17 Western Terrace, Washington, County Durham. Thanks to Ray Middleton for supplying this picture. ]
The Top Club Staff - 1953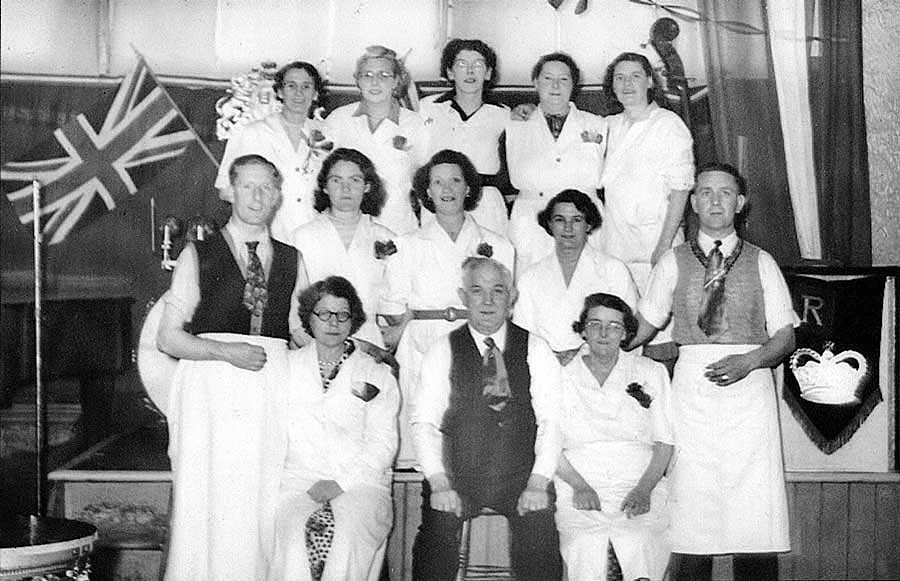 [ Her Majesty Queen Elizabeth II was crowned on 2nd June 1953. ]
George Gibson's Club Cards

(1913 - 1918)
The Demolition of Usworth Working Men's Club - 1970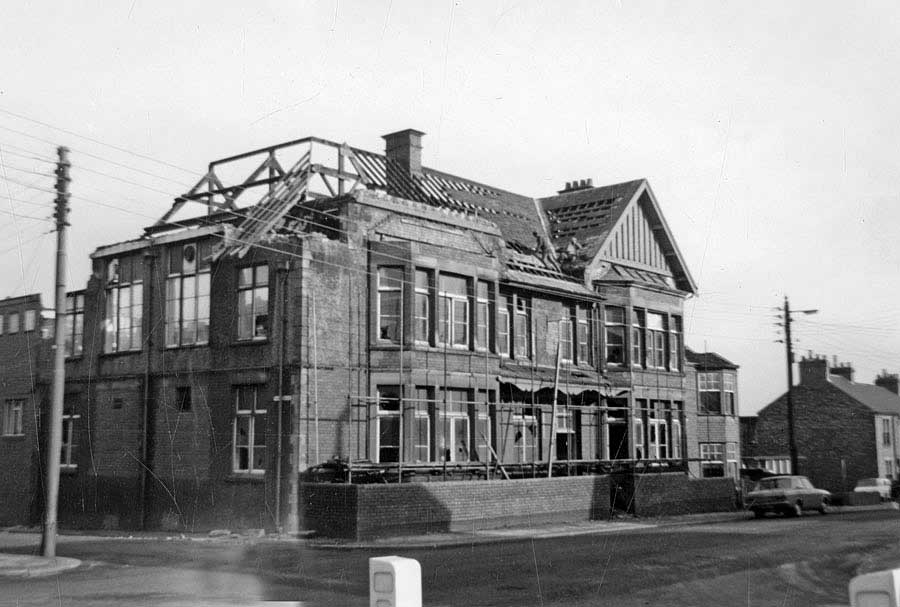 The End of an Era
[Posted courtesy of Beamish Museum Resource Centre. Thanks Julian.]
---