---
Memories of ...
Washington Grammar School (1/2)
---
The Alderman Smith Grammar & Technical School, Spout Lane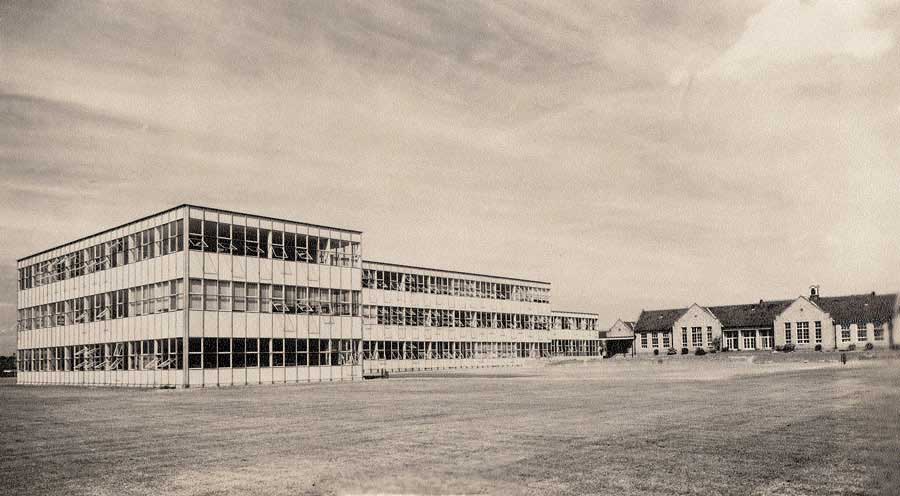 The 'New School' opened September 1958.
Alderman Smith
Press cutting showing Alderman Smith - front row, bow tie - the man who gave his name to Washington Grammar School.
[ Read all about Mr Hill at: What's Where; People; Fred Hill. ]
1957 Intake - Boys
Allmey, B.D.
Balmer, P.
Barber, A.
Barron, Graham
Beaton, F.
Bell, G.
Brewis, M.A.
Browell, K.
Crennell, R.
Dawson, J.
Dixon, Hedley
Dixon, J.
Douglas, D.E.
Drummond, J.D.
Dryden, A.R.
Dunn, H.A.
Elmslie, M.G.
Ferry, Bryan
Forester, A.
Gale, D.T.
Gibson, N.B.
Goldsworthy, D.J.
Graham, P.
Grant, C.G.
Hilton, R.
Kendall, Howard
Lamberton, E.W.
Leslie, B.
Mack, Brian
Marley, J.M.
Marshall, Bob
Mitchell, R.W.
Moore, F.J.
Murphy, G.M.
Nichol, G.W.
Purvis, Michael
Reed, W.J.
Rogers, K.
Russell, F.M.J.
Simpson, J.
Snary, David
Snowdon, M.
Todd, C.
Watson, John
Watts, P.
Wilson, J.J.
Wilson, T.W.
Wood, Harry
Woosey, Gordon
Young, J.C.
_____________



Bryan Ferry
______________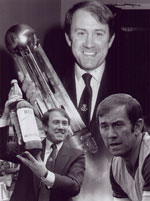 Howard Kendall
______________
1957 Intake - Girls
Arrowsmith, Christine
Allsopp, Sarah
Bainbridge, Margaret
Brewis, Jennifer
Caine, Margaret
Clark, Kathleen
Cook, Patricia
Embleton, Sandra
Errington, Lesley
Felton, Maureen
Fox, Christine
Galley, Karen
Harrison, Carol
Heir, Elizabeth
Henderson, Marion
Heslop, Alice
Hodgkinson, Doreen
Howard, Patricia
Hune, Barbara
Jeffrey, Gillian
Jenkins, Christine
Jobling, Patricia
Johnson, Vivienne
Lightburn, Lorene
Lowery, Margaret
Magee, Dorothy
McBeath, Hilary
McFadyen, Irene
Proctor, Ann
Prudhow, Sandra
Ramm, Hanna
Robson, Patricia
Rollo, Sandra
Richardson, Audrey
Richardson, June
Robinson, Pamela
Sandy, Margaret
Simpson, Kay
Smith, Judith
Smith, Margery
Stirling, Vera
Stockport, Elizabeth
Trivett, Pamela
Tully, Hazel
Ward, Sheila
Willis, Patricia
_____________
1958 Intake - Boys
Allison, Bill
Allonby, Bill
Archer, Bill
Arrowsmith, Tom
Barron, Ronnie
Beetham, Tom
Birkenfield, Stuart
Blakey, Wesley
Blankley, C.L.
Brookes Bob
Brown, Eric
Brown, Geordie
Buchanan, Bob
Burrough, John
Candlish, Mike
Charlton, Keith
Cope, Bill
Cope, Terry
Coulson, Graham
Craggs, Brian
Craig, Colin
Craig, Michael
Crawford, Donald
Crawford, Pete
Davison, Gavin
Dodds, Gary
Downes, George
Drysdale, Michael
Dutton, John
Eltringham, Tom
Foreman, Tony
Forsyth, John
Forth, Geoff
Fulton, Gordon
Furnevel, Hugh
Gill, Jim
Gill, John
Goundry, Tom
Greenwell, Alan
Gurteen, Albert
Hall, Chris
Hann, Ian
Harle, Bob
Heslop, Martin
Hinds, Eric
Hodgson, Brian
Holland, Jimmy
Hood, Keith
Howey, Geoff
Iley, Glenn
Johnson, Alan
Johnson, Ian
Jonas, John
Kennedy, D.
Kershaw, Dick
King, Alan (1)
King, Alan (2)
Kitching, Gavin
Knowlson, Ken
Laidler, Keith
Lauderdale, Roger
Lawson, J.
Lax, Bill
Leng, Brian
Lincoln, Tony
Little, Ian
Lovett, Melvin
Lowe, Bill
Lowther, Robin
Macklay, Ian
Maclean, Malcolm
Maddison, Cyril
Matthewson, D.
McCulloch, Ian
Morris, Johnnie
Oliver, Edwin
Oliver, Bill
Oxley, Bob
Park, Ian
Pentland, Derek
Porter, Brian
Poulter, Joe
Price, R.A.
Purvis, Alan
Quinn, Ian
Reay, Ted
Rennison, Norman
Riddell, Robert
Rollo, Norman
Routledge, D.
Rushworth, Gordon
Russell, Pete
Slatterly, Howard
Savage, Bill
Scott, R.
Sedgewick, Fred
Self, Ken
Shield, Tim
Smith, Fred
Spear, Brian
Stavers, Robert
Stewart, A.M.
Stratton, Brian
Swinburne, Pete
Swinney, Dick
Thirlaway, Tom
Walker, Sid
Wayman, Tom
White, A.D.
Whittle, D.
Wilkinson, Peter
Wilson, Mark
Wynd, G.
______________


Prof. Gavin Kitching
______________
A Few of the Lads
Back Row: Fred Smith, Bill Cope, Alan King, John Forsyth.
Front Row: Bill Savage, Mike Candlish, Alan Purvis, Geoff Forth.
[Thanks to Bill Savage.]
A Few More ... after a visit to Bloomfield Road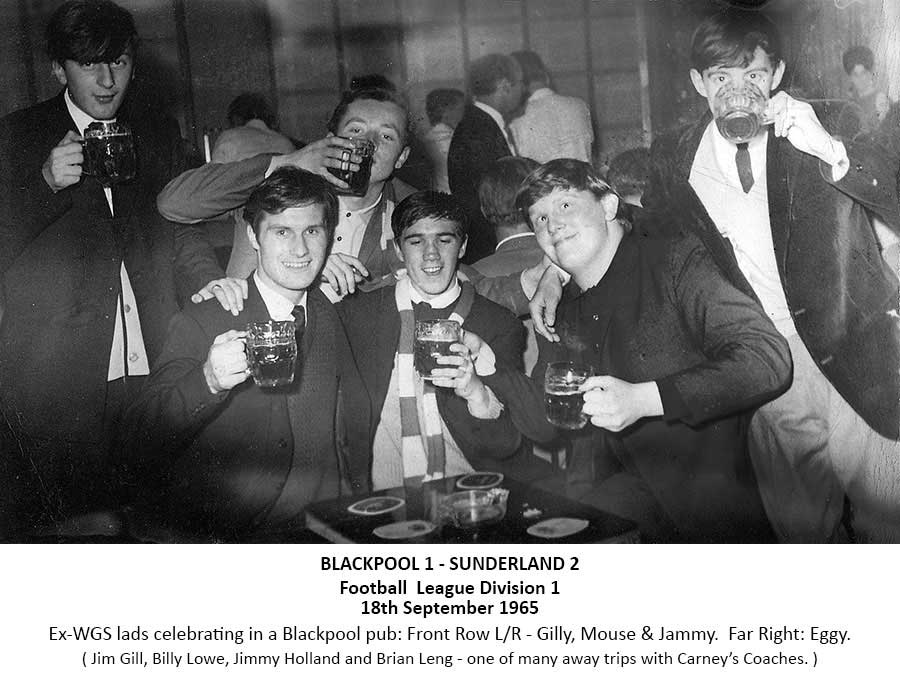 [ Guess which one led the Sunderland fans' chants throughout the match! ]

1958 Intake - Girls
Addison, F.
Alexander, Carole
Anderson, M.
Armstrong, Andrea
Armstrong, Lynda
Armstrong, Valerie
Beckwith, Linda
Bell, Gloria
Bell, Moira
Berry, V.E.
Blair, A.E.
Bloomfield, Linda
Brice, Ethel
Bruntlett, Elizabeth
Caldwell, Pat
Carmichael, June
Cave, Jennifer
Chadwick, Judy
Daglish, Pauline
Davison, Margaret
Dawes, Christine
Dodds, J.
Dodds, J.D.
Dumma, Christine
Dunn, Pat
Etherington, M.
Eltringham, B.
Fisher, M.J.
Foster, P.
Furness, Vivienne
Gosney, C.I.
Handy, Margery
Harbershon, M.
Hedley, E.
Henderson, Valerie
Hesten, E.
Hewitt, Joan
Hind, Pat
Hope, Connie
Hume, Olive
Humphreys, Ann
Irving, Dorothy
Irwin, Shiela
Jones, B.
Jones, Margaret
Kenyon, J.
Kerr, Christine
Laidler, B.
Lake, Glenise
Lambton, Maureen
Leonard, G.
Lewins, Angela
Lightburn, Sheila
Lillig, M.
Linge, J.
Lovette, Annette
Lowe, Susan
Lowrey, Marie
Lucas, L.A.
Lynn, Sandra
Mack, Pauline
McCormack, Joan
McKie, Joan
McKinley, Veronica
Miles, Jennifer
Mills, F.
Murray, Lynne
Musk, Christine
Nelson, Elaine.
Newman, Sandra
Oliver, Cynthia
Oliver, Eunice
Oliver, Mary
Parkinson, L.O.
Patterson, M.A.
Peary, Jen
Petrie, Yvonne
Pickford, Mary
Powney, J.C.
Race, Maureen
Ridley, Betty
Roach, Linda
Robinson, Lynne
Rogers, S.M.
Salisbury, S.K.
Sams, Pat
Saunders, P.
Scott, E.
Seymour, Pat
Smith, Sue
Spark, Anne
Stewart, E.
Swainston, Y.
Temple, Pamela
Thirtle, Ann
Todd, Christine
Tunstall, Jane
Watson, D.
Wilkins, Angela
Wilson, B.
Wilson, G.
Wilson, Valerie
Wilson, Violet
Wiltshire, P.
Winter, J.
______________

Dame Anne Owers
(née Spark)
______________
1959 Intake - Boys
Allmey, M.
Armstrong, George
Atkinson, Peter
Baker, Terry
Brown, Bob
Brown, Eddie
Bailey, John
Bainbridge, David
Bryson, Neil
Carr, Ian
Carroll, W.
Cassidy, Bob
Cobb, Malcolm
Cowan, Jim
Cowen, Malcolm
Cowey, K.
Dixon, Frank
Dennis, Andy
Douglas, A.
Fish, J.
Gardner, Ian
Gardner, John
Gibson, Peter
Gilderoy, John
Givens, Ernie
Henderson, Richard
Heslop, David
Hunter, Alan
Hunter, Frank
Husband, Malcolm
Jones, Dave
King, Alistair
Kirkup, T.
Lawson, Ian
Lonsdsale, Jacky
Lydiatt, David
Markham, Bill
Marsh, Peter
Mart, David
McBurnie, Graham
McGuire, Keith
Mitchinson, Melvin
Ord, John
Pace, Michael
Parr, Gordon
Pearson, Bill
Quigley, Tom
Raine, Phil
Rose, Brian
Rutherford, John
Simpson, Alan
Sparks, Mike
Spoors, Gerry
Stangroom, Kenny
Storey, Derek
Storey, Russell
Storey, Geoffrey
Straughan, Brian
Tait, Dave
Thompson, Colin
Vasey, Peter
Vlaeminke, Geoff
Walker, Jim
Ward, Lennie
Waters, John
Watson, Jeff
Watson, Les
Watson, Ray
Weddle, Tom
Williams, Peter
Winstanley, Graham
Wood, Dave
Young, Kenny
_____________
1959 Intake - Girls
Armstrong, J.
Ash, Helen
Bailey, Linda
Baillie, S.
Blake, Linda
Brown, Hilary
Cairns, E.
Carroll, Evelyn
Chivers, Carol
Cook, Christina
Colpitts, Christine
Cutmore, Jeanette
Dales, Dorothy
Dalkin, Dorothy
Davison, Elizabeth
Davison, J.
Dixon, Joan
Ellis, Pauline
Engleby, Mary
Faith, Thelma
Gates, Hilary
Gibbons, Jean
Goundry, Elizabeth
Hall, Audrey
Handysides, Talitha
Hedley, Kathleen
Henderson, Carol
Henderson, Margaret
Hepworth, S.
Hogg, Christine
Holmes, Anne
Holmes, Valerie
Keerie, Audrey
King, Maureen
Lumsden, Mima
Lynn, Kathleen
Masters, Pat
Mottram, Linda
Marlow, A.
Marlowe, Jean
Martin, S.
Maxwell, Kathleen
Miller, E.
Moon, Pauline
Naylor, Elaine
Naylor, Freda
Openshaw, Pauline
Orr, J.
Parsons, Lesley
Pickard, Eileen
Ramsey, Linda
Rawlings, Catherine
Reed, Pam
Reiling, Jennifer
Richardson, Susan
Richardson, Y.
Robson, B.C.
Robson, Jacqueline
Robson, Maureen
Robson, Pauline
Rogerson, Jacqueline
Scott, Diane
Sharp, Hilary
Shields, Glenise
Simpson, Carole
Smith, Christine
Snowdon, Lena
Spedding, Janice
Tait, Thelma
Tatters, Jean
Thew, Marie
Todd, Angela
Todd, C.B.
Turnbull, Phyllis
Walton, Mary
Ward, Kathleen
Wardle, Dorothy
Watson, J.R.
Watson, Judith
Wilson, Evelyn
Wilson, Maureen
Wilson-Wardle, Linda
___________________
Washington Grammar School, The Headmaster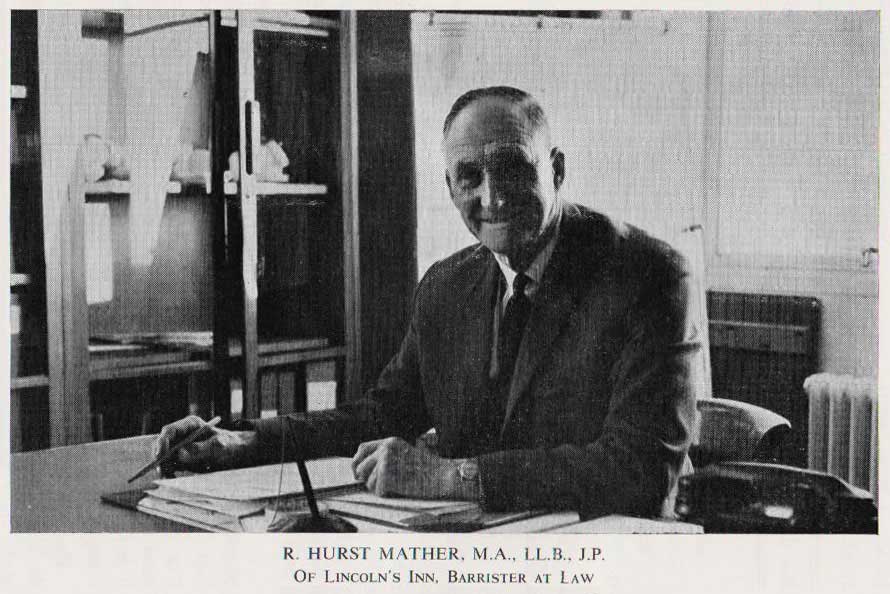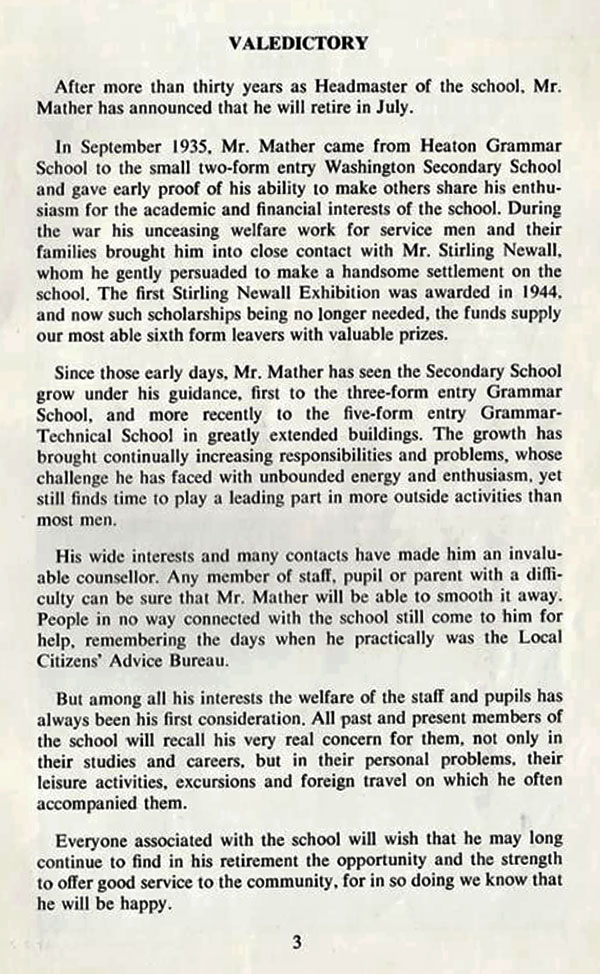 FAREWELL ADDRESS
Extract from Washington Grammar School Magazine No.23, February 1967
[ Thanks to Brian Craggs ]
The Staff (1960)
Back Row: Mr Curtis (Tony), Mr Lowes (Lonnie), Mr Gaffney (Brian), Mr Snowball (Jack), Mr Myers (Glimp), Mr Howard, Mr Edgar.
4th Row: Mr Bates (Basher), Mr Gibbon (Rag), Mr Dodd (Joe), Mr Ainley (Ron), Mr Telford (Doc), Mr Coxon, Mr Richardson (Pop).
3rd Row: Mr Willis, Miss Winship, Mr Oliver, Mr Bell (Buddha), Mr Stringer (Les), Mr Smith (Squinter), Mr Canham (Barry), Miss Dodd.
2nd Row: Mrs Hope (Fanny), Mr Wardle (Tosh), Mr Brown (Basil), Mr Leathard (Joe), Mr R. Hurst Mather, Headmaster (The Boss), Miss Lawson (Dot),
Miss Futter, Mrs Teford, Mrs Moyse.
Front Row: Miss McDonald, Mrs Hopper, Miss Offord, Miss Patterson (Ottilie), Miss Ellis (Elsie), Miss Walton, Miss Hall, Mrs Foster (Clara), Mrs Sykes.
• • ◊ • •
What Became of the Formidable Mr Curtis?
( Geography Teacher at W.G.S. to Headmaster at Usworth Comprehensive )

Sunderland Mayor, Arthur Lumley, was a senior Electrical Operations Engineer based at NCB North East Area HQ.
[ Press Cutting courtesy of Washington History Society ]
The Staff (Qualifications)
The School Entrance on Spout Lane. 1960 Teachers' Degrees & Certificates.
Roll of Honour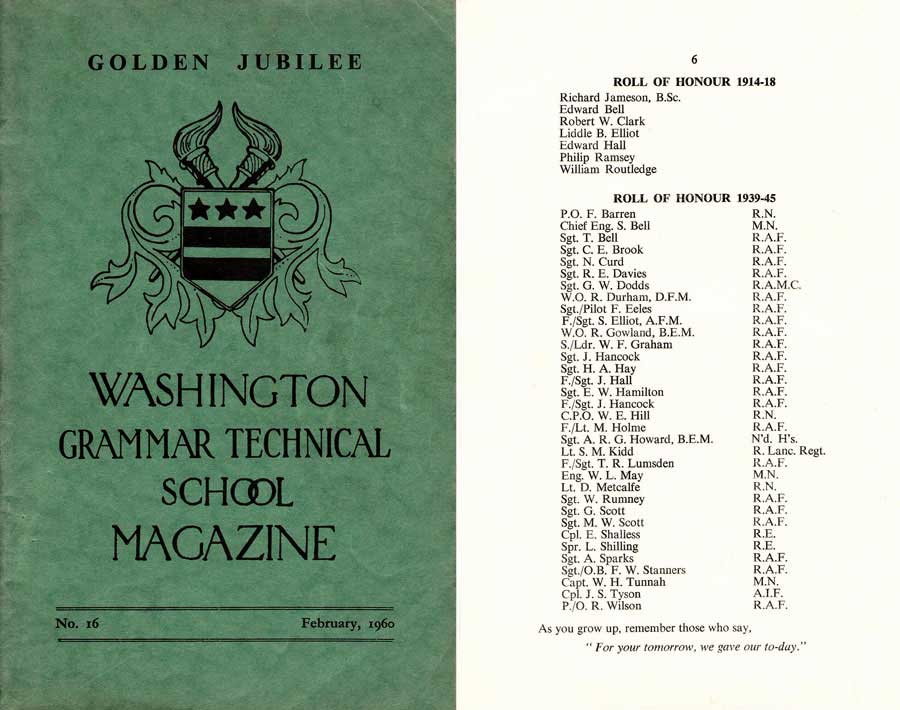 About the Pupil Lists
1. This website is intended to evoke memories. Therefore, where possible, initials have been replaced by the more familiar names used at school.
2. Names appear here thanks to old editions of the Durham Chronicle and the efforts of Jane Cullen (née Tunstall), Bob Brookes, Ronnie Barron et al.
My contribution was limited to substituting a few names in place of initials. Many thanks to everyone concerned.
3. For those who don't know, the Grammar School's catchment area included Castletown, Boldon, Leam Lane Estate, Penshaw and Shiney Row.
4. Please do not treat this information as the absolute truth. Omissions are quite likely and errors almost certain! Spot some; tell me; I'll fix them.
Jim
---