---
Memories of Washington Glebe School
Glebian Magazine 1950
---
WASHINGTON GLEBE SCHOOL MAGAZINE, 1950

See Photo Below

See Photo Below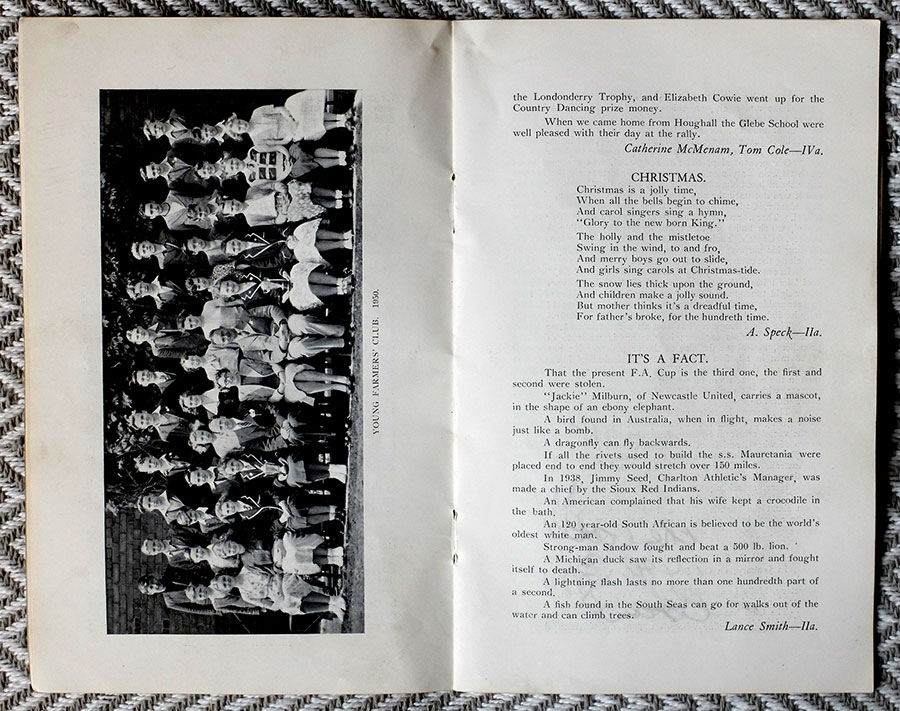 See Photo Below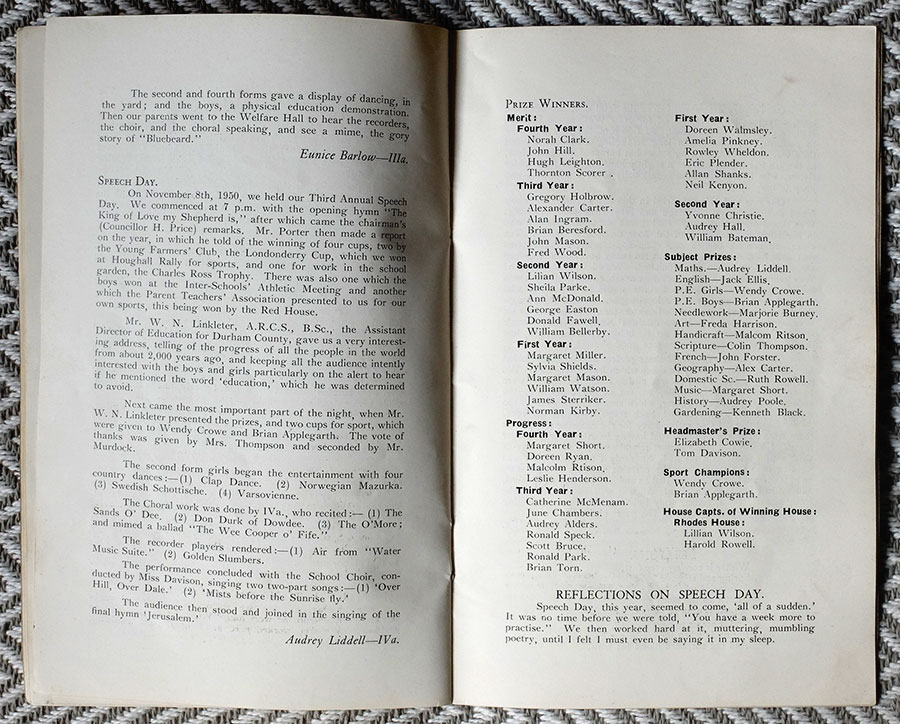 Please Note: The Audrey Hall mentioned above isn't the Lady who writes/edits washingtonlass.com.
'Washington Lass' Audrey was just a toddler in 1950! When you've got some time to spare, visit her website ... you'll like it.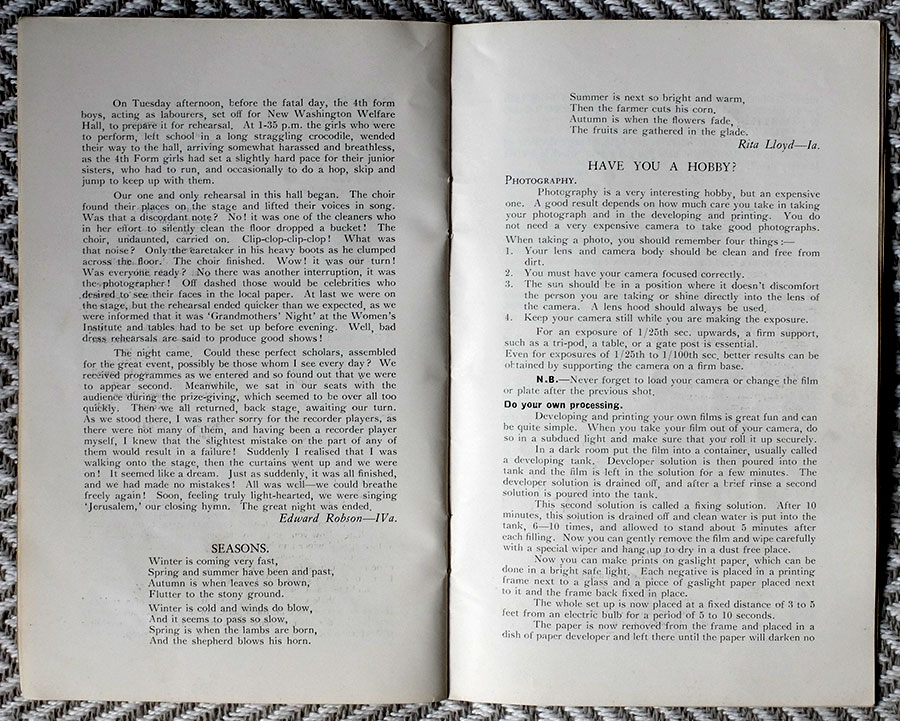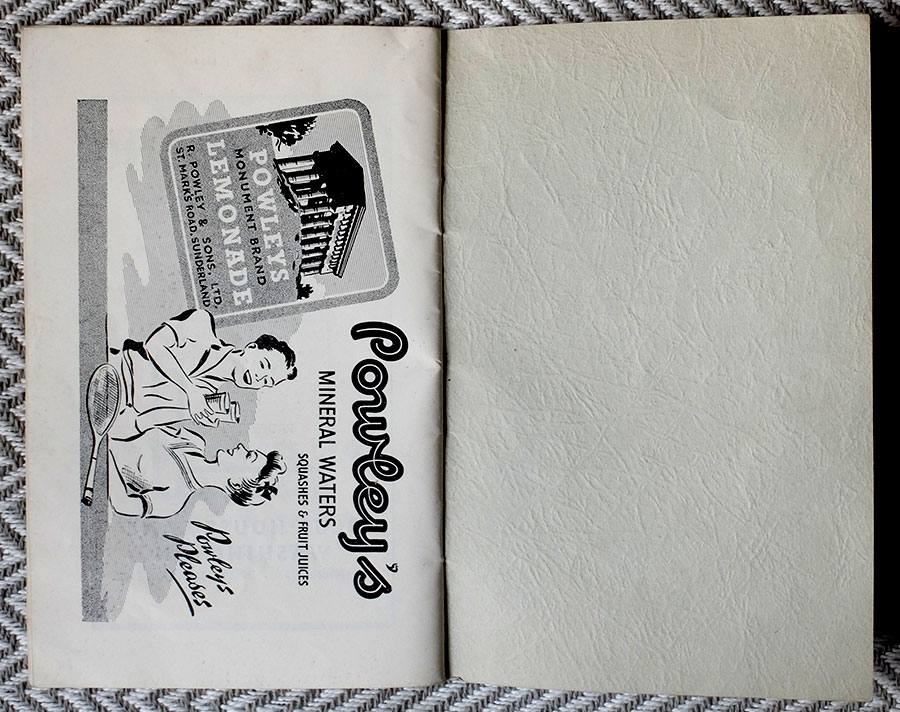 INDEX
1. Advert: Newbottle Coop.
2. Adverts: B. Joseph & Son - Sports Outfitters - Union Street, Sunderland.
Smith's Ltd - Carpets & Home Furnishings - 2 Victoria Road, New Washington.
3. Adverts: T. Binks & Son - Electrical, Plumbing & Heating Engineers - 25 Glebe Crescent, Washington.
Whitfield & Dickson - Butchers - Lowthian Terrace, Washington Station.
Wearside Radio Relay Service, Speculation Place, New Washington.
4. Advert: Den-Lea Electricals - House Wiring, Cookers, Record Players etc. - 41 Spout Lane, Washington.
Magazine Editorial.
5. Death of Mr Parke.
Retirement of Mr Smith.
Autumn (Poem).
Sports Activities: Chemical Works Sports.
6. Sports Activities: Inter School Sports.
Photograph: School Football Team - 1949/50.
7. Sports Activities: Football, Netball, Cricket.
Photograph: School Netball Team - 1949/50.
8. Sports Activities: Rounders.
Youth Hostels.
Don Pedro Of Lisbon (Poem).
Around The Clubs: Nature Club, Music Club ...
9. ... Drama Club, Crafts Club, Needlework Club, Young Farmers' Club.
10. Photograph: Young Farmers' Club 1950.
Christmas (Poem)
It's A Fact: (Believe it, or not!)
11. The School Ship.
Old Scholars' Association.
Twenty Questions.
12. Swoppitt.
School Events: Sports Day, Track Events, Field Events & Open Day ...
13. ... Speech Day, Prize Winners, Reflections on Speech Day.
14. Seasons (Poem).
Have You A Hobby Photography ...
15. ... Scouting, Stamp Collecting, Bantam Keeping, The Air Training Corps ...
16. ... Pot Holing, Guiding, Rabbit Keeping.
Pen Friends.
17. Answers To Twenty Questions
The Wear Expedition
A Trip Down A Mine.
18. For Your Amusement: (Jokes)
Advert: Clemmet & Grimes, Printers, Houghton-le-Spring.
19. Adverts: Anderson's - Newspapers, Periodicals, Books, Stationary etc., - Brady Square.
Caslaw, Haytor & Tate - Boys' & Girls' Outfits - 220 High Street, Sunderland.
20. Adverts: Pyles' Stores, Washington Station Road.
T. B. Shilling - Builders & Plumbers - Blue House Lane, New Washington.
21. Advert: Powley's - Mineral Waters - St. Mark's Road, Sunderland.
• • ◊ • •
[ This transcript is displayed here courtesy of Local Historian, owner & photographer, Keith Cockerill. ]
---