---
Memories of ...
Washington Glebe School (2 of 5)
---
Washington Glebe School - 1950
Washington Glebe School - Young Farmers' Club, 1950
Washington Glebe School - 1956, 1st Year
Washington Glebe School - c.1956
Washington Glebe School Trophy - Cycling Proficiency Tests, 1956
Thanks to Ken Reay for supplying this photograph, dated 19th July 1956. It shows some of the pupils who took part in that year's Cycling Proficiency Tests.
The tests were open to all schools in the Washington area and were held near Gainsborough Avenue / Reynolds Avenue, close to Oxclose Road.
Ken says, "I think this Sunderland Echo photograph was taken behind the Victoria Hotel." That's him holding the Winner's Trophy!
It was presented by Washington UDC Chairman W. Trotter JP. Terence Smith of Usworth School is on the far right.
• • ◊ • •
Cycling Proficiency Certificate, 1964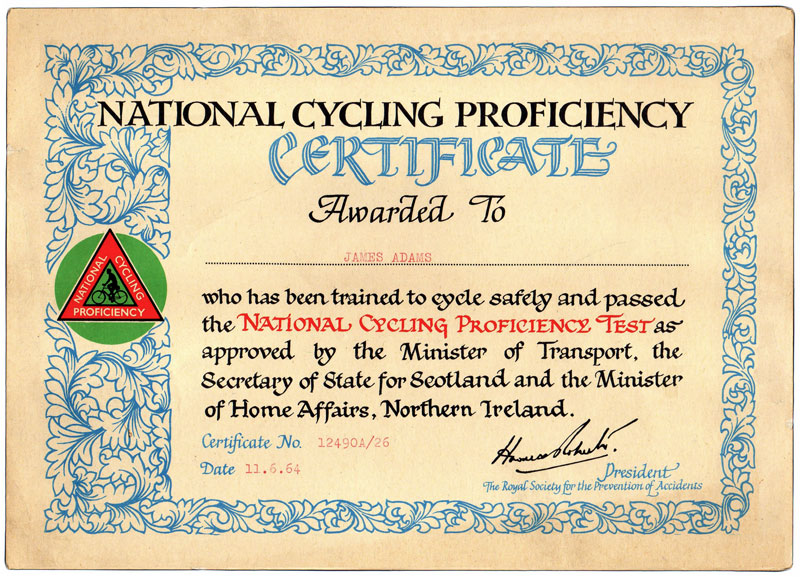 Thanks to Jim Adams for contributing this image of his Cycling Proficiency Certificate, dated 11th June 1964.
Jim's Certificate was awarded after his successful Test at Washington Glebe School.
Washington Glebe School - GCE Form visit House of Commons, 1956/57
Mr & Mrs Carr take a party of Glebe GCE Pupils to the House of Commons
Their host for the visit was Mr Norman Pentland, ex-Harraton ('Cotia) Miner and MP for Chester-le-Street, which included Washington.
[ Thanks to Peter Wardle for supplying this picture and the following names. ]
• • ◊ • •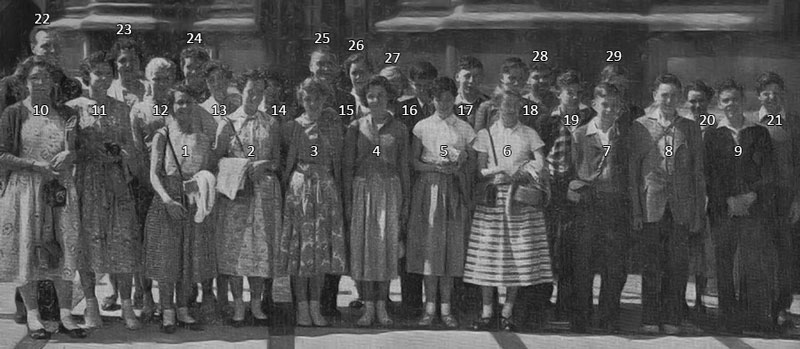 Some group members have been identified:
1. Joan Hepplewhite, 6. Anne Wilson, 8. Eddie Pickford, 9. Peter Robinson, 10. Sylvia Riley, 15. Norman Pentland MP,
16. Bob Ashmore, 18. Bob Jopling, 20. Mrs Carr, 21. John Avery, 22. Mr Thomas Carr, 27. Cynthia Marsden.
[ For more information on Norman Pentland MP: Go to What's Where; Collieries; Washington Mining MPs. ]
Washington Glebe School - 1957, 3rd GCE Class
[ Thanks to Dr Ken Reay for providing this splendid photograph and to Peter Wardle for supplying the names. Background: Glebe Crescent. ]
---