---
Memories of Washington
Local Bricks & Brickyards
---
Not ... Just Another Brick in the Wall!
J. C. Blythe & Sons - King George V - Made in 1912 - Washington Station
The side wall of the Washington Arms (2002). Thanks to photographer Keith Cockerill for contributing his excellent picture.
Keith informs me that there are 6 or more such bricks in the wall. (20th July 2017)
[ The above brick was manufactured in the same year that RMS Titanic sank. ]
J.C. Blythe & Sons, Washington Station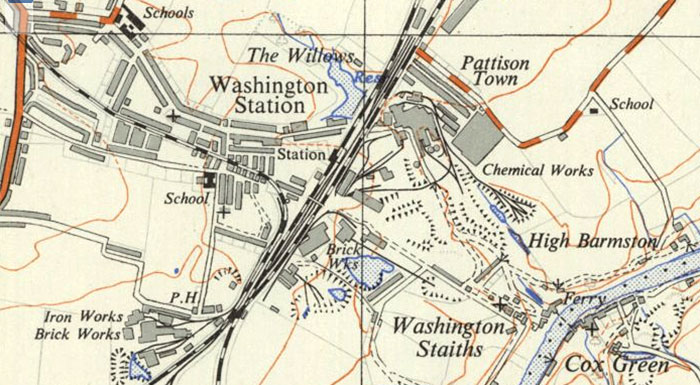 Blythe's Brick Works is centre picture, just above the lower pond.
The pond was created by clay extraction for the Brick Works.
Usworth & Washington Brick Works - 1960s

Usworth Brickyard on Waterloo Road
Usworth Colliery in the background

Washington Brickyard on Blue House Lane
Wensleydale Ave / Old Power Station (middle-right).
To read a Brief History of Usworth Brickyard ... Click Me.